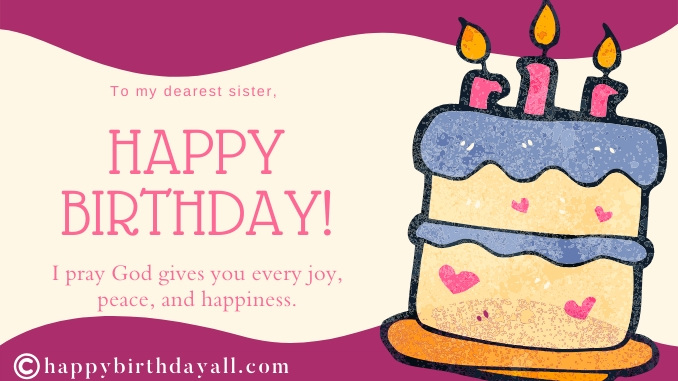 Blessing Birthday Wishes for Sister
As you like to cuddle and tease me a lot, on your very special day, I am coming straight home to give you uncountable hugs, kisses, and adorable happy birthday wishes. May you glow and flow well in life!
I have stopped caring about failures and discouragements as my sister is always standing by my side to boost morale. Your very presence motivates me to do well in life only for you. Happy birthday to my wonderful sister!
I love to spend all my meantime with you until you start asking for money and gifts. You are an absolute delight who can be an absolute pain at any time. Happy birthday to my super annoying sister!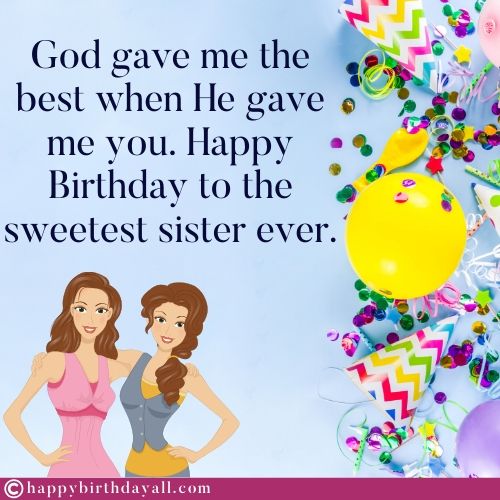 I will celebrate your birthday in the grandest possible way if you give me one promise right now. Don't you dare touch my cellphone again? Happy birthday, sister. May you become the mother of at least 10 kids!
I believe this birthday will give you enough blessings to pass the examination that you are trying to crack for the last 3 years. You better share half of the gifts with me or I will tell mother about it. Happy birthday to my super pretty sister!
Also see: Belated Birthday Wishes For Sister
I have heard that sisters give the most gentle and comfy hugs. However, your hugs seem like some wrestler gonna give me a chokeslam. Sometimes, I think, are you a girl or a boy? Wishing happy birthday to my ultra strong sister. I wish no boy messes up with you.
Happiest birthday to the most graceful and elegant sister in the world. The amount of money you have spend on buying the makeup times could also be used to buy a penthouse. Just a truth bomb for you!
May all of your heartiest desires come true, may the beauty and charm of your face never fade away, may your unconditional love and caring for me augment with each passing day. Happy birthday to my only nearest and dearest sister!
You are the only one sister who hasn't give up on me and my ridiculous dreams. Without your selfless support, I would have given up on my life by yet. Happy birthday to the only sister of my life!
Thanks a lot sister for being the biggest cynic as well as the biggest support of my work. Without your thorough and fine judgment, I wouldn't be able to make this far. Happiest birthday to the most loving sister in the world!
There is no other love and bond like that between the sisters—it brings out so much warmth and joy. Together for life! Happy birthday, sister.
God gave me the best when He gave me you. Happy Birthday to the sweetest sister ever.
In the kaleidoscope of my life, you form the most beautiful patterns with the most vibrant colors. Happy birthday sista.
May God fulfil all your dreams and desires. Wishing you a very happy birthday, dear sister.
Sister, you are my everything and even more. I feel that I'm definitely one of the luckiest! Happy Birthday to my lovely sister.
Thank you for always being my support system in life. You have always been so supportive and encouraging to me, and I greatly appreciate everything you have done for me over the years.
Also see: Birthday Wishes for Younger Sister
Every year, you shine brighter. Happy birthday to my best friend and loving sister.
I pray God gives you every joy, peace, and happiness. Happy Birthday, dear sister!
Even when no one else shows concern or care, a sister is someone who'll always be there. Happy birthday to my lovely sister.
May God fulfill all your dreams and desires. Wishing you a very happy birthday, dear sister.
Is a birthday even complete without wishes? No. Your sister will receive an ocean of wishes from friends, family, and relatives on her birthday. But, one wish that'll remain fresh in her memory forever is the wish from her annoyingly loving sibling. Yes, it's your wish that matters the most for her. Thus, do not waste time waiting. Time flies faster than you can think. Before her special day, be ready with incredibly cute happy birthday wishes for sister. These best birthday wishes quotes for sister are just like your relationship, i.e., loving, caring, and of course filled with lots of fun. Use them to strengthen your bond even more. Make it a day to remember with these special birthday messages for sister.