Long Distance Birthday Wishes for Girlfriend: Anyone who has celebrated a birthday in the warm presence of loved ones along with their sweet birthday greetings knows how hearty and whimsical it is to celebrate a birthday every year. And the birthday celebration becomes super special when the love of your life is with you to make the occasion more magical. However, dire circumstances or emergency situations can make a man do anything. When you are in a long-distance relationship with your girlfriend, it is quite possible you may miss her birthday celebration and that can make both of you feel terrible. To make the queen of your life feel special on her birthday even when you are not with him, here is a compilation of romantic birthday wishes for girlfriend long distance that is so adorable it will surely melt her heart and give you the coveted apologies.
Birthday Wishes for Girlfriend Long Distance
It really squeezes my heart to know that I won't be with my sweetheart, my buttercup to celebrate her 21st birthday. Long-distance relationships come with umpteen challenges but if you have unconditional love and loyalty for your partner, love only grows even you have miles of distance. Happy birthday, girlfriend!
We haven't met in months. We are a gargantuan distance away yet the love between us is growing with each passing day. Having a stunning and intellectual girlfriend like you is an absolute pleasure and honor for an ordinary man like me. Happy birthday to the most beautiful girlfriend in the world!
So what if we can't touch or kiss each other, I can still feel your vibes through sunlight, moonlight, and gentle breeze. I may not be physically present in your birthday bash but my soul will always be there to bless you and hug you tightly. May your birthday celebration brings umpteen success and happiness to your life. Happy birthday, girlfriend!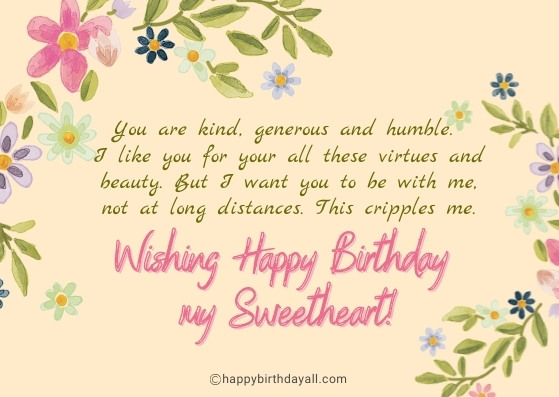 I am desperately waiting for the day when you will return to my life after completing your graduation and career goals. It's been a bloody long time I have hugged you, kissed you, and snuggled with you all day long. No distance can dwindle the love between us. Happy birthday to the most beautiful girl I know.
I may not have big cash to give you exorbitant birthday gifts, I may not have crazy ideas to make your birthday spectacular, but I have a big heart in which there is only space and unfathomable love for you. Hope you enjoy your birthday bash like there is no tomorrow. Happy birthday to my gorgeous girlfriend!
Together, we can conquer the world seamlessly. Alone, I don't think I can live happily even for a moment. I cannot imagine a world in which there is no trace for you. I am sorry sweetheart that I couldn't hop on to your birthday party by blessings and love are always with you. Wishing a joyous birthday to the most beautiful girl in the world!
Though we are in a deep relationship for a long time, this is the first time you will be celebrating your birthday without me. I am deeply saddened, anxious, restless, but I can't do anything because I am stuck in my examinations. I hope you will understand and forgive me. I love you madly and happy birthday, girlfriend!
Wishing a mirthful and magical birthday to the prettiest girlfriend in the world. I know how badly you want me to be there with you but my visa didn't approve in the allotted time. I promise I will compensate for my absence with umpteen love, kisses, guys, and heaps of gifts. Happy birthday, my sweetheart!
Unquestionably, we are the weirdest couple in the world. On my birthday, you were stuck in your professional work. On your birthday, I am deeply entangled with my significant business meetings. I have lived some of the sweetest moments of my life with you and I want to live with you till the last breath. Happy birthday to my caring girlfriend and god bless you!
One thing we both know is that no amount of distance can create differences and dwindle love between us. So what if I can't be with you on your special day, I will celebrate your next birthday with twice passion and enthusiasm. May your birthday brings heaps of good luck and prosperity to your life!
It has never for one day felt to me that you are far because you are in my heart but I yearn for your touch and love and it makes me feel that you are really far from me. I want to see you in real and expect you would soon return. Wishing happy birthday my love! Always be safe.
Being at long distance yet I feel you when you see through your eyes. For long years we haven't spoken but I always think of you like a mad man. You know how much I love you. Come soon in my arms. Happy birthday my sweet love! Made for each other forever.
Talking on phones is not enough for me. I just want to see you real. You have gone for too long and this long distance is getting tough for me. You know I can't live without you. I am feeling cold without you, I need your warmth. Wishing happy birthday my truest love! Take care of yourself.
The love between you and me is eternal and there is no doubt about it. But going of your for so long is damning. I can't tolerate it further. Come to me quickly. I want you near me. Happy birthday my rose love! Get successful at your every endeavor.
Love has its pains and I don't want to go through it because it is unbearably spiking feeling like cactus to me. Long distance love I can't digest more. My love is with you and it is for every moment near you. Come to me and fall in my heart. Happy birthday my love! Missing you and be courageous and fearless.
You are kind, generous and humble. I like you for your all these virtues and beauty. But I want you to be with me, not at long distances. This cripples me. Wishing happy birthday my darling! Never fall in life.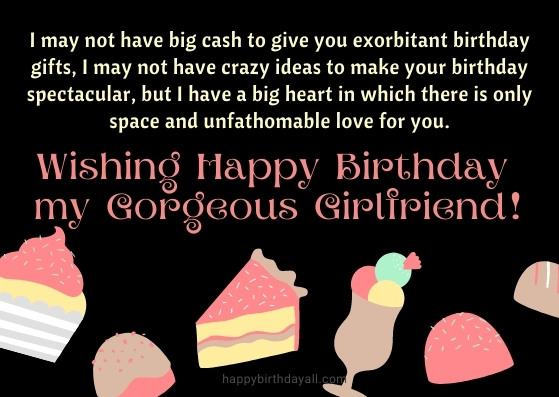 We meet again but I want to meet now rather than hoping when we will. You are my breath and blood and you know without you I can't function. I want you to be a prisoner of my heart forever never leaving me alone. Come quick. Happy birthday my queen! Always be like a queen.
In distances, it is said love grows more but with pain too. It is growing and I can't control myself meeting you. Break every barrier and come to me in my arms where your palace be. Happy birthday my honest love! You are gorgeous. May your beauty never die!
I am angry of you. You said you would come soon but you haven't yet. Loving long distance doesn't suit me. I think of you every moment my love. I want to hug you. You are in my blood and veins. Come soon and hold me. Happy birthday my damsel! Always be victorious.
You are not here with me and yet I am celebrating your birthday. But with all my heart I am missing you and I want you to come here soon. Long distance relationship is like a cage to me. Come and free me. Happy birthday my graceful love! Never get feared of challenges.
Also see: Birthday Wishes For Ex Girlfriend
Long Distance Birthday Messages for Girlfriend
It's your birthday but it's the greatest day of the year for me. You have no idea how direly how I am crying from the inside for not being with you on such a crucial day. As long as you are holding my hands, I can go head to head with the whole world. Happy birthday to the one and only princess of my life.
I consider myself the most blessed guy in the world because I have a girlfriend who understands and supports me without asking a single question. You are so outrageously charming and successful that any guy would love to be your partner. You are with me because we share a true bond of love. Happy birthday, my beautiful girlfriend.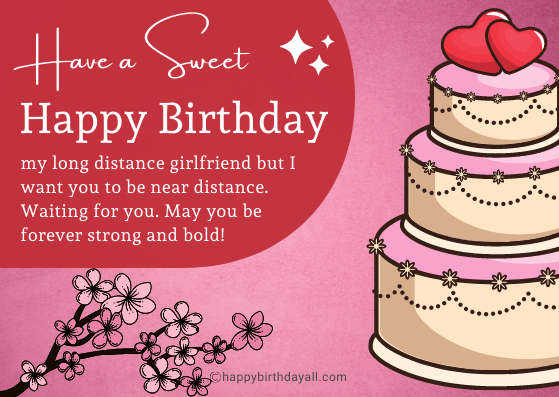 Life suddenly loses all its value and meaning when I am not thinking about you. Right now, I am uncountable miles away from you yet I feel I am dancing and drinking at your birthday party. Such is the closeness between us. Wishing an incredible birthday to my drop-dead gorgeous girlfriend!
On your utterly special day, I pray to God to keep you safe and protected from all the threats and malice, give you strength and courage to chase all your dreams, and eliminate the physical distance between us as soon as possible. Happy birthday girlfriend, I love you, and God bless you!
I am desperately waiting for the day my education will be completed and I will immediately hon on to your city and give you a bloody long tight hug. You are the only person who resides in my thoughts, heart, and mind as well. I wish I could be there with you and make your birthday extraordinary. Have a blissful birthday, my sunshine!
You are the most vibrant and chirpiest girl on this vapid planet. Every single moment away from you pinches my heart and soul to a great degree. I don't think I am going to survive for a long time If I don't meet you asap. As it is your birthday, and it saddens me a lot to be not holding your hands and wish you personally. Happy birthday!
A birthday celebration means a lot especially for a girl who is deeply and madly in love with someone. It breaks my heart to tell you that I won't be available to be an integral part of your special day. May you be forever cheerful, successful, and lively. Happy birthday, my love! You have me forever.
I am really proud and happy to tell you that I owe every second of my life to you. If you weren't with me, I would have wasted my valuable life on some petty things. Thank you sweetheart for giving direction to my life and holding my hand despite adverse circumstances. Happy birthday and see you soon my love.
Being with you is the most desired blessing of my life. I wish I could be there at your birthday bash to make you feel like the most special girl in the world. Every moment spent with you is greater than spending that moment in heaven. Happy birthday to my gorgeous girlfriend!
Hey my forever love, I promise I will be with you all the time on your upcoming birthdays. I wish you can forgive me this time considering the gravitas of my situation. On your happy birthday, sending you all the love and affection of my heart along with good luck for future endeavors. I am miles ahead of you yet I am in your heart. Happy birthday, girlfriend!
What I say for you darling and what I wish for you because I wish for you everything entirely. Nothing lacks you. Not here with me but always loving you. Your presence matters to me. Happy birthday my lily! Be with abundance always!
You are my tulip my love in whose petals I want myself to be wrapped forever. I want to be near your fragrance. I don't want you to go far away from me not even for a second. Happy birthday my sweet tulip! Angels be your guide forever!
Your love is like a warm blanket that can erase my every cold. I can't live without you and what life is if love is not near you and one only has to feel her rather being really with her. Come my embellished beauty. Happy birthday my love! Be the fire always and rising!
Talking on phone and seeing you on social media is not enough for me and I don't want my love life like this. Yet celebrating your birthday with all joy and zest and on your next you must be here with me otherwise I would elope with you forever. Happy birthday my immortal flower! No evil touch you.
Happy birthday my long distance girlfriend but I want you to be near distance. Waiting for you. Happy birthday my moon! May you be forever strong and bold!
I pray you every day and night. I want you to return for me. How long I have to wait more? With all my heart and love wishing happy birthday my innocent girlfriend! May you be a leader one day of big change in this world!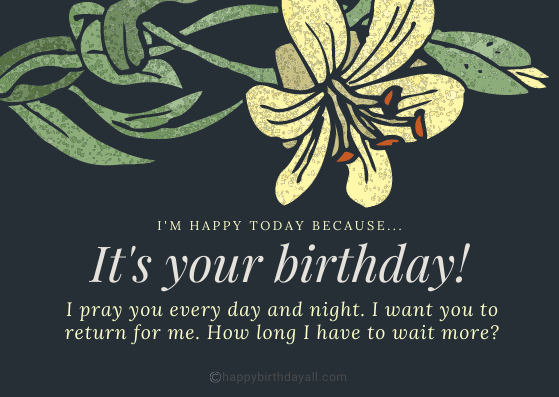 Hot cake, chocolates, sweet and everything is here except you. I don't want to celebrate you birthday like this always my love. Happy birthday! My prayers and wishes for you on your birthday. Loving you only forever. Come quick. Long distance really is intolerable.
Love has its ways always but why our long distance? Wishing happy birthday my cutest love! Waiting for you with my arms wide open. Never dwindle from your path.
I wish I knew any magic trick and I just instantly bring you back on your birthday from where you now. Happy birthday my love and so sweet person who has always treated me special. I am because of you. Wishing happy birthday my romance! Always accomplish your goals.
I want to live with you my entire life not of this birth but of every birth because I love you so deeply. But these long distances are hurdle between you and me. Remove them all and be with me. Wishing happy birthday my fortunate love! May you always be phoenix!
You May Also Like: