To remember the value of true friends in life, we are devoting this post to happy birthday wishes for friends and heart-touching birthday messages for best friends. We, the humans shy away from expressing our feelings. But, sometimes, showing how we feel does wonders. The birthday wishes for friends lights up their faces instantly. Although showering our friends with love does not need any occasion, still, occasions such as birthday helps bring out our deepest emotions to the core. And, when the birthday is of a dearest friend, the occasion becomes even more special. It is a chance to show how much you adore him and what he means in your life. Since it is not easy to come up with the right words to express emotions, we have created a few unique b'day wishes and messages that perfectly describe how you feel. They are crafted with a perfect blend of all the emotions you have for your friend. Thus, choose any of the unique birthday messages for friends to wish your friend on his special day. These b'day messages are sure to make his day unforgettable and add to the beautiful memories you share with him. No materialistic gift can replace the feeling of love and warmth that these birthday wishes and touching a birthday message for friends give.
Heart Touching Birthday Wishes for Friends
My heart knows no boundaries of joy while wishing happiest birthday to the most fabulous friend I have in my life. May lord be kind enough on you all the time and keep the captivating bond of our friendship alive!
The age old bond of friendship is way more precious than any hidden treasure. It gives my heart outrageous delight to send frisky birthday wishes to the loveliest friend ever. Kudos to one more year of amazing friendship and togetherness.
You won't get birthday gift this year unless you give the due birthday party of the last year. May the blessings of the entire universe shower on you and makes you feel angelic. Happy birthday to the best friend ever!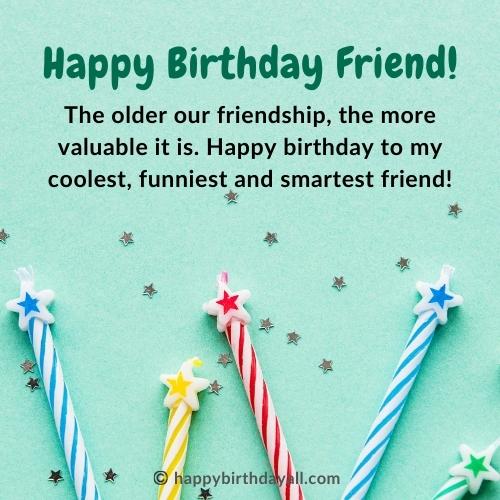 Also see: Birthday Memes for Female Friends
There are friends, and then there are best friends. Happy birthday to the best friend I could have asked for!
I pray that you're blessed with many more years so that we can always celebrate together. I love you, BFF. Happy birthday!
Today, you're the birthday queen and should not accept anything less. Drink, eat, be merry, and have a happy birthday!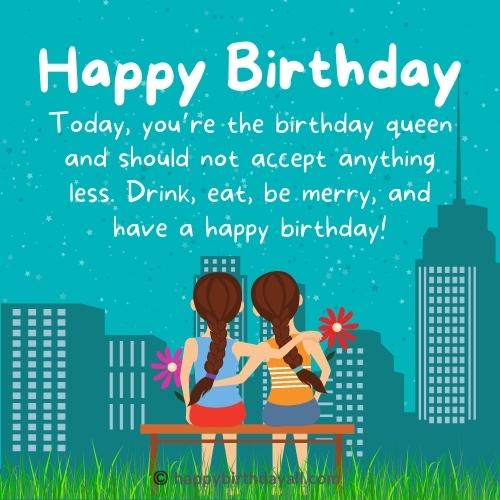 Also see: 18th Birthday Memes for Friends
Dear best friend, you add umpteen colors to my monochromatic life. It's because of your friendship, I can experience happiness to the fullest. Happy birthday to my one and only friend!
Another year older, and you just keep stronger, wiser, funnier, and more amazing! Have a very happy birthday my friend!
By leaps and bounds, you are the most special and exhilarating person in my life. I have uncountable alluring memories with you that I will cherish forever. Happy birthday to my loyal friend!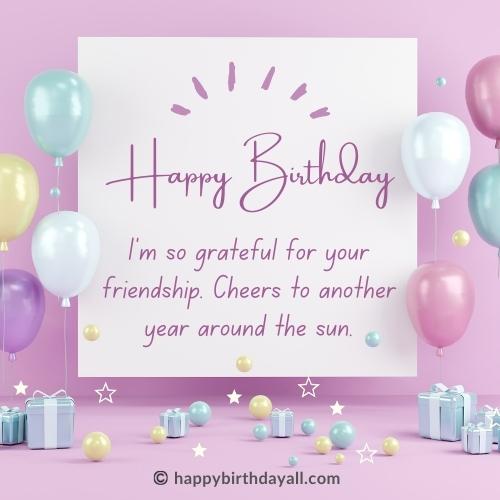 Also see: Happy Birthday Friend Images HD
May you enjoy your big day to the fullest and make the most of your life like no one else. Cheers to your birthday and the lavish party you are going to through.
Warm wishes from heaven, love from my heart, true feelings from my soul, and a lot of love for you on your birthday.
Your good health, happiness, and success is all I pray for on your birthday. I just can't live in a world where you don't exist. Happy birthday to my best friend ever!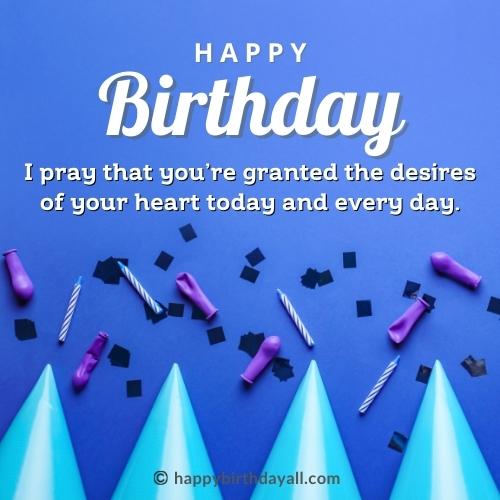 Also see: Funny Happy Birthday Memes for Friends
Hey buddy, I sincerely wish you never have to face the dearth of anything in life. May the abundance of love, friendship, and opulence remain in your life till last breath. Happy birthday friend and god bless you!
My dearest friend, through this birthday message I want to tell you that you will always be in my thoughts and prayers. May all your life-long dreams come true asap. Have a stupefying birthday celebration, buddy!
Another year, another birthday, but ain't any sign of maturity and intelligence in you. May god instill finest wisdom and some sense to your mind. Happy birthday to my dumbo friend!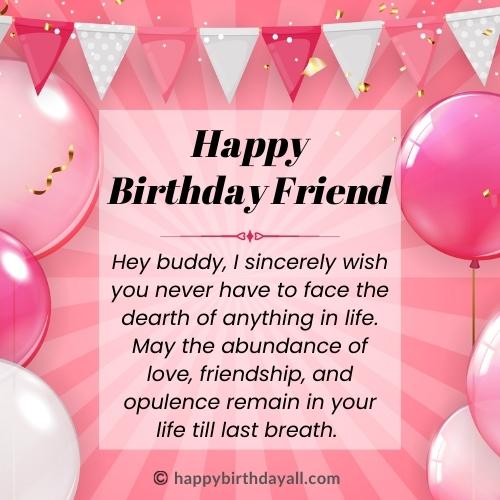 Also see: Happy 51st Birthday Wishes for Friend
I hope that your birthday is as sweet as the cake, and that the year to come is filled with as much happiness as you bring to us all. Happy Birthday Dearest Friend!
I wish a very happy birthday to the most energetic person (Name). I hope that the year ahead will be special for you.
Happy Birthday to the most charming human being I have ever known and the best friend of my very own!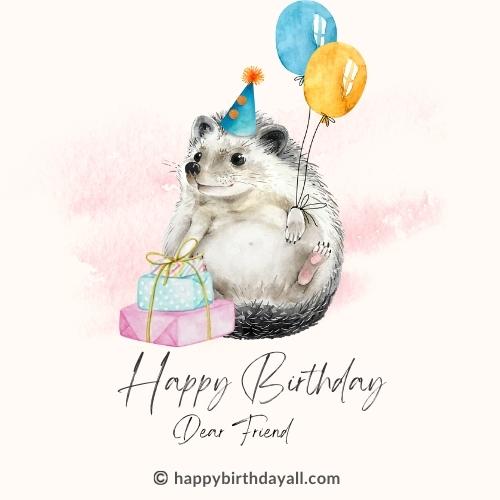 Also see: Insulting Birthday Wishes for Best Friend
I'm so grateful for your friendship. Cheers to another year around the sun. Happy Birthday to my best friend!
Don't count the candles, but see the light they give. Don't count your years but the life you live. Happy birthday sweetest friend.
Remember to smile awkwardly as everyone sings you "Happy Birthday" today!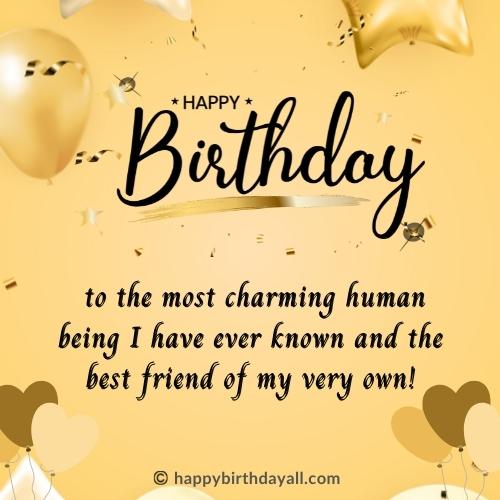 Also see: Heart Touching Birthday Wishes for Childhood Friend
Thanks for all your little efforts that turned into great contributions in my life. Wish you the nicest birthday buddy.
I pray that you're granted the desires of your heart today and every day. Happy birthday!
Here's to another year of lasting joy and incredible friends. Thanks for being awesome. Happy birthday to you!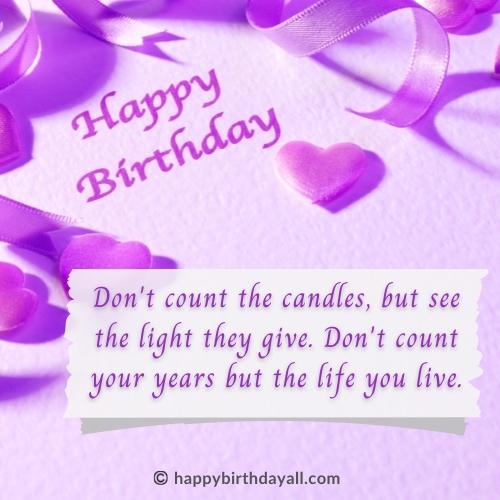 Also see: Unique Happy Birthday Wishes for Classmate
Thank you for living your life in a way that makes every day worth celebrating. Happiest of birthdays!
Happy birthday to someone who makes the world a better, brighter place.
Happy birthday to the person who is always there to help me draft a risky text.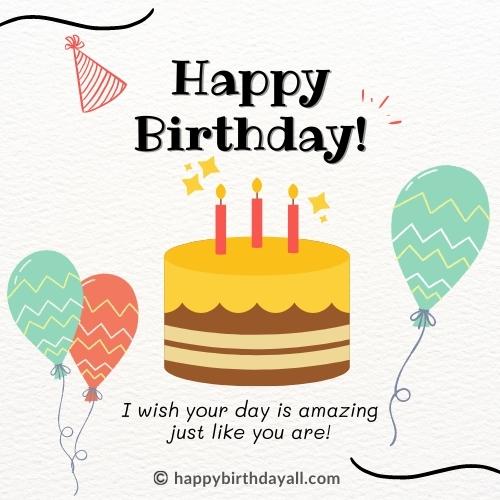 Also see: Best Birthday Wishes for Old Friend
Here is wishing you an extraordinary birthday celebration with lots of fun. You rock buddy!
In this season of your birth, I am excited to celebrate the amazing person I get to call my best friend.
Everything's better with frosting on it, including you! So, dig into that cake baby! Happy birthday!