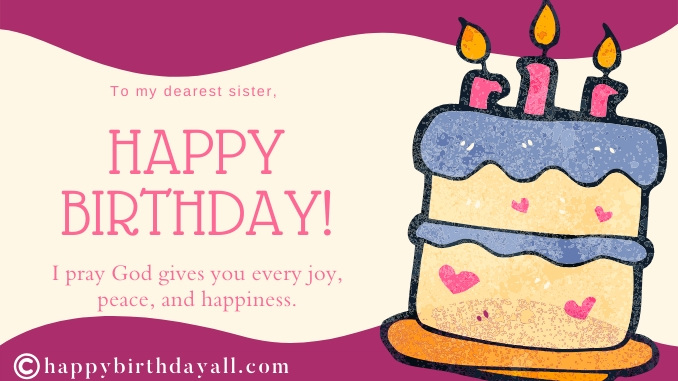 Happy Birthday Poems for Sister
Bliss, blessed, you sister impressed;
this, that, you my sister best;
happy birthday dearest sister!
Here, there, everywhere you are;
you are my sister, love of my family and a star;
wishing all the love and an amazing happy birthday.
Fly high, higher, highest;
never look back, because you are mightiest;
be strong, hold your heart and go on;
wishing happy birthday with all the warmth.
Never be small and never think like that;
you are great, child of greatest and of bravest;
hold your head high, never cry;
without fear, you must grow;
happy birthday sister with all my heart gold.
Never be lazy, be crazy what you want;
chase your dreams, never others' thoughts;
be your own, never be lone;
happy birthday my crazy sister as I know all.
Be as you want to be and when you need to be- wind, breeze, and storm;
I love you with all my heart;
because you are my sister apart;
Happy birthday sis!
Get guided by Gods;
I wish this for you;
if I'm not, gods be with you;
happy birthday my sister, God's child and his bliss.
None harm to you;
all warmth to you;
may you spring in all seasons;
happy birthday my sister with all the lovely reasons.
Whole family loves you;
even the stars, birds and leaves to you;
you are a sweet kid of best smile;
happy birthday to you sis.
You win forever;
dear to all forever;
happy forever;
smile forever;
may all blessings forever;
happy birthday to you forever sis!
Spread your wings;
fly with wind;
go there, cross unknown boundaries;
you're not a pigeon for a cage;
happy birthday my sister;
because you are an eagle of unknown race.
All the abundance to you;
no emptiness you know;
wear the garlands of flowers;
bangles of love;
we wish you all the weather of love;
happy birthday dearest friendliest sister.
Be like a knight;
forever bright;
never afraid of height;
always in light;
Happy birthday to you sis with all my cute smile.
Be you whatever you like the hue;
never get colorless;
be in the company of rainbow;
we all bow to you;
happy birthday sister with all the love known to you.
Kindest, you are the mindest;
intelligence with beauty finest;
may forever you be like this;
happy birthday sister with all the Gods' bliss.
Dance and dance;
no worry stop you;
no anxiety ever drops you down;
you be the queen of your own heart;
happy birthday sister with all the best start.
Love yourself first;
eat yourself first;
care yourself first;
build yourself first;
happy birthday to you sister first.
Happy birthday to you dear little cute sister;
never get any blister;
never be a talk twister;
always be my sister.
So much joy to you on your birthday sister;
may unforgettable to you;
may sprinkles of happy bursts for you;
forever me for you.
Also see: 18th Birthday Wishes