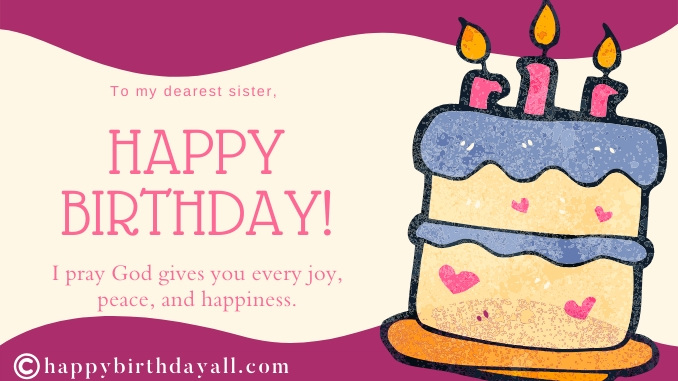 Birthday Wishes for Elder Sister | Birthday Messages for Big sister
Who rushed to your rescue when that notorious secret of yours was out in front of your parents? Who fought with that annoying person who always tried to trouble you? Who brought you those amazing gifts you love? Who convinced your parents for that trip with friends? We guess it was your elder sister. Have you ever attempted to make her feel special? If no, then now is the time to do it. Make her birthday an unforgettable occasion with the loveliest birthday wishes for elder sister filled with love, admiration, and respect. Hopefully, you won't miss this chance to strengthen the bond with your elder sister. Check out the birthday messages for big sister, i.e., the person who always jumps to shield you from all kinds of hardships. These wishes tell her that you are always there for her too and love her to the moon and back.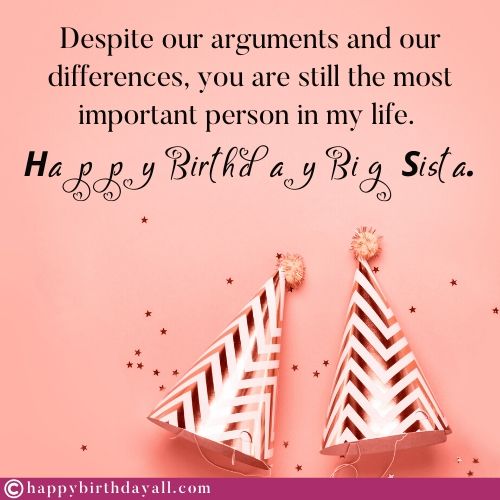 It's an absolute pleasure and honor to watch my lovely elder sister turning into such a thorough gentlewoman. Congratulations on turning one more year older with the utmost grace. Happy birthday my big sister!
I don't think I could have asked for better and understanding than you. No one understands my emotions and thinking better than you. Thanks a lot for being the perfect sailor of my topsy-turvy boat. Happy birthday to the most dazzling big sis!
I hate to say it to you that you are one of the most intelligent and incredibly smart girls I have ever seen. Okay, enough of your praising! May you have a gobsmacking birthday celebration!
Also see: Happy Birthday Friend Images
Being the little brother of such a sensitive and sophisticated big sister is quite a toll taking task. However, I have managed to do pretty well till yet. Thank you for tolerating my unnecessary demands and blabbers. Wishing you a fantastic happy birthday!
To my forever stunning sister, happy birthday to you with gazillions of hugs, kisses, and blessings. May you never have to face sadness and failures in life.
More than my big sister, you are the head of this family, an amazing mother, an affectionate daughter, an unsurpassed scholar, and a wonderful human being. Wishing happy birthday to my loveliest sister!
My super cute big sister, I so badly want to tell you that you are the entire world for me. Your serene nature and warmth remind me of our mother every time. You deserve all the happiness and glory of the world. Happy birthday, big sister!
Though you are my elder sister, you look way younger and healthier than me. May you always be in good health and never run out of wealth. Wishing happy birthday to my gracious and beautiful sister!
You have always been my sheer inspiration. You are perhaps the only person in my knowledge who never looks back in life no matter who strenuous circumstances are. May you have an unbelievably good birthday celebration. Happy birthday, sister!
Sending the handwritten and the most heart-moving happy birthday wishes to my drop-dead stunning and erudite elder sister. You are the epitome of beauty with the brain. God bless you and happy birthday!
My dear sister, thank you for being a brilliant mentor and friend rolled into one! I hope you have an amazing birthday filled with joy and delight!
I wish you the warmest and happiest of birthdays, my big sis!
I'll always admire you for being such an incredible elder sister. Happy Birthday to my lovely sister!
Growing up with you, through the laughter and the tears, made laughing more fun and crying easy. I adore you, big sister.
Happy birthday to the wisest person I know: my beautiful elder sister!
Growing up I always looked up to you, and as we grow older, I still do. Thanks for showing me how it's done with style. Happy birthday big sis!
We had giggles, we had laugh We had screams and we had tears. We were always best friends And we'll continue to be. Happy Birthday elder Sis!
Also see: Heart-Touhing Birthday Wishes For Elder Sister
To my gorgeous elder sister, I'm wishing you a warm and happy birthday and I'm hoping that the nicest and sweetest of surprises come your way!
An older sister is a friend and defender – a listener, conspirator, a counsellor and a sharer of delights. And sorrows too.
Despite our arguments and our differences, you are still the most important person in my life. Happy Birthday Big Sista.