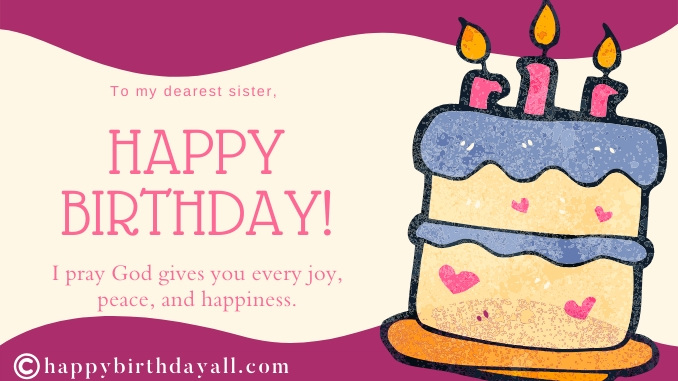 Happy Birthday Captions for Sister
The ingredients for a perfect life: a sister, her smile, and endless talks.
Hugs, kisses, and pinches with a bundle of birthday wishes for my charming sister.
Sisters are God's way of telling brothers that you can't have fun all alone. Happy birthday sassy sister.
If your sister is way too sassy, never try to flaunt in front of her. She can make fun out of you in no time. Happy birthday to my sister with the best sense of humor!
Before you were born, I was the most awesome one in the family. Excuse me, I still am. Happy birthday, sister!
Congratulations on getting one more step closer to wrinkles, obesity, and tilted back. Wishing happy birthday to my fatty sister!
The most soothing feeling in the world is when your sister is getting older but you still look charming and handsome. Happy birthday my lovely sister!
Happiest birthday to the girl who shoots up my blood pressure and heartbeat in no time. Stop being so feral for god sake!
Being your little brother is so rewarding. I make mistakes, you get all scolding. Happy birthday, sister!
Happy birthday to the most grumpy sister from the most elegant brother on the planet. You are ugly and you look uglier when you fume with anger.
I celebrate your birthday only to get my fair share of yummy cake. Happy birthday with all the blessings of the world!
Hey sister, you are old enough to make mistakes but not young enough to commit them again and again. Happy birthday, sister!
I don't know your precise age but I think you have turned 40. Cheers and happy birthday!
I don't think I can afford a wine equals your age. Damn sister, you are quite old. Happy birthday to you!
The only worthy return gift you can give to me on your birthday is throwing away your utter stupidity. Happy birthday bubbly and lovely sister!
I would love to call you pretty and beautiful but this birthday snatched that too from you. All my sympathies are with you. Happy birthday, sister!
You are all free to enjoy whatever little time you have left for teenage. Happy birthday to-be-ugly sister!
I advise you to enjoy your birthday as much as you can before tying the wedding knot. Your parsimonious husband won't even buy a cake for you. Happy birthday, sister!
Sweet sixteen, sassy eighteen, and drowsy twenty, you have seen all. Happy energetic 21st birthday!
A sweet sister is an absolute blessing. A chaotic sister is a game on. Happy birthday my weirdo sister.
Also see: Heart-Touching Birthday Wishes For Step Sister
Birthday Wishes Images for sister
Images say what words fail to express. If you are one of those creatures who shy away from expressing their feelings, then let images do the needful. An emotion-filled image is enough to make her day memorable. Wondering where to get such an image for your sister's birthday? Well, you don't need to look far. We are here with the best birthday messages for sisters in the form of pictures. Let the pictures speak what you have always felt. Here are birthday wishes images for sister of all kinds of emotions siblings share, ranging from love, care, respect, and playful hate. They depict that no matter what you two are always there for each other. Whether the time is good or bad, you won't leave each other's side and will always be the perfect partners in crime. Now, don't keep on waiting and let this occasion go, pick a heart touching birthday wishes for sisters' image.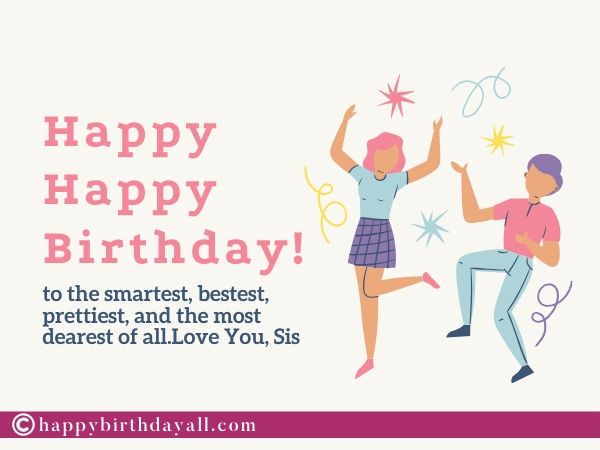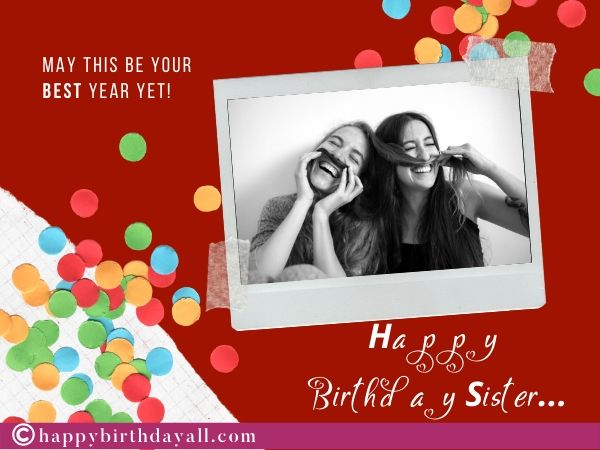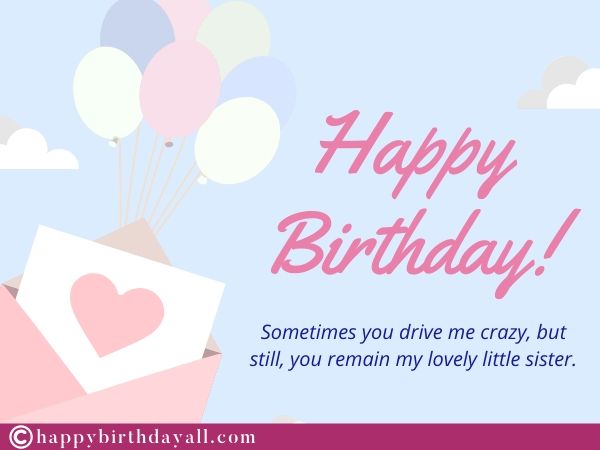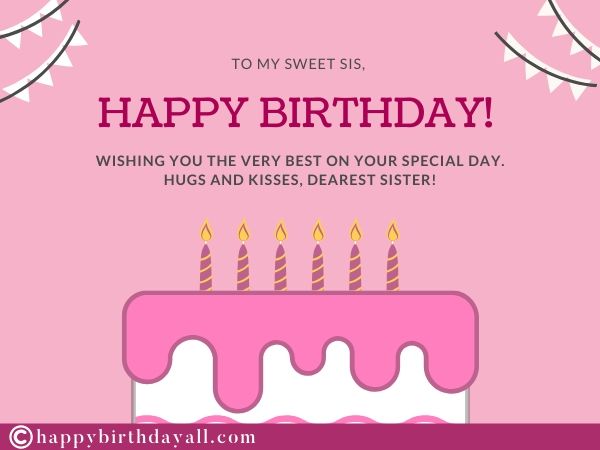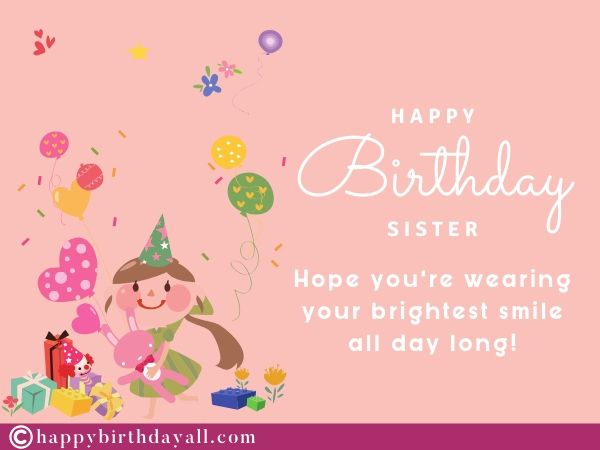 What sounds better, a plain birthday messages for sisters or a wish accompanied by cake and candles? We think the second idea sounds more exciting. After all, a birthday never complete without cute pictures, cakes, and candles. On this day of your annoyingly sweet sister, delight her with cute birthday wish images. These birthday images for sister convey what you have always wanted to say. These pictures bring your emotions out in the open and let her know that you adore her. Tell her you'll continue to fight and tease each other but will always be together till eternity. Birthdays are occasions to show hidden emotions. Make the most of it and see your sister's face glowing with happiness. By now you must have picked a sweet wish from the happy birthday wishes for sisters shared here. If not, then what is this waiting for? Pick the perfect birthday message for your sister and make her day even more special. Occasions like birthday come only once a year and are your chance to let your loved ones know what they mean to you. Don't let this opportunity go and use these birthday messages for sister to tell her that she's an inseparable part of your life.
You May Also See: