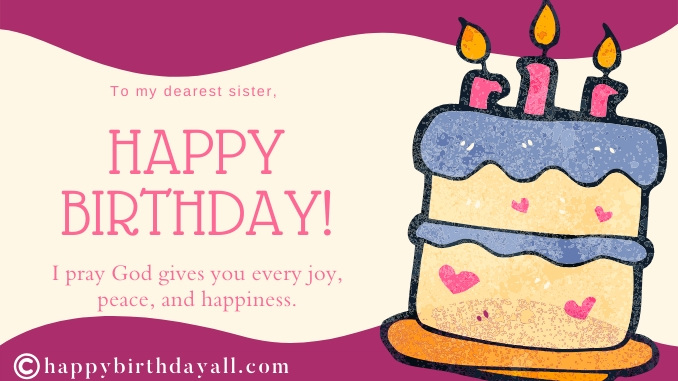 Birthday Wishes for Sister from Brother
Do you love teasing your sister? Oh, what are we even asking? We know, of course you do. After all, it is the birthright of every brother. But, no matter how much you tease her when some else tries to trouble her even a bit, it is you who jumps to be her savior. Why you do this? Because she means more than anything to you and completes your world. Then, why not let her know it and make your sister's birthday a memorable occasion? You can easily do it. Here, we have the best happy birthday messages for sisters from brother to help you do it. We are sure that she's going to love these wishes form her sibling. Get the best brother's award with these fantastic birthday wishes for sisters from brother.
Happiest birthday to the first and the last girl best friend of my life. I wish your special day celebration add numerous colors to your simple life.
You have never demanded anything from me. You are the biggest blessing of almighty on me. Finding such a selfless and caring sister like you is next to impossible in today's mean world. Happy birthday to my favorite sister!
I may not be the best brother a sister could ask for but I am always ready to fulfill all your demands, protect you fro everything, and never leave your side. Happy birthday, sister, enjoy your big day!
If a brother teaches how to be more responsible, a sister teaches how to be more loving, selfless, and affectionate towards everyone. A brother is always incomplete without a sister. I cherish every moment of your lovely presence. Happy birthday my ever beautiful sister!
Also see: Happy Birthday Pictures
We didn't share a great brother-sister bond in childhood because of the massive age difference. However, you have grown up a lot now and align well with my thoughts and emotions. Let's celebrate your birthday in the full swing. Happy birthday, sister!
Even someone offers me all the riches of the world, I would still not trade my sister for that wealth. You are the priceless diamond of my life. May your dreams keep increasing and get fulfilled in no time. Wishing happy birthday to my exhilarating sister!
I don't expect any kind of gifts from anyone or from life because I have already got the finest gift of life in the form of my chirpy and regal sister. May happiness and good luck keep flowing in your life. Happy birthday dear sister!
Whenever I feel drowsy and down, I always lay my head on your shoulders and forget about all the trivial things of my life. You are the magical healer of all my worries and wounds. Let's rock your birthday party! Happy birthday, sister!
All my friends are so envious of me because none of them has sisters as cool, caring, and beautiful as mine. Thanks for making me feel like the luckiest brother on the planet. Have a remarkable birthday celebration! Happy birthday.
Happy birthday to my incredibly fun and smart sister. I'm so lucky to be your brother… most of the time! I hope you have a great day!
My sis has the best brother in the whole world, which is even better than winning the lottery. You'll see; I've got you the perfect gift for you on your birthday.
Happy Birthday to the best sister ever, wouldn't have chosen another sister if I could, you are perfect the way you are.
I'll try not to annoy you today as a special birthday treat. You're welcome. Happy birthday to my lovely sister!
I am deemed a champion by ladies not knowing I learned the tricks of treating a lady right from you. Happy Birthday, coach and sis.
People say the world would be a better place without women; I suppose there wouldn't be a world without one, Happy Birthday to one of the best creations.
As your little brother it's my job to be super annoying. It's just my special way of saying I love you! I hope you have a great birthday to my lovely sister!
I love you because you first adored me, cherish you because you are irreplaceable and celebrate you today because it is your birthday sis.
God knows what I would have missed in a sweet sister like you if you were not my sister. I appreciate every bit of you. Happy Birthday my one and only sister.
Brother and sister, together as friends, ready to face whatever life sends. Happy Birthday to my lovely sister!
Also see: Birthday Wishes For Friend Like Sister