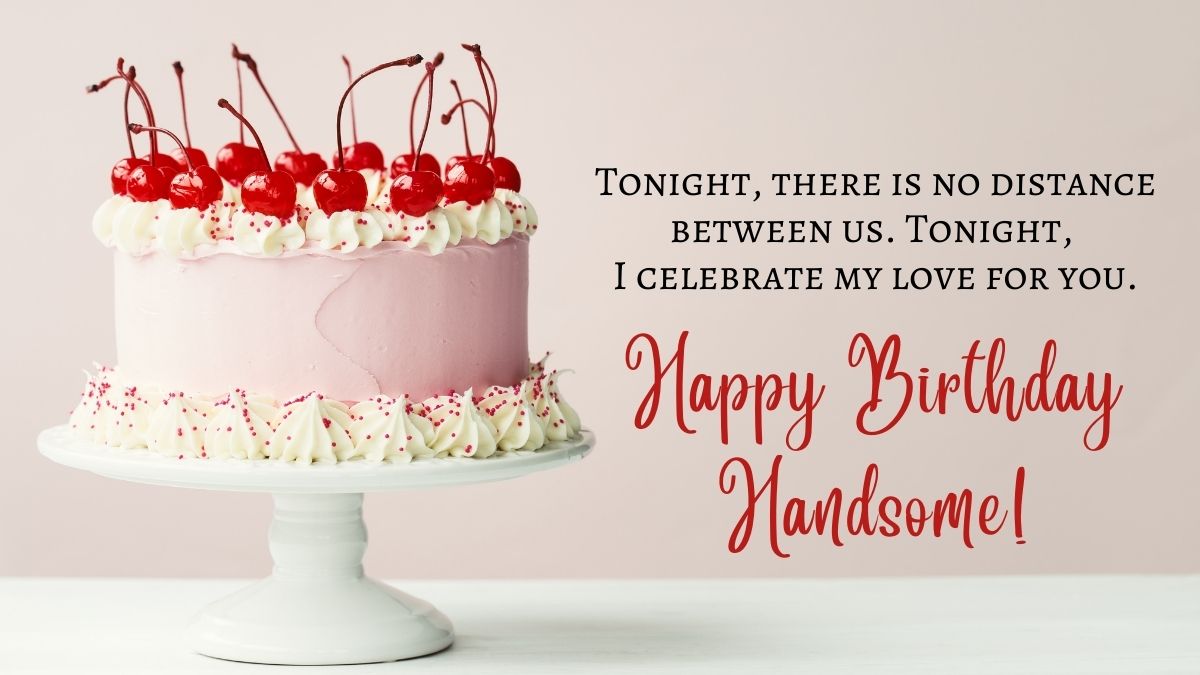 Romantic Long Distance Birthday Wishes for Husband: As they say, when your hearts are joined by love, even thousands of miles of distance seems so tiny. Without a bit of a doubt, living in a long-distance relationship is one of the most gruesome things. The relationship becomes more challenging when you are married. Because the longing for the partner grows expeditiously with each passing day. The only feasible way to maintain communication in a long-distance relationship is either via text messages or via social messaging apps. If your sweetheart husband is miles away from you and his birthday is falling, send him romantic long distance birthday wishes for husband to keep the spice and sass alive in your relationship. He will be more than thrilled to receive your sweet birthday message and go head over heels for you for sure.
Long Distance Birthday Wishes For Husband
Dear husband, the love between us is so potent, pure, and unconditional that it can easily withstand any catastrophe or strong push of time. No matter where you live in this world, I will be the one to wish you a happy birthday before anyone else. Happy birthday to my cute husband!
Even if the distance between you and me would be in astronomical units, I would still have managed to send my warmest love, hugs, and sentimental birthday wishes to my dashing husband. Nothing in the world is strong enough to create a gap between us. Happy birthday husband and may God bless you with stunning success.
When you are in a deep relationship with your partner, a lot of challenges come to test your love. Fortunately, our love has toppled every challenge seamlessly and we are closer than ever to each other. I am damn lucky to have you as my better half. May you have a marvelous birthday celebration, husband!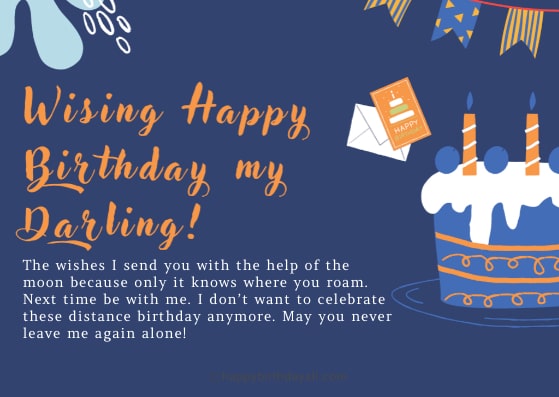 The most special things or people in life are always the farthest from you physically. However, my husband resides in my heart 365 days of a year without paying a single dime as rent. Jokes apart, Happy birthday to my darling husband!
Hey husband, do you remember your last year's birthday celebration? I literally crossed seven oceans just to give you a tight and celebrate your birthday in the most special way. I hope your birthday fills your life with more joy, success, and only my thoughts. Happy birthday, husband!
It really saddens my heart not to be with my husband on the most special day of his life. If you were here sweetheart, I would have made you feel so special that this birthday would have become the most special birthday of your life. Happy birthday, sweetheart! Have a super-successful and fulfilling life!
When the heart is filled with immense love and care, no long distance can create a rift and misunderstanding in your relationship. My best day of the year is your birthday. It's the day when I can do whatever you like to make you happy. Happy birthday to the most special person in my life.
No one has loved me the way you do. No one has made me feel special the way you do. No one can take me to the pinnacle of love like you did. You are my forever dream man and I cannot be thinking about living an extra moment without you. Happy birthday to my best husband!
Though I can't kiss you hard, hug you tightly, and stretch your cheeks, I can enjoy your birthday celebration even with the fact that you love me more than anything else. On your special day, sending you a Boeing 747 aircraft full of my love, uncountable kisses, and gifts. Happy birthday to my fabulous husband!
Wishing an utterly joyous long distant happy birthday to my superman husband! Distance may keep us apart on your birthday but my soul always hovers around you. So, don't freak out if you see me around. Jokes apart, happy birthday and I am eagerly looking to meet you soon!
Love is poetry. Sometimes it is sad and sometimes it is sweet but in both ways it is love. It is your birthday today but you are not here and with my heart I am sending you wishes on your birthday. Happy birthday my darling!
You are in me, in my heart residing at the top of crown but I am missing you here presently on your birthday my love. You are away but my love always finds a way to wish you happy birthday. Happy birthday my sweetest husband!
When in love distances come, they come to strengthen it more. You are too far from me that I yearn for your presence my love. Without you how I celebrate your birthday? That's why sending you wishes to wherever you are. Happy birthday my love!
You are my friend, my love and my husband. You are my life and with each moment I pray for your safety and wellness because when you are right I am right. Wishing happy birthday my love! I am missing you.
Not here in my arms you are but the warmth of you I can feel. The winds have taken you to another land and here I alone in the corner vain and wait. Yet with my all heart wishing you happy birthday my love! Be you always in the glory.
With all that between you and me I never know these distances would come and separate us for some times. Nothing seems so easy. The love of you I am missing and the feel of it. On your birthday I want you here with me. Happy birthday my love! Be always on the top of your game.
My life is you and you are away from me now. The candles on your birthday are burning. You are not here to blow them off. And this missing part is both endearing and saddening. Yet with all my heart and love wishing happy birthday my love! You mean everything to me.
I remember your that one birthday that we both celebrated alone with so much mirth. On your this birthday you are not with me. Your work has come between our love and taken you afar from me. Wishing happy birthday my love! You are my lovely husband. Always be undefeated.
The wishes I send you with the help of the moon because only it knows where you roam. Next time be with me. I don't want to celebrate these distance birthday anymore. Wising happy birthday my darling! May you never leave me again alone!
Happiest birthday my greatest husband! Why you are that away running on another land? These distances are fiery. I want you here with me. I wish wherever you go you have me with you. Hugs and kisses to you in abundance.
Also see: Happy 34th Birthday Wishes
Heart Touching Long Distance Birthday Messages For Husband
The whole world around feels lackluster when your loved ones are not with you to celebrate the special moments of life. I wish you were here so that we could add colors and liveliness to your special day. Sending happy birthday wishes to you over a long distance.
Although we are on different continents, I know you must be thinking badly about me because I am the only one who makes your birthday celebration stellar. You are the spark in my eyes and the sheer beauty of my physicality. Happy birthday to the sweetest husband ever!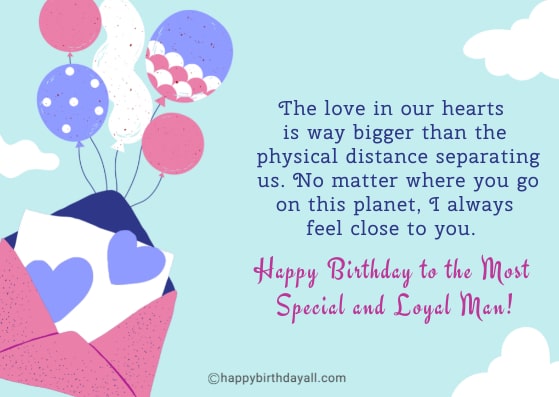 The reason I don't feel disconnected from you despite staying months away from you is because our love is true and selfless. We have surpassed the stages where couples fight with each other because of envy, possessiveness, and financial issues. Happy long-distance birthday to my soulmate!
I am drowning in the ocean of sadness because I am not with my hubby to celebrate his birthday. Hey sweetheart, can't you come just for today to give me a long hug and go on a romantic dinner to celebrate your birthday? May you celebrate your special to the fullest without me.
Dear husband, you are the epitome of sacrifice, love, and devotion. It's because of a man like you, women still believe in the notion of true love. Thank for you loving me madly in spite of living so far. May you have the most garish birthday celebration of all time. Happy birthday, husband!
The love in our hearts is way bigger than the physical distance separating us. No matter where you go on this planet, I always feel close to you. Happy birthday to the most special and loyal man!
The monumental distance between us has never dwindled the mutual love and admiration but has increased them by leaps and bounds. I am missing you so badly on your special day. I have already prepared a cake that I will cut on your behalf. Happy birthday to my sweet hubby!
So what if you can't come to the home to celebrate your birthday, I know you must be longing for me and your family to celebrate the most significant day of your life with us. Don't feel sorrow sweetheart, we will surely celebrate your birthday together next year. Happy birthday to the man who is forever sunshine of my life.
I know you are miles away from me; over umpteen mountains, valleys and plains. I just want to tell you that my love and care for you are way bigger than the combined size of all the natural giants separating us. Cheers to your happy birthday and upcoming amazing things.
We all have a single life, therefore, we all should celebrate every single birthday so that we can die with only the most beautiful memories. Happy birthday to the loveliest husband who makes every moment of life a massive celebration!
That touches the heart; that enlightens us. For you my love is eternal whether you are far or near. With these distances there is snow covering my heart and I want you there with your warmth. Wishing happy birthday my dearest husband! I hope you will come soon.
It used to be your birthday that we always used to celebrate it together. Now you are not here, roaming in a different country. I can feel your soul yet I miss you with these increasing days and nights. Wishing happy birthday my love! You are a good husband.
Alone these days I wander here and there in the meadows with your memories galore. With a cake on your birthday I am waiting you at the door, hoping when you would come. Wishing happy birthday my soulmate! You are a very desirable husband, loving you.
I want the time to go fastest provided I can soon be with you. But the times goes slow with speed of snail. My heart aches when you are not here on your birthday. Yet sending you wishes, kisses and hugs my love. Having a husband like you feels like my life fulfilled.
Your absence makes me unstable sometimes. I miss you so dearly that sometimes I try to think of some magic to bring you back to me. Your offshore work is enemy of me. Still with my heart putting my hand on your photo kissing it wishing you happy birthday. Come soon. Be with me again.
Happy birthday my love! Sending my love with the rays of the sun to you. Make these long distances short again otherwise I die in the rain of your love. Missing you tremendously.
With each days pass your absence kills me. You always need to go away from me? I can't spend without you, why don't you understand? Celebrating your birthday alone is not a sweet game. Wishing happy birthday my love! Kisses and hugs to my loveliest husband.
Nothing can separate me from you but why these distances and time? Wishing happy birthday to you! This time you are away from me for time being. Next time I won't tolerate. All my love to you and don't forget my chocolate.
May you always be well and healthy! Happy birthday my sweetest husband! Where you are far away from me, I can't bear it anymore the distances between you and me. Try to come soon.
I am in India and you are in Germany. Wishing happy birthday my love! May my wishes and love reach to you with the first blink of the sun! You are very caring husband. And I am happy I am with you through the rest of the life.
Also see: Happy 51st Birthday Wishes