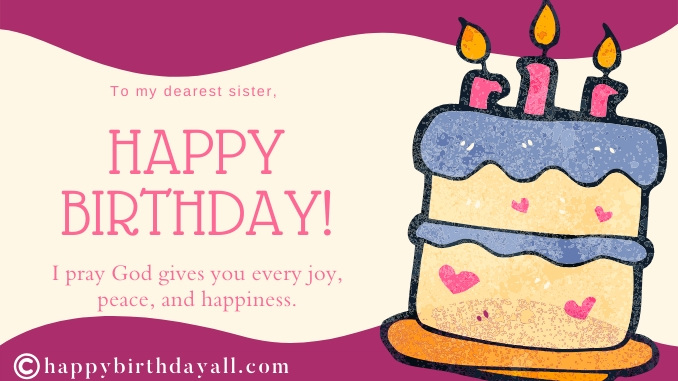 Best Happy Birthday Messages for Sister
My dear sister, always remember one thing in life; challenges are there to make you rock solid not wimpy. Happy birthday to my super strong sister!
You have played the role of a mother, father, and the best friend in my life. My little world begins with your smile and ends with it. Wishing happy birthday to my super adorable sister. May God showers all the blessings of the world on you!
Your innocent face and nature are like an inexhaustible incandescent lamp. You never get tired of spreading happiness and treating everyone in a good manner. You are the finest woman I have ever seen and met. Happy birthday to my utterly bubbly sister!
Dear sister, I am so proud of you for breaking stereotypes every single day and paving the way for young girls. Moreover, I am also thankful to you for erasing the stupid thought of 'boys are better than girls' from my mind. You are an unstoppable force. Happy birthday!
More than a sister, you are my caretaker, angel guardian, and a teacher every student covets for. Thanks a lot for showering all your love and kindness to me. I wish you a magnificent happy birthday!
Also see: Birthday Images For Sister
The kind of love, appreciation, and encouragement I have received from you are the key factors behind my growth and astonishing success in life. You are the backbone and the driving force of my life. Wishing happy birthday to my beautiful and supporting sister!
Our lovely parents made us awesome siblings, and we created the alluring friendship out of that bond. Congratulations on being the sister of such a dashing brother. Happy birthday to my cool sister.
It's a sheer blessing for me to be your little brother. I mean I get a fair share in your chocolates, gifts, and pocket money. I am blessed to have such an exhilarating sister in life. Happy birthday to you!
You must have received a lot of heartfelt birthday wishes on your special but mine stands apart from the rest as it is the perfect blend of your insult, my love, your ill habits, and my affection. I wish you all the happiness and peace of the world. Happy birthday, sister!
Hey sister, you have turned old enough to ditch sleepovers and find a groom to get hitched. I can't bear to live in my small room. Marry fast and I will own your room also. Jokes apart, have a splendid birthday celebration sister!
My dear sister, on your special day I'd like to wish you an exciting life, full of great discoveries and joyful surprises!
Wishing you a very happy birthday dearest sister, may you always shine bright like a diamond and make us proud! Love you.
Happiest birthday to partner in crime, to my shopping partner, Loads of love & hugs!
Growing up I always looked up to you, and as we grow older, I still do. Thanks for always showing me how it's done with style. Happy birthday to my role model!
Also see: Birthday Wishes for Cousin Sister
The sisters don't have to be around for all the time, but it really becomes a great thing when they are around you. Have a Happy Birthday wishes to my lovely sister.
Our parents made us siblings, we became friends on our own. Happy Birthday, Sista.
Today is the best day of my life, finally I got the partner to celebrate my sorrow and joy. Happy birthday sister, love you!
For a Sister so special in every way, wishing you a perfectly wonderful Birthday to my lovely sister.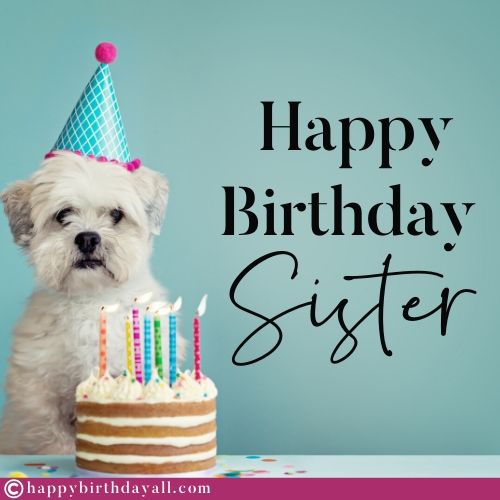 I hope your birthday contains only warm, fuzzy, and pleasant memories. May it signal the beginning of a year filled only with hope and promise. Happy birthday sister!
Just be yourself always, don't think about others and what you should always know is I am there for you. Happy birthday to my lovely sister!
Also see: Happy Birthday Images
From sharing clothes to darkest secrets of life, you don't even know when the bond with your sister becomes something you cannot live without. This birthday, let her reminisce about the memories of your playful fights, those endless gossips, and the fun you have while teasing each other endlessly. You got lost in the beauty of your relation, right? Now, let her also get the same feeling on her special day with these incredibly beautiful and emotion-filled birthday wishes for sister. These happy birthday messages for sister and quotes are bound to bring the tears of joy in your sister's eyes and a sweet smile on her face. Teasing and fights are for life, but special occasions such as birthdays come once in a year. Make it special and memorable. Don't know how to do it? Then, pick a wish from the birthday wish for sisters from and send it to your sister.