To amplify your newly created bond, here is an utterly romantic compilation of happy birthday wishes for fiance with images. Wishing someone happy birthday has always been considered as courteous and generous. We all wish our father, mother, siblings, cousins, nephews, and nieces and on their birthdays. However, when it comes to fiance or spouse, your birthday wishes have to stand apart from the rest. Your fiance is the person who brings the waves of freshness, good vibes, and luck in your life. She/he is the special one who promises to live with you for the rest of life by detaching from the family which indeed is quite a courageous thing. So, it is your responsibility to make your fiance's birthday a remarkable affair by sending romantic happy birthday wishes for the fiance.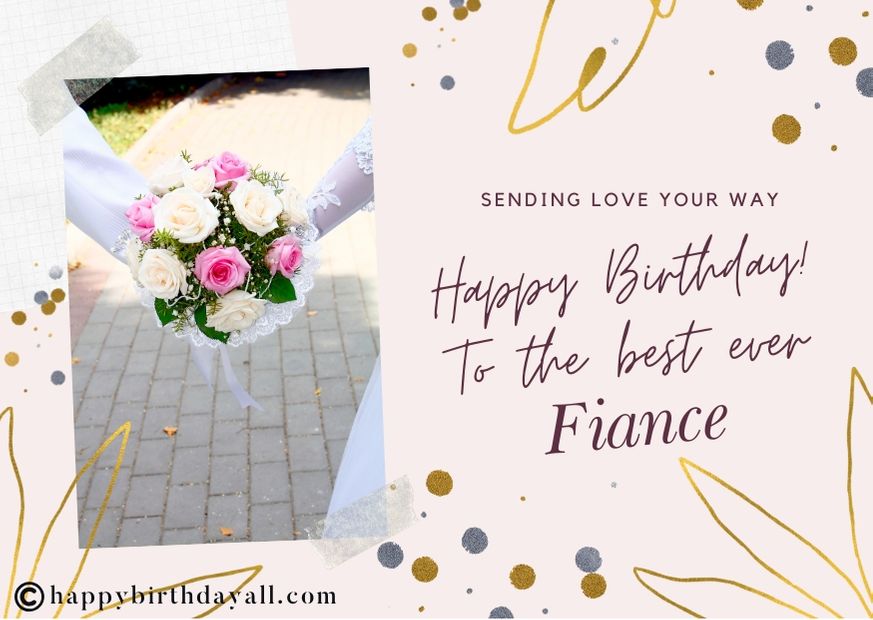 To make you don't have to hustle or hop on multiple places for the right words, we bring you an ever-lovely collection of best birthday wishes that will surely make your fiance go head over heels for you when you send these birthday wishes with the utmost love and zestfulness.
Happy Birthday Wishes for Fiance
The moment I saw you first time during our engagement, I went head over heels for you. Happy birthday my fiance and the love of my life!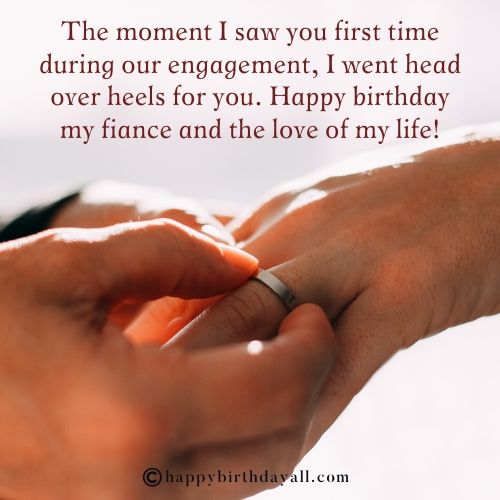 Hey sweetheart, isn't it's amazing that your birthday and our engagement ceremony falls on the same date? Happy birthday to the most beautiful fiance in the world!
You entered in my life when I was roaring with success but had no one to hold my feet to the ground. Happy birthday my love!
I don't know how to say but you have utterly and thoroughly changed my life in a positive with your warm and lovely presence. Happy birthday my cute fiance!
This is the first time I am getting an opportunity to celebrate your birthday and I will leave no stone unturned to put a huge smile on your face. Happy birthday to the new love of my life!
We have just got engaged and I don't know you well. However, my birthday wishes to you express, how much I love and care about you. Happy birthday to the prettiest fiance ever!
Life becomes astonishing when your best friend becomes your fiance. I can't express in words how happy I am to have you in my life as a life partner. Happiest birthday darling!
Wishing a stupendous birthday to the most handsome fiance in the world. It is you who always amaze me on my birthday but this time I will sweep off your feet.
Like the flowers need sunshine to blossom fully, I need your love and companionship to live life to the fullest.
Happiest birthday to the most wonderful man whose mere presence give me outrageous happiness and joy. Happy birthday, fiance!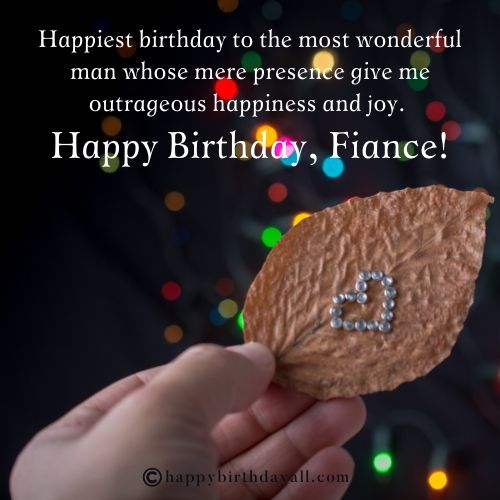 Also see: Birthday Wishes for Wife
Romantic Happy Birthday Messages for Fiance
I still can't believe I am hitched to such a perfect person. Your grace, poise, charm, everything makes me crazy. Happy birthday, fiance!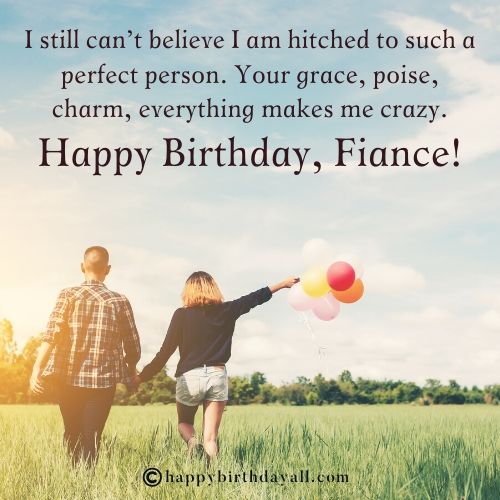 You are the only rose in my empty garden. You are the only source of joy in my not so happening life. On your birthday, I pray to God to shower endless blessings in your life. Happy birthday, sweetheart!
God has blessed me with more than I asked. I was not at all expecting to have a gorgeous fiance like you. It seems like I have hit the fiance jackpot. Happy birthday, love!
If angels were to come on earth today, I would ask them to make you my life partner in all my upcoming lives. May God bless you with never-ending youth, wealth, and happiness. Happy birthday gorgeous fiance!
To be frankly speaking, earlier, I was quite dubious about getting engaged to you. Now, it seems like I have taken the best decision of my life. Happy birthday fiance and the one and only love of my life!
You have brought the order in my chaotic life. You have taught me the value of love, life, and relationships. Thank you for everything fiance and happiest birthday!
Happiest birthday to the man who has become so dearer to me in such a short time. I promise to stand by you firmly in every situation. Happy birthday handsome fiance!
As long as you are my better-half, I don't need anything else in my life. You make my life lovely and fill it with positive vibes. Happy birthday my stunning fiance!
I am just waiting for the day when I get to change my 'engaged' status on Facebook to 'married'. I am waiting so badly to be all ours. Before that, I wish you a happy birthday!
Spending all the moment of my day with you is no less than a paradise. Without you, life will become hell. Happy birthday my fiance, my love!
Also see: Birthday Wishes for Husband
Emotional Happy Birthday Quotes for Fiance
Becoming your fiance was a chance but becoming your life partner is a beautiful choice. Happy birthday to the kindest fiance!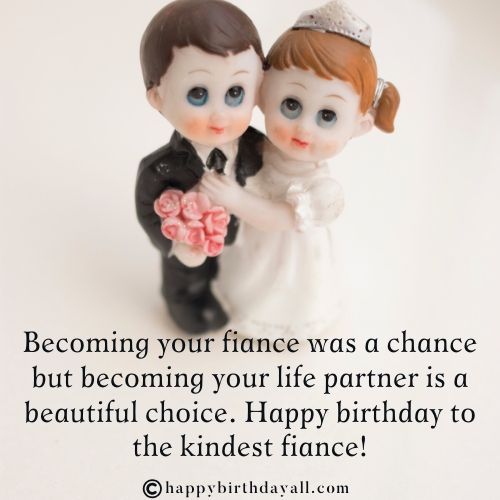 Hey fiance, you are now the most significant person of my life. May your 25th birthday turns out to be the best birthday of your life. I love you darling and my best birthday wishes are with you!
You are as beautiful from inside as you are from outside. You are the most genuine person I have ever met. Happiest birthday to my cutie pie fiance!
Your presence in my life is like the presence of an angel who guides at every point. Thank you fiance for all the love and support. I wish you a stunning happy birthday. Be ready for a crazy party!
The moment I see your glittering and serene face, I forget about all my worries and want to enjoy every moment of my life with you to the fullest. Happy birthday to my future wife and the love of my life!
It's such a pleasure to be the fiance of a wonderful man like you. Happy birthday my love. May you achieve earth-shattering in life!
This is your first birthday after our engagement and I am so excited to celebrate it with the utmost zest. Happiest birthday to the person whom I am going to keep happy for the rest of my life!
On your birthday, I have one untold secret to tell you. I fell hard for you the moment I saw you at our engagement ceremony. Happy birthday to my goddess cum fiance!
May your super special day be filled with innumerable wishes, gifts, love, and hugs and kisses from me. Happy birthday my dashing fiance!
Every day I see your picture, I feel so blessed to have such a loving, intelligent, and sensible fiance like you. Happy birthday to Mr. Perfect!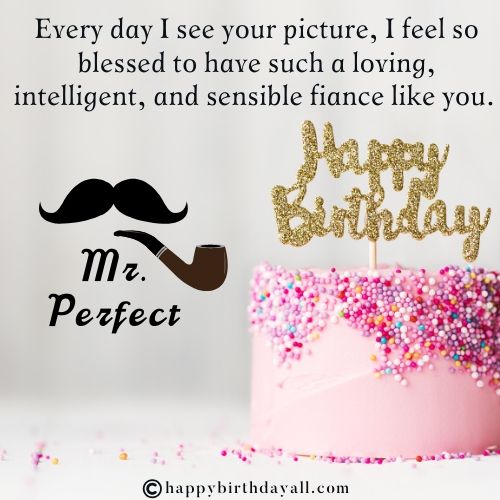 Also see: Birthday Wishes for Crush
Best Happy Birthday Wishes for Male Fiance
Hey, my superman fiance, I may not be there to celebrate your birthday but my unconditional love and sweet birthday wishes will reach you on time.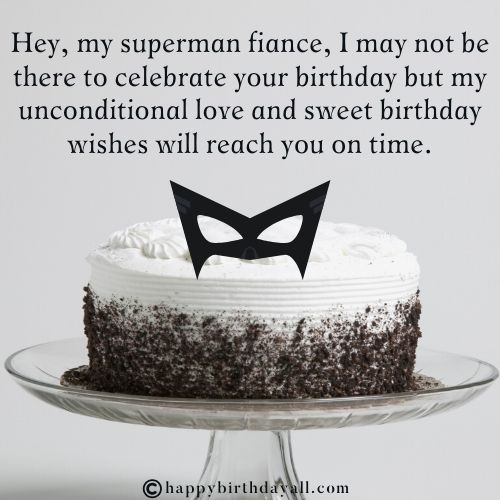 Happiest birthday to the man in whom I see the reflection of my father. You are a thorough gentleman and the one who stole my heart with just one glare!
Hey love, thank you for entering my life as fiance and making it worth living. On your birthday, I wish you get all the success and happiness of the world. Happy birthday!
Hey darling, you better brace up well for the birthday party because I am going to be cranky today. Happiest birthday to my sexy fiance!
Three cheers to my fiance on this birthday. You are beats of my heart, the apple of my eye, and sunshine of my day!
Today is super special in so many ways. It's our first engagement anniversary and it's your birthday as well. Let's double the celebration! Before that, happy birthday love!
You are the best thing ever happened to me. You made me believe that true love still exists and humanity is still alive. Happy birthday, sweetheart!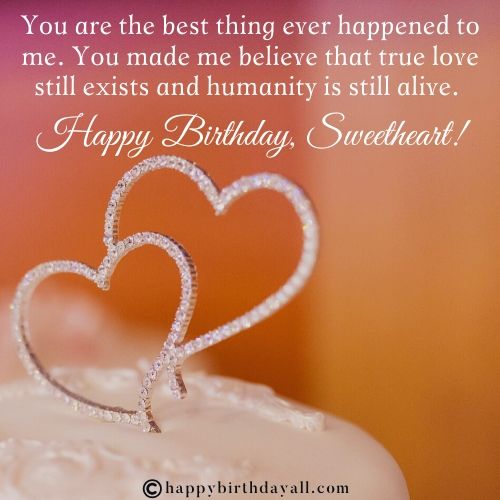 Also see: Birthday Wishes for Boyfriend
Lovely Happy Birthday Wishes for Female Fiance
Words mean nothing if they don't come from the heart. My every breath and heartbeat are only for you. Happy birthday, honey!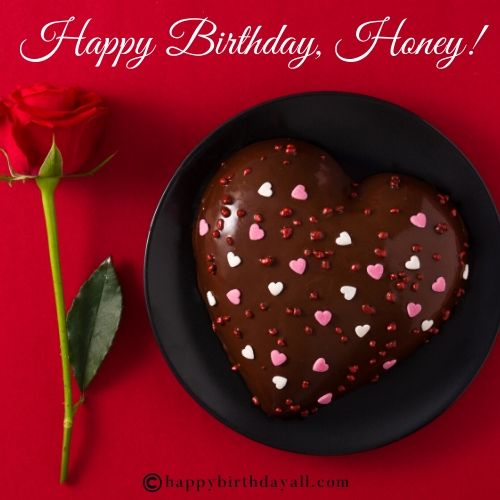 On this day, the most beautiful girl landed on the earth who is now my going to be wife. I love you 3000, sweetheart! Happiest birthday my beautiful fiance!
More than fiance, you are a wonderful, caring, and supporting friend for me. All I wish you is a lifetime of happiness and success on your happy birthday!
I know, a woman expects nothing more than respect and the freedom to do whatever she wants. I promise to give you everything you want in life. Happy birthday my charming fiance!
This special day should be etched in my heart so that I could feel every bit of it. Very happy and joyous birthday to the love of my life!
Some of the best times of my life I have spent with you after getting engaged. I am looking forward to creating more enchanting memories on your birthday. Happy birthday and God bless you!
Wishing the happiest birthday to the person who will become the queen of my home pretty son. I love you, fiance!
Also see: Birthday Wishes for Girlfriend
Funny Happy Birthday Wishes for Fiance
I always wanted a sassy life partner, but it seems like I have landed up with a saint. Jokes apart, happiest birthday darling!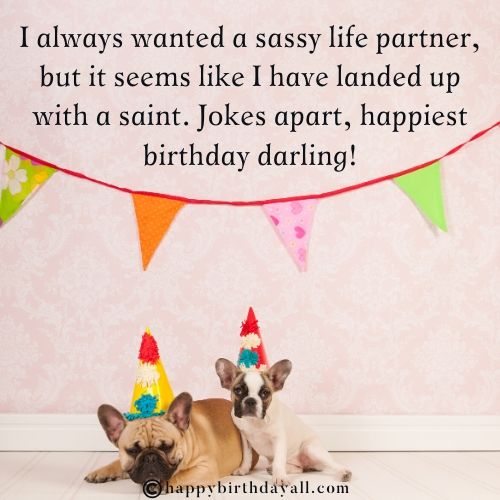 Happiest birthday to the best fiance in the world. I love you more than anything, except Brad Pitt.
Hey darling, you are the best thing ever happened after the Disneyland trip. Happy birthday with bundles of hugs and kisses!
Happiest birthday to the newfound love of my life. I wish to get older with you because we will get double senior citizenship benefits.
On your birthday, I wish most of your dreams come true if not all. Who knows you might be praying to get rid of your fiance?
Hey baby, do you know that you are the purest person ever walked on the earth, except Jesus? Never mind. I wish you a remarkable happy birthday!
Honey, I wish you have a magical birthday because magical birthdays don't happen after the marriage. Happy birthday, fiance!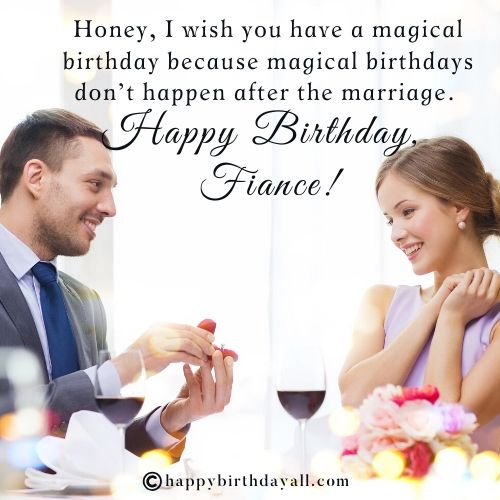 Also see: Birthday Wishes for Someone Special
Some day, a person silently walks into your life and the whole world changes for you. The most significant and the only thing that matters in life is unconditional love. When you shower that kind of love on your fiance, the whole world smiles and positive vibes spread everywhere. The above stated happy birthday wishes for fiance are solely created to make your fiance feels like the top of the world on his/her birthday. When you receive something from a person who is your life partner, be it a gift or birthday wishes, you feel validated, happy, and worthy. Your little efforts can make someone's day or someone's life in no time. Keeping that in mind, we have put the utmost efforts to create soulful birthday wishes for fiance so that you can celebrate the birthday without any worries of finding the right words.