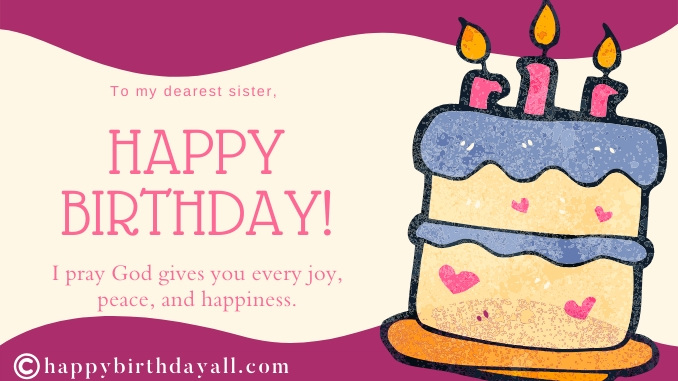 Birthday wishes for Younger sister | Birthday messages for little sister
Sisters are the most lovable creatures; no matter she is elder or younger. But, the innocence of younger sister makes them even more adorable. Do you have that cute little sister whose annoyingly sweet acts you love, who often ask you for gifts and chocolates? If yes, then now is the chance to tell her that she's an indispensable part of your life. Here we've got the best happy birthday messages for younger sister to let her know how irritatingly cute she is. These messages perfectly tell her that whatever life throws at you both, you are here to shield her from every danger and would do whatever it takes to keep her happy. Don't miss the chance to use these happy birthday wishes for little sister to make her feel special.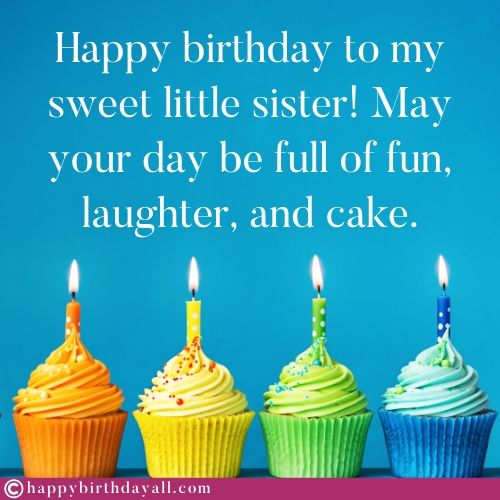 Since the day you were born, you have brought a ridiculous amount of happiness, good luck, and blessings to our lives. Happy birthday to my super notorious little sister. Good luck with your future endeavors!
I don't know about you but I can't live without seeing your lovely face for a single day. You are the essence of my life and very motivation to move forward. Wishing happy birthday to my outrageously cute little sister!
I still can't believe that my cute little sister has turned 18th today. Within such a short span of time, you have learned so much and grown so expeditiously. May none of your dreams remains unfulfilled. Happy birthday to my cutie pie little sister!
Also see: Happy 30th Birthday Wishes
You are unquestionably the prettiest little sister in the entire family. With your endless talks and selfies, no family function is considered as complete. I am glad to have you in my life. May you have a compelling birthday celebration!
Celebrating the 10th birthday of my adorable little sister reminded me of my own 10th birthday celebration. We are similar in so many ways and you make every moment of my life worth savoring. Happy birthday my dear little sister!
The best thing our parents have done for me is giving a cute and bubbly little sister. You have this uncanny ability to make me smile whenever I feel down. Happy birthday to my gorgeous little sister!
You are so notorious and spontaneous that sometimes you give me serious goosebumps. But I like the way you are and I don't want to change you a bit. Happy birthday to my super fantastic and beautiful little sister!
You are one hell of a kind and magnanimous soul. Your zeal to serve the poor and needy ones at this age insinuates how great a character you will become in the future. I am utterly proud of you. May God brings enormous abundance in your life. Happy birthday my awesome little sister!
The gleam on your face is way intense than any star and the Sun. You are my ray of hope in this gloomy world. Your smile and happiness are the only things that matter the most. Happy birthday to my fun-filled and enthralling little sister!
Congratulations to my silly little sister for becoming an official adult. You are now free to do anything except driving after boozing. May you have a scintillating birthday celebration. Wishing happy birthday to the dearest little sister!
Side by side or miles apart, sisters forever close at heart. Happy Birthday o my lovely sister.
Happy birthday to my sweet little sister! May your day be full of fun, laughter, and cake!
You are a blessing in my life. Happy birthday, little sister!
Little sis, I have watched you grow into such an amazingly, strong woman. You truly inspire.
Also see: Insulting Birthday Wishes
Let's celebrate your birthday like its mine. After all in your own words, what is mine is yours and yours, mine. I will be patiently waiting for my gifts.
Wait! You're how old!? Excuse me, I need to go see a therapist. You just reminded me how old I am. Happy Birthday little sis!
Have a stellar, fantastic, extra special birthday you deserve! I love you, little sis.
I still remember how cute you were as a baby in mom's arms. You have managed to remain same till today. My wish for you on this great day is that you continue to be this cute forever.
My wonderful little sister, you really are the most precious gift that God has given me! I hope you have a very happy birthday and that you have lots of fun today!
They say that friends come and friends go, but sisters are forever – that's why I'm so glad my best friend is my sister. And that's you!
Also see: Advance Birthday Wishes