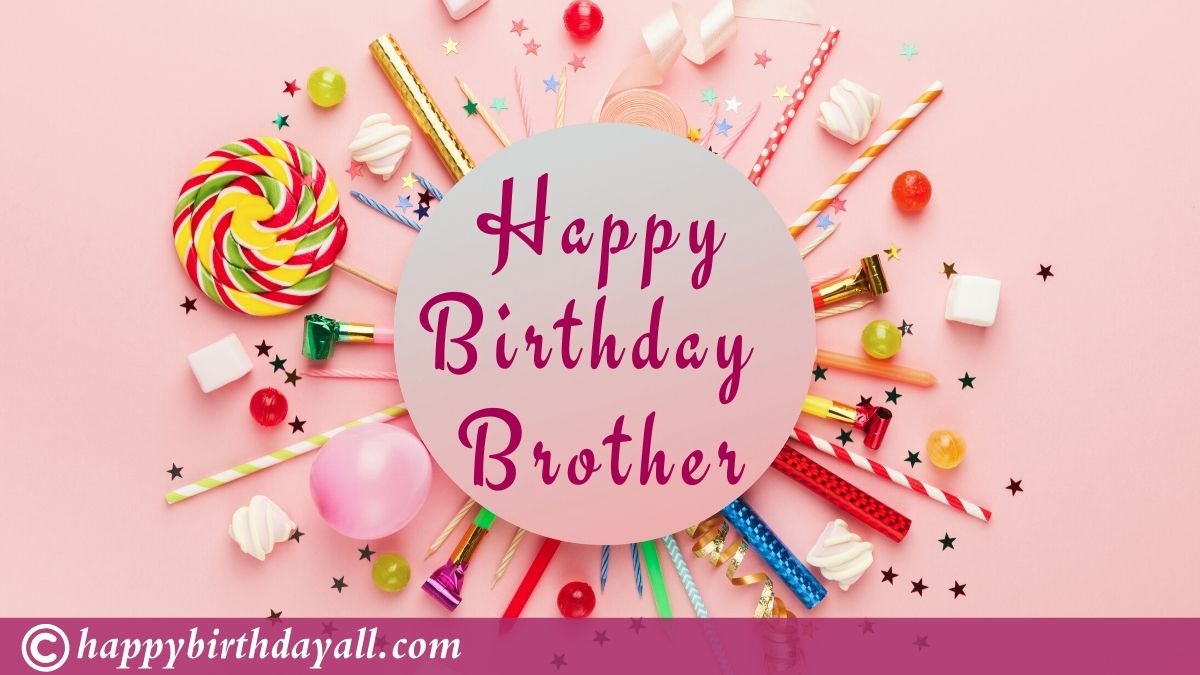 Happy Birthday Brother Wishes: To give your brother heaps of happiness on his birthday, we bring a stellar selection of Heart Touching happy birthday wishes for brother, and meaningful birthday quotes for bro, happy birthday brother messages, greetings with images. Do you remember all those fights you had with your brother in childhood? A lot has changed since then. But, one thing that remains the same is the love-hate relationship you have with him. That bond is still special. Whenever you find yourself stuck in a problem, the first thing you do is call your brother. He is your savior, partner in crime, secret keeper, and the one you love to tease. When he holds this much importance in your life, then why not make his birthday a day as special as your bond. Yes, surprise him with sweet birthday messages for brother.
Heart Touching Birthday Wishes for Brother
It's the birthday of my incredibly smart and talented brother and my happiness level is touching the sky. I have always prayed for your success, good health, and happiness. Happy birthday to my forever lovely brother!
Having a sensible, sensitive, and emphatic brother like you is always a real blessing. With your support and love, I can and I will make all the dreams of our family come true. However, it's your big day brother and you deserve a bloody hell party. Happy birthday my cute brother!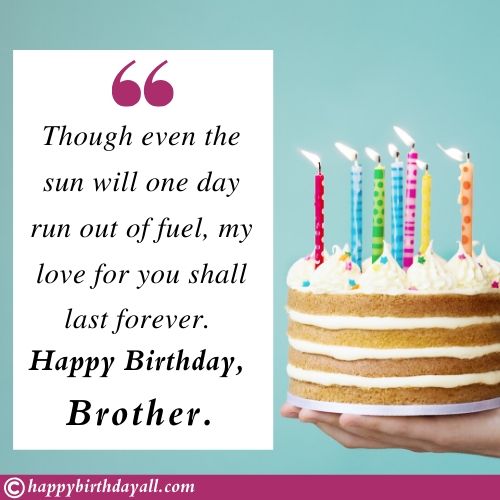 My dear crazy and hasty brother, everything in life comes at the right time. You must continue doing hard work and stop expecting results on your timeline. God bless you my little brother and happy birthday to you!
Also see: Happy Birthday In Heaven Brother Quotes
Since the beginning, I desperately wanted an energetic and supportive brother like you and by god grace, I got one. You are my lucky charm and a brother who is always there in need. Wishing happy birthday to my super dashing brother!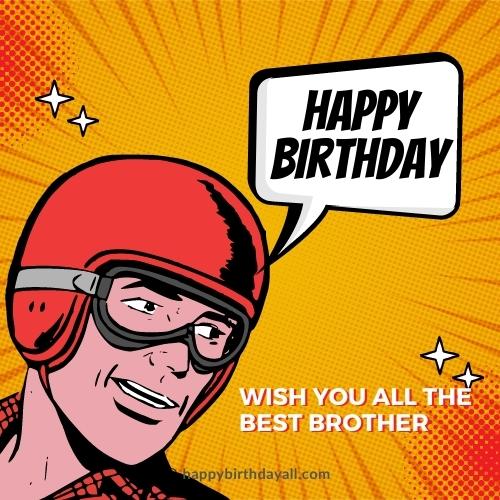 Hey little brother, don't you think our parents are more than blessed to have such dynamic kids who are also awesome brothers. They must thank god every single day. Anyways, it's your special and it is also high time to booze like a skunk. Happy birthday to my super cool brother!
Also see: Hearty Happy Birthday Wishes
Cheers to all your noteworthy achievements, laurels, and praises, and the arrival of the 25th birthday. May your live life worth remembering till ages. Wishing happy birthday to my loveliest brother!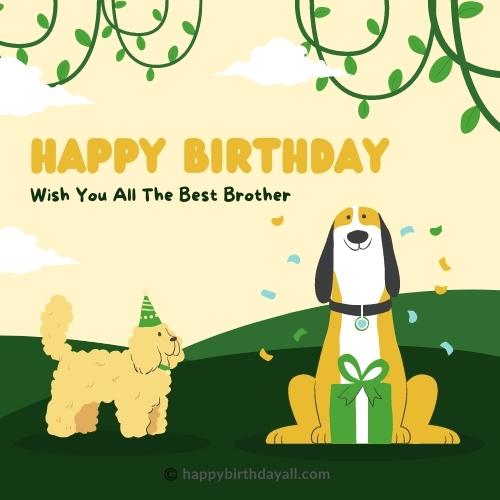 I love you so deeply and passionately brother that whatever thing I commence in my life I make sure it benefits you in some way. Your prosperity, happiness, and success are my prime concern. Cheers for the big day and happy birthday!
Here comes the day when we wine and dine like maniacs and forget about the rest of the world. I am more than excited to wish my dapper brother a happy birthday with heaps of hugs.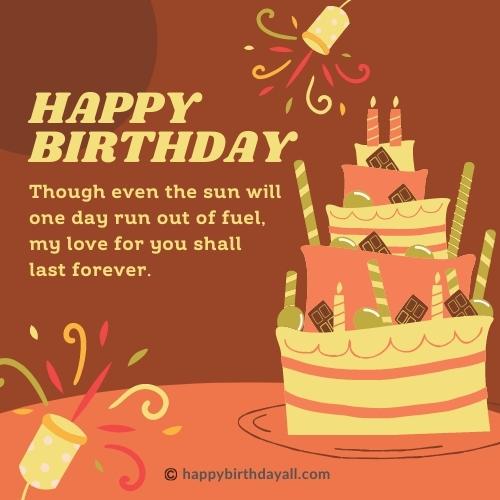 A brother like you who is full of all the principles, morals, and ethics is rare to find in this mean world. Undeniably, your sheer presence is the greatest pleasure of my life. Happy awesome birthday brother!
Also see: Happy Birthday Wishes for Friends
If I rope in all the intellectuals of the world to find another brother like you, I don't think we all will be able to find someone like you. Is there any virtue you don't have? I am super proud of you. Wishing a cheerful happy birthday to the best brother!
Though even the sun will one day run out of fuel, my love for you shall last forever. Happy Birthday, Bro.
On this special day of yours, I want to wish you the best, The best of everything in life, May luck be with you in all your strive, Happy Birthday, Dear Brother.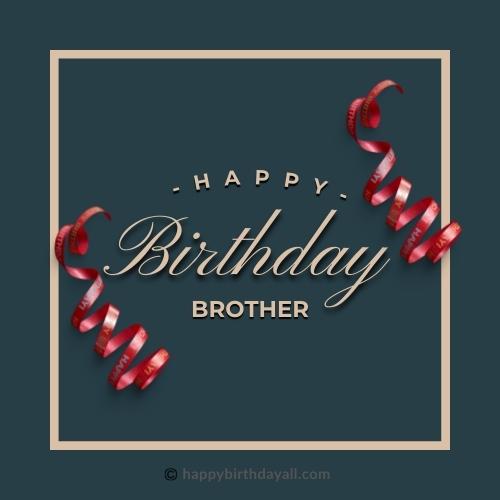 Happy birthday to a person I am proud to call my brother.
Also see: Birthday Prayers For Brother
I thank God each and every day for giving me a brother like you. On your birthday, I want to thank you for being the best brother anyone could ever hope for. Happy Birthday!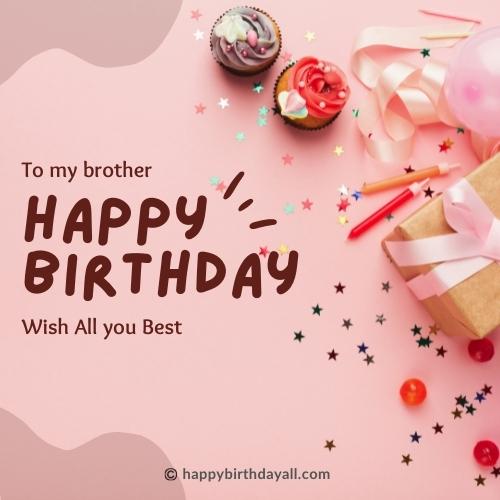 I remember your pranks, I haven't told anybody, How you used to hit me hard, But that was part of growing up fun, Happy birthday bro, Always be the number one!
Thank you for my great childhood memories. Here's to many more memories to come. Happy Birthday to the world's greatest brother!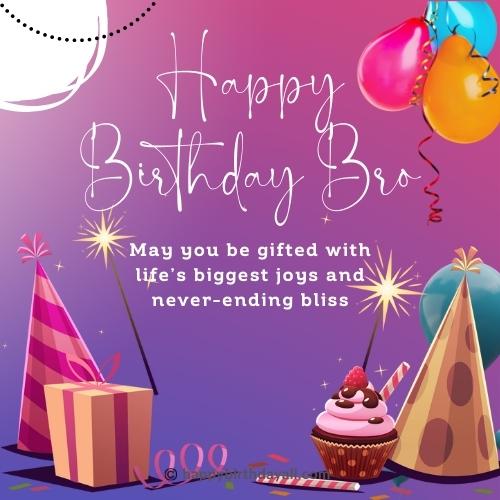 You are such a great role model for every brother in the world because you are so loving, caring, protective, and supportive. I wish you, the best brother in the universe, a very happy birthday.
Also see: Romantic Birthday Wishes
You are the sweetest brother I have ever seen in life, Always stay blessed in whatever you do, Wish you a very happy birthday!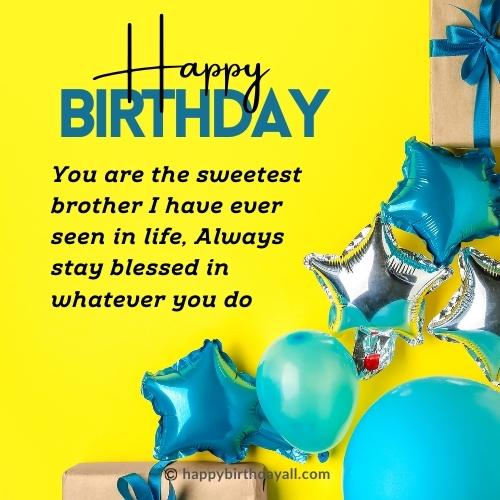 Happy Birthday, dear brother. May God bless you with all his warmth and care. May your birthday bring loads of joy and fun to your world.
Also see:- Happy Birthday Wishes for Big Brother
Brother, don't think too much about the past or where you are, because I believe you are destined to be great. On your birthday, I hope you reflect and understand that you are at a turning point in your life. Happy Birthday.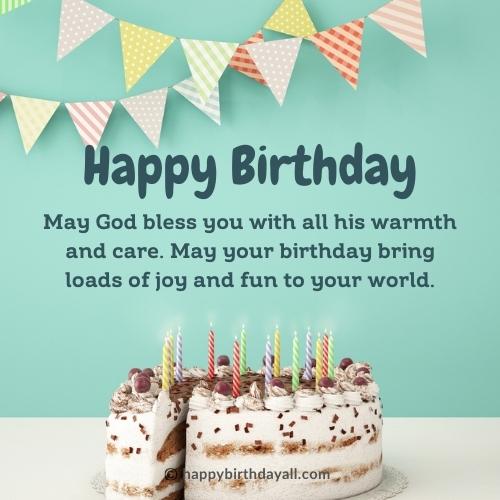 You are caring, you are true, You are truly one in few, Because you are my special brother, Happy birthday and always stay blessed!
Also see:- Happy Birthday Cousin Brother Quotes
Your Birthday reminds me of all the fantastic memories that we've shared in our lives. Let's go down the memory lane and celebrate those awesome moments on this special day. Happy Birthday brother!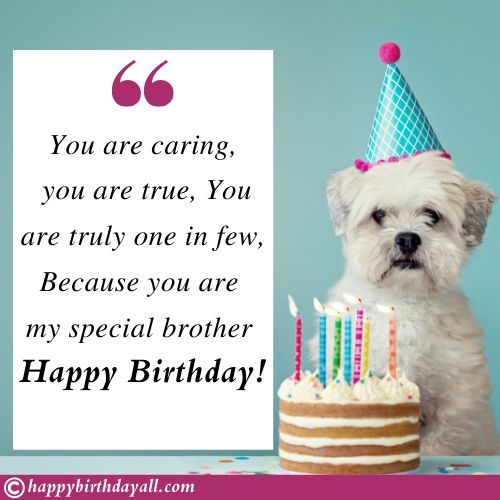 You are my mentor and supporter in every sphere of life. I am indebted to you beyond repayment and I wish you the very best on this special day.
On your Birthday, I wish that the Almighty blesses you with good luck, happiness, love, good health and success in every walk of your life. You truly deserve it. Wishing you a very happy Birthday!
We are sure he will cherish these happy birthday wishes for brother throughout his life. After all, such emotion-filled messages from a sister comes only once in a while. You can tease and playfully fight with him everyday but for once show him how deeply you love him. And, the best day to let your feelings out is your brother's birthday. Make the most of this occasion and don't let this chance go. Once gone, it will come after 365 days. Isn't this too long to wait? We know you don't like waiting that much. Thus, we are here with the best happy birthday quotes for brother. Pick the best happy birthday messages for brother from the below stated selection and make your brother's day memorable.
Best Happy Birthday Quotes for Brother
"Have you ever observed that we pay much more attention to a wise passage when it is quoted, than when we read it in the original author?" Yes, quotes have something special about them. They describe feelings more beautifully than plain words. Why not use the magic of a quote to wish your brother on his special day? To help you we have the best happy birthday quotes for brother. These birthday messages for brother are perfectly depicting the love, admiration, care, and that playful hate you have for your sibling. They let your brother know what he means to you and how much you adore him. He may forget all the gifts he gets on his birthday but he'll never forget the wishes coming from his sibling's heart. These best happy birthday quotes for brother will bring you even more closer.
If having a sister is the biggest blessing of the world, having an obedient, fun-loving, career-focused brother like you is the greatest joy ever. Happy birthday to my ever-charming brother!
More than a big brother, you are a classic mentor and a valuable friend to me. I have listened to you all my life and your priceless wisdom has helped me at every stage. Thanks a lot for all your guidance. Happy birthday, brother cum fatherly figure!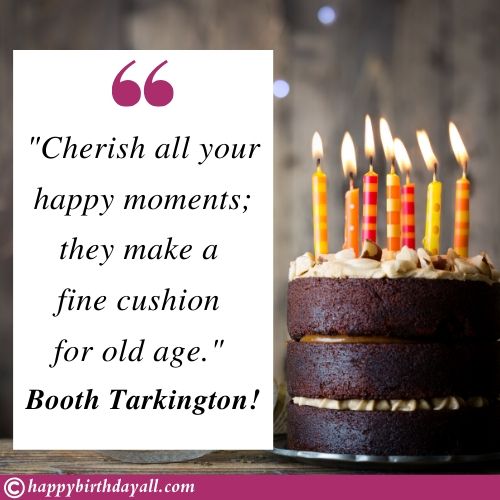 This birthday you have given me the biggest surprise as well as the thrill of my life. You are ready to tie the wedding knot! This is the best return birthday gift one could ask for. Congratulations brother and very happy birthday!
For you, nothing is impossible to achieve and no vision is big enough to shake your confidence. You truly are a maestro in what you do. Wishing happy birthday to my ultra-successful and genius brother!
Also see: Birthday Wishes For Friend Like Brother
On your utterly auspicious day, I would like to express gratitude towards you for supporting me like a father and a true friend till yet. If it weren't for you, I would still be struggling with my dreams in life. Happy birthday brother and have a splendid birthday celebration!
A stunning birthday party, lavish gifts, a scrumptious birthday cake, all are okay, but your birthday party will be incomplete with your ear-piercing singing. Wishing a jovial birthday to my utterly terrible singer brother!
I don't know how I express my gratitude towards God for giving me such an amiable and thoughtful brother. Whenever I see your smiling face, I forget about my troubles and past worries. Happy birthday, brother!
Out of all the real and cousin brothers I have, you are the one with whom I share a deep connection, and quite affectionate about you as well. May you have a long-lasting and fulfilling life. Happy birthday my cute brother!
It was an absolute delight to watch you grow from a gullible and naive kid to one of the most talented and visionary minds in the country. May your success goes beyond all boundaries, and your happiness never exhaust. Have an utterly bodacious birthday celebration, brother!
To be honest speaking, we didn't share a great brotherhood bond during childhood because of vivid upbringings. However, teenage consolidated the not so happening bond of brotherhood into a special one. Now I enjoy your company and started caring about you as well. Happy birthday to my cool brother!
Also see: Funny Birthday Wishes For Brother
"Cherish all your happy moments; they make a fine cushion for old age." ~Booth Tarkington
My brother got a .22 for his 12th birthday; I got a .22. He got a hunting knife; I got a hunting knife. ~Stephanie Cutter
"There's no other love like the love for a brother. There's no other love like the love from a brother." ~Terri Guillemets
I rarely see my family; my older brother, Peter, has twins – I was not there on the day of their birth or for any of their birthdays. ~Toby Alderweireld
"Let us celebrate the occasion with wine and sweet words." ~Plautus
Also see: Happy 45th Birthday Wishes
I was very aware of Jeff Buckley. My brother actually bought me The Mamas And The Papas and Jeff Buckley for my birthday when I was in my early teens. ~Imogen
"The only thing in this world that will always stay the same, when everything else has changed, is the bond that we share. Happy birthday to the best brother ever." ~Unknown
You are the one person that I don't have to explain my craziness to and the one person whose craziness I can't explain. And that's great. Happy Birthday. ~Unknown
"A brother is a friend given by nature." — Jean Baptiste Legouve
" There is a little boy inside the man who is my brother… Oh, how I hated that little boy. And how I love him too." – Anna Quindlen
Also see:- Birthday Wishes for Brother from Another Mother
Best Birthday Messages for Brother
Is there a better gift than wishes coming straight from the heart? We don't think there is. A wish is the most precious thing on this planet. It shows how much you care about someone. And, when that someone is your brother, then the wish becomes even more special. Therefore, on this birthday surprise your brother with a cute wish that describes your feelings and reminds him of all the moments you have shared. To help you do it we've compiled some of the most thrilling happy birthday wishes for brother. These messages come from the pen of writing wizards and are a perfect way to make your brother's day special. They show the love-hate feeling you have for your brother perfectly. Use them to add another beautiful memory to the relationship and make the day worth remembering. Let your brother know that no matter what life throws at you, you'll never leave his side.
With each passing birthday, you are getting more sagacious, compassionate, serene, and emphatic towards everyone. May God gives you enough energy to heal the wounds of the world. Wishing happy birthday to my mystic brother!
After watching your work and other deeds, I can clearly say that you are a superhero without any cape. You don't care about praises and achievements. You are a leader without any title. Wishing happy birthday to my utterly inspiring brother!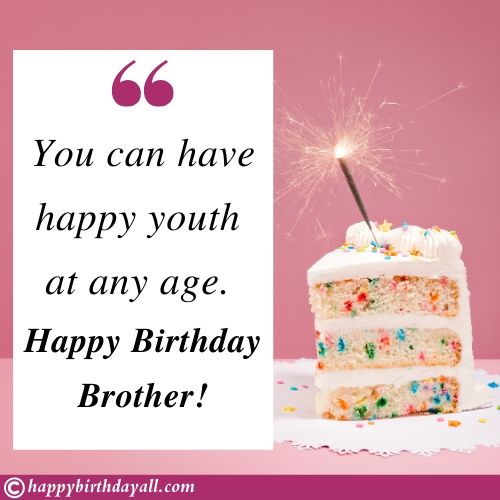 On your 21st happy birthday, I wish you a truly magnificent, full of swashbuckling adventures, and fun-filled life. Happy birthday, brother!
Thanks a lot brother for pulling me out of troubles all the time. I promise I will become the man you always wanted me to be. I will surely make you proud and tap my back one day. Happy birthday to my awesome brother cum fatherly figure.
Also see: Bible Verses for Birthday Wishes
Hey big bro, I adore you as much I adore our father. I always want to emulate you but you are so perfect and graceful that it is impossible to do so. I am quite contained to work under your shadow. I am pleased to wish my super successful brother a happy birthday!
There is no dearth of good friends in my life but none of them is concerned about my well-being, future, and career. That's why my brother is my best friend and no one comes before you. Happiest birthday to you. May you have a scintillating future ahead!
Hey little bro, the only valid reason you are in the family pictures is because you are adorable and good looking. Jokes apart, may your colossal birthday celebration stays in the mind of everyone till the end. Happy birthday, bro!
Everything in the world can vanish or go upside down but my brotherly bond with you will never ever shake a bit. Many happy returns of the day to the most electrifying brother in the world!
I never really saw the need of having a best friend because my brother was always there to listen to my rubbish talks, be there in my fights, and guided me in every walk of life. You are my number one hero, brother. I love you and happy birthday!
Also see: Happy Birthday Prayers
Though we are a thousand miles apart, I can still feel all the time that you are with me like a watchful protector. As long as you are in my life, nothing terrible can touch me and nothing will ever go out of my way. Happy birthday to my dearest brother!
Tomorrow is not just a other day it's a new chance to do something new for your soul. So take a break a do something for yourself. Happy Birthday Bro.
An old man can teach you something that you will never find on any book. Birthday Wishes for Brother
Plant your birthday wishes deeply in other people's hearts and you will see how they grow to a big and beautiful trees with sweet fruits. Happy Birthday Brother!
Working is the engine that keeps us live and young. Happy Birthday Dear Brother!
Also see: Funny Happy Birthday Images
Every age has it's happiness and sadness the trick is to dance between the rain until the sun come out and shower the soul with a nice rainbow. Happy Birthday Brother!
You can have happy youth at any age. Happy Birthday Brother!
The past is for memories, the future is for plans and the present is for having fun and joy. Happy Birthday Dear Brother!
You can be young in this life only for one time. And when the years pass and you get older you will have to have another good excuse for your behavior. Happy Birthday Brother!
Life is like a game there are some rules but most of it is mystery and luck. So it is better to have speck on luck than a good brain. Happy Birthday Brother!
It is very hard to remember happiness because it doesn't leave scars like pain. Happy Birthday Brother!
Also see: Cute Birthday Wishes For Twins Brothers
Emotional Birthday Greetings for Brother
Even though I have always been strict to you but from the inside of my heart I have always prayed for you and for your success. I want to say you are my good brother but definitely not obedient. Wishing happy birthday dear not obedient brother!
When you were a small kid weeping and I used to take you into my arms and walk here and there. Those were the sweet childhood moments when you were little too and me too. I wish in the path of your life, you never get confused and walk towards the horizon of your success. Happy birthday my sweet brother!
Don't be aimless brother. This is the death of this precious life. I wish and pray you find your purpose in life provided you can live it fulfill. Wishing all my love and brotherly happy birthday to you!
You have the entire qualities brother. But there is one thing you lack and it is discipline. Once you adopt discipline, you get everything life. I wish may this come to you. Hugs, prayers and blessings to you little brother. Happy birthday!
I wish and pray may your dream of becoming a pilot come true. May you be guided by highest power that runs this whole universe. Wishing my love and happy birthday my pilot brother!
You are a very jovial man, a ready to hangout guy. Everyone likes you including me. I wish wherever you go, you leave you charm there and May you build a legacy of you. Happy birthday my dearest brother!
You are always mama's favorite kid and really I have no jealousy towards it. I wish you become favorite of everyone. May you become famous and popular in the world because your work. Happy birthday my brother darling! Warms hugs and love to you!
May you be strong and powerful. I really wish none could defeat you. May you have Bruce Lee physique and herculean strength. Happy birthday my Hercules brother!
We wish you never get bickered before any difficulties in your life. Believe in hard work and get ahead where no other could have reached. Giving you warm hug and happy birthday worriless brother!
We wish you be a kind wherever you go. You reign all over the world. May you never feel the emptiness of anything. May you be a friend of friends. Happy birthday friendliest brother!
Live the happy moments brother whatever that come in your life. Never wait for anything perfect or for becoming perfect. Life and time are temporary. I wish may you make eternal and immortal moments that live forever. Wishing you happy birthday my amazing brother!
You have very funny laugh brother that makes others laugh too. I wish it never gets erased from your lips. And may your every birthday be life changing for you. Happy birthday my awesome brother!
You used to like flowers lot. When you were a kid you wanted to make your own garden. I wish may your this childhood dream come true, and your life also get full of flowers. Happy birthday my best brother!
You are my best friend and it is so advantage that you are my brother too. You are 2-in-1 free. Such a combo you are! Wishing all the success and happy life brother. Happy birthday!
May your ship never get wrecked and never sink in any ocean. May no thunder blister you and I wish may you always come out as a winner from all problems. Happy birthday my sailor brother!
My dear big brother, you are always like Popeye, like of helping nature, just not saving always Olive. I wish may you forever get a helping hand and may you help needy always. Happy birthday my Popeye the great brother!
Whom you want best and always in your life, I wish may they never leave you. May you be surrounded by their love and no sadness touch you. Happy birthday brother!
May you be mentally healthy and wealthy always. I pray no problem could break you. May you have the heart of steel. Happy birthday my steel heart brother!
May you never lose your way. May you never get confused in the jungle of this world. May you always find your way. Happy birthday my navigator brother!
From the truest of my heart I pray to this and all Gods of this universe may you find the true love of your life. I wish you must find her. Wising happy lovely birthday brother!
Also see: Happy Birthday Wishes For Neighbor Friend
Short Birthday Wishes for Brother
Happy birthday dear brother! I just wish you never be a mediocre for your life.
You always raise your standard so high that you become high too. Happy birthday my charming brother!
May the magic always happen in your life. May you be the magician of your destiny. Happy birthday my magician brother!
I wish no hatred for you come and no hatred you have for anybody. May you be pure of heart. Happy birthday my lovely brother!
I wish you touch the horizon always. I wish may all stars come in your sack. Happy birthday my starriest brother!
May you never get frightened of any dare. I wish you be my daring brother. Happy birthday brother!
You are the prettiest brother. Thanks for being my supporting brother. Happy birthday my best brother!
May your all wishes come true. And you never feel any lacking in life. Happy birthday my annoying brother!
I wish you be a dragon, unconquerable and undefeated. Happy birthday brother!
May you never leave the company of dedication and hard work. Happy birthday darling my brother!
Also see: Jovial Happy 25th Birthday Wishes
Long Birthday Wishes for Brother
As your childhood was playful and kiddish and you had all the romance of life, I pray may your present be like this. Happy birthday my smartest brother!
Being with you feels like I always have back that would hold me when I fall down. Thank for being there for me always standing at the door. Happiest birthday my brother!
Never leave me brother. Without you I would be like floating directionless. I wish may your health and wealth double up. Happy birthday my caring brother!
We are not some younger and elder brother. We are same and equal. What I get you get too except my girlfriend. I pray may you always get ahead than me. Happy birthday my cutest brother!
You be like an ocean brother, vast and deep, in whose embrace everything melts and assimilated. Happy birthday brother!
Father always brought toys for you what you liked. What you demanded, they always got fulfilled. You were always lucky brother and I wish you forever be. Happy birthday my luckiest brother!
You never get into race brother. The path you choose for you become your destiny. I pray for that. Happy birthday brother!
Just you never be charmer of others. Be the charmer of yourself and be happy in yourself. I pray for this for you. Happy birthday my charming brother!
You are not just my brother, you are not just my friend, you are my whole family. Happy birthday dearest brother!
You are not an angry brother and it is good. You are not like all brothers. You are a special brother. Happy birthday my special brother!