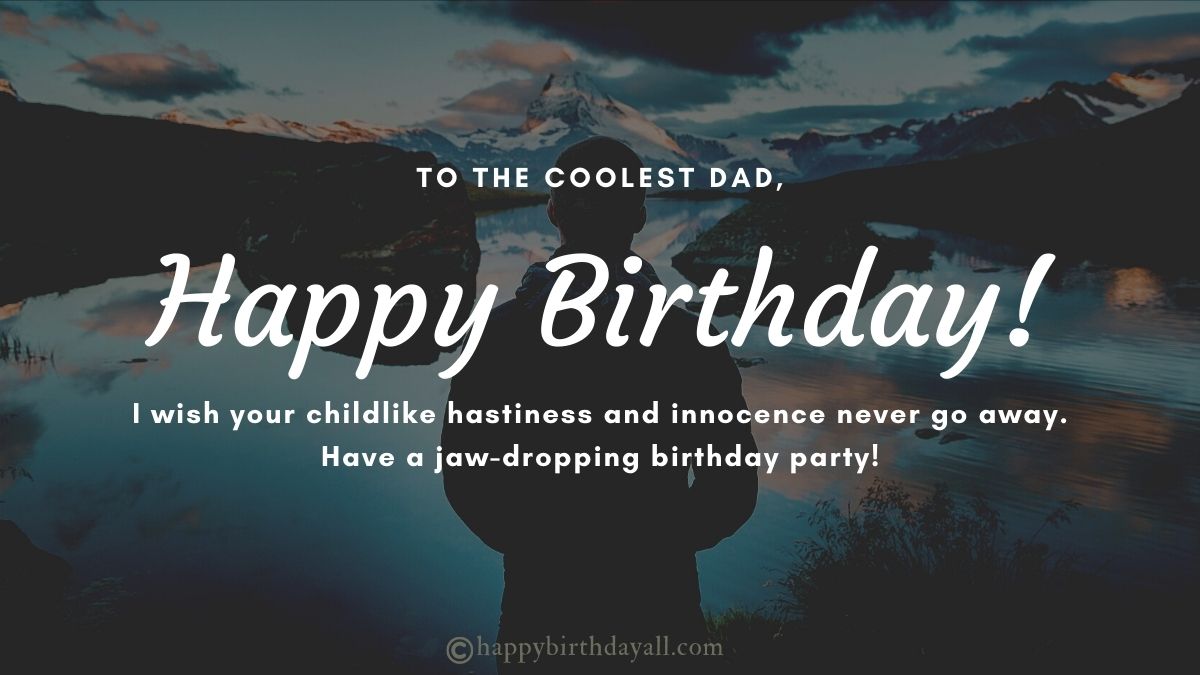 Birthday Wishes for Dad: Do you desperately need inspiration and a more than perfect birthday wish for father to move his heart on his birthday? Do you want to let your dad know how much you adore him and make him proud by doing astonishing things? A father is the head of any family and also the biggest support system, bread-butter provider, guide, and protector.
A father always believes in giving selflessly to everyone but never expects a thank you in return. To flabbergast such a selfless soul on his special day, you simply need more than ordinary birthday wishes for father. Below, we have the most extraordinary selection of heart touching birthday wishes for father from daughter & son, Inspirational happy birthday dad quotes, and funny birthday messages for father that are quite ideal to appreciate all his sacrifices, love, and hard work he does without asking anything in return.
You May Also Like:
Heart Touching Birthday Wishes for Father With Images
Happy birthday my mentor, my loving father! Today I am feeling so honored and humbled to celebrate the 50th birthday of my sagacious father. There is no dad supportive, caring, and kinder than you.
You're one-of-a-kind and I love you so much. Happy birthday, PAPA!
Happy birthday to my forever awesome dad! Everyone sees the sacrifices of a mother but no one sees the unconditional support, dedication, and determination of a father. Dad, I promise to never let down your name.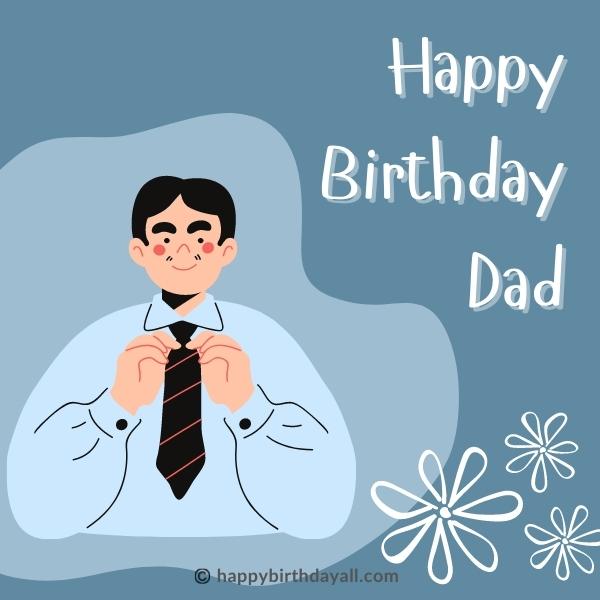 Hey father, I may not be the finest kid you have asked but I will prove to you that I am the right person to carry forward the legacy of this legendary family. Accept my heartfelt birthday wishes father!
Happy birthday to the greatest man in the world! There is no gift big enough and exorbitant in this world that can match the class and grandness of your birthday party. You have inspired a million lives and may god endows you enough strength to change a million more.
Happy birthday to my funny father! When it comes to bad dad jokes, You truly are the best!
Happy birthday, father! I haven't got enough opportunities to tell you that you are the classiest and the most humble man I have ever seen. You have led me to the right path and in the direction of positivity till yet. May you continue to do so. I am utterly blessed to have a father like you.
Father, happy birthday! I hope this year brings your most exciting adventure yet! Celebrate today and always.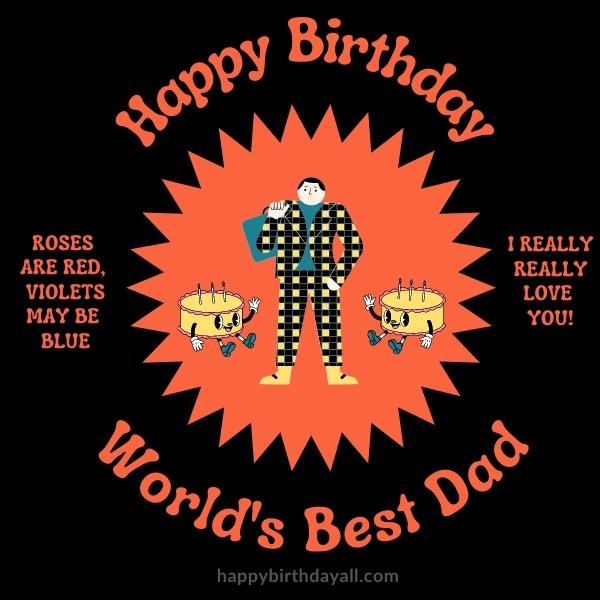 I have nothing but the utmost respect, affection, and admiration in my heart for you. One day I would like to be a man of profound character, honesty, and high morals like you. Have a magnificent birthday celebration daddy!
Dad, you're an oldie but goodie. Happy Birthday from one of your greatest hits!
Happy birthday my lovely daddy! Hey dad, on your special day, I want you to dance and booze with me till we wobble. Have a fantastic and regal birthday celebration.
Wishing a cheerful birthday to my cutie pie father! Hey daddy, it's your special day and mom is allowing you to party all night. Aren't you feeling blessed already?
I'm extremely grateful to have a father who is so supportive, loving, and caring. All my best wishes and prayers for your special day. I cannot imagine a single day without you, dad. Happy birthday.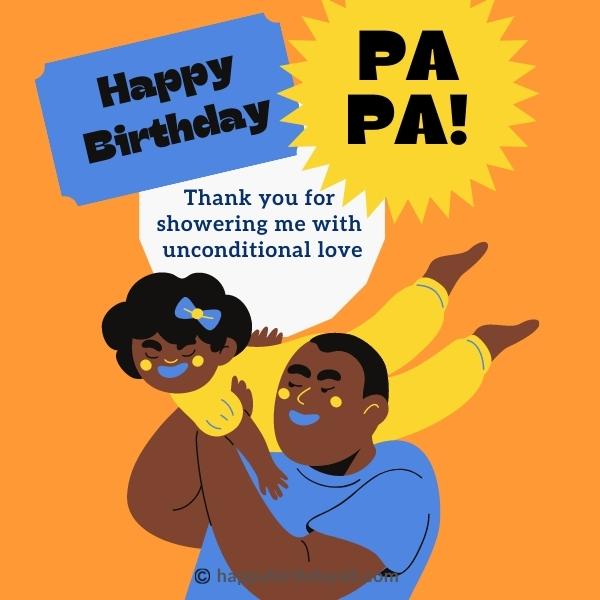 Happy birthday my super awesome daddy! Daddy, you are the one who has given me the perfect formula for a happy life. A cute god, a submissive girlfriend, and loads of money.
For me, you are not only my father but also my best friend. You always supported me and protected me. I'll never forget the sacrifices you made for us. Happy birthday, dad! Wish you much peace and happiness every day of your life.
Happy birthday to my amazing father! Happy birthday to the man who is single-handedly responsible for so many enchanting memories and great moments in my life.
I can't wait to celebrate your special day with you. Happy birthday!
The greatest thing you have ever done for the family is giving birth to me. Everyone lauds your creation. Jokes apart, happy birthday to my lovely daddy!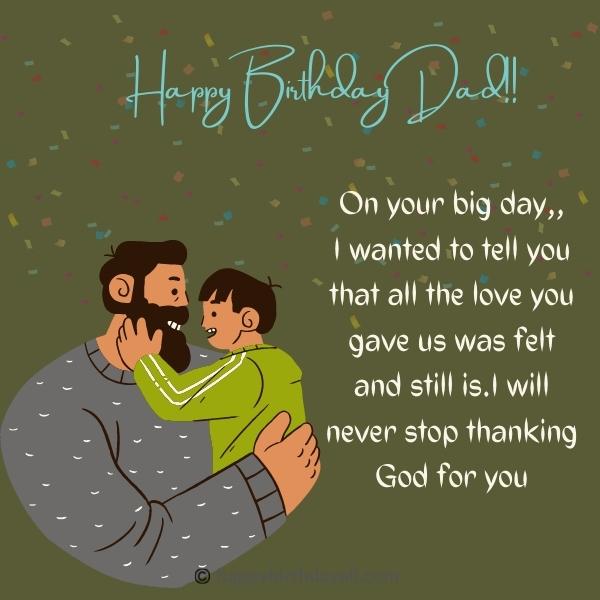 Today I am remembering and celebrating the remarkable life of the most incredible friend, mentor, idol and father. You were always so much more than just a parent to me, dad. Happy birthday, papa. You will always be my hero.
Happiest birthday to the man who does whatever it takes to keep his family cheerful and satisfied. It's your time to sit back, relax, and enjoy some goddamn good bear!
When I need some support, you're there. When I need some guidance, you come. You are the best dad in this world. Happy birthday.
Happy birthday my lovely daddy! I know words, gifts, and surprises are not enough to make your birthday stands apart from the pack. I just want to tell you that I am outrageously grateful for all the sacrifices you have made to make our future.
I wish you the best birthday for the most wonderful dad!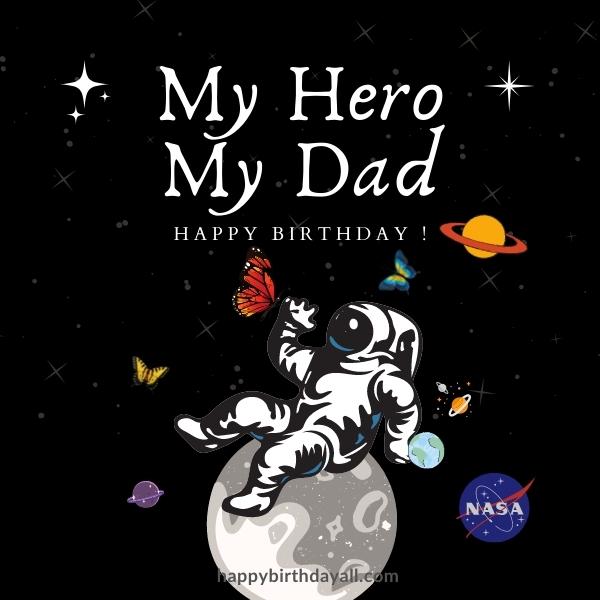 Happy birthday, father! The older I am getting, the more I am realizing that how bothersome it is to become a father. In my eyes, you are already the greatest father. I appreciate even your smallest efforts.
Happy Birthday, Dad! May the upcoming days of your life be filled with unbounded happiness and joy.
Happy birthday my real-life superhero! Thanks a ton dad for maintaining the frisky and rocking environment in the family all the time. You are the kind of father every kid dream to have for a lifetime.
You worked hard and tried your best to make us happy. You never think about yourself but now it's time to enjoy life. So stop worrying about anything and have a stress free and amazing life. Happy 50th birthday, dad!
Since the day I gained my consciousness, you are the only person I have look up to as an ideal and the mentor. Not only you are a great beer buddy but also a classic adventurer. I love you father and happy birthday!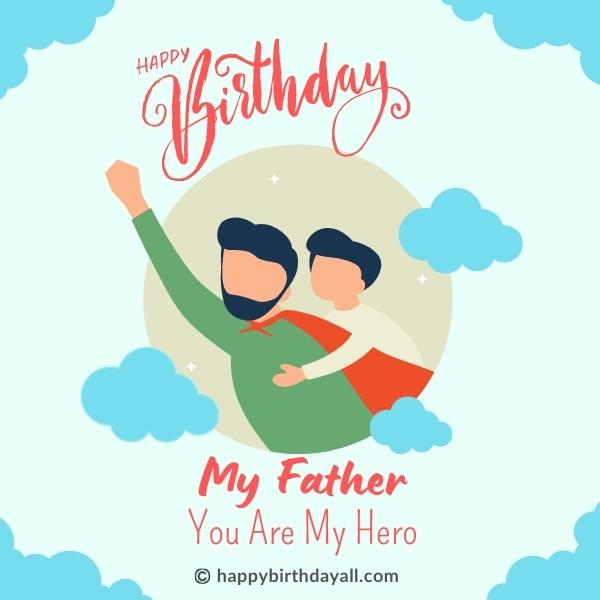 You're the best father anyone could ever ask for. Happy birthday!
Wishing happy birthday to my great father! Your one thought has made a towering difference in my life than the lessons given by the rest of the teachers. You are a man of practicality and reality.
My hero, my idol, my mentor and a friend. To me, you're all this and more, dad. Any son would be lucky to have a father like you. Happy birthday.
Happy birthday, to my wonderful dad!It is not at all easy to be the best dad, a great friend, a compassionate teacher, and a visionary mentor at the same time. You have played all the parts quite excellently that no one else can do. Have a sizzling awesome party!
Happy birthday, DAD. Thank you for always being there to lend a helping hand. I hope today brings you lots of love, happiness, and smiles, dad!"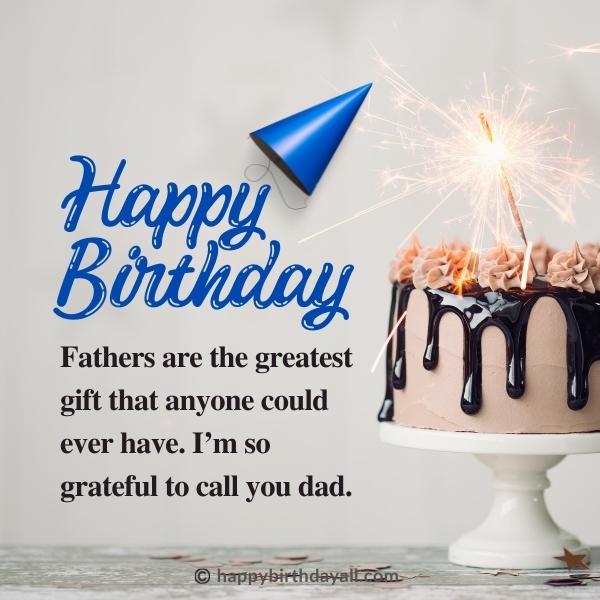 Happy birthday to the most handsome father! When it comes to ranking the coolest dads, you always top the list and that's no surprise to me. Thanks for giving me good looks and awesome life.
Happy Birthday to the man who fought all the monsters under the bed and in the closet. Thank you for always making me feel safe!
Happy birthday lovely daddy! I know I am not big enough to hang out with you and chill. But I am not small enough to cheers some fine wine with you on your birthday. Let's show the world how the best father-son parties.
Happy birthday dad! May God fills your life with a brighter smile and more joy than ever.
Happy birthday, to my father! Dear father, no matter how terrible things go for me, you are always there to turn things in my favor. With you by my side, I can snatch victory all the time.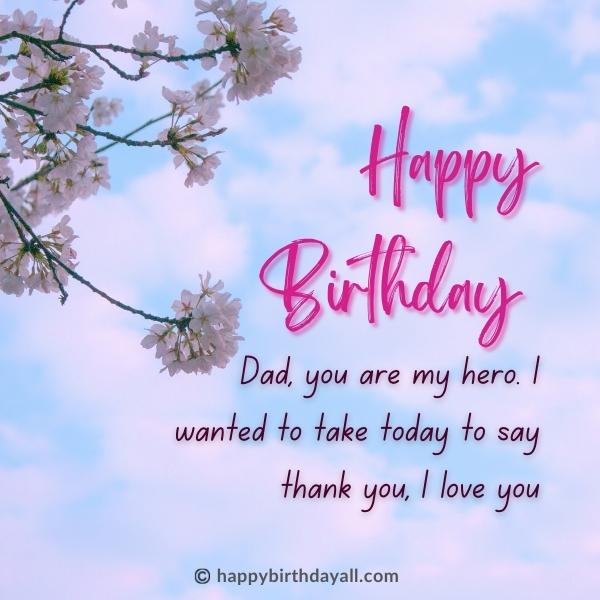 You taught us a lot of things and whatever we're today it's because of you and mom. Thank you so much for being such a lovely dad! I'm really fortunate to have you in my life. May God give you many years of healthy life!
You have worked hard to make our ordinary family the most renowned family of the town. On your special day, I take the pledge to carry forward your legacy with the utmost legacy. Thanks for making all of us proud. Happy birthday, dad!
You've always been my personal superhero. Thank you for all the lessons you've taught me over the years. Happy birthday, dad!
When I look at your awe-struck achievements, I thought would I be able to become even half good as you? I am super lucky to have a father like you. Happy birthday, father! May you have a prosperous year ahead!
Today, I'm wishing a very happy birthday to the coolest dad around! Sure, your jokes are lame but you make them funny in your own way and you never fail to make me laugh! I truly am a blessed daughter to have a father like you!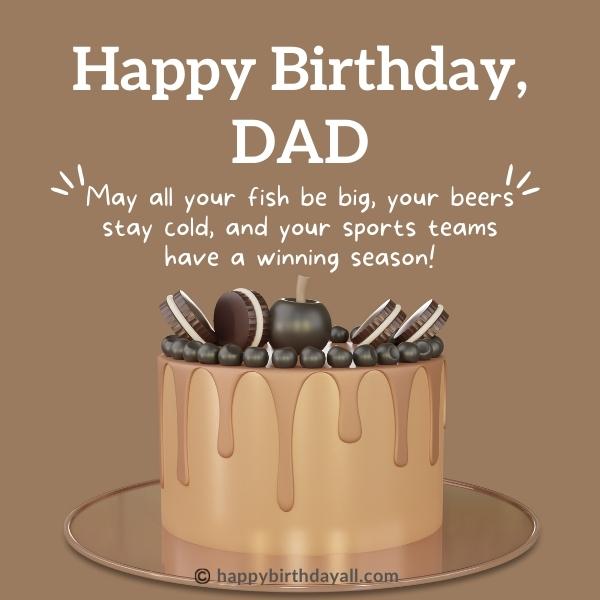 Wishing happy birthday to the man who is destined to influence humanity and leave it better than ever. God bless you, daddy! May you have all the laurels on your shelves.
Happy birthday daddy. Thank you for guiding me how to deal with the big stuff and for teaching me how to let go of with small stuff. I love you!
Wishing you a mirthful birthday father! May you never have to face terrible problems, may your health always remain in the top of line condition, and may you always protect our family from unwanted situations.
All your life, you've worked towards making our wishes come true. Today, it's your turn to make some wishes. Happy Birthday, Dad!
The collective knowledge and wisdom you have imparted to me is the best-inherited wealth I could get from you. Thanks a lot my legendary daddy. Happy birthday to you!
Congratulations dad, on completing another glorious year of your life. May God bless you with many more happy years to cherish. Happy birthday.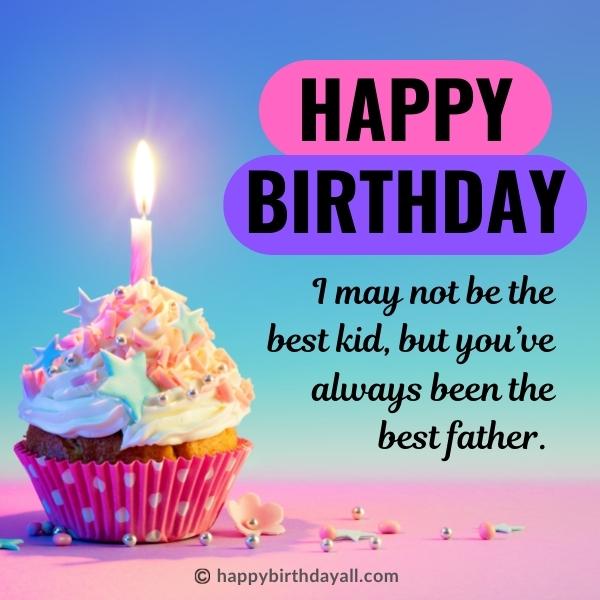 The whole life will fall short to talk about your glories and love you. You are the man of hope, positivity, and a go-getter attitude. May life always be kind to you. Happy birthday, father!
The foundation of my life was formed with your principles. You guided me in the right way and showed me the path of honesty. Many congratulations on your birthday, dad! May your life be blessed by God always!
May your this birthday brings immeasurable joy and bundles of alluring opportunities in your life. You are a thorough gentleman and the champions of life. Happy birthday daddy and thank you for showering unconditional love and affection on us.
Nothing could ever break our special bond. I'm lucky to have such a loving father. Happy birthday!
Life is unpredictable and can jolt anyone at any time. But my faith and confidence in you will never ever waver. Wishing you a scintillating happy birthday father. May you rock the dance floor like a teenager!
On your special day I just want to say That you are the man I aspire to be and I owe So much to you, dad. Happy birthday, dear father.
Also see: Birthday Wishes for Father-in-law