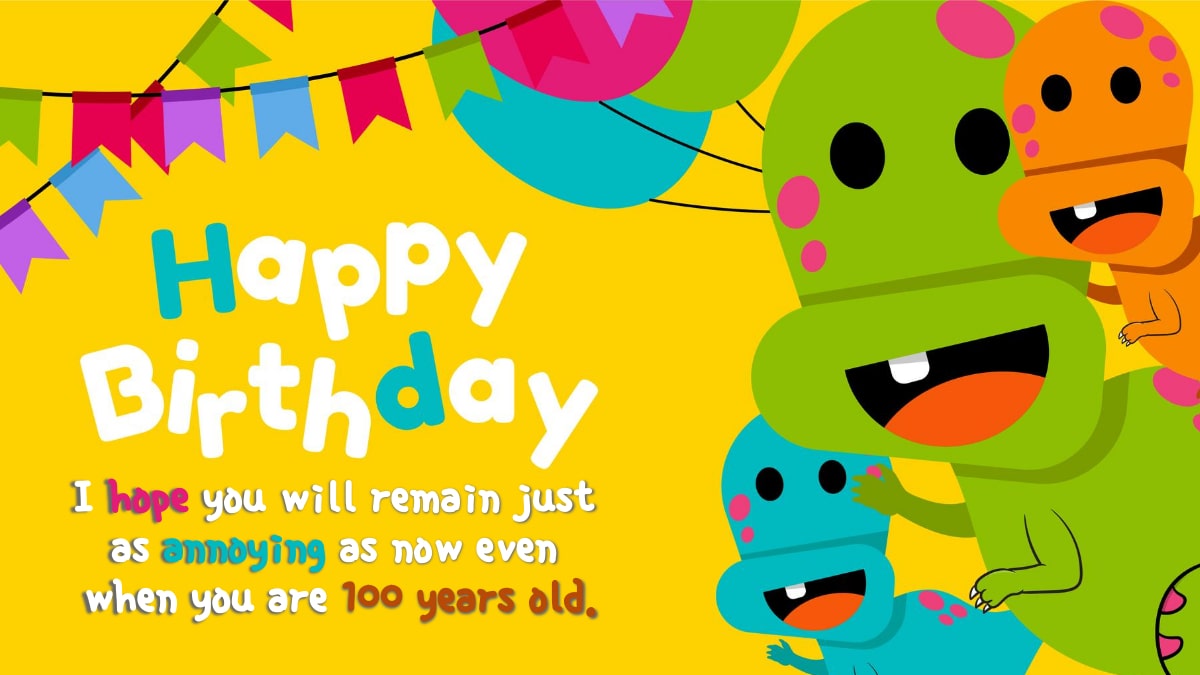 Funny Birthday Wishes for Brother: No one wants their birthday to be lackluster and forgettable. Every birthday party needs some humor and jokes to keep the frisky and funky vibes alive and keep the party going on in an astounding way. By sending funny birthday wishes to your loved ones on their happy birthdays is one of the finest ways to tickle everyone's funny bone at the birthday party as well as make the celebration more fun. If your brother's birthday is on the verge of arrival, we have collated a hilarious collection of funny birthday wishes for brother that will make your brother laugh like crazies.
Crazy Funny Birthday Wishes For Brother
Happiest birthday to my crazy brother who reminds me a hell lot about all the diabolical villains I have ever seen in movies. May God make you handsome and polite so that girls and decent people start liking you more. God bless you!
It gives me immense pleasure to wish a mirthful birthday to the biggest entertainer of our family. You are such a happy face that we don't need anything more than your presence to laugh till we wobble. Thank you for being such an awesome brother. Happy birthday once again!
I think your birthday is the right time to tell you about the biggest secret of your life which we have kept hidden from you for so many years. I am the real blood of this family and you are the adopted one. Don't worry, I am joking! Happiest birthday to the jolliest brother!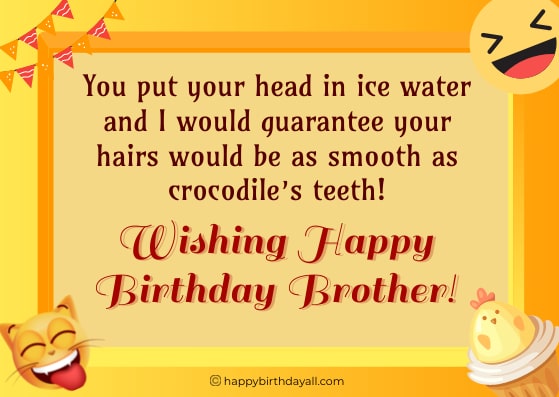 You are the only person I have ever seen who can be two extreme personalities at the same time. At one moment, you seem so gullible and humble that I want to keep giving respect to you. Another moment, you seem so treacherous and fanatic that I want to run miles away from you. Wishing happy birthday to my craziest brother!
From the bottom of my heart, happiest birthday to the wittiest, smartest, loveliest, and most praise-worthy brother of mine. Fun fact, all the mentioned attributes are absent in you so don't get flattered unnecessarily. God bless you with immeasurable wealth and immense peace!
You put your head in ice water and I would guarantee your hairs would be as smooth as crocodile's teeth! Wishing happy birthday brother!
You don't need a cake to celebrate your birthday. You need some cherries. Put some cherries on your cakey life dear brother and dance as you wish Forget about the moves .Wishing happy birthday my dear brother!
Brothers are loyal for you. And this is the reason they are so costly as you are. And tell me why you have washed your face with cheap face wash? By the way wishing happy birthday brother!
Brother tries to over smart other brother, which is making dumb of each other. Happy birthday dear brother! Love you.
When you were a small kid, river always flowing from your nostrils. Wishing happy birthday dear brother! Keep hanky always pinned to your shirt!
Also see: Birthday Prayers For Brother
Funny Birthday Wishes For Younger Brother
An elder brother is bound to get headache after headache when the younger brother is crazy, spontaneous, and audacious like you. On your special day, may God endows you conscience to differentiate between good and bad. Happy birthday to my little champion!
Hey little brother, what's the point of being so popular in your college and in our society when not a single girl has wished you a happy birthday. Do one thing, wish yourself a happy birthday because I don't think there is anyone who wishes you.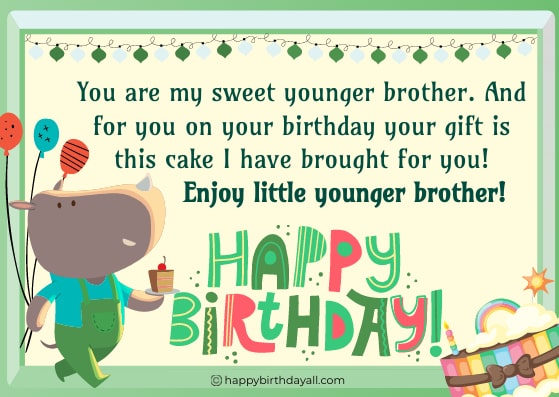 You should be declared as the world's luckiest younger brother because when your elder brother is so successful, smart, and rich, luck is bound to deviate towards you. Happy birthday to my funky little brother. Be happy and keep hustling in life!
I did whatever I could to find the most ingenious, useful, and exorbitant birthday gift for you but I couldn't do anything except my valuable presence at your birthday party. Don't be sad little brother, your best birthday gift is loading. Happy birthday and have a great one!
I know you are younger but better than me in most of the things like sleeping more, eating more, failing in examinations, and getting rejected in job interviews. Thank you for being better than me in all these things and listening to the taunts of family members. Happy birthday, little brother!
You are cute little younger brother. But don't think that you always get the benefit of it. Wishing happy birthday dearest younger brother!
You are my sweet younger brother. And for you on your birthday your gift is this cake I have brought for you! Enjoy little younger brother! Happy birthday!
These days younger brothers look a little old when they color their hairs. They are like neon gorillas! Happy birthday younger brother!
Brother don't these days enjoy the company of other brother while of their girlfriend! Wishing happy birthday younger brother! When is yours free!
There is a benefit of having a younger brother, that they can do all the housel hold work! Enjoy household life younger brother. Happy birthday!
Also see: Birthday Wishes For Younger Brother
Funny Birthday Wishes For Elder Brother
Happiest birthday to my 25 years old energetic brother who unfortunately looks like 50 years old and walks like a 75 years old. May God bless you with youthfulness, good looks, and wealth!
Hey brother, you have grown up so much that even candles and calendars are not sufficient enough to reveal your age. I can only wish for your long life and good health on your special day. Your age to receive gifts has long gone. Happy birthday to my dearest elder brother!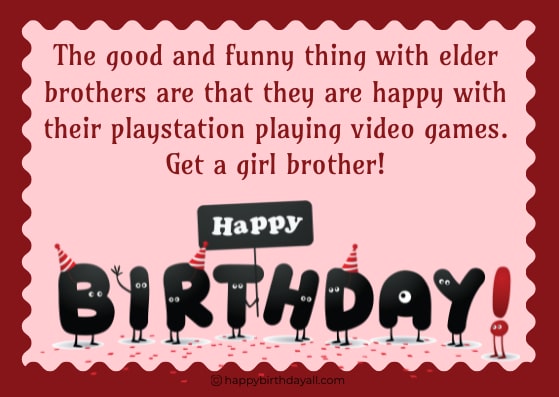 Hey brother, today is your special and I want you to celebrate it with people living in old age house. Because that is the only place where you can find people of your age to celebrate your birthday. Jokes apart, happy birthday to the coolest elder brother!
May almighty keep your back straight, your teeth intact, your hairs lush black and long, and your eyes strong enough to differentiate between young and old. Wishing joyous birthday to my old man, my dashing elder brother!
You are undeniably the best big brother in the world. You are indeed the best when it comes to not throwing your birthday party, taking gifts but not giving gifts in return, and not sharing your birthday cake with me. Happy birthday to my super special elder brother!
You my elder brother, why don't you blend easily with others? That's why you are a bamboo standing and sitting always alone. Wishing happy birthday brother! Be like seasonal ice cream, brother!
Eder brothers always say this one common line to their youngers, 'listen'. Whole life they say this one common line. Happy birthday my elder brother! And we listen you always.
Elder brothers always preach the lesson of discipline, while on the other hand they also say life is boring because of this discipline. Happy birthday my sweet elder brother! Break free dear.
Elder brothers are responsible people. That's why they are responsible for everything! Happy birthday brother! Just get loose in life!
The good and funny thing with elder brothers are that they are happy with their playstation playing video games. Get a girl brother! Wishing you happy birthday!
Also see: Say Cheese To Your Elder Brother On His Birthday
Funny Birthday Messages for Brother
I have heard many people saying that mental prowess and capabilities amplify with respect to time but your case is totally opposite. You have become more dolt and numb. Happy birthday to my not-so-smart and witty brother!
No matter how much life evolves or transcends, you are the only individual I know who will neither change with time nor for anyone. Happy birthday to the best friend of dinosaurs.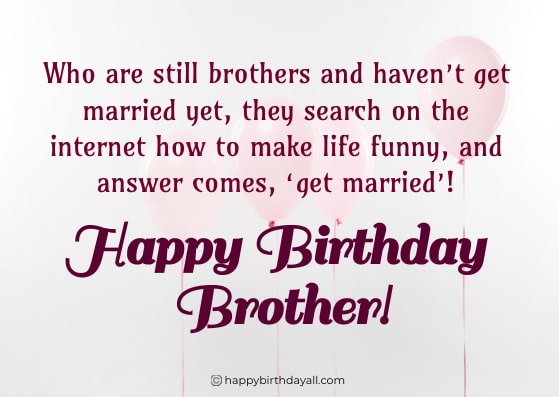 Hey brother, I want to do something extraordinary and memorable on your birthday. I want to create a statue of yours in front of our house and title it ' man with zero achievements'. Happy birthday to the laziest and the dumbest brother in the world!
Happy birthday to my lovely brother who can spend millions on his love but won't spend a penny in giving a birthday party to his dearest brother. May you go broke, live loveless, and ask for forgiveness all the time. Happy birthday, old guy!
I consider myself as the most blessed brother in the world as I have a brother who is beyond any comparison. I couldn't ask more from God because I cannot handle what I already have. Happy birthday to an old man from the most youthful guy!
Who are still brothers and haven't get married yet, they search on the internet how to make life funny, and answer comes, 'get married'! Happy birthday brother!
The problem with being brother is, you always have to calm down your anger before young ones. Because they need to set an example and that's their whole life setting an example! Happy birthday brother!
As brothers grow, they become scary for each other! Wishing happy birthday my scary brother!
Brothers party together and at the end thinking who would pay the bill. That's the problem partying with brother!
Brothers take care of brother snatching everything! Happy birthday big brother! We love you with discount!
Also see: Happy Birthday Brother Images
Funny Birthday Quotes For Brother
Hey brother, this birthday is going to be quite white and flashy for you. I mean white hairs, white beard, but yellow teeth. Happy birthday brother and take care of yourself because going old sucks!
Another happy birthday of my brother, another year of brutal birthday bombs, making a dent in your pocket, and humiliating you in front of your friends. Have a joyous and remarkable birthday celebration, my cute brother!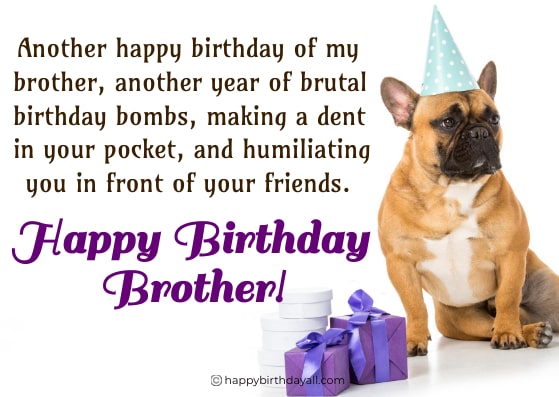 Hey brother, I want you to enjoy a few remaining birthdays of your youthful years. Once you enter your mid-years, no one would come to celebrate your birthday except your bottle of whiskeys. Have a relaxing and whimsical birthday celebration!
Hey amazing brother, your happy birthday is the most awaited day for me because this is the only day when you bring some money out of your fat pocket to celebrate your special day. May God take all your money and give it to me. Happy birthday, brother!
It's my sweetest brother's happy birthday and I have planned so many surprising things for you. You just make sure to keep paying bills on time if you want surprises to don't stop for a minute. Happy birthday my old brother and have a blast!
Don't too much love your brother. And then they become your children weeping in your lap! Happy birthday brother! Love you.
The only thing that can scare an elder brother is, paying bill for younger brothers! Wishing you happy birthday brother! We wish you pay our bill whole life!
Don't ever take elder's brother motor bike without his permission. They love it like girlfriend and that is the problem and funny too! Happy birthday brother!
Brothers are like cloth hangers that always hang from other brothers' neck. Wishing happy birthday brother!
Brothers hate being wife. They are always bachelors. Wishing happy birthday brother! May you soon become a wife in life of your girlfriend!
You May Also See: