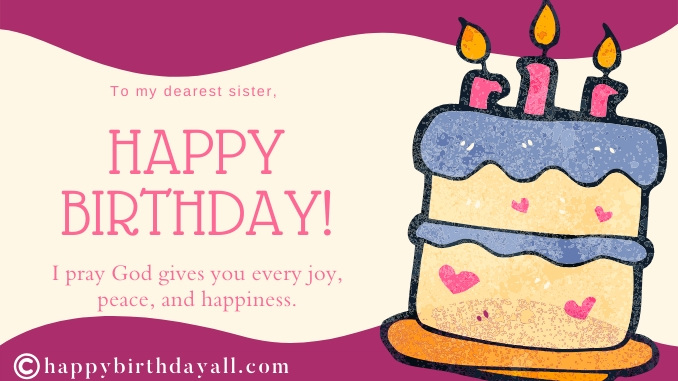 Inspirational Birthday Quotes for Sister
One of the most amazing things about having a sister is you always have someone to snatch from. Happiest birthday to my cutest sister!
In my opinion, sisters are like big panthers. They always want to scratch and bite their brothers but can't live either without cuddling them. I wish a happy birthday to my ferocious yet adorable sister.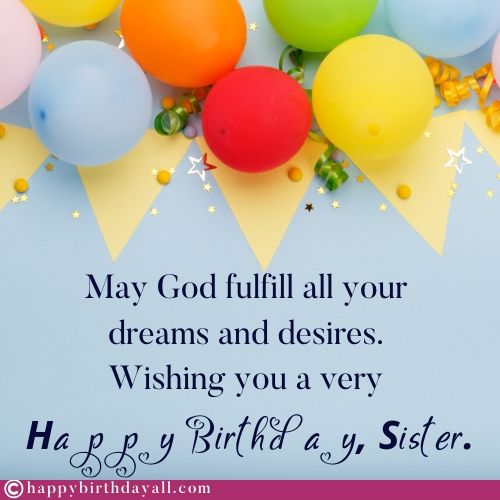 The fun and happiness in the life of a brother automatically amplify when he has a sister in life to share everything. There is a reason sisters are the biggest blessings in the world. Happy birthday to my sister cum best friend!
You can make your best friend with a sister. However, you should never make her enemy as she can spill all the beans in front of the parents. Then you are no less than a dead. Hey sister, I will always be standing by your side. Happy birthday to you!
I have seen all the enchanting and mesmerizing things of the world but none of them comes even a bit close to my sister's smile. May you always keep smiling and growing in all walks of life. Happy birthday to my super pretty sister.
Also see: Happy Birthday Prayers
Only sisters have the courage and unflinching will to handle two families at a time. Brothers can't even handle themselves properly. Kudos to my formidable sister. Happy birthday, sister! I love you.
Where the parents fail to understand, a sister always understands what's going in the heart of his brother. Everything can fade way in life but not the love of a sister. Wishing my dearest and the most beautiful sister a very happy and zingy birthday!
An elder sister is always the bossy one and a younger sister is always the demanding one. When you have both in life, you get to experience hell on earth. Happy birthday to my elder and younger sisters. Isn't it's amazing that your birthdays fall on the same date?
A sister is perhaps the only friend in front of whom you don't want to hide anything. A sister is the ocean of affection, unconditional love, and empathy. I am more than excited to wish my stunning sister a happy birthday. May you always be God's favorite child!
Even the most amazing success or news of your life become half-interesting when you don't have a sister to brag about it. Hey sister, you are the quintessence of my life. Happy birthday to the jolliest sister in the world!
"Is solace anywhere more comforting than in the arms of a sister?" —Alice Walker
"God bless you today and always and may all your goals come true." ― Auliq Ice
"Big sisters are the crab grass in the lawn of life." —Charles M. Schultz
A sister is a little bit of childhood that can never be lost. ~ Marion C. Garretty
"Having a sister is like having a best friend you can't get rid of. You know whatever you do, they'll still be there." —Amy Li
What are sisters for if not to point out the things the rest of the world is too polite to mention. ~ Claire Cook
"Sisters never quite forgive each other for what happened when they were five." —Pam Brown
"Sisters take care of each other, watch out for each other, and comfort each other, are there for each other, through thick and thin." ~ Bonnie Li Oscarson
"A sister smiles when one tells one's stories — for she knows where the decoration has been added." —Chris Montaigne
"If your sister is in a tearing hurry to go out and cannot catch your eye, she's wearing your best sweater." —Pam Brown
Also see: Bible Verses for Birthday Wishes
"What's the good of news if you haven't a sister to share it?" —Jenny DeVries
"How do people make it through life without a sister?" —Sara Corpening
"Have you ever observed that we pay much more attention to a wise passage when it is quoted, than when we read it in the original author?" This quote by Philip Gilbert Hamerton is indeed true. Quotations attract more attention and convey the message better than plain random words. Thus, on this day of your beloved sister make her feel special with the best birthday quotes for sister coming from the pen of writing wizards. These happy birthday quotes for sister will not only make your sister happy but also take your relationship to another level with their magic. They perfectly put together the feelings of love, care, and that friendly kind of hate you have for each other. They take you through the roller coaster of your memories since you were little cute kids fighting for a chocolate. Ready to revisit the memories? We know you are.