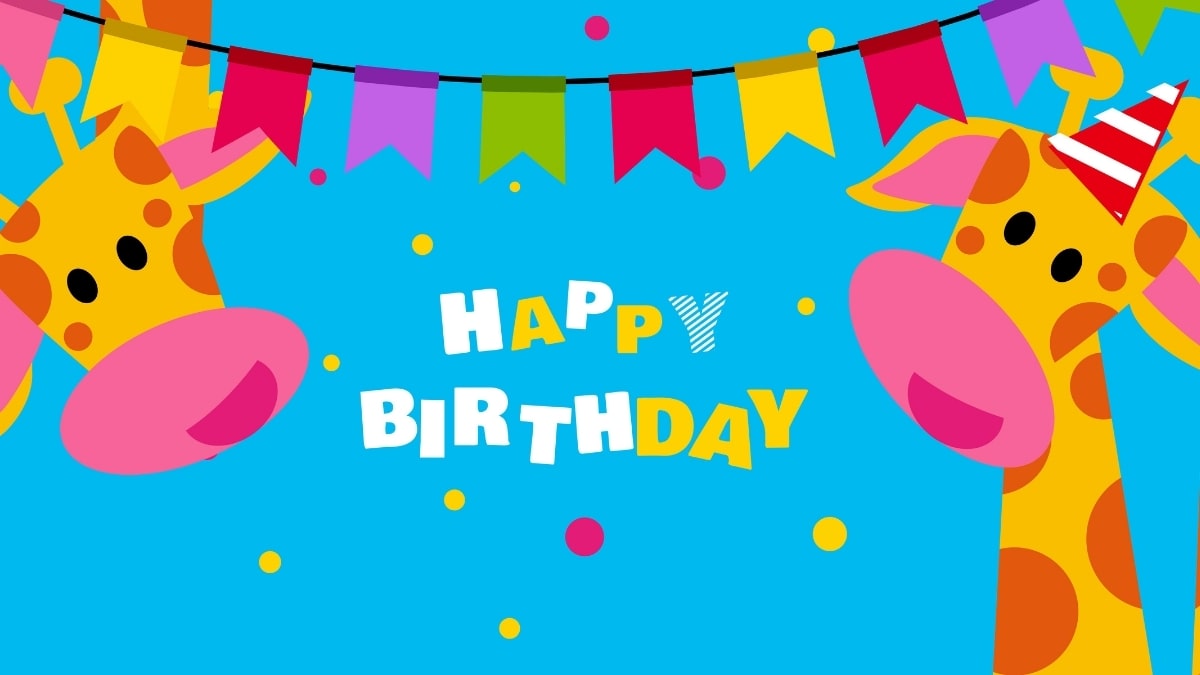 Funny Birthday Wishes for Son: What's a birthday celebration without some quirky pranks, birthday puns, and funny elements that pull the legs of a birthday boy perfectly? Yes, you can augment the excitement and grace of a birthday party for your son by having the perfect arrangements and gifts but nothing can beat the sass of funny greetings. To make sure your adorable son's birthday party seems perfect from all angles, we have come up with the sassiest collection of funny birthday wishes for son from mom and dad that will pack his birthday party with endless giggles and amusing moments.
Funny Birthday Wishes for Son
Dear son, may you get married pretty soon and give birth to a baby boy exactly like you so that you can understand the pain of having a notorious and feral son. Joke apart, may you have a cool birthday celebration and enjoy hard with your friends. Happy birthday, son!
Happiest birthday to once one of the biggest blessings of my life. It seems like that once a sweet blessing is slowly and steadily turning into a terrible curse. Jokes apart, may you get showered with all the joy of the universe.
May you relish every moment of your life till you are unmarried. Because once you are married, sooner or later, you will have to rub off the word happiness from your dictionary. Happy birthday to my dearest son and have a blissful day!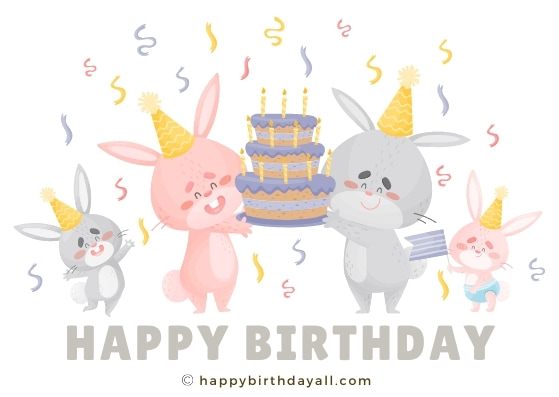 Thanks a lot son for giving the gracious honor of giving birth to you to your parents. We feel like we have created the most ingenious marvel of the world that will shape the future of humanity. Happy birthday to you, my little pal!
Hey son, you are so special and dearer to us that we would have declared an international holiday in the whole world if it were in our hands. Enough fun, go back to school, and study hard. Happy birthday son and god bless you!
Some sons are loving, some are supporting, some are protective, but you are the combination of none. May God bless you with enough intelligence so you can do something meaningful with your life. You have all my support, blessings, and son. Wishing you a cheerful birthday son!
It is certainly right that miracles don't happen often. Hey son, we are a rare miracle that happened in your life so that you can relish all the possible pleasures. If you don't come on the right track, we can ensure to vanish the miracle as well. Happy birthday to my successor!
Hey son, I know you have turned old enough to take all the decisions by yourself but not old enough to cover up your expenses. So better keep quiet and do what I say. Heaps of love and birthday wishes to my piece of heart!
With each passing birthday, you are getting bigger and taller but neither your grades are positive nor your attitude towards life. I guess the best birthday gift for you would be cutting down your pocket money. I am just joking pal! Happy birthday, lanky man!
Also see: Birthday Wishes For Son From Mom
Most of the babies stop whining, crying, and being stubborn when they grow up. However, the case with you is totally different. Yours have increased exponentially with age. Wishing a joyous and blasting birthday to my grown-up baby!
Hey son, you are approaching an age where you have to get out from the house and make a name for yourself by struggling day in and day out. I hope you know the meaning of the word struggle. I love you son and have a splendid birthday!
You are the eldest and the wisest of all siblings but you haven't stopped playing with their toys and stealing their chocolates. For the love of God, when would you grow up actually? Happy birthday and have a memorable celebration!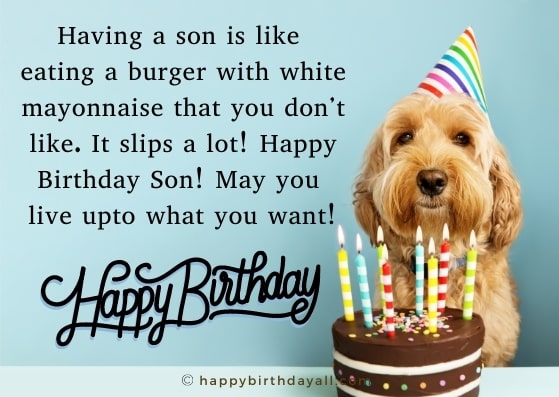 I thank the lord every single moment for giving me a wonderful son like you otherwise I would have forgotten the meanings of headache, horror, and hell. God bless you and happy birthday son!
Out of all the marvelous and priceless things in my life, I have acknowledged that you are certainly not one of them. I mean you could be a fantastic liability and you play that role pretty well by splurging my money. Have a wonderful birthday celebration, my lovely son!
I have literally banged my head everywhere to find a perfect and ingenious birthday gift for you and I found the one. It's I spending time with you for the whole day. I mean there is nothing more valuable time, not even a Rolex watch. Happy birthday, son! Be happy and stay blessed!
Having a son is like eating a burger with white mayonnaise that you don't like. It slips a lot! Happy birthday son! May you live upto what you want!
Dear, dearest these are the past adulations for sons that used a lot earlier. Today's sons are internet fed and they remain in trends which fade as early as possible. Happy birthday son! So funny sarcastic it is! May you have no hate in your heart!
These days boys find their match on tinder that often out like tinder that mostly crashes! Wishing happy birthday son! Find your match wisely! I wish you find a true love!
Also see: Birthday Wishes For Son From Father
These days having a son is not a blessing while it is scary! Wishing happy birthday son! May you be a successful man and sincere son!
May you have love of your life dear son but not with the cost of mine! Wishing you happy birthday dear boy!
May you never be angry son because you look like a fried omelet! Wishing happy birthday lovely son!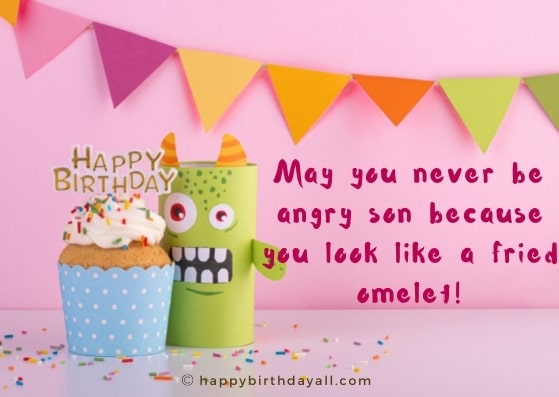 Nowadays boys are often confused having so many options and not focusing on anything one. Don't be a driver of your girlfriend! Wishing happy birthday!
I like your dressing sense, son but would you mind putting your underwear in pants! Happy birthday son!
Having you as my child was so beautiful when you were a little boy. Now you are a nightmare. Wishing happy birthday dearest son!
You are giving your birthday party. It is good, son. Pay back some moments later. May you earn a lot in your life and deposit everything to your father's account! Happy birthday son!
May you always be beautiful but don't use girls' beauty products! Happy birthday son! Be a man!
Don't be sympathy of your friends. I wish you are not. Wishing happy birthday son!
Why you talk like a cock these days! May you have the voice of a man! Wishing happy birthday son!
Don't weep like girls. I know you laugh like them! May you be a man of your words! Happy birthday son!
Nothing is as expensive as raising a child. I want everything back, son! Wishing you happy birthday!
You May Also See: