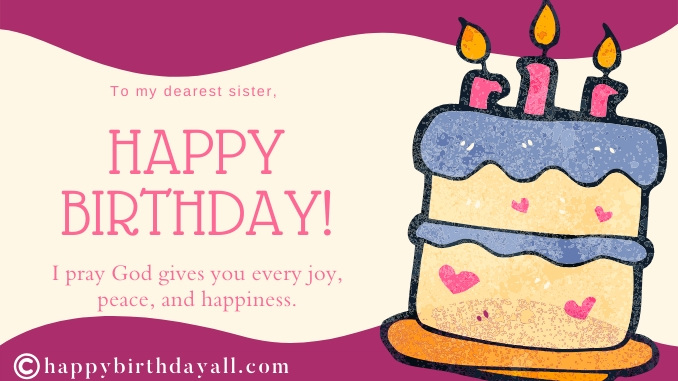 Funny Birthday Wishes for Sister | Hilarious Birthday Messages for Sister
Can you even imagine the relationship with your sister without lots and lots of fun involved in it? No. Be it those fights, teasing, or gossiping, everything involves heaps of fun. Then how can be the birthday messages for sister are plain, dull, and boring? They should be as funny as the relationship with your sister is. Thus, here we have got the most funny birthday wishes for sisters that will make that annoying but special person in your life burst with laughter. After all, a day like a birthday should be filled with smiles. And, the birthday quotes and funny birthday messages for sister shared here are enough to make your crime partner smile as broader as possible. After reading your wish, she'll surely do that toothpaste ad you always tease her about when she smiles broadly.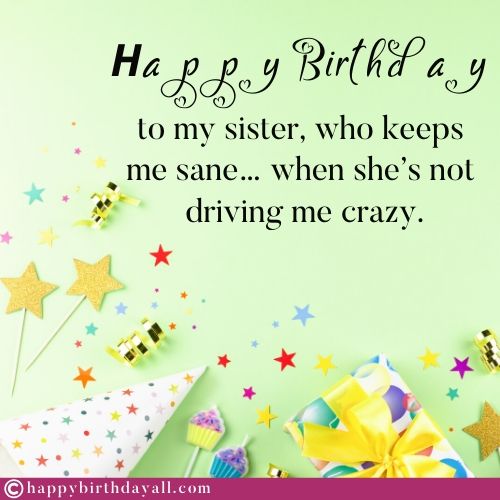 Happiest birthday to the most quirky yet not so funny sister! For the love of God, would you please stop embarrassing me in front of others?
Today is your most special and quintessential day sister, and you surely deserve a magnificent gift. So your birthday gift for this year's celebration is nothing because you didn't give me anything on my birthday. Happy birthday my adorable sister!
A very few people on this planet know the exact definition of a sister. Let me tell you the best one. A sister exemplifies the living hell for a brother and also the one who sucks every gift from him. Happy birthday to the dearest sister!
Also see: Happy Birthday Images With Flowers
May God snatch every bit of happiness from your life that you don't deserve. May you experience the burning hell everyday for not wishing me a happy birthday on time. Jokes apart, I love you sister, and happy birthday!
Let me tell you the sheer truth about your personality, finally. You are one of the most incredible and the most charming sister for me. And my last statement is an absolute lie. May you continue to shine in life with full intensity. Happy birthday, sister, have a dazzling party!
Somewhere, I have read that a real woman never hides her age. If it's true, what's your real age, my lovely sister? Happy birthday. Always be cheerful and successful!
Thanks a lot my elder sister for ruining all my birthday celebrations by being the center of attraction. It's my time to ruin yours. May lord has mercy on you. Happy birthday to my ever gorgeous sister!
It's because of extra bubbly and chirpy sisters like you, a home doesn't get to experience true peace. Have you ever tried sitting silently for some time? Happy birthday to my super awesome sister!
I know you are super jealous of my achievements and laurels. I also know that you adore me a lot and a huge fan of my work. Come here sister and take my autograph. Maybe you get lucky after that. Happy birthday to the cutest sister ever!
On your super special day, I am gifting you the most bizarre gift of all time. I am giving you a wig in advance as there are not many hairs left on your head. Happy birthday to my going-to-be bald sister!
"Beautiful", "intelligent", "caring", and "outgoing" are all words to describe you! But, hey, "funny" wasn't the first word I put on that list, right? Happy Birthday, funny sister!
Happy Birthday to not only the sassiest but the coolest, and craziest most adorable little sister in the world!
Now that we're older, I've come to realize that you're not half as evil as I thought. Happy Birthday, sista!
I love you more than pizza, and that is saying a lot! Happy birthday to the best slice around!
Thanks for always making me feel young and beautiful. Enjoy your birthday big sister!
We used to fight like cats and dogs, but now I think you're a doggone purr-fect sister. Happy Birthday to my lovely sister!
Enjoy another 365 days of an all-expense paid trip around the sun. Anyway, I wish you more trips and bright impressions, my dear! Happy birthday, sister.
Also see: Funny Birthday Wishes for Sister
Happy Birthday little sister, I may have always been the smart one, but you have always been a great sidekick.
Knock knock. Who's there? Only me wishing you a fantastic birthday, dear sister!
Happy Birthday to my lovely sister, who keeps me sane… when she's not driving me crazy.