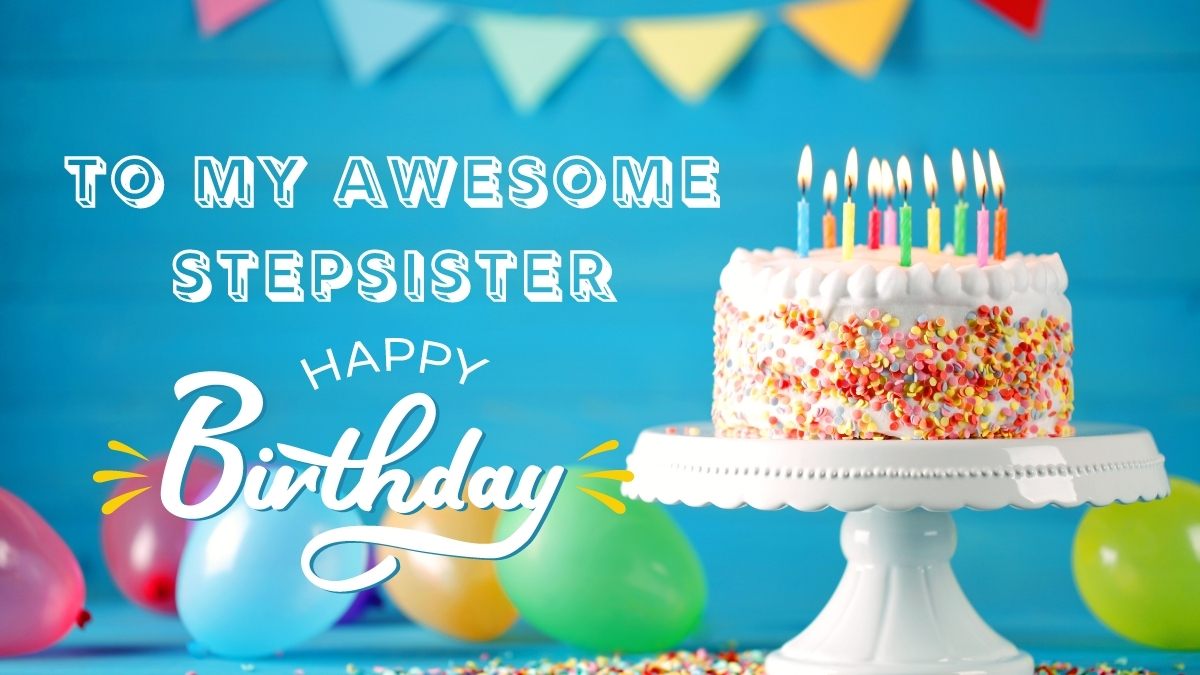 Birthday Wishes for Step Sister: Writing a soul-moving and engaging birthday greeting for your step-sister can be a bothersome task. First of all, the relationship with a step-sister is tad bit intricate and it takes time to completely stir up in the relation. Secondly, you also want to make sure you don't cross the line of respect while wishing your step sister. Therefore, keeping all the pivotal things in mind, we have chalked out a sweet graceful compilation of happy birthday wishes for step sister that will move her heart greatly and make her birthday truly special. We bet she will start loving you like a real brother after receiving heartwarming birthday greetings from you!
Happy Birthday Wishes for Step Sister With Images
There is no denying we don't share a blood relation but I respect and care for you more than my own real siblings. You are no less than a family member to me. Wishing happy birthday to my beautiful step sister and god bless you with magnificence.
You are such a darling to have around. You emanate so much happiness, love, and excitement in the surroundings that all the colossal problems of life seem poky. Always be this lively and cheer-spreading in life. Happy birthday to my cute step sister!
Not even a single time the thought that you are not my real sister never comes to my mind. We have lived together with so much grace and serenity that it does seem like we are blood-relates siblings. Thank you for making our lives heaven. Happy birthday, step sister!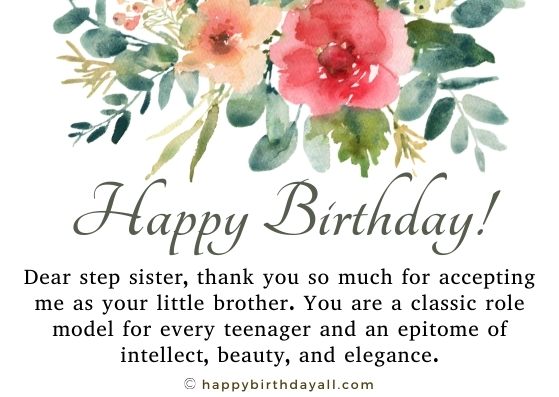 I admire you so deeply that I never miss a chance to put a huge smile on your face. You have made a lot of sacrifices to lift me up in life, now is my time to shower all the happiness and luxuries of the world on you. God bless you my sister and happy birthday to you!
Dear step sister, thank you so much for accepting me as your little brother. You are a classic role model for every teenager and an epitome of intellect, beauty, and elegance. Happiest birthday to my lovely step sister! I am grateful to be in your company!
Maybe the whole world considers us as step sister & brother, but in reality, we are the brother-sister of rejoicing and sheer fun. We love to live life in our own tune and may we continue to do so. God bless you with everything you want. Have a joyous birthday celebration, step sister!
Since childhood, I always felt the need for an elder and protective sister. I thank you my father as well as Lord for sending you in my life and making it complete. I promise I will always be your obedient little brother and watchful protector. May God bless you with fame and opulence. Happy birthday to the sweetest step sister!
Your lively personality and amiable nature make everyone a die-hard fan of you in no time. You are like a mesmerizing smell, wherever you go, you make the whole environment beautiful. To my sweet step sister, happy birthday and have a fabulous birthday celebration!
I guess I am one of those rare persons who is lucky enough to get the love and affection of both real and step sisters. On your special day, I wish you a life full of opportunities, success, and meaningful relationships. Happy birthday, step sister!
You are the most sturdy, strong will, and the determined girl I have ever seen in my life. Your unflinching dedication to achieve goals and move on after victory is the most astounding attribute of your personality. I am inspired and grateful to have you in my life. Happy birthday, step sister!
Also see: Heart Touching Birthday Wishes For Sister
By relation you are my step sister but by heart you are my real sister. You are my greatest support. May you always be in everlasting joy! Happy birthday dear step sister!
You are cute, kind and humble. You are always there for me in everything. May you always get what you want! This is what a brother wants for his sister. Happy birthday dear step sister!
May no worries ever touch you! You are so beautiful my sister. Wishing happy birthday my lovely step sister!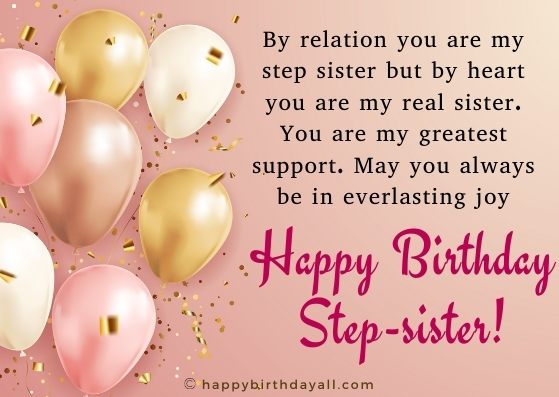 Nothing in this world could be more valuable than my sister. You are for me my world. May you never be deprived of anything! Happy birthday sweet step sister!
When you have a sister, you have a great friend in your life. May you touch stars in your life! Wishing happy birthday step sister!
You are so generous person. I haven't seen such generous person like you. May everyone be kind towards you as you are to them! Happy birthday lovely step sister!
You mean world to me and for your happiness I can do everything. May you all have what you want! May you always be surrounded by true love! Happy birthday my cute step sister!
You are a magical person. Wherever you go, you spread your positive vibes. May you always have positivity in your life! Happy birthday dear step sister!
You are truest sister. I haven't seen such person who emanates such truthfulness like you. May God always be with you! Happy birthday my lovely step sister!
For society you are my step sister. But you are for me like a mother, friend and sister. May no harm ever come to you! Wishing happy birthday my sweetest step sister!
You May Also See: