May your birthday be filled with contentment. May you find the lightness to joyfully celebrate your life today and always. Happy Birthday!
To a great guy on his birthday: May this year be filled with joy and success. Wishing you the best!
Happy Birthday! You know, you don't look that old. But then, you don't look that young, either.
Also see: Meaningful Birthday Wishes for Best Friend
I don't have lavish gifts to give on your birthday, but I have wonderful memories to remember that we have created together. Happy birthday dear!
Wishing you a gleeful happy birthday full of love, laughter, and sweet banters. Happy birthday to you!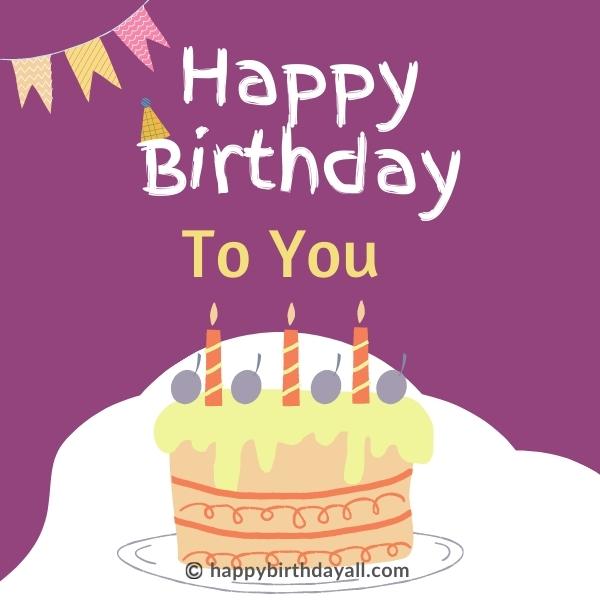 Wishing you a birthday that's just as wonderful as you are!
Happy birthday to the most charming, cute and adorable person. May you fulfil all your dream, and the day be full of surprises.
I hope your birthday is filled with hope, joy, and many new beginnings. You are loved today and always!
Also see: Happy Birthday Wishes for Father-in-Law
To the one who gives her all every single day: You inspire me to do my best and live life to the fullest. I'm eternally grateful for you and am so lucky to have you in my life. Happy birthday!
Happy birthday to one of the few people whose birthday I can remember without a Facebook reminder.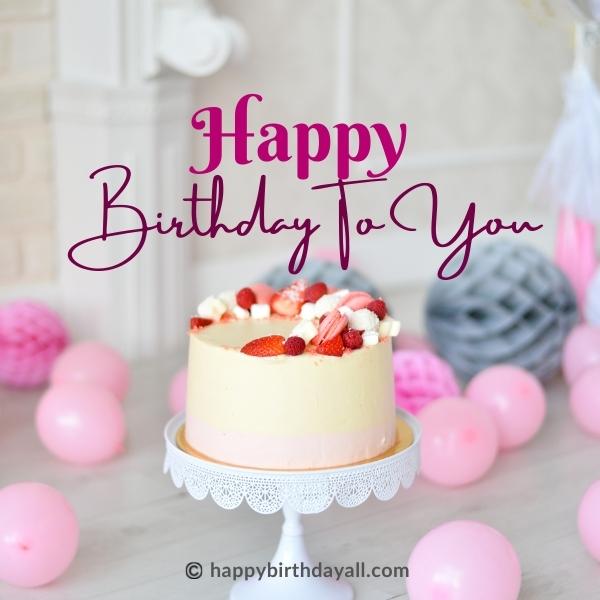 Happiest birthday to most crazy yet the most genuine human being I know. May God shower immeasurable wealth on you!
Happy birthday to a person who exemplifies cuteness, prettiness, and boundless charm. Enjoy your day to the fullest and always be mirthful.
Have a wonderful birthday. I wish you every day to be filled with lots of love, laughter, happiness and the warmth of sunshine.
Also see: Sweet Birthday Wishes for Daughter in Law
Happy Birthday my dear! On your birthday, my only wish is that you stay happy and blessed.
Happy birthday, your good looks are living proof that Mother Nature sometimes wins the battle with Father Time.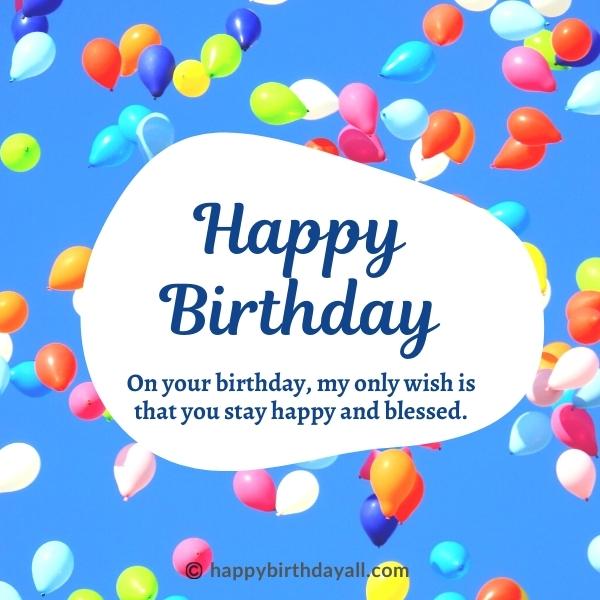 Sending you wishes for the happiest of birthdays. May all of your wishes come true on this special day!
I'm grateful to know someone as wonderful as you. Thank you for letting me be part of your special day—happy birthday!
Also see: Happy 25th Birthday Wishes
Forget about the past, you can't change it. Forget about the future, you can't predict it. And forget about the present, I didn't get you one. Happy birthday!
I will not be there to become part of your birthday celebration, but my best wishes will always be with your buddy. Happy birthday!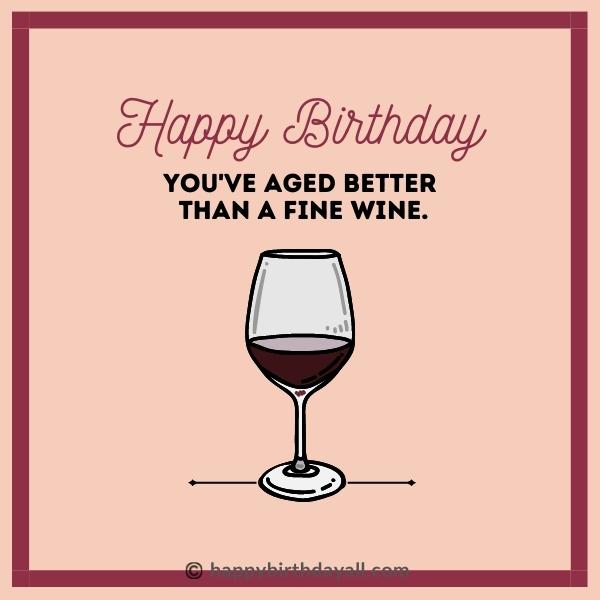 May your birthday opens the doors of opportunities, bountiful joy, and incomprehensible wealth for you. Sending you simple birthday wishes full of warmth and hope!
Warmest wishes on your birthday and always. May you get blessed with more happiness than your heart can hold.
There is nothing I look forward to when you are with me. Dear love, I wish you a happy birthday from the core of my heart.
Also see: Funny Birthday Wishes for Brother
You will never be as young again as you are today, so have fun. But be careful, because you have never been this old before. Happy birthday.
Enjoy your special day to the fullest. Make each and every day of this year count! Happy Birthday!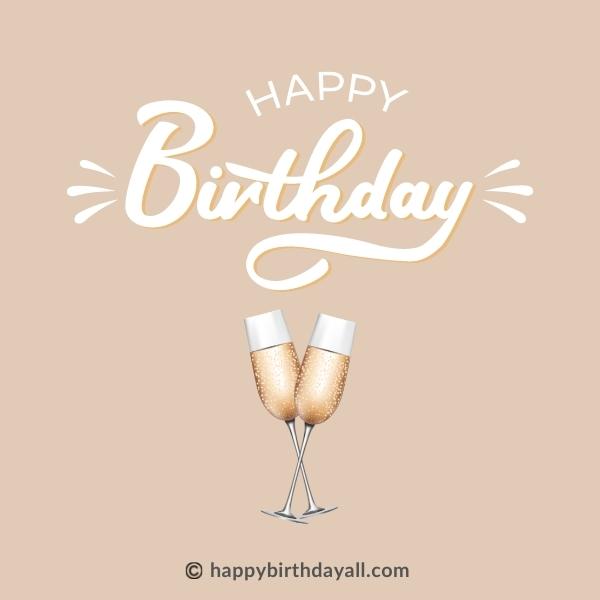 Happy birthday—may this year be filled with adventures, blessings and lots of laughs.
You're older today than yesterday but younger than tomorrow, happy birthday!
Take my happy birthday wishes only on the condition of accepting my 100 birthday bumps.
Also see: Funny Birthday Wishes for Boyfriend
With each passing birthday, you will become wiser, more mature, and more loving. Aging is a beautiful gift, my friend. Above all, lovely happy birthday wishes to you!
Happy Birthday Friend. May God bless you with health, wealth, and prosperity in your life. Wishing you a day that is as special in every way as you are. Many happy returns of the day!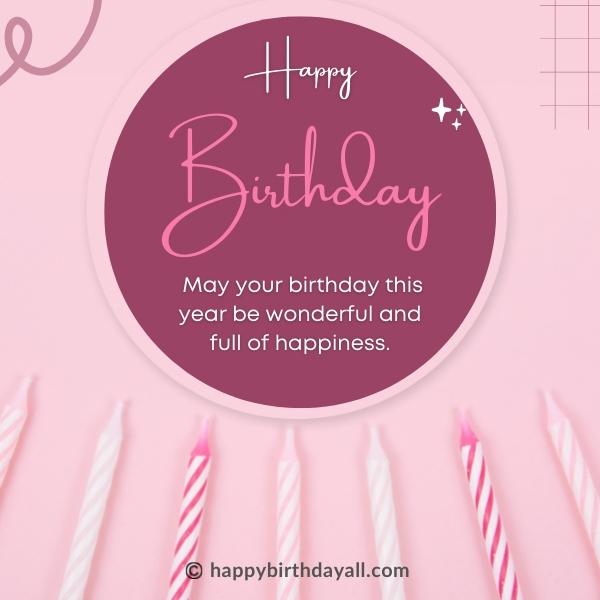 Many-many happy returns of the day, sweetheart! May you receive all love from loved ones.
One birthday will not make you old. Even a dozen will not make you old. Maybe you should have stopped counting there though. Happy birthday, again.
Happy Birthday! I pray for all your birthday wishes to come true and a wonderful year ahead for you.
Also see: Happy 50th Birthday Wishes
Another trip around the sun is in the books, my dear. May this next trip shine just as bright. Happy birthday!
Happy birthday! May your Facebook wall be filled with messages from people you never talk to.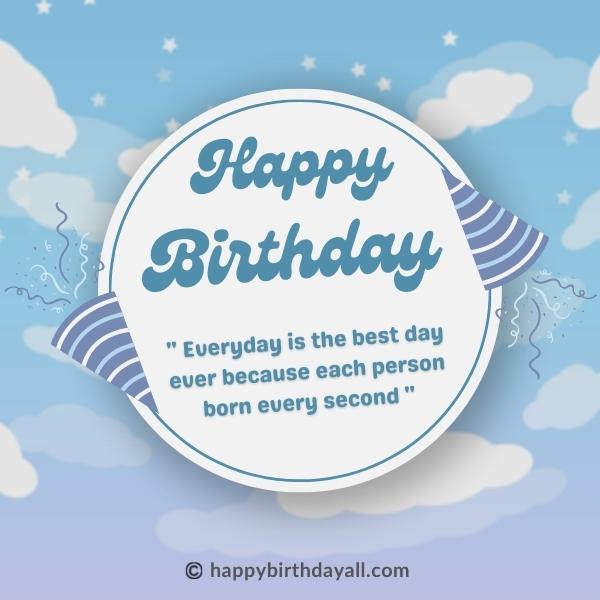 I wish, you always keep smiling like that and continue to work hard to achieve your dreams. Happy birthday!
Every birthday is a priceless opportunity to do more, be more, and give more in life. Make the best use of every second of your life. Happy birthday dear!
Also see: Blissful Religious Birthday Wishes
May your heart be filled with joy and your life with happiness. Happy birthday, dear!
Happy Birthday dear! You are truly special and we are blessed to have you in our lives. You make us feel so loved, secured and comforted. Even kids love you.
Life should be lived with a smile on your face and no one does a better job of putting one on my face than you. Happy birthday!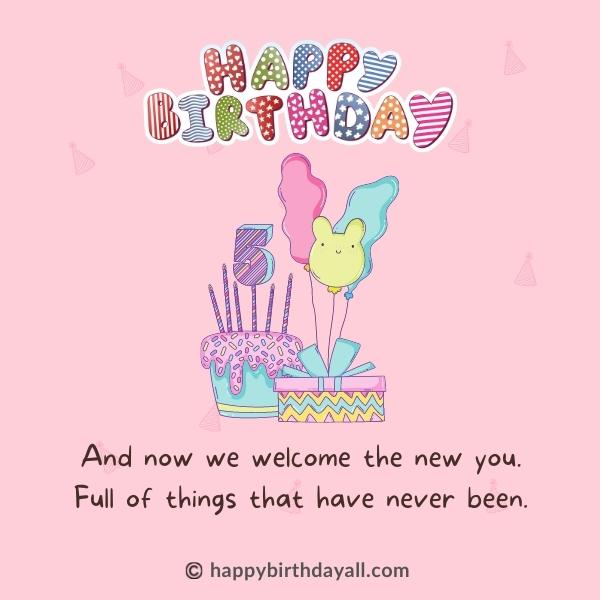 Happy birthday! May your birthday be blessed with the warmth of your loved ones surrounding you and filled with love and laughter.
Happy birthday! I can't wait to see your beautiful smile light up the room for years to come.
Be happy! Today is the day you were brought into this world to be a blessing and inspiration to the people around you! You are a wonderful person! May you be given more birthdays to fulfill all of your dreams!
Also see: Touching Birthday Wishes for Niece
Your birthday is the first day of another 365-day journey. Be the shining thread in the beautiful tapestry of the world to make this year the best ever. Enjoy the ride.
Be thankful to God for giving you one more year to celebrate the birthday with peppiness. Happy birthday!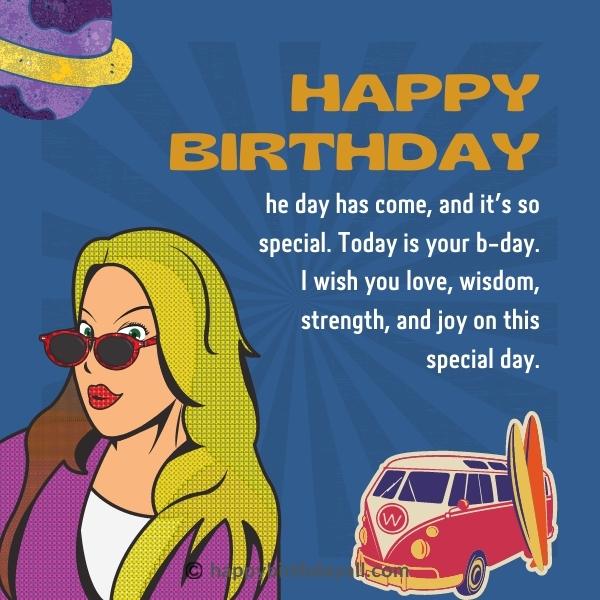 Do you know what makes a person happy birthday super special? It's the warm wishes of loved ones. Don't worry, I will also bring chocolates along with wishes. Many happy returns of the day!
I wish nothing but good things on your birthday. May the shine bright for you. Happy Birthday!
Happy Birthday, dear! I wish you to celebrate your day with all your loved ones. May God bless you every day with good health and success!
Also see: Heart Touching Birthday Wishes for Soulmate
Being young is a privilege. Being attractive is a genetic gift. Being cool? That is all you. Happy birthday.
May you always follow your own unique path when walking through this life's journey. You're an inspiration, and I hope you have a fantastic birthday!
I wish you a year that is jam-packed with joy and happiness. You were born to do great things! Have an amazing birthday!