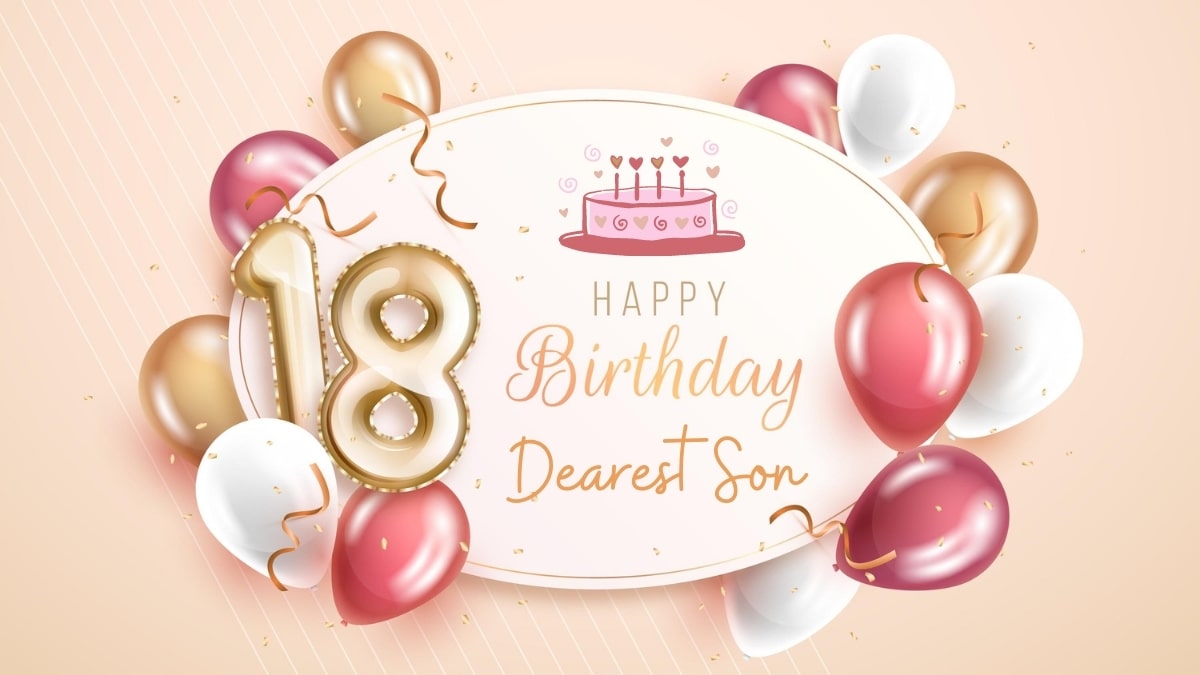 Happy 18th Birthday Wishes for Son: Turning 18 is one of the most exuberant and awaited things for a teenager. When a young chap bubbling with life, energy, and dreams turns 18, a lot of doors of opportunities open for him, a license to do a lot of legal things get handed over to him, and of course to party like hell with friends. If your son is turning 18 on this birthday, leave no stone unturned in making his special day remarkable by sending him tailor-made 18th birthday wishes for son from parents. He would love to get gobsmacked by your surprises.
Happy 18th Birthday Wishes for Son
I am bubbling with sheer happiness and outrageous pleasure to wish my charming son a happy 18th birthday. Now you have turned old enough to cheer drinks with your dad. God bless you and keep growing in life!
Congratulations my lovely son on stepping into the first stage of adulthood and becoming a vote-casting citizen of this country. From now on, you are free to take all your life decisions and give wings to your dreams. My support, blessings, and guidance will always be with you. Happy 18th birthday son!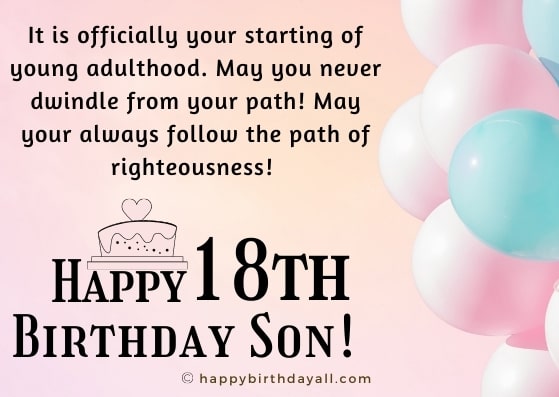 On your 18th birthday, I have nothing but the best wishes, heaps of love and hugs, and blessings to give you. I know you will continue to make us proud and take the legacy of family higher by leaps and bounds. Wishing a cheerful and splendid 18th birthday to my son!
Hey son, you are not just a blessing but a boon for me. Your arrival has showered umpteen blessings in my life and a wave of good luck as well. I am blessed to have an obedient, caring, and extraordinary son like you. Happy 18th birthday to my handsome son!
I know how desperately you were waiting to turn 18 and do a plethora of things you wanted to pursue badly. Just channelize your energy and rage in the direction and you will go places in life. You are a brilliant son and the kindest soul I know. Happy 18th birthday to my dashing son!
It is officially your starting of young adulthood. May you never dwindle from your path! May your always follow the path of righteousness! Happy 18th birthday son!
May you not bet betrayed! May you not have the company of corrupt people! You are our lovely son. God always bless you. Wishing happy 18th birthday dearest son!
As you grow you would experience different things. With life going on everything changes. Change is constant. May you have the ability to rise above the ordinary! Wishing happy 18th birthday loveliest son!
May you excel at what you are! May you be always concentrated towards your goals! Wishing you happy 18th birthday cutest son!
Failing and winning always happen in life. May you never greed and proud on winning! May you never despair when failing! Wishing happy 18th birthday to our loving son!
Also see: Happy 18th Birthday Wishes
18th Birthday Wishes for Son From Mom and DAD
You have entered a completely new phase of life where you will get conversant with raging hormones, infatuation, love, heartbreaks, friendships, and humongous dreams. Welcome to the pinnacle of youth and be ready to embrace the new phase. Happy 18th birthday son and dog bless you!
As you have turned 18th today, you have two choices from here; either you can waste the golden period of life by doing meaningless parties, boozing, and chasing girls, or you can dedicate your life to some higher purpose and to the service of humanity. Have a magnificent 18th birthday, son!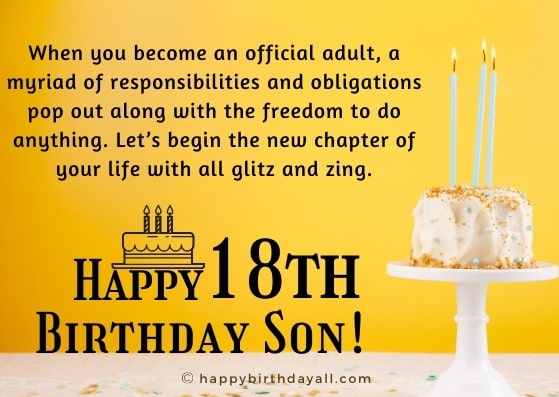 Undeniably, you are the smartest and the most charming 18-year-old boy I know. I wish you have the best birthday celebration of all time so that the beginning of your adulthood gets etched forever in your mind. My love and blessings are always with you. Wishing 18th birthday to my dearest son!
When you become an official adult, a myriad of responsibilities and obligations pop out along with the freedom to do anything. Let's begin the new chapter of your life with all glitz and zing. Happy 18th birthday to my cute son!
You have waited like hell to turn 18 so that you can acquire a license and fulfill your dream to become a professional racer. We want to tell you son that we are standing in your every decision and dream. God bless you with fine intelligence and prosperity. Happy 18th birthday, my little wonder!
Life is unpredictable. As you are growing gradually, may you always have the ability to understand observe! Wishing happy birthday our dearest son!
Sometimes we don't know where we want to go and that time we need some guidance. We wish son for you that May you always have that guidance. Wishing happy 18th birthday dearest son!
May you all have in your life what you want! But May never become sad at what you don't have! Wishing happy 18th birthday our good son!
Nothing is impossible in life. We wish may you always have the unshattering will in your life. It makes your rise again and again. Wishing happiest 18th birthday our cute son!
May you never understand yourself weak! Understanding yourself weak is sin. May you never commit this sin! Happy 18 birthday our lovely son!
Also see: Birthday Wishes For Grandson
Funny 18th Birthday Wishes for Son
Surely, turning 18 give you the tickets to drive, hop on to the swanky bars, vote, chase beautiful and busty girls, but not to pregnant them. Jokes apart, may you have a blasting 18th birthday celebration son!
Hey son, what's the point of turning 18 and getting into a college when all your interests are in studies and not in approaching beautiful girls? Be carefree, live more, and fly higher. Happy 18th birthday to a wonderful son from a loving dad.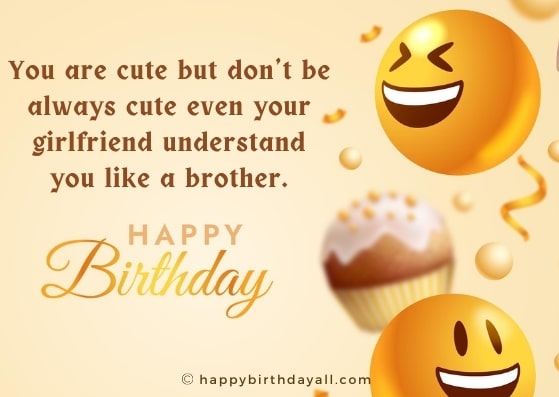 You are young enough to get into a top ivy league college but your grade stops you from doing so. Start studying and carve your future. Birthdays can be celebrated later but grades can't be changed. Have a cheerful 18th birthday son!
I know you have turned 18 and want to drink with your dad. However, don't you dare to think about it because your father doesn't like to share his drink with anyone and you are no exception. Happy 18th birthday son and have a blast!
Hey son, don't be so elated and cheerful as turning 18 is not some kind of good grades that you have achieved through sheer hard work and dedication. Just kidding with you! I love you to the moon and back and happy 18th birthday son!
We love you son but we don't love you so much that we give you everything in life! Such things you don't expect from us! Don't get serous dear, we are just joking. Happy 18th birthday son!
You are a perfect son and we admire this. But also learn to comb your hairs dear. Otherwise it looks some storm has wrecked your hairs and you look like a beggar! Happy 18th birthday dear son!
Everything is perfect in your life except your armpits! Don't mind but just pay attention there! Wishing happy 18th birthday son!
You are cute but don't be always cute even your girlfriend understand you like a brother. Wishing happy 18th birthday son!
You are like that fried potato between two burgers which people most often don't love to eat! Don't mind. Wishing happy 18th birthday son!
You May Also See: