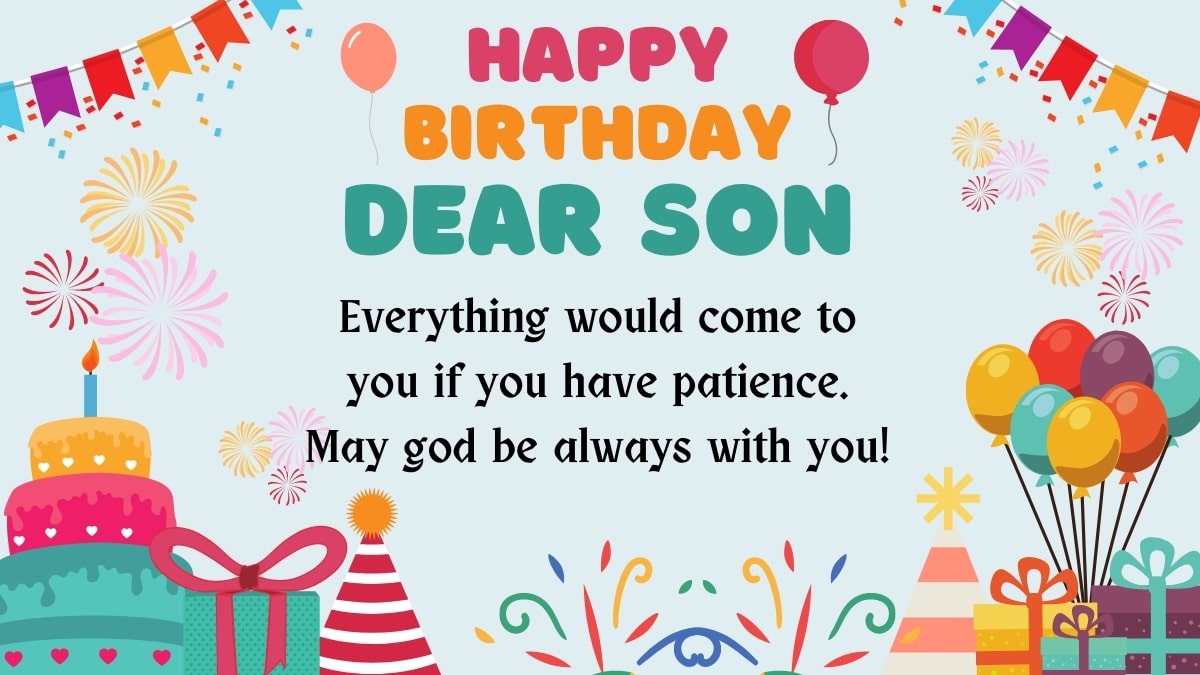 Birthday Wishes for Son from Father: Only a father can know the value of having a son who cheers him up when the odds are against him, become his support when he is down, and turn into a friend when he becomes old and feels alone. There is no treasure bigger than an obedient and caring son for a father. On your son's birthday, leave no opportunity to let your son know how lucky you are to have him in your life and how proud you are of his achievements and massive success. To help you strike the right chord in your son's heart, we bring you a touching selection of heartfelt birthday wishes for son from father that will sprinkle all your love and affection on him and make his special day more astounding!
Happy Birthday Wishes for Son from father
My excitement knows no boundaries because my little champion has grown one more year older and is all set to surpass his father in terms of success and glory. I wish you continue to excel in life till the end. Happy birthday son from a proud father!
I was so entangled in my work that I forgot you are also growing simultaneously and turning into one fine gentleman. I want to tell you that you are a very special and extraordinary kid and you will have my support till the end. May you have a magnificent birthday celebration, my dearest son!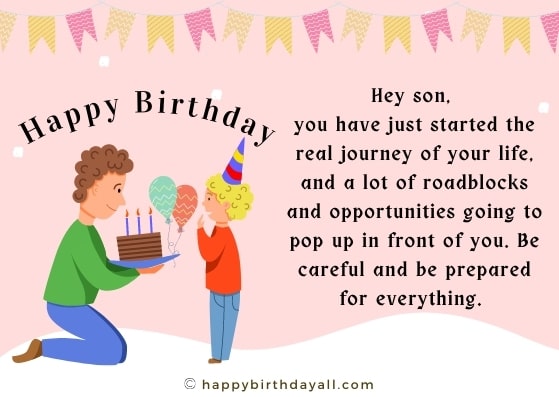 Out of all the profound things that happened in my life, you are unquestionably the most profound and the most precious blessing for me. The way we quarrel, tease and adore each other, reminds me of my little brother. You are a bundle of joy and cheer. Happy birthday to my lovely boy!
Hey son, no matter how successful you become, how higher you go, make sure your feet never leave the ground and your eyes never lose sight of your set goals. Just remember, your father will always be there to support and cheer you. Wishing a mirthful birthday to my wonderful son!
Dear son, my real wealth is not my million dollars, stocks, real estate, or gold. My treasure is my beloved and obedient son who has always held my head high. I love you like no one else and I will always believe you. Wishing exuberant birthday to my one and only son!
Not a single day passes when I don't remember your cute face and heartwarming smile. But don't worry, I will surely be there at your birthday celebration and ensure it turns out to be a rocking affair. May you love, live, and laugh endlessly. Happy birthday, son!
Hey son, you have just started the real journey of your life, and a lot of roadblocks and opportunities going to pop up in front of you. Be careful and be prepared for everything. Wishing you a happy birthday on your special day!
You are one of the finest young minds I have ever seen. At such a tender age, you have amassed such humongous fame and wealth that the upcoming generations will always look up to you as an inspiration. Wishing happy birthday to my brilliant boy!
Also see: 18th Birthday Wishes For Son
My wonderful son, you deserve all the shine, brilliance, and swanky things in the world. I will make sure you don't struggle for what I have struggled with. Happy birthday son and god bless you a happening life!
May you always find joy in sharing with loved ones. May you find success in helping others. May you find solace in giving to the needy ones. May you live a life full of grandeur and good deeds. Happy birthday to the loveliest son ever!
The best time of my day is when we have our father-son talks and lose the sense of time completely. Your mother yells a lot but that doesn't bother me at all when we are having a great time. I love you son and happy birthday!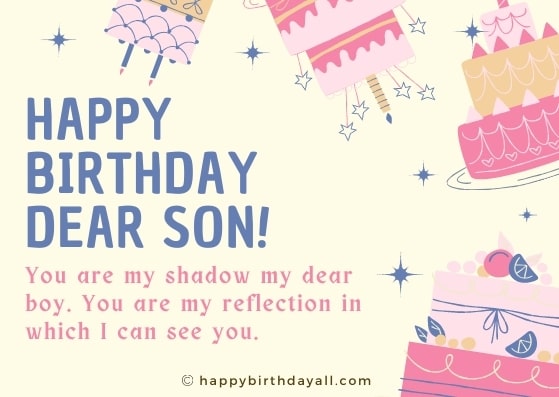 The pace at which you are achieving one milestone after another is commendable and worth lauding. However, in the process of achieving greatness, never forget who you are and where you belong. Happy birthday to my son who is destined to create history!
You have made your parents proud at every stage in your life. Thank you so much son for shining the names of your ordinary parents. We couldn't expect more from you. Wishing happy birthday to my fantastic and champion sir!
Hey son, if you have an idea, work on it. If you have a risk to take, take it without a second thought. The point here is, keep chasing your dreams and keep following your heart regardless of what the world has to say. May you achieve the heights of success and glory. Happy birthday to the most special son!
I have seen a zeal in you to succeed in life. I have seen an insatiable hunger in you that will take you to the heights no one has experienced before. You are destined to achieve unbelievable things only in life. May you have a blasting and out-of-the-world birthday celebration. Happy birthday to my prodigious son!
You are my shadow my dear boy. You are my reflection in which I can see you. Wishing you happy birthday dear son!
Also see: 21st Birthday Wishes For Son
Birthday Messages for Son From DAD
I wish may you achieve more than me and more than anyone. Happy birthday my dear boy!
So far I know I am a good father to you. I wish you be a good father to your son. And may you have all the richness and wealth in your life! Wishing happy birthday dear son!
Life is not what we wish and dream, son. It is like a storm. May you have the ability to make it breeze! Happy birthday my dear son!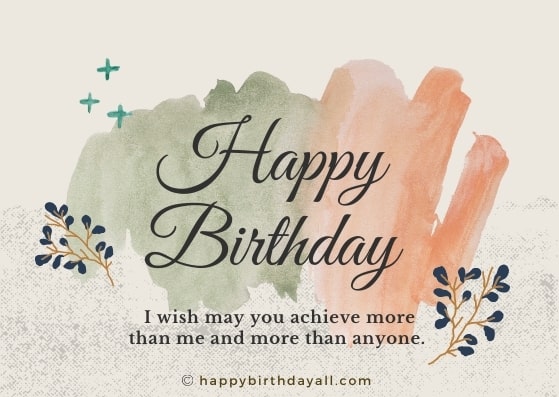 You are an amazing and sincere son. May you be like an eagle always flying above the clouds! Wishing happy birthday my dear boy!
Love you my son. I love you more than anything in this world. May the rain of happiness always keep pouring in your life! Happy birthday my dear boy!
I wish son may you never lose faith and belief in yourself. Wishing happy birthday to you! And be authentic to yourself. Happy birthday again son!
One day may your name be on the lips of everyone! Wishing you happy birthday my dear boy! Love you.
May you always have the ability to get whatever you want in your life! You are my brightest son. Wishing happy birthday my son!
Also see: Happy Birthday Wishes For Friend's Son
You are a magical personality. You are beautiful too my boy as like me. May everything in your life as beautiful as you want! Happy birthday son!
As a father I always wish good and best for you. Be always honest to yourself. It will take you ahead in every area of your life. Happy birthday my honest son!
Always appreciate your efforts what you are putting to achieve something whether others do or not. Wishing happy birthday son!
Nothing is fair and fare in this life. May you never get entangled in the pleasures of materialistic while spiritually you grow! This is the real wealth. Happy birthday son!
What you are from inside always be for yourself. Never deceive yourself and others. Be a good person in life for yourself and others too. Happy birthday son!
Everything would come to you if you have patience. May god be always with you! Happy birthday dear son!
You May Also See: