Happy 1st Birthday Wishes for Son: Every birthday is special but celebrating the first birthday of your little and mushy son is a different feeling altogether. It is understandable that a one-year-old baby doesn't understand the meaning of birthday celebrations, cutting a cake, and hosting a party. However, celebrating the first birthday of your little tot renders you a valuable opportunity to snap all the memories of the birthday celebration which your son can go throw and get nostalgic when he grows up. To ensure every aspect of your son's 1st birthday remains perfect, we bring you an exquisite and heart-touching collection of happy 1st birthday wishes for son that you would love to imbibe in a greeting card to create enchanting ever-lasting memories for your cheerful son.
1st Birthday Wishes for Son
The tiniest and perhaps the cutest member of the family has turned 1 today and our joy is shattering all the boundaries. Sending oodles of love, hugs, and endless kisses to my super adorable son on his happy birthday!
Exactly one year ago on this date, a special soul from heaven was dropped by heaven's angels in our family that completely changed the way we used to live and our definition of success. Little champion, we just want to tell you that we loved you even before you landed here. Happy first birthday, son!
You are a sweet angel when you sleep serenely. The moment you wake up, you become the prime weapon of obliteration. Happiest birthday to the most quarrelsome son in the world. May you always thrive under god's lift and our blessings!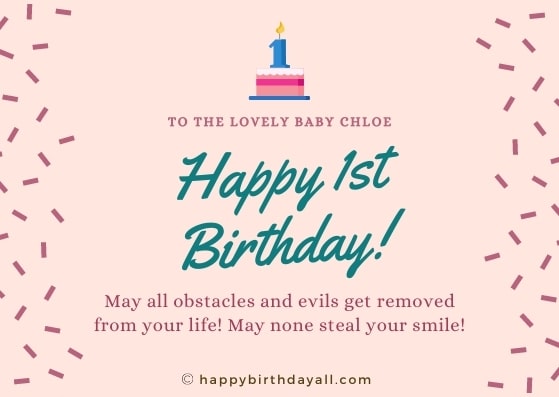 Today, my cuter than a teddy bear baby boy is going to celebrate the first birthday of his life and we couldn't control our excitement and sheer joy. You are the most heartwarming happiness that came after a bloody long time. Happy 1st birthday son from daddy and mommy!
There is no better gift than diapers for you on your first birthday. I mean the way and at the rate your discharge poops, a lot of diapers can be of great help for all of us. You are a sweet bubble of love, light, and laughter. Wishing happy 1st birthday to the piece of my heart!
The day you were born my son my life changed completely. It is your first birthday, wishing you all the love and blessings. Happy first birthday my little son!
Having any child is a blessing from god. But having you my son is like feeling heaven on this earth. May you always be all right! Happy first birthday dear son!
So little you are like resting on the palm of my hand. You feel like a living doll dear. May you be strong and have the heart of a warrior! Happy first birthday my cute little son!
May all obstacles and evils get removed from your life! May none steal your smile! Happy first birthday my dear boy!
The real wealth for parents is their children. My sweet boy I will do everything to give you everything. May you lack nothing in life! Wishing happy 1st birthday son!
Also see: Happy Birthday Wishes For Friend's Son
Happy 1st Birthday Wishes for Son From Mom and DAD
You are just a 1-year-old little tot but the way you are learning from your surroundings is remarkable. You will be labeled as a child prodigy in no time. We are already proud of you and we love you like frenzies. Happy 1st birthday, my dear prince!
Every single moment, you make us feel like we are the most blessed and luckiest parents in the world. You radiate so much cheer and love in the air that we don't want to do anything except play with you all the time. I love you the little king of my heart and happy 1st birthday!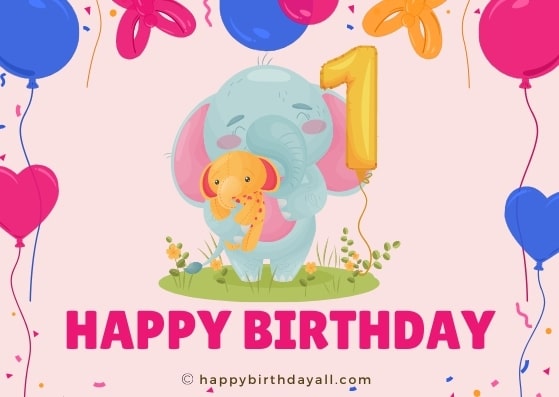 I have so many things to say to you but you won't understand a single word as you are a little wonder who only understands the language of love and laughter. My sweet and cute baby, wishing you a mirthful 1st happy birthday. May you keep spreading joy and happy vibes forever!
Hey little wonder, you have completed one year yet it seems like you were born yesterday. You have filled our colorless lives with millions of colors and outrageous happiness that still seems like a distant dream. Happy 1st birthday my little sweetheart! You will always have our blessings and support!
Within a year, you have created such a massive and positive impact in our lives that all our perceptions of happiness, life, and family have changed completely. Your arrival has given a complete touch to our lives. Happy 1st birthday to my dearest little runt!
What we say about you our son? Even though nothing much you can understand. But having you is like completing our world. May everything always be good in your life! Happy 1st birthday dear son!
You are so beautiful that we can stare out from you. Being your parents we wish May everything be beautiful in your life like roses! Happy 1st birthday dear son!
May you shine like a great star in the vast sky and none could match you ever! Wishing happy 1st birthday dear son!
So innocent and fragile you feel like a petal of a flower. May no harm come to you my child! Wishing happy 1st birthday dear son!
My cute little son May your every prayer come true and get fulfilled! Wishing you happy 1st birthday! You are my life!
Also see: Birthday Wishes for Son from Mom
Funny 1st Birthday Wishes for Son
You are surely the 8th wonder for the whole family because you blabber in so many different tones that it seems you are creating music for babies. You are the most surreal and long-awaited blessing for us. Wishing happy 1st birthday to my cutie pie.
At your age, no gifts are better and more useful than comfortable diapers, honey enclosing nipples, and the little toys that you would love to break. There is nothing more special and endearing than you for us. Happy first birthday to the most beautiful baby boy.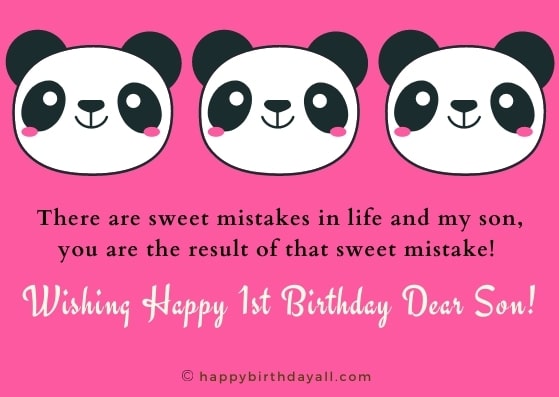 May you let us sleep with tranquility at night, may you not spread your poop everywhere in the house, may you don't poke your fingers in my eyes when I cuddle with you. Wishing a cheerful 1st birthday to the cutest little devil.
Your arrival has surely filled our lives with unfathomable joy and excitement but the smell of tiny poops has made our lives unbearable hell as well. When you grow up and have your own kids, then only you will understand our pain. Happy 1st birthday to my mushy baby boy!
May you grow faster and become a responsible young man so that we can stop the constant pampering and attention you need all the time. You are a little angel for us. Happy first birthday to my little champion!
Now my fear is coming true that I have seen of washing diapers! Wishing happy 1st birthday son!
The problem is not how much you drink and eat while how much you make get out from your body and cleaning it is frustrating. That's has become the father's duty these days. Happy 1st birthday sweet son!
It doesn't matter me much till you are a little boy because I know when you grow up gradually you would be my father and I would be your child! Wishing happy 1st birthday son!
There are sweet mistakes in life and my son, you are the result of that sweet mistake! Wishing happy 1st birthday dear son!
Being a father to a son is like forgetting yourself. Now I have to forget myself completely. Wishing happy 1st birthday son!
You May Also See: