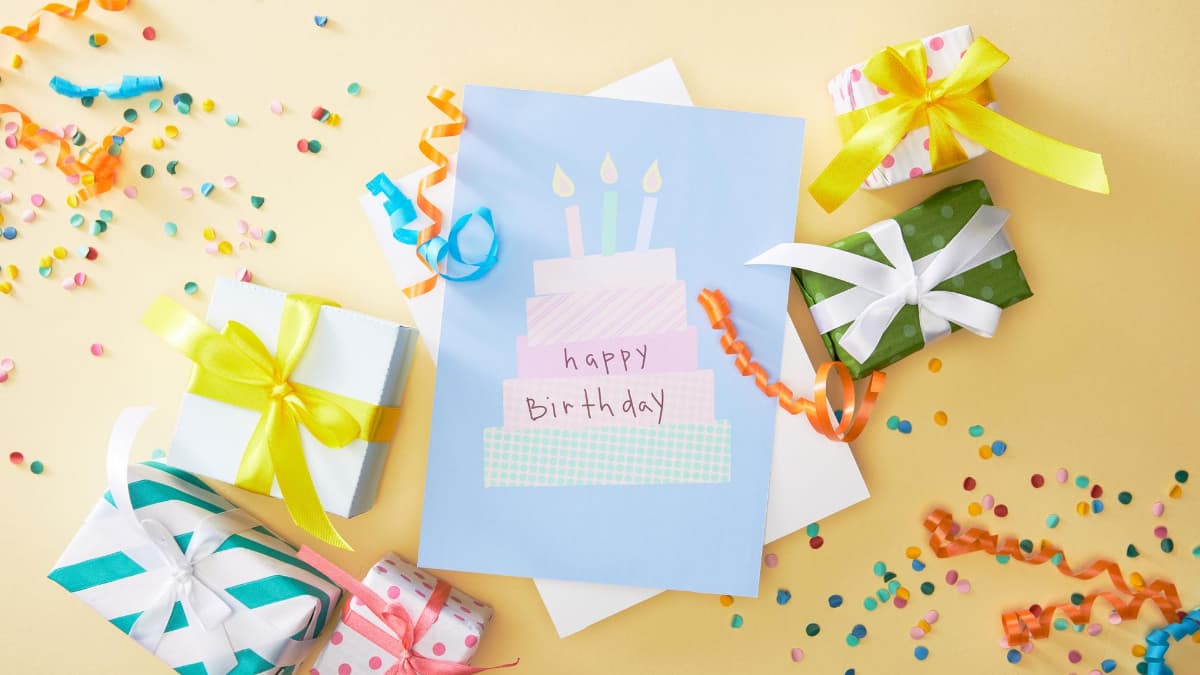 Simple Birthday Wishes For Friend
It's your birthday today and you deserve nothing but strong birthday bumps and heart-warming hugs. Happy birthday to the friend who is always available in the time of need!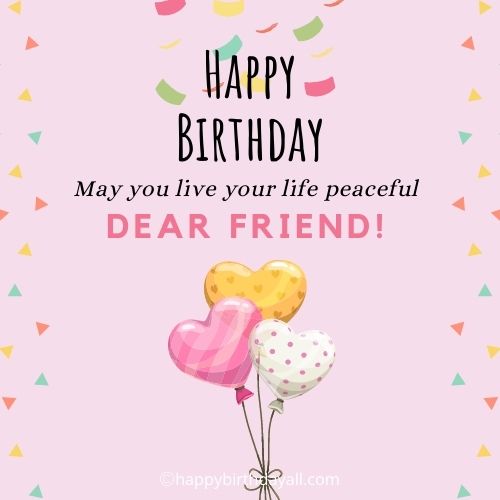 An adorable and helping person like you deserve all the worldly success and happiness on his birthday. May you forever be the controller of your destiny. Happy birthday, buddy!
As long as there is love in your life and you are surrounded by loved ones, there is nothing else you need in life to be happy and satisfied. Happy birthday to the best friend ever!
True friendships between people happen without any reason. I am lucky to have that friend in the form of you in my life. Happy birthday to the kindest soul ever!
I know how direly you love to celebrate birthday parties that's why I have arranged a big and lavish birthday party for you where you can celebrate like a maniac. Happy birthday, dear friend. I can do anything for your friendship!
In friendship, the happiness of friends is essential to your own. As long as you are happy and contend, bliss will never leave my side. Many happy returns of the day to my best buddy. May you remain forever young and bubbly!
I am umpteen miles away but my heart is still hovering at your party. Happy birthday to my childhood friend as well as mentor!
I genuinely hope your birthday embark the beginning of new opportunities, enhanced conscience, and consolidated relationships in your life. Happy birthday to my forever friend!
I wish your life always be prosperous, joyous and healthy. Happy birthday dear friend!
You are an innocent boy and of that I have been a fan of you, just your generousness. May all be generous to you as you are dear! Happy birthday my decent boy!
You grow as a flower full blossom to its shine. May you be as beautiful as divine! Happy birthday my friend!
May you live your life peaceful dear friend! Happy birthday!
Such my beautiful stubborn pious fellow! Happy birthday to you! May God protect you from evil always!
Happy birthday! I always like and love you as my friend. My childhood was best because of you.
You are so artistic my friend. I wish you be a good painter in future. Happy birthday dear!
You were always with me, in all the mischief and menace. I wish May you live your life as you want!
Love you my darling friend. Happy birthday to you! Be as you are always.
I wish May your life full of good surprises! Happy birthday my best friend!
Also see: Happy Birthday Wishes For Neighbor Friend
Emotional Happy birthday quotes for Best friend
Tears are literally rolling out of my cheeks while wishing happy birthday to that friend who is dearer to me more than anything else in the world. May bliss and goof luck always reside in your life. Happy birthday to my best buddy!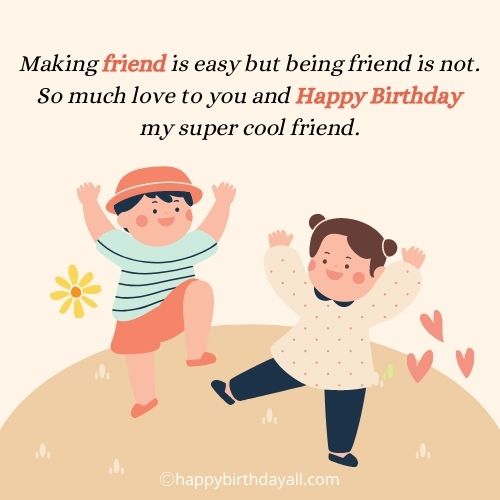 Do you know why you are my one and only friend since childhood? Because you find happiness in other's blessings and that what makes you a remarkable human being. You are one gem of a friend. Happy birthday to you, my awesome buddy!
I wish a mirthful birthday to the most helpful, kind-hearted, laser-focused, and harmonious friend in the world. May you get married pretty soon and enjoy the nagging of your wife like I do.
Even the most ordinary birthday celebration seems lavish when there is enthusiasm and strong bond between friends. Wishing you glory, triumph, and grace on your happy birthday!
The gift of friendship is natural and can never be quantified with materialistic gifts because it is beyond every emotion. Happy birthday, best buddy! May you become a star one day!
On this day, you stepped on to the earth and enhanced its weight unnecessarily. Kudos to you for burdening earth! Jokes apart, may you have a fascinating birthday celebration, my best buddy!
The definition of a true friend: one who accepts your flaws, helps you to push envelope, and and find bliss in your triumphs. Happy birthday to my darling friend!
Before you blow the candles, cute the cake, and blast party poppers, accept my heartfelt birthday wishes and as well as a pony birthday gift. I wish you heaps of happiness and exciting moments.
On your most significant day of the year, I want to give you a few pieces of advice. Never step down from a new opportunity, never betray you friends, and embrace life in every way. Happy birthday, my lovely friend!
Your worth in my life is more than any priceless possession and any amount of money. You are the most valuable earning of my life. Happy birthday to my super buddy!
Weather is not always the same. Everything comes into it. So the friendship is. I love you my friend and I will always stick to you in all ups and down. Happy birthday dear!
The much you fight, the much love is in the friendship. May you always be a hero my friend and get everything in life! Wishing you happy birthday!
Friendship is a gift. The more you give it the less it is. I wish you always have good helping people in your life. Happy birthday my dearest friend!
Life is too short but friendship makes it worth to live. You will always be special in my life my friend. Happy birthday and prosper future to you.
Friendship teaches you all the worldliness. May you always get ahead wherever you go! Wishing you happy birthday and wishes for your success!
The definition of true friend one can see in harder times. I wish May you always be emotionally strong and mentally wise. I adore you my dearest friend. Happy birthday!
Perhaps you haven't found true love in your life but give yourself the blessing of true friendship. My friend I forever cherish you and I wish you always get best in your life. Happy birthday my friend!
Making friend is easy but being friend is not. So much love to you and happy birthday my super cool friend.
I wish may all colors of flowers always bloom in your life. Wishing you happy birthday my awesome friend!
Never take your friendship for granted. If you don't value it one day you lose it. I don't want to lose you my friend. From the bottom of my heart wishing you a lovely happy birthday!