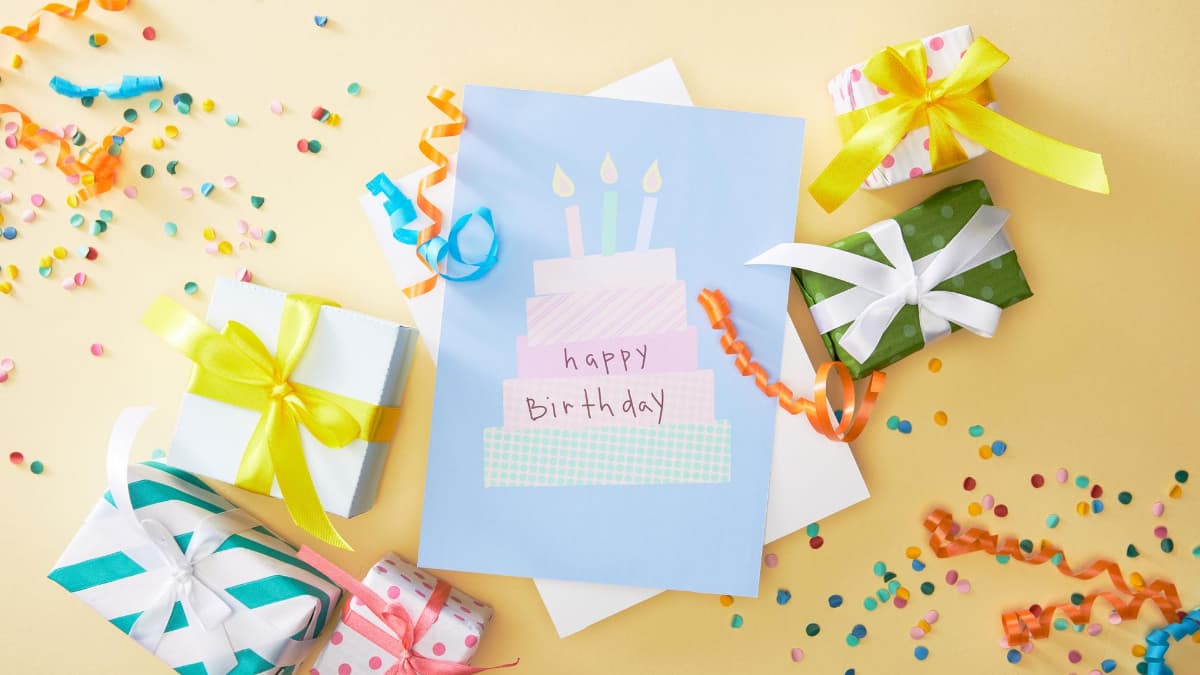 Special Birthday Messages for Best Friends
How life feelings without friends? Perhaps, dull, boring, and like a long and tiring journey. These precious assets make life exciting and joyful. They bring colors of joy to the otherwise plain life. Then, why not make them feel like they hold this much importance?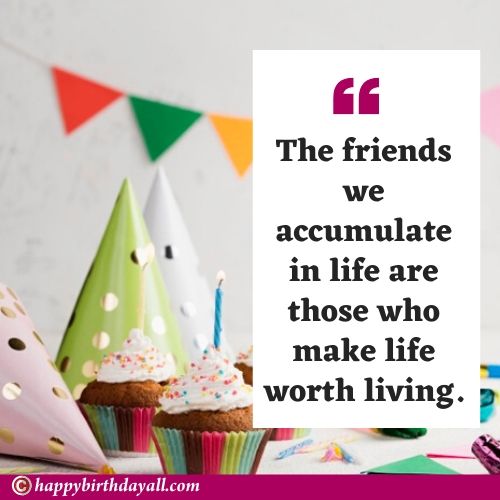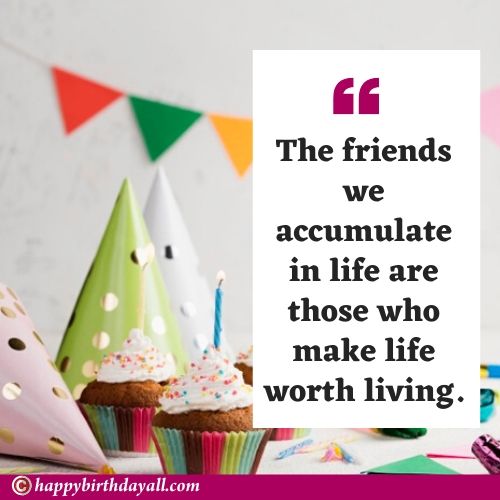 Making them feel like an integral part of your life needs special words. Thus, choose from the exclusively crafted wishes and birthday messages for friends. These words coming from the pen of writing wizards are bound to make your friend feel the emotions that are hidden somewhere deep in your heart. No word or phrase could convey your feelings better than the birthday wishes for friends shared here.
Have fun with your friends because life should be happy. Happy Birthday!
Let's party on that day with our best friends in the world.
Growing old with your best friend and you will never be alone.
We have the same wrinkles because we spend our life together for a long time.
Don't count your age with numbers count it with your true friends.
The friends we accumulate in life are those who make life worth living.
I wish to born old and get younger by the time.
A birthday is the best way to say thank you to your friends.
Thank you for being with me in bad and good times.
You know you are on middle age is when you take a sweater with you to everywhere.
When you are old all your friends are disappear so hold on to those who are closer to you.
You are one person in this world but for me you are the whole world.
It is easy to stay friend of you because you are so fun to be with.
I'm` proud to be your friend on this birthday. Wishing you a happy birthday
My life will be empty without you. So let's stay in touch more than birthdays. The best gift I got is being friends with you.
Thus, pick a wish and let your friend know how special he is for you. The best part is, you may even share these special birthday wishes for you best friend over social networks if you feel shy while expressing them in person.
Also see: Happy Birthday Advance Wishes
Funny Birthday Wishes for Friends | Funny Birthday Messages for Friends
The words fun and friends go hand in hand. These special people in our life make it a joyful ride. Even the problematic situations become worth remembering funny memories with friends. You must also have enjoyed oodles of funny moments with your friends that still make you laugh. Then, when not bring a smile on your friend's face with the funniest birthday wish?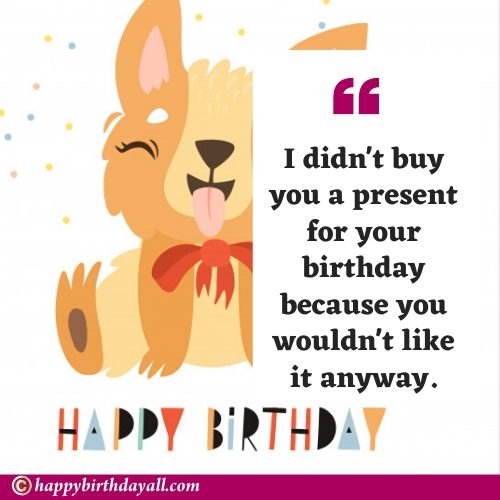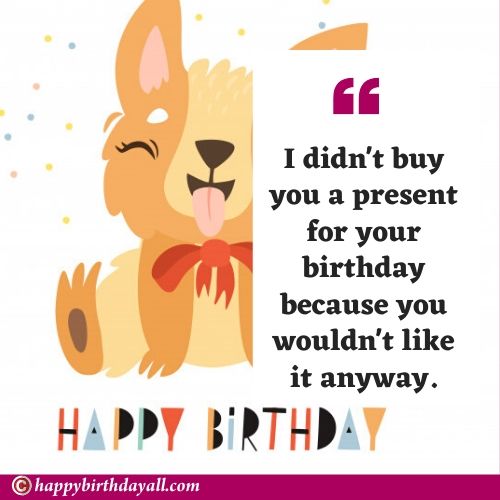 You are wiser today than ever before so use your mind and realize that there is no birthday gift for you.
How can I forget my friend birthday when she reminds me it everyday?
When you born you don't have any choice but to work out with what you got. But once life starts you are the one who is responsible to his choices.
Lots of people lie about their age this is why they die young.
This year I have more candles than a cake.
Everybody grow up but the smart once can still afford to act like kids.
Life is just a joke so don't take it too seriously. Have fun and forget all your troubles.
It is very recommend smiling a lot when you are young because as you become older you lose your teeth.
I didn't buy you a present for your birthday because you wouldn't like it anyway.
Every year my body aches in one more place.
Another year have been wasted and flushed to the toilet.
Every year I'm afraid to open the birthday cards I can never know what expect me there.
On your 100th birthday invite the firemen to your party because you can never be too sure with all these candles.
Also see: Quirky Birthday Wishes For Roommate
Finding the right words to express your feelings with a pinch of humor is not tough anymore. You may simply choose a wish from the humorous and best birthday messages for friends. These wishes make your friend remember the jovial moments you both and enjoyed and bring an instant smile on his face. Many times, your friend may have made you laugh with his funny acts even in the toughest of times. Now is your time to return the favor and make him smile on the special day of his life.
Happy Birthday Wishes for Best Friend Girl | Birthday Messages for Female Friend
Female friends are special. You not only get purest love and care from them, but a shoulder to cry on when things go wrong. You might be thinking a lot about what to gift that integral part of your life on her birthday. We suggest you give her the gift of your feelings. Let her know how crucial she is for you and see her face glow with happiness. Pick from our collection of the best birthday messages for female friends. These birthday wishes for female friend are the perfect way to tell her that you adore her for the constant endeavors she makes to keep you happy. For all the smiles she has brought to your life, make her smile with a unique message from you. This is something that she would keep close to her heart forever.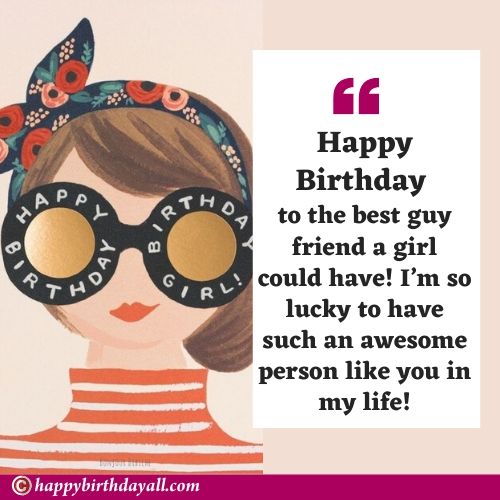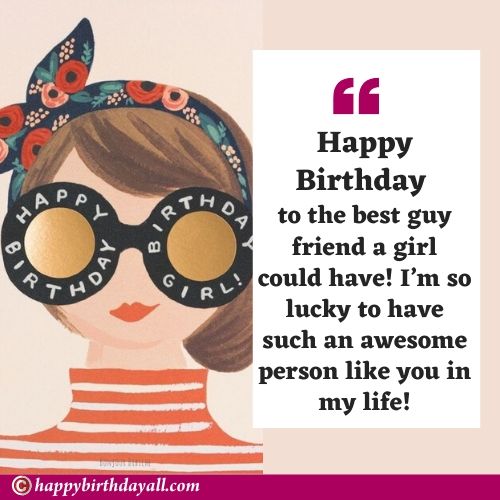 Birthday greetings to a great friend and a gorgeous girl! Have a remarkable day
Wishing the most glorious birthday ever to my all-time bestie!
I want to wish you all the love and happiness in the world, all of which you deserve. Happy birthday my friend!
Hey girl, did you know that your presence makes everything around so lovely and special? You probably have some magical powers! Congratulations, enchantress!
Happy birthday to my best friend, the birthday girl! Big kisses and here's hoping that all of your dreams come true today!
Happy, happy birthday! You deserve all the cakes, love, hugs and happiness today. Enjoy your day my friend!
Cheers! My greatest friend ever, I congratulate you with your special day and wish you to get your dream gift – a little fluffy puppy. Cute girl needs a cute pet. Fluffy birthday!
Happy birthday to the best guy friend a girl could have! I'm so lucky to have such an awesome person like you in my life!
Every step of the way you were there for me. Through thick and thin I'll always be there for you. Happy birthday wishes!
I have a wonderful birthday cake for you, my dear. Be ready to taste it! Ups…sorry! I had it, but I promise you, it was very delicious. Love you.
Also see: Belated Happy Birthday Wishes
Happy Birthday Wishes for Best Friend Boy | Birthday Messages for Male Friend
Friendship has nothing to do with genders. Be it a male or female all friends are equally close to the heart. But, there is something special with the male friends. The bond we share with them is one of its kinds. They not only lend you a shoulder to lean on in tough times but also shield you from foes. When these special people in your life do so much for you, then won't it be great if you do something for your male friend on his birthday? On his day, surprise him by sharing a heartfelt and unique wish that perfectly describes how you feel about him. The wish that thanks him for all his efforts and lets him know that he holds a crucial place in your life.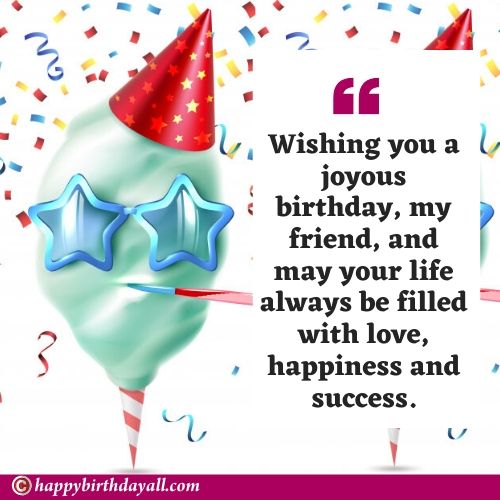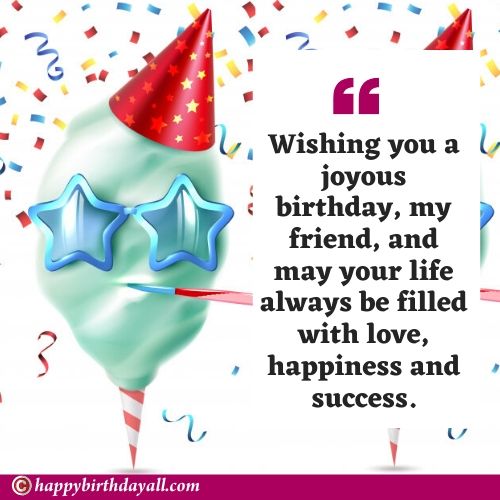 Today is your birthday and is the best day for you to relax and enjoy the best things in life. So do not let anyone boss you around since today is your special day. Best birthday to you my handsome friend!
Wishing you a joyous birthday, my friend, and may your life always be filled with love, happiness and success.
Another year of being an all-around awesome guy. Happy Birthday!
Happy birthday to the guy who means so much to me! I wish that your smile would never ever leave your face!
On your big day, I only wish you lots of fun, joy and happiness the world can bring! Happy birthday my best guy friend!
Happy Birthday to my brother from another mother!
Happy birthday, bro! There's a reason I refer to you as my bro and it's because you're more than just a great friend.
On your special day, I wish you nothing but only joyous surprises and exciting adventures ahead. Happy birthday!
I was going to get you something special for your birthday, but then I remembered that you pride yourself on self-reliance. So get it yourself.
Here, we have compiled beautiful and the best birthday wishes for male friends penned down by poetic experts. These messages are bound to make your friend's birthday an unforgettable day for him.
Also see: Blissful Religious Birthday Wishes
Happy Birthday Status for Best Friend | Sweet Birthday Captions for Best Friend
The modern-day technology has replaced the paper cards with social media. A lot has changed over the years, but one thing that remains unchanged is the feelings we have for our friends. We may write them in our status on our account on social networks instead of writing them on the paper. But, the emotions remain the same. Thus, if you are also searching for a status or photo caption for your friend's birthday, then your hunt ends here. We have got the best birthday messages for friends that you can share as a status on the social networks and make your friend feel special.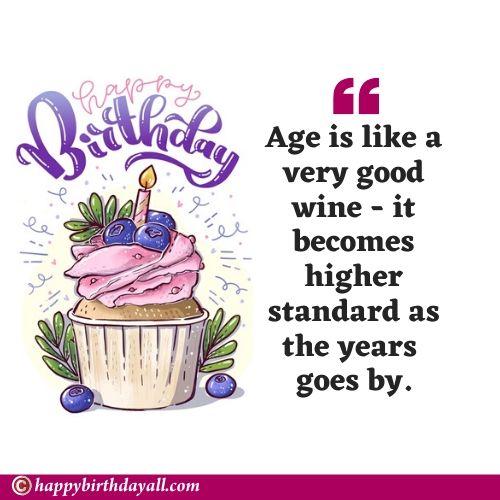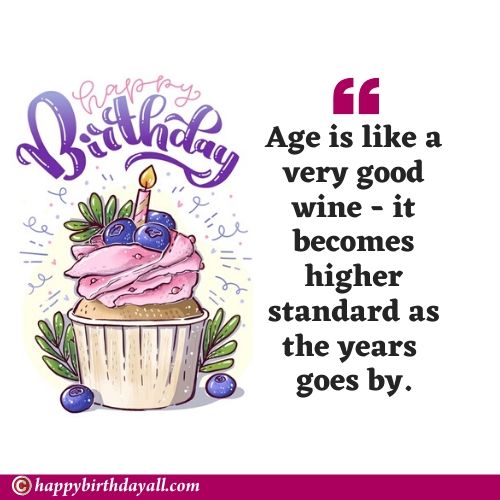 Live life only up to 99% as you can. It is very important to leave 1% because when you are on the top of the hill you can only go down.
Age is like a very good wine – it becomes higher standard as the years goes by.
There is no youth and middle age there is only a point of view.
Life is like taking a bath. At first it's warm and nice but as more as you stay there it being cold.
Every year I love myself more than the last year.
In these days you have to be very luck in if you managed to grow old.
Every year I have more friends so by the time I will be 74 I will have many more friends to love and cherish.
I hear today is your birthday. Another year older is another year wiser my friend.
Wishing you a very happy birthday and many more to come. Hope it's a good one.
Happy birthday beautiful! I hope you have a wonderful day filled with joy and happiness.
Birthdays are special days that allow us to celebrate the day you came into our lives.
These best birthday wishes for friends are filled with emotions and a perfect way to wish your friend on his day. Whether you want to make your friend cry tears of joy or smile in happiness, these messages help you do it all.
Also see: Happy Birthday Wishes For Coworkers