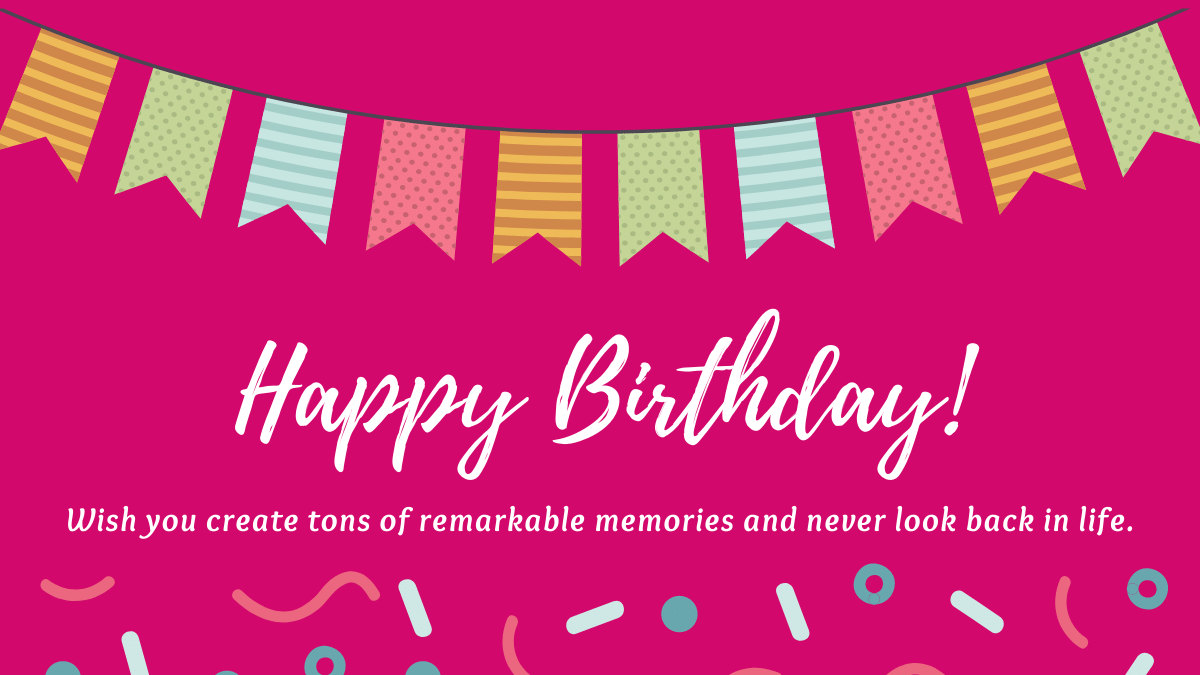 Keeping our utmost faith in the bible verse 'love thy neighbor', Happy Birthday All is extremely pleased to state the most colorful and never seen before happy birthday wishes for neighbors and funny birthday wishes for neighbors. Download the best ones with images!
Best Happy Birthday Wishes for Neighbor with Images
Very happy birthday to the most caring, helping, and lovely neighbor in the world. It's because of amiable neighbors like you, this world seems a better place to live. God bless you!
A great neighbor is like the biggest blessing for a new neighbor for me. It feels like I got another beautiful family with whom I can create some stunning memories. Happy birthday to my lovely neighbor!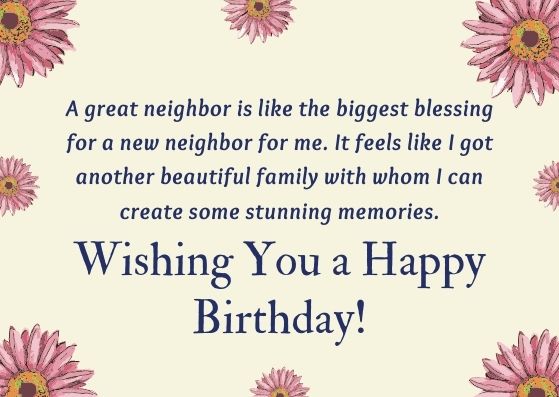 When a person falls in trouble, it's the neighbor who raises the helping hands first before the relatives reach. I am more than blessed to have such a wonderful and jovial neighbor like you. Happy birthday and I wish you a lifetime of happiness!
The relationship with neighbors is more like the salt and sugar relationship. Sometimes, you share and sometimes you fight. But at the end of the day, you become one and that's what matters the most. I wish you a spectacular birthday celebration, my lovely neighbor!
It's been 15 years since we have been neighbor and the bond I share with you is way bigger than all the blood relationships I have. Happy birthday to you! May our pure bond continue to grow and consolidate like that.
I know your birthday party wouldn't be complete if I don't show up with my charming personality. Don't worry, where there are free food and booze, I always reach on time. Happy birthday my sweet neighbor!
Though we don't see each other faces for weeks, whenever we meet, we meet like there is no tomorrow and we are the lost brothers. Without you, there is no fun in living in this city. Happy birthday and savor the day!
Though there are numerous neighbors who live nearby and all of them are good in nature, I share a super special bond with you that I don't share with the rest of the relatives. Have an awesome birthday celebration my wonderful neighbor.
Who needs relatives and friends when you have an exciting and super cool neighbor like you? You truly know how to seize the day and live every moment with the utmost happiness. I wish you great health, wealth, and happiness on your happy birthday!
Hey neighbor friend, I know you don't like to celebrate birthdays, still, accept my heartfelt happy birthday wishes on your special day. God bless you!
A very super awesome and extraordinary birthday to my neighbor cum best friend. It is daunting to define in words how joyous I am to have you as my neighbor. As long as you are here, I don't have to worry about anything. Once again, happy birthday!
I seriously don't know how long we are going to be neighbors. However, as long as we are neighbors I will continue to send my heartfelt birthday wishes to my lovely neighbor on his special day. Happy birthday buddy!
Happy birthday to the grumpiest yet the most soft-hearted neighbor I know. You are like a coconut; hard from outside but super soft from inside.
Cheers to the most handsome and dashing neighbor on her 30th birthday. Your beauty is boundless and your smile can mesmerize the most stringent of heart. Happy birthday my beautiful neighbor!
Neighbors are supposed help you during the tumultuous times. However, a neighbor like you has only increased my problems manifold times. Being the person with a bigger heart, sending you happy birthday wishes with all the blessings of the world!
Also see: Birthday Wishes for Best Friend
Sweet Happy Birthday Messages for Neighbors Friend
We have been neighbors only for some time but the friendly bond we share is quite strong and pure. Happy birthday my dear neighbor. May you achieve the most coveted things in the world.
You are less like a neighbor and more like a true friend for me. I can share all my highs and lows with you without any hesitation. Happy birthday, neighbor cum best friend!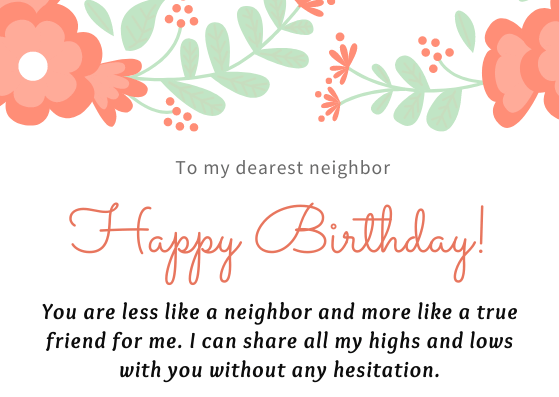 When you have the right neighbor, half of your unwanted trivial problems of life are already solved. Happy birthday to the most supportive and cheerful neighbor!
Out of all the people in this big neighborhood, you are the only one who cares to connect with others and know about their well-being. You are one humble soul and a remarkable human being. Happy birthday to the dearest neighbor!
Good things automatically happen to those in life who have great neighbors like you are, for me. Wishing a spectacular birthday celebration to my awesome neighbor!
A good neighbor is the one who quickly becomes your friend. A great neighbor is the one who becomes your family. I am super blessed to have one more happening family in my life. Happy birthday, neighbor!
You are just not a neighbor next door to me. You have become an integral part of my life with whom I standing all the time. Happy birthday and have an amusing birthday celebration!
Ir wouldn't be fair to call you only a neighbor. Whatever you have done for me, no family member can do in today's time. Happy birthday to the most fantastic neighbors in the world!
I didn't become your neighbor by my choice but I surely have become your friend by choice and it is one of the best choices I have ever made. Happy birthday to my dear neighbor!
Hey neighbor, on your super-special day I wish you create tons of remarkable memories and never look back in life. I love you and I care for you. Happy birthday!
It takes weakness to cry over little things in life. However, it takes a courageous heart to celebrate every precious moment of life to the fullest. Happy birthday to the most vivacious neighbor ever!
May the almighty bless you with enormous strength and unflinching power to overcome all the life hurdles and live a blissful life. Happy birthday my lovely neighbor!
Also see: Birthday Wishes for Old Friend
Emotional Birthday Wishes for Neighbor
Living with you, even our pain becomes joy. With you, our journey is totally fun. I wish you never get grief in your life. Wishing you so much love and happy birthday friend! You are a classic neighbor.
You are not a neighbor. You are family. You don't just live near our house while you live near our heart. Happy birthday to a lovely friend and best neighbor!
There are no secrets between us. Those who eat together and laugh together are real neighbors. I wish your smile never leave you. Happy birthday my dear friend and a lovely neighbor!
You fight with me a lot. You destroy my pots also every day. But whenever we are in problem, you are the first to help us. I will never forget your help. May your whole life be gentle, sweet and adventurous? Happy birthday dearest neighbor.
May your home forever be filled with sweet songs of birds. May in your life forever springs come. May you never be barren. Happy birthday to a good friend and a true neighbor!
May you never be alone. May you always have the company of your best friend and love. Wishing you best life and sucesss! You are the sweetest neighbor. Happy birthday!
Living near you is a blessing. Talking with you is pleasure. And dancing with you is a memory. May your life and goals get glorified. You're best person and neighbor. Happy birthday dearest!
In our all home parties you are a special guest. And I wish you forever be. Your generous smile is the most honest and I wish it may never vanish. Happy birthday dear friend and helping neighbor!
Living in a comfortable home is like relaxing. And living with a good neighbor is like living worry free. I wish you get all abundance in your life. Happy birthday cute friend and best neighbor!
I wish you achieve all in your life. I wish may your life be inspiring. Happy birthday to dearest neighbor!
You are an inseparable part of our family and forever will be. I wish you all the joys and popularity in life. Happy birthday to most trusted friend and best neighbor!
All the moments spent with you are unforgettable memory. I wish you forever be with us for eternity. Happy birthday to a kind and compassionate man, our neighbor!
Also see: Birthday Wishes for Childhood Friend
Funny Birthday Wishes for Neighbor
There is only one problem with you that you come every time to our house during dinner! We want to ask you for it but we know you are full! Happy birthday never- wanted neighbor!
Life without you is like eating my favorite momos. Life with you is like eating sea- food alive. This is what you are! Happy birthday to my sea-food looking and smelling neighbor!
Even standing near you I feel cringy. And why don't you use deodorant! Wishing happy birthday to our neighbor who never take bath!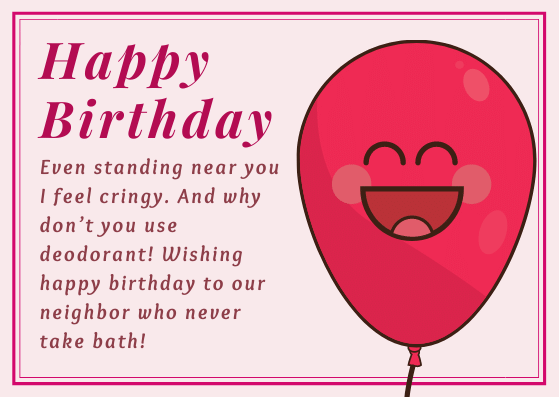 Believing in you is like paying for extra tax for things you haven't bought! Such a neighbor you are! Yet we love you. Happy birthday dear!
You are not our neighbor; you are just a barbecue wire which is needling us again and again! Don't mind! Happy birthday! And yes, never come to our home again!
Having neighbor is like cradling unwanted family whom you don't want to party with! But it is not the case with you dear. Happy birthday! Wishing you all the mirth of life.
When you are feeling sudden pain in your stomach and you don't know from where it is coming; then it means your neighbor is remembering you! Happy birthday to our sweet neighbor and friend!
You, neighbor, is like a not hot chai that no one wants to drink. Don't mind dear. Fun is fun. We wish our loveliest neighbor happy birthday and thousand gallons of love!
Neighbors claim to have that superpower that makes them wittiest in the town! And they want to give you all unwanted advices! Happy birthday! We celebrate your neighborhood!
Never risk your life by telling secrets to your neighbor! They are broadcaster of it! Happy birthday you our neighbor the secret revealer! I wish you touch all the heights in life.
The unnecessary love of neighbors comes like free sauce with pizza! Wishing you happy birthday our cute neighbor and a real friend!
You don't need problems in your life because your neighbors are always there for you! How you like this real joke!? Wishing you happy birthday you loveliest neighbor! You're our problem solver.
Whenever you think your life is going to be heaven, then suddenly neighbors pop up! Wishing happy birthday to our ever-popping neighbor!
Also see: Birthday Wishes for Facebook Friend