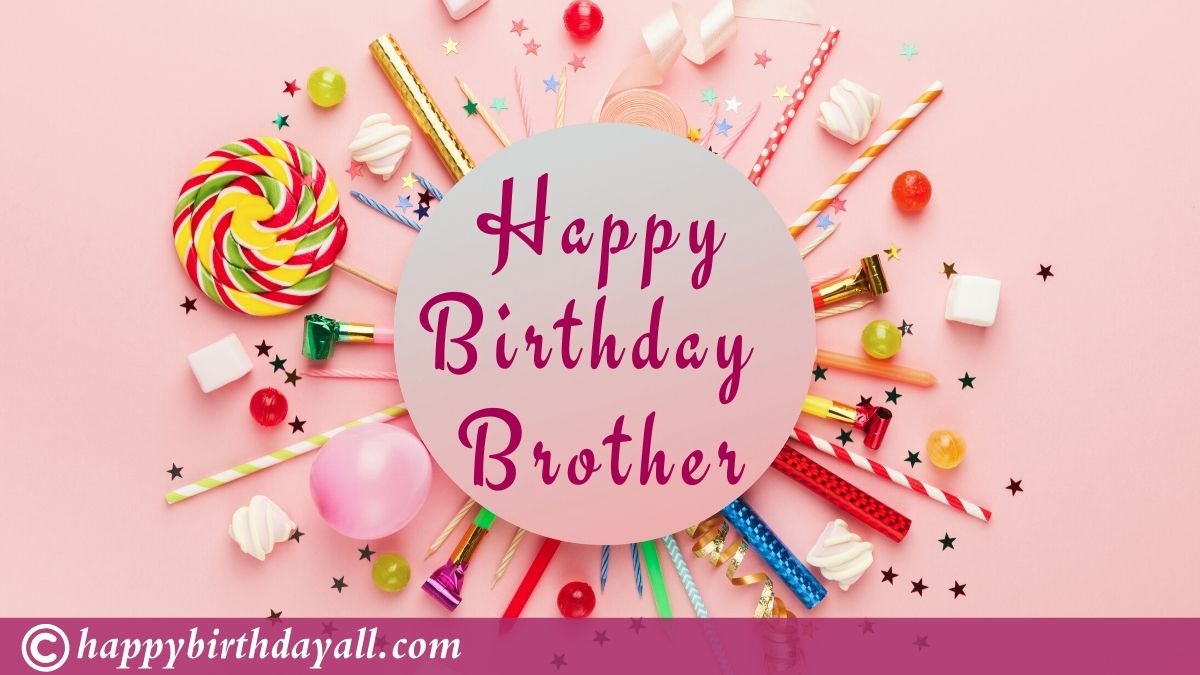 Birthday Wishes for Brother in law | Emotional Birthday Brother in law Messages
There is no relation of blood but the relationship with brother in law is a connection of the heart. From teasing your sibling to planning fun family trips, the brother in law is your partner in every task. He saves you from the wrath of your sibling's or parent's anger but scolds you whenever you take a wrong turn in life. He helps you get on the right track whenever you go the incorrect way. When he does so much for you, then why not do something for him too? Make his birthday worth remembering with emotion-filled happy birthday quotes for brother in law. These birthday messages for brother in law shows him that he's not just your sibling's better half but also an important part of your life. They make his day as special as he is.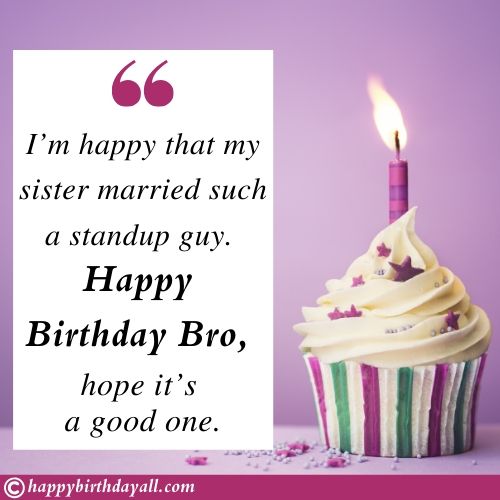 To the best brother-in-law, I wish the best of life. Happy birthday, man! May this day be filled with joy and love.
I'm happy that my sister married such a standup guy. Happy birthday bro, hope it's a good one.
Happy birthday dear brother in law. It is an absolute honor to have you as a part of our family. May God bless you today and tomorrow.
To my favorite brother-in-law, I wish an amazing birthday! May you enjoy many more years of life and may you always be blessed by good fortune, love and success. Be happy!
Sometimes a brother-in-law can be just as good as a brother by birth. Thanks for being a great brother to me. I really hope your birthday is amazing as you are!
I never thought I would need more siblings, but since meeting you I've learnt that our family would be incomplete without you. Have a happy birthday, dear brother-in-law!
Happy birthday to the best brother-in-law ever! Our family get-together has gotten much more entertaining since you joined the family. Thank you for existing.
To my brother-in-law, I wish all the best for your birthday. May you get success in every sphere of your life. I hope you always keep that childlike sense of joy and wonder in the years to come.
Happy birthday to the best brother-in-law! Our family get-togethers have gotten a lot more entertaining since you joined the family!
Also see: Sweet Happy Birthday Brother Images
Birthday Wishes for Younger Brother | Happy Birthday Messages for Little Brother
Who is that adorable and notorious human you hate but love? Yes, he is your little brother. Sometimes, he annoys you with those naughty acts, whereas, other times he brings a simile on your face with his cuteness. Why not make him know that he is an indispensable part of your life, he is someone you cannot imagine your life without? If you are wondering what to do, then we have got an incredibly amazing idea. Select one from the birthday wishes for younger brother and make his birthday even more special. What can make your little brother happier than knowing his elder sibling adores him? In our view, nothing. Thus, use these happy birthday messages for little brother to make his day a special memory. He may forget the superhero presents that people give him but he will always remember the gift of feelings from his real-life superhero, i.e., elder sibling.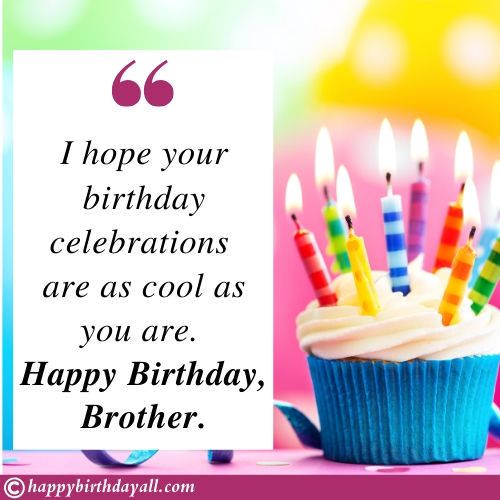 I still wonder why our parents planned to give you birth when they already had such a smart and handsome kid like me. Anyway, happy birthday to my irritating younger brother!
The rest of the things are fine between us but why the hell you wear my clothes and flaunt them in front of your bimbo girlfriends? This birthday I will gift you a hell lot of clothes so that you can stop wearing my expensive ones. Wishing happy birthday to my cute little brother!
Happiest birthday to the most notorious and feral little brother in the world. I find your mischievous pranks adorable and worth savoring!
As long as your big brother is standing by your side, you will never ever feel the shortage of anything in life. You just tell me what you want and it will be there for you in no time. Many happy returns of the day to the cutest little brother in the world!
You are such a pain in the ass but a sweet one. Why the hell you have to bring me in all of your misdeeds. You better pay me for all the scoldings I have listened to you from the parents on your behalf. Happy birthday to the chirpiest little brother in the world!
On the most significant day of your life, I wish for you all the laughs and happiness and all the wealth for me. Many happy returns of the day to the wonderful little brother!
The greatest pleasure our parents ever had is giving birth to me not you little dumbo. Mom and dad love me the most though they give all the gifts to you and that pinches me. Jokes apart, wish you a cheerful birthday my adorable little brother!
Thanks a lot little brother for bringing enormous joy into my life. However, that doesn't mean I will spare you for damaging my bike. Happy birthday!
Growing up with such an annoying, demanding, and dumb brother was certainly not my best of childhood experiences. However, I hope, from here we can carve some alluring and unforgettable memories. Happy birthday my baby bro!
Though you are taller than me, when it comes to using brain you will always be a puny one in front of me. Have a glittering and blasting birthday my little fatso brother!
I hope your birthday celebrations are as cool as you are. Happy birthday, Brother.
Along with your favorite gifts, I am also sending tons of happy birthday wishes to you. Little brother, I wish you a very happy and cheerful birthday!
The smudge that you see on the top of this birthday card is the tear of happiness that rolled down my cheek as I thought about the wonderful childhood years we have spent together. I hope this message makes your special day more special.
A very joyous birthday to my parents' second favorite child. Yeah, I will always be the first one. Jokes apart, best birthday wishes on your special day!
You are Wolverine, Superman, Spiderman, Ironman, Thor, Hulk, Jedi, Zorro, Batman, Robocop, Hercules, Terminator, and James Bond—all in one. Happy birthday to my real-life superhero.
'I remember your pranks, I haven't told anybody, How you used to hit me hard, But that was part of growing up fun, Happy birthday elder bro,
Always be the number one!I haven't wished you anything on Facebook or on Twitter,I did not send you a text message or an email,Because I love you to the core,And brothers like you deserve a lot more.So I drove down all the wayTo give you a hug and say, "Happy birthday."
'Oh my elder brother, Where is the party tonight? Cut the cake and blow the horn, Make it a memorable sight, Wish you a very happy birthday!
You are my blues buster, my sounding board, and my magic wand that waves away my problems. I love you, Bro; happy birthday.
You are the most adored person in our family. On your upcoming birthday, give me a promise that you will strive to become a better person. May your birthday brings loads of joy and success in your life!
Here is a big birthday wish, a big present, a big hug, and a big bash for a big-hearted big brother. Happy birthday.
There's nothing in this world that can compare to the love of my dearest elder brother. Have a happy and fun-filled Birthday!
God's greatest gift to the world is not champagne, Nor is it wine. It isn't chocolate, either, Nor is it caviar fine. Could it be civet coffee? Or a truffle true? Maybe it is Brazilian toffee. No, I've realized it's you.
Also see: Belated Happy Birthday Wishes
Birthday Messages for Elder Brother | Sweet Birthday Wishes for Big brother
Whenever you are stuck in a problematic situation, who do you call for help? Who is the one you demand gifts from? The answer to both of these questions is a brother. There is no better savior than an elder brother. He is always ready to fight with the whole world just to keep you safe and happy. When he cares so much for you, then why not show that you care for him too? This birthday, gift him something he might not have even imagined. Give him the gift of feelings. For your help, we have got the heart touching happy birthday wishes for elder brother. These birthday messages for big brother perfectly combine the love, respect, admiration, and care you hold in the heart for your brother. They let him know that he is and always will be your role model. He is the one who inspires you to be a better version of yourself.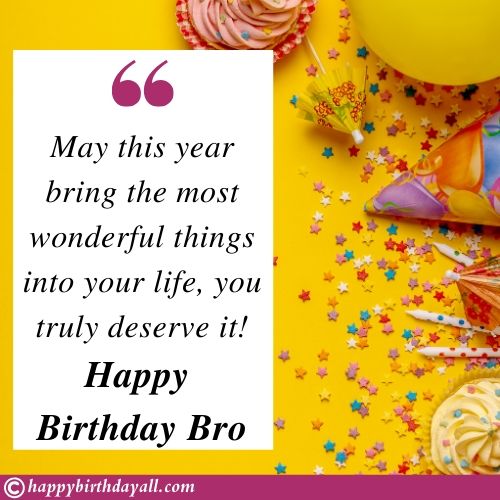 Wishing happy birthday to the most inspiring, over-achieving, and outrageously big brother. Though you have everything you wanted in life, I wish you set new and unachievable goals and smash them in no time.
My dear elder brother, you are more experienced and resourceful than me but that doesn't mean I won't surpass you. With your blessings, I will be a force to reckon in the business world and make you super proud one day. Happy birthday big brother!
Hey my lovely elder brother, may your big day be packed with unexpected surprises, shivers sending birthday bumps, and a lot of cake smash on your face. Happiest birthday my handsome big brother. I love you to the moon and back!
You and dad are the exact opposite. He is so rigid and harsh in approach, but you are quite soft and thoughtful. He relies on knowledge and you focus on gaining and imparting wisdom. You are more than the father to me. Have a thumping birthday celebration big brother!
As time is passing, you are getting fat, bald, and hot-headed. One day people will recognize you as my father, not as a big brother. Happy birthday to my respected elder brother!
Someday, I will become capable enough to carry forward your jaw-dropping legacy and make the whole family proud. For that, I need your constant guidance and knowledge. Happy birthday elder brother. May you become invincible in what you do!
Sending the warmest, brimming with hugs and kisses, and love inducing happy birthday wishes to the most supportive big brother in the world!
What else a little brother needs when his big brother takes care of everything like a father does? Thanks bro for all the love, affection, and unconditional support. Happy birthday!
I wish your happy birthday opens innumerable gateways to astonishing opportunities in your life. Your little brother always in awe of you. Happy birthday to my super cool big brother!
Congratulations to the big brother for cracking the toughest examination of the country on your special day. You have already got the best birthday gift. I am proud of you. Happy birthday!
May this bring you all the happiness that you have been searching for all your life. Happy Birthday Big Brother.
You are not only a great brother, but also a wise guardian for me. Growing up with you has been a remarkable experience so far. Happy birthday to you!
May this year bring the most wonderful things into your life, you truly deserve it! Happy Birthday Big Bro!!
My dear elder brother adds another year to his collection today! Happy birthday, big bro!
Someday I hope to follow in your footsteps, my remarkable elder brother, because you're an incredible guy! Happy birthday to you and wishing you all the best, bro!
Dear bro, wishing you all the best in life. Happy Birthday! You are not just my brother but my greatest buddy. Happy Birthday, Big Bro!
Though even the sun will one day run out of fuel, my love for you shall last forever. Happy Birthday, dear brother.
Happy birthday dear brother. On this special day. I want to thank you for being such a cool, caring and kind brother to me.
We may have fought and argued a lot, but I just miss not having you around as much as I used to. Happy birthday, big bro!
I could not ask for a perfect big brother than you. Happy Birthday. Thank you for always pulling me out of bad situations.
Also see: Blissful Religious Birthday Wishes
Funny Birthday Wishes for Brother | Funny Happy Birthday Brother Messages
Love + care+ respect+ playful hate= relationship of siblings. This equation misses something. Fun is missing from this equation and no sibling relationship is complete without it. From playing together to teasing each other, you share so many funny moments. Why not add another fun-filled memory to these moments? To help you do it, we have the funniest birthday messages for brother. Use them to make your brother laugh and reminisce about all the funny incidents and memories you share. In the years to come, you'll both remember these happy birthday quotes for brother and smile together. No birthday is complete without fun. Make this day of your brother funniest and happiest with these beautifully written birthday wishes and messages for brother. They bring a smile on his face and an instant closeness in your relationship. This is your chance to come more closer to your sibling and make your bond stronger. Do not let it go, Make the most of it.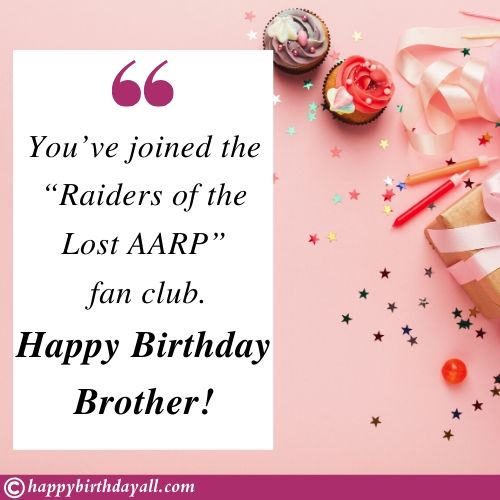 It's absolutely futile to expect from an immature brother like you to grow up and understand the responsibilities. Happy birthday to my less smart than Chimpanzee brother!
When God will make a list of all the profound little brothers, your name will never pop up on that list. You are awesome yet awful at the same time. Wishing a captivating birthday to my ever annoying brother!
I tried, I tried really hard, I tried my level best, but I haven't found a single thing that I can learn from you. What a waste of time and life you are! Happy birthday my dumbo but sweet brother!
Your poor grades and stupid actions made me the favorite child of our parents effortlessly. Thanks for all the help bro. Wish you a remarkable and mirthful birthday!
If you weren't born, our parents would never get to experience the real disappointment. Fun apart, happy 30th birthday to my raunchy brother!
Your birthday is the only day we can swim in the sea of champagne, eat the best of birthday cakes, unveil the most luxurious birthday gifts, all in your dreams.
I have one priceless suggestion for you on your birthday which you must also consider as a gift. Make sure to fulfill all your dreams before the God of death gives you a tight hug. Happy birthday my old brother!
If you think in your head that you are still young and energetic, just give yourself a break. Even a tortoise can walk faster than you. On your birthday, I am giving you a cycle. Stop eating burgers and peddle as much as you can if you don't want to kiss the grave soon. Happy birthday my brother!
Hey my amazing brother, I have brought you a new set of balls as I have heard that you have lost yours. Jokes apart, have a stunning birthday celebration. Happy birthday to you!
As you know I always bring a unique, classy, and exorbitant gift on your every birthday, this time I am bringing nothing. Bloody hell! You don't even say thank you in return. Wishing happy birthday to my parsimonious brother!
Stop counting your candles and start counting your blessings. You still have hair on your head, not in your ears and nose! Happy birthday bro.
Happy birthday crazy brother, I wish we can have more time to bond together, you know?
Though even the sun will one day run out of fuel, my love for you shall last forever. Happy Birthday, dear brother.
Dear brother, a piece of wisdom for you on your birthday: age is a number and should be unlisted! Happy Birthday!
You've joined the "Raiders of the Lost AARP" fan club. Happy Birthday Brother!
May you always find happiness and peace in the things you do, my big bro, I care for you!
You are such a great role model for every brother in the world because you are so loving, caring, protective, and supportive. I wish you, the best brother in the universe, a very happy birthday.
Don't worry about your age. You are still younger than your next birthday. Have a special day Brother!
You are one of the best brothers that I have and I thank God for this day of your birth, really.
Before you go out today, make sure your pockets are empty. It's your day to have others treat you! I hope you enjoy your birthday, dear brother.
Also see: Birthday Wishes For Childhood Friend