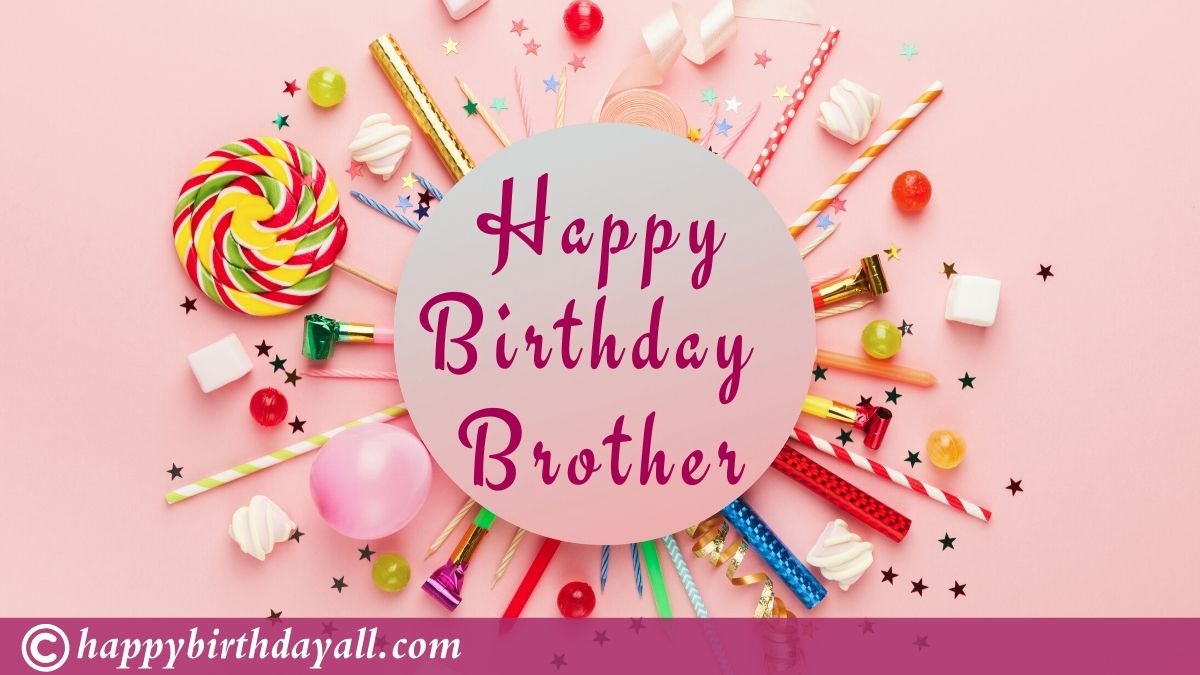 Birthday Wishes for Brother from sister
The brother-sister relationship is among the most beautiful relationships created by god. There is an ocean of feelings in this single relation. It has all sorts of emotions ranging from love, care, to that playful hate. Every emotion in this relation is beyond special. You tease and fight with each other. But, cannot imagine how life would be if your sibling was not there with you. He is your partner in crime and the one who you share your darkest secrets with. He's the person who can go to any extent just to make you smile and safeguard you from all the troubles. When he does so much, then you should also do something special on his birthday. Tell him what he means to you and how much you adore him with these happy birthday wishes for brother.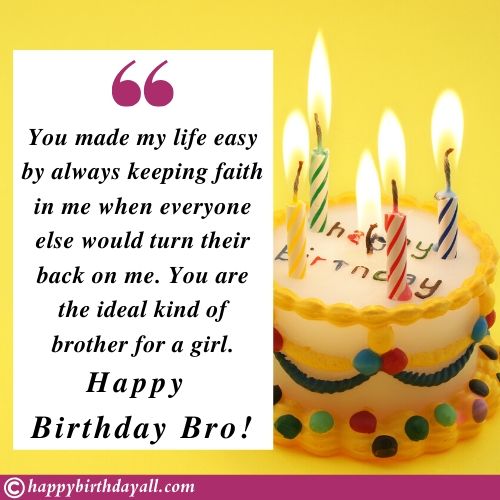 Before my brother, I have always considered you as my dearest friend, my teacher, my protector, my inspiration, and also my ideal. My blessings and holy prayers will never leave your side. Happy birthday to my super special brother!
Brothers are neither special nor ordinary. They are the biggest and the most extraordinary blessings of God for a sister. May you have an outrageously successful and prosperous life ahead. Happy birthday to the most caring brother in the world!
Kids watch superheroes in video games and televisions. I watch a real one every single day in my brother. You are no less than a superman for me as you have always protected me from the diabolical things. Happy birthday my lovely brother! Have a marvelous day.
If someone asks me to give the definition of a real man, I would describe the character and qualities of my brother. Happy birthday to my super strong and profound brother!
With each passing birthday, my handsome, adorable, and obedient brother is becoming more responsible towards his duties. I know you will keep your better half very happy. Wish you an unforgettable birthday celebration brother!
I made the mistake of missing your last birthday and I am still guilty about it. This time I will leave no stone unturned to make your birthday party picture perfect. Booze, babes, and bass, everything will be at your party. Happy birthday to my party freak brother!
All the great things of the world seem unexciting and unworthy when you have a brother who knows how to keep sister happy in a billion ways. Happy birthday my dashing brother! Your sister loves you a lot.
No matter how mature, responsible, and less emotional a man becomes, whenever he comes in front of her sister, he becomes all childish and bubbly. You are everything for me brother. I wish you a vivacious happy birthday!
Whenever you are around me and treat me like a little cute kid, my joy breaks all its limits and I hop on here and there with ecstasy. Such is the grace and aura of my lovely brother. I am ultra proud to be your sister. Happiest birthday to you my sweet bro!
Sometime I wonder what life would be without u I would have less tears Less pranks Not as so many fights throughout the year, no memories of mud fight Or definitely not so much hugs And that support… I could never imagine a lyf where u were not with me… Happiiieeee bdy mota😘😘
And here comes the day when an angel took a birth Blessed with a keen intellect he landed on this earth Devoid of evil,a pure soul in him I find Unadulterated,his persona makes him unique in the mankind Little steps of his footprints are so cute to see Beautiful future for him is all I can foresee Alive and kicking his spirit always remains Sympathetic nature of him makes him more humane Innocence in his smile can melt anyone's heart Trust me O dear world his presence has become my life's vital part Happy Birthday little brother .. 😘😘
You are God sent brother and I appreciate you so much, thank you for always making your sister's dull days bright, I am blessed that you are growing old beside me.
You have truly been a guiding angel to my all kind of problems. I look up to you and seek inspirations, wishing you many many happy return of the day brother!
You made my life easy by always keeping faith in me when everyone else would turn their back on me. You are the ideal kind of brother for a girl. Happy birthday!
Even though your new age is nothing compared to how long I have known you, my prayer today is that you keep waxing stronger so that we have many more successful years to record. Happy birthday brother.
Well, no cheating but mom and dad loves me more, I might be kidding but surely I love you more than anything in this world brother. Happy birthday bro!
Protecting me from all the troubles in life wasn't your job, it was in your blood and in your very nature. Happy birthday, brother. Lots of love for you!
Brothers never let their sisters wonder into the darkness alone, younger or older, you are my best friend and I am blessed to be your sister, enjoy your birthday.
The unsaid story between a brother and sister is always spoken by eyes, hands or third person. Happy birthday to you brother, have a blast. Love you!
Also see: Advance Happy Birthday Wishes
Best Birthday Wishes Quotes for brother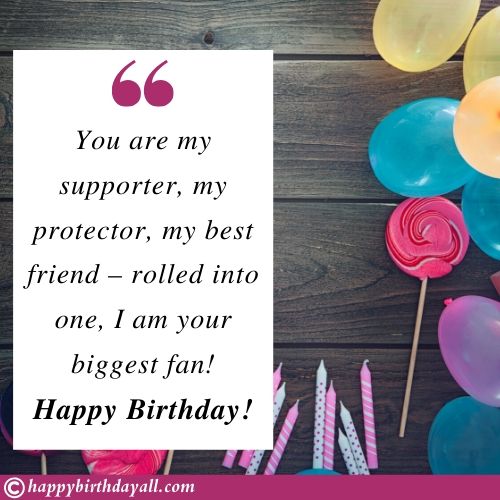 To my awesome brother, HAPPY BIRTHDAY! Today we celebrate you! I hope this year brings everything you wish for and more!
Wishing a very very Happy B'day Bro….. The years we shared while growing up are like treasures to me. I can remember our every moment of laughter. Again Happy Birthday!
I am really lucky for getting blessed with a wonderful brother with whom I can share everything. Have a wonderful birthday, brother dearest.
You are my supporter, my protector, my best friend – rolled into one, I am your biggest fan! Happy Birthday!
Dear brother, u have always been a true friend to me. I hope this will never change. Wishing u all the best on your special day!
Happy Birthday Brother. Here's to a car full of roses and another year full of adventure! Have the best day ever!
You are the one person that I don't have to explain my craziness to and the one person whose craziness I can't explain. And that's great. Happy Birthday.
You're the best human, who has been created by our mom and dad. You're the best, happy birthday!
Thank u for being there for me all this while, I appreciate you for everything you have done in my life; happy birthday to yu!
Pop some champagne and let's you toast to you! Love you, bro…. Wish You a Very Happy B'day!
Also see: Thank you Messages for Birthday Wishes
Birthday Wishes for Brother in English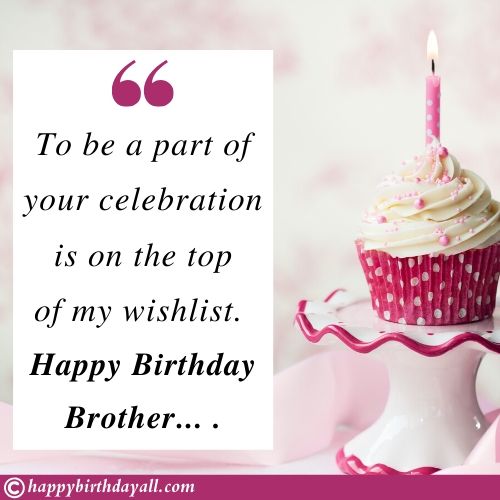 You are the very special You are the My Bro. Many many Happy returns Of the day My Bro. I want to gifted you All my happiness & peace. And I swear that I'll Never let you alone And never let you cry alone I am always be there for you & try my best to fullfill your all wishes. Love you very very much Brother….
To be a part of your celebration is on the top of my wishlist. Happy birthday Brother… .
Happy Birthday To My Bro. You're thought of every day of the year, but none more than now that your special day is here.
You are the only person who can make me laugh and cry at the same time. Have a great Birthday brother.
Dear Brother, Happy B'day… It's your Day..Dance and Celebrate😜 May You have all the shade of Happiness.. And your life filled with all the colors of music..
You are not only my brother…, but a real hero and a role model…!! I am endlessly happy to have .. such a wonderful brother like you…!! Happy birthday Bhai…. Love uhh..😍😘😘
My childhood would have been double fun if I had another brother like you. Happy Birthday.
Happy BIRTHDAY to my Cool Brother! Wishing you a carefree and memorable birthday that's filled with all the things that you love in life.
Happy Birthday Bro….Wish you many many return of the day And god bless you 🤗Keep smile have a super day everyone 👈
I know I'm more lovable than you but I love you more than anyone. Wish you the happiest birthday ever bro.
Also see: Birthday Wishes For Old Friend
Long Distance Birthday Messages for Brother
It is so aching that on your birthday you are outdoor in a foreign country. We are celebrating your birthday here with all the family members. Happy birthday brother! I hope you are well and we all pray here you take care of yourself and be satisfied with your life!
Every birthday we have celebrated together, and you are not this time here with us. How painful it is. We wish you come back home safe and soon. We pray you make us proud too and your country. Happy birthday my super intelligent brother!
You are not just an ordinary brother. You are a brother's brothers. You help everyone. The only tragedy this time on your birthday is that you are out of the country. Although, happy birthday brother! We wish you never forget us and you live a happy and peaceful life there.
As time has passed we have grown brother and have taken different paths. I wish our heart is still child of past. I pray you never feel alone in the different country. May you get all the good friends for you that cherish you and celebrate your birthday!
You always have been a wonderful guy brother. I wish may your life full of wonders. Why you are away on your birthday? We miss you so much here. Yet wishing you happy birthday brother!
For our family you are always a blessing brother. You are your teachers' favorite boy and parents too. All like you. I wish wherever you go people always love you. I pray too you never feel the aloneness. Warm hugs to you and best birthday to you!
You are an inspiration for me brother. You have always been determined and focused. I wish I had focus like you. Although you are away from us yet wishing you blessed happy birthday. I pray may you have some shoulder to rest and love. Happy birthday darling brother!
I miss you brother on your birthday. I hope you are well. I am cutting cake on your behalf. I wish your all inner desires come true and I hope you do great in other city too. May you always swim in the ocean of happiness.
Love you brother. You have always been my support and greatest one. Wishes, prayers and blessings for you on your birthday. May you celebrate best wherever you are. And we wish you shine like brightest star in the universe Sirius.
Wishing you happiest birthday my handsome brother! May you be blessed by all the guardians of this universe. May what you choose come fruitful always.
Brother Birthday Wishes from Brother
It is from brother to brother. Happy birthday my strong brother! We are both alike with all our likes and dislikes. May you be much better than anyone. My you best dear.
You are insanely sweet brother. And being your little brother has given all the love of you to me. Thanks for pouring on me. I wish all the angels with you, and demons fear you. None bad come to you. This happy birthday from a nice brother to a nicer brother!
You are caring, generous and have so gratitude. I wish none could exploit you until you have most the benefit. You travel the world and I wish may you have all the gifts of life. Love you brother and happy birthday to you from brother of same mother!
May you be always hopeful towards life and your goals. If not achieved somehow, may you not understand it your defeat. Maybe some different plan for you. I pray may God show you light. Happy birthday my brother!
The bond between brother to brother is of like a warrior to another warrior. It could not be broken. I pray brother may our bond not get broken. I always pray for you. May you grow higher than mountains. Happy birthday!
You are the savior of our family. May God save you from all troubles. You are the care taker of our family. May no disease you suffer. On your birthday, it is the promise from a brother to brother, that I always be with you in all dire. Happy birthday my loveliest brother!
May peace rest in the heart and on your mind. May you never fear any test and God's hand by you side. It is brother to brother promise I always bring you in the right wave if you forget and lose your path. Wishing happy birthday my awesome brother!
May you never get so drunk that you ruin yourself. May you never get so idle that you forget yourself. I wish may your soul be with you that you always find yourself. I be with you always brother. Happy birthday to my brother!
We are two bodies one heart. It is from brother to brother I never keep you apart. May you never lured by evil. May goodness always prevail in you. Happy birthday my beautiful brother!
We are two stars sharing one cosmic connection of our dearest mother. It is a brother to brother thing I always keep your secrets. My mouth never will mumble it. I wish may you become the real star. I wish may no edges and banks stop you and you go far and beyond. Happy birthday my curious brother!
Happy Birthday Images for brother
A plain text only speaks but an image shouts. It shares all those feel feelings that the words fail to express. Moreover, since no birthday is ever complete without cakes and candles, they make your wishes perfect. We have got an exclusive collection of the best birthday wishes for brother in the form of images. These pictures speak volumes on your behalf and make your brother feel the depth of the relationship you have with him. They symbolize the love, care, and admiration that you have for him.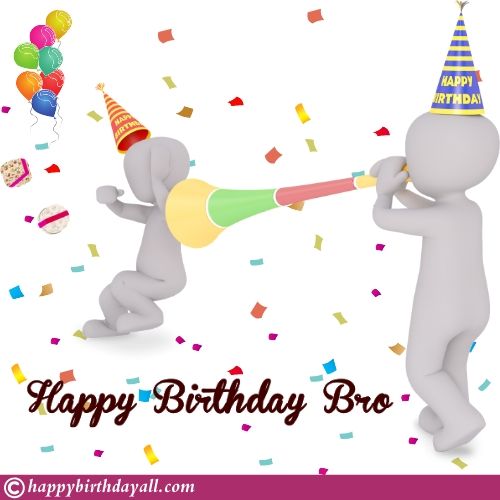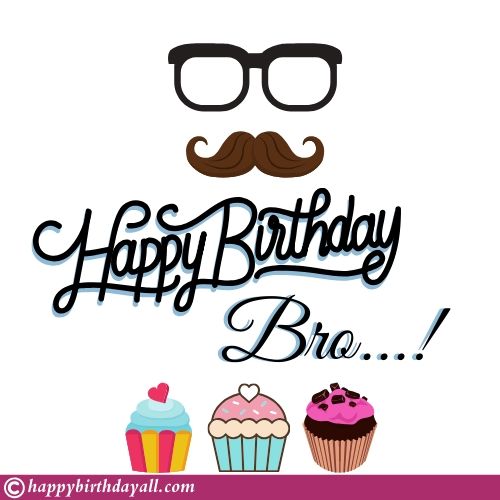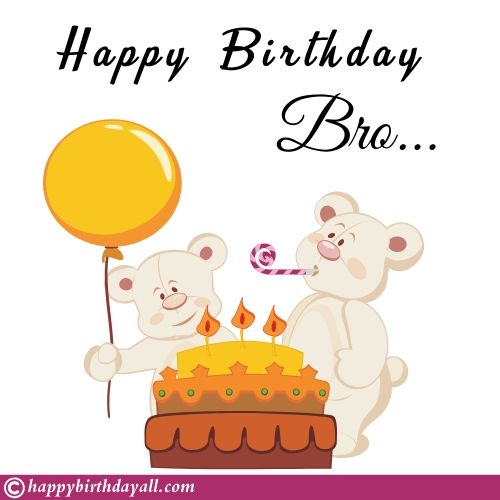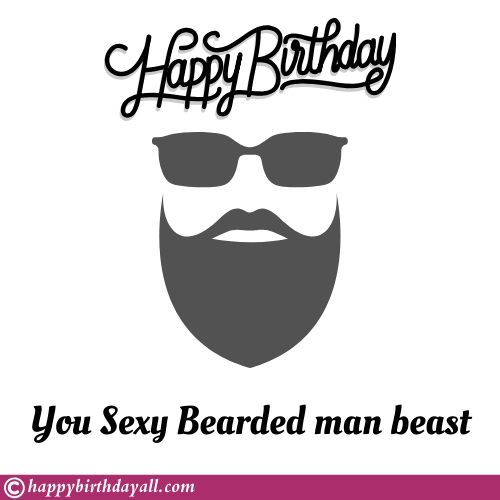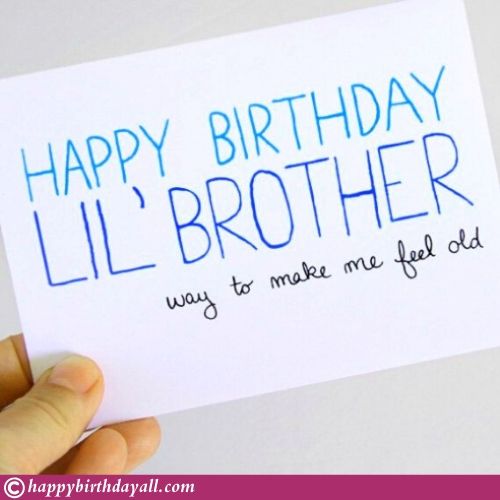 These were the birthday wishes for brother. Use any of these happy birthday quotes and messages for brother and make his day special than ever. An occasion such as a birthday is meant to make people feel loved. Shower your brother with blessings and smiles with happy birthday messages shared here. Do not miss out on the chance of making your brother feel special and once gone it comes back only the next year. Therefore, make the most of this occasion and don't let it go.