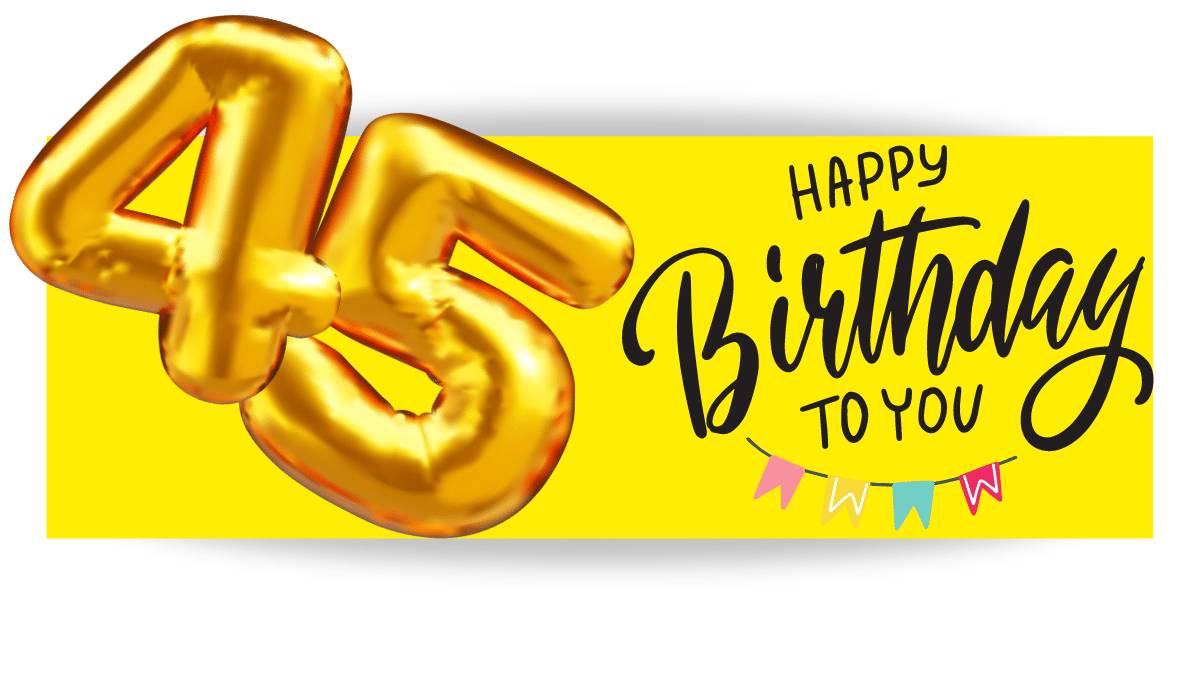 Happy 45th Birthday: Let's just admit the fact that 45 is not an alluring and lively age to do a lot of things that you used to do in your twenties. By the age of 45, you have a full-fledged family, a peer pressure to soar higher in life, juggling with debts, and a lot of physical and mental issues. However, one of the best attributes of human beings is finding a ray of light amid the dense clouds of darkness. No matter whether you turn 45 or 75, you can always celebrate your birthday with loved ones to forget about the failures and count the blessings you still have. Below is the loveliest compilation of happy 45 birthday wishes for myself, father, mother, friend, daughter, son, brother, and sister that are quite perfect to wish anyone turning 45.
Happy 45th Birthday Wishes
Many happy returns of the day to my wonderful and protective day for turning 45. May you soar high in life and give us umpteen reasons to be proud of you. Happy 45th birthday dad!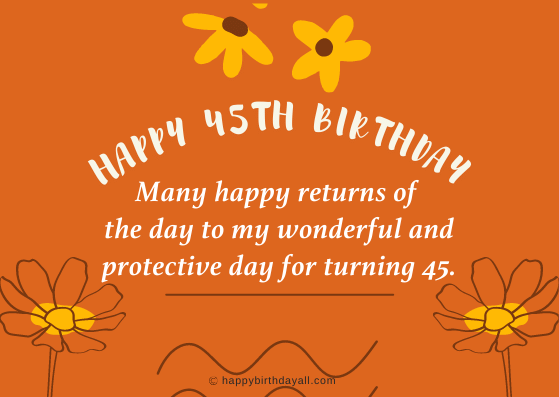 Hey mom, in spite of turning 45 today you barely look more than 30. Are you using any secret lotion to retain your youthfulness or is there something else we don't know? Jokes apart, happy 45th birthday to the sweetest mom!
Dear dad, thank you to the moon and back for injecting umpteen happiness and love into our small family. We are one big thriving unit only because of your contribution and sacrifices. Happy 45th birthday to you, dad!
Mom, do you know what my life would be without your presence? A sky without twinkling stars. May you forever be young, loving, and chasing your dreams. Wishing a cheerful 45th birthday to my gorgeous mother!
Wishing a happy 45th birthday to my dad who is way more active than a 20 years old young chap. Hey dad, from where do you draw such energy and kill attitude to maintain the momentum? God bless you with prosperity and longevity!
Also see: Religious Birthday Wishes
Happy 45th Birthday to Me Wishes
Wishing a happy 45th birthday to the most intellectual, sagacious, and beautiful person in the world and that is myself. I am so charming that even Greek gods are jealous of me! I am blessing myself on my birthday!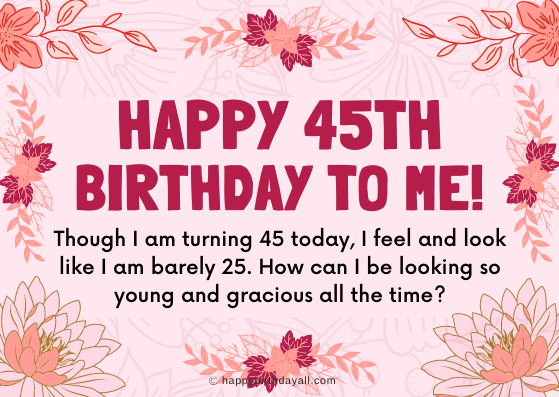 Though I am turning 45 today, I feel and look like I am barely 25. How can I be looking so young and gracious all the time? Happy 45th birthday to the talented me!
Stepping into the 45th stage of life feels like hugging the existential crisis, physical pain, and unwanted mental pressure. But I have successfully managed to doge everything. Happy 45th birthday to a champion like me!
With each passing birthday, I am getting so nearer to perfection that even god becomes envious of me. I am like a damn fine wine and I deserve the best 45th birthday wishes from me.
I am doing everything so brilliantly even at the age of 45 that even I am startled by myself. This planet is so lucky to have a perfectionist like me. Happy 45th birthday to me!
Also see: Birthday Wishes for Myself
Funny Happy 45th Birthday Quotes
Turning 45 is not bad at all as long as you don't have a stiff back, a bald head, and wobbly knees. Happy 45th birthday to my best friend who has everything stated above.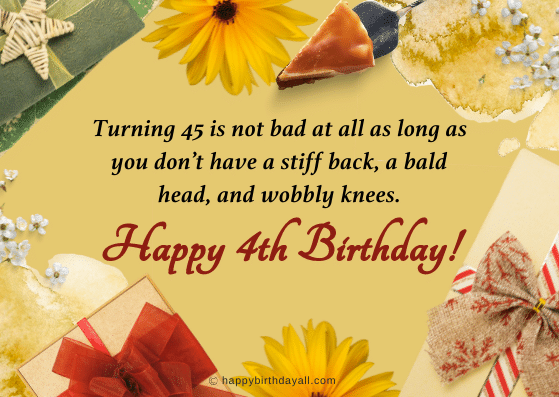 Surviving 45 long years in this brutal world simply proves that I am an indestructible force. I will surely give tough competition to the extinct species. Happy 45th birthday to me!
Hey buddy, if you are 45 and you don't have acne and wrinkles on your face, you must be happy and peaceful in life. Let's celebrate your 45th birthday by splurging all your hard-earned money.
Dear friend, now you are turning 45 today, I just want to tell you that I won't be able to afford a cake with 45 candles on it. You better be satisfied with a piece of cake. Wish you a jovial 45th birthday, buddy!
Also see: Funny Happy Birthday Images
Happy 45th Birthday Sister Wishes
Dear sister, today is your 45th birthday and I am still in wonder how quickly time has passed. Our mother is no more but you have perfectly played the role of mother in my life. I wish you a mirthful 45th birthday and I pray for your long life.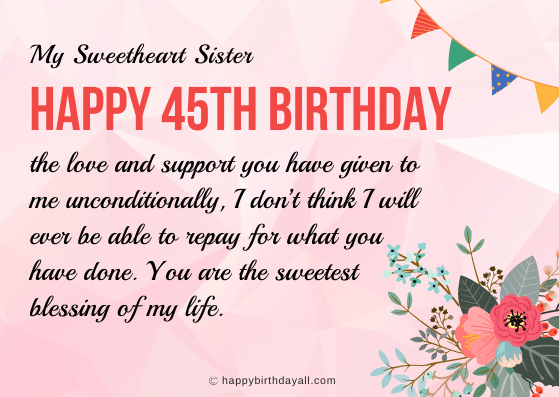 Hey sister, even at the age of 45 you are so energetic, active, and passionate about your professional and personal lives that you ooze inspiration in heaps for others. May you become the finest version of yourself and happy 45th birthday!
My sweetheart sister, I don't want to waste a single second for your birthday preparation and celebration. Let's spill some glitter on your birthday and accept my heartfelt 45th birthday wishes. Sister!
Hey sister, the love and support you have given to me unconditionally, I don't think I will ever be able to repay for what you have done. You are the sweetest blessing of my life. Happy 45th birthday sister!
May your life renders you all the opulence, swash-buckling experiences, and outrageous love, and you get to experience life in totality. Wish you a joyous happy 45th birthday sister and be ready to welcome old age!
Also see: Birthday Wishes For Elder Sister
Happy 45th Birthday Husband Wishes
Hey hubby, how does it feels like to look 55 even at the age of 45? On your birthday, I am gonna gift you a gym membership so that you can work out and look young again like your wife. Wishing you a joyous 45th birthday!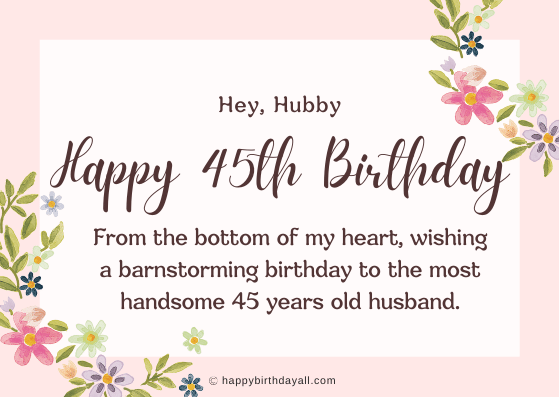 From the bottom of my heart, wishing a barnstorming birthday to the most handsome 45 years old husband. I still fall for your charm and manliness. May God bless you with impeccable health, unparalleled wisdom., and immeasurable happiness!
No matter how many exorbitant and unique gifts I shower on you, they will always fall short in front of your limitless love. What a fine and thorough gentleman you are. Happy 45th birthday to my sweetest husband!
Dear husband, on your 45th birthday, I want to relive all those sweet memories that made me the beautiful, compassionate, and caring woman I am today. Happy 45th birthday sweetheart and god bless you!
Wishing a happening 45th birthday to the exemplary role model of my kids and a man of unbeatable charisma. Enjoy your life and be cheerful all the time!
Also see: Heart Touching Birthday Wishes For Husband
Happy 45th Birthday Son & Daughter Wishes
My lovely daughter turns 45 today yet she looks like an 18 years old chirpy and vivacious girl. I wish you have a memorable 45th birthday celebration and get heaps of blessings. Happy 45th birthday daughter!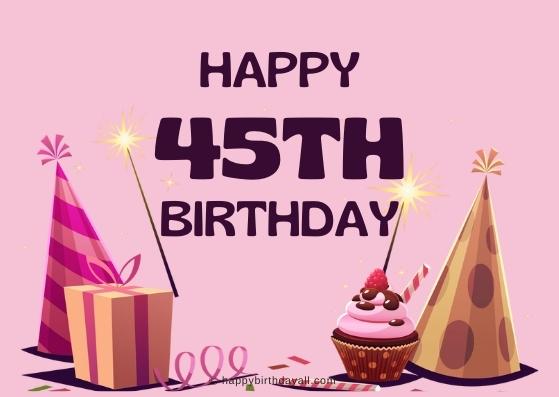 Sending my loveliest and deepest birthday wishes to the most amazing and caring son! You will always be the prince of my heart and may success always be under your fist. Happy 45th birthday son!
Dear daughter, whether your turn 25 or 45, just understand one thing my existence is useless without you. Wishing all the best to my drop-dead gorgeous 45 years old daughter!
Hey son, you surely have become a massively successful person in life but you have never forgotten a single relationship in your life. May you always be this humble and subtle. Happy 45th birthday son!
It is a sheer coincidence as well as good luck that both my son and daughter's birthdays fall on the same date and make a less dent in my pocket. Jokes apart, you two are the loveliest blessings and the most precious gems of my life. Happy 45th birthday to my son and daughter!