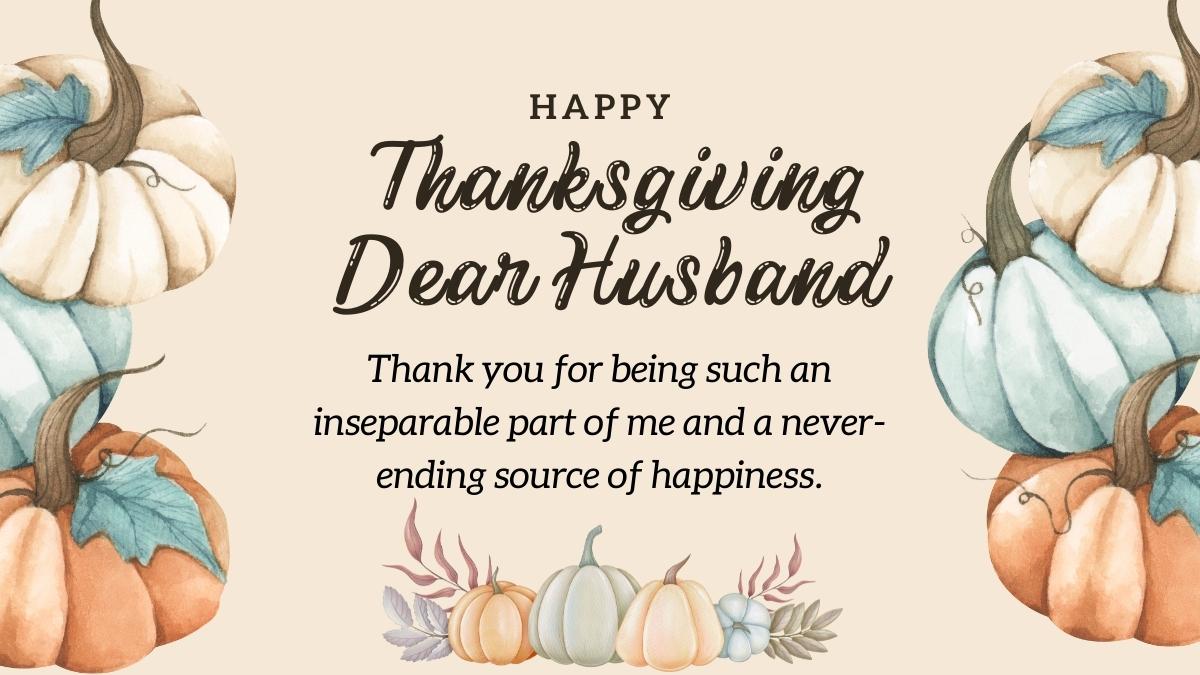 Happy Thanksgiving Husband Messages: No matter which festival comes up, the first thing you do during any festival celebration is wishing your better half as a token of love, affection, and gratitude. It is quite possible to forget to wish your husband on thanksgiving when you have loads of tasks to wipe off your to-do list. But don't worry, to save you from a blunder like this, we are always ready to cover up by giving a stunning collection of happy thanksgiving husband wishes and messages that are oozing romance and sweetness in heaps. Pick the most romantic thanksgiving wishes for husband and spill some lovely vibes in your thanksgiving celebration!
Heartfelt Happy Thanksgiving Wishes for Husband
Dear husband, your precious presence is more than enough for me to be grateful to god every single moment. You are no less than a thanksgiving blessing for me. I love you and I wish a happy thanksgiving to my lovely husband!
My awesome husband, I think the thanksgiving festival is the right occasion to tell you that you are the reason behind everything perfect and awesome in my life. Thank you so much for your outrageous love, unconditional support, and pampering. Happy Thanksgiving to my perfect husband!
Hey husband, your stature in my life is no less than god because you have been the source of everything great in my life. I don't have the right words to tell you how madly I love you. Sending heartiest thanksgiving wishes to my lovely husband!
On the auspicious and religious occasion of thanksgiving, I literally want to thank God for sending the sweetest blessing ever in my life in the form of you. Thank you for holding my hand and not leaving it ever. Happy thanksgiving husband!
Having a husband like you who understands me so well and so deeply is nothing less than the grandest gift by the lord to me. I am so grateful to have you as my life partner and I want to celebrate every thanksgiving of my life with you. Wishing joyous thanksgiving to my husband!
Happy Thanksgiving to my hubby! Your existence makes everything better.
Your unconditional love has healed my wounds and brought me back to a place I thought I could never be. Happy Thanksgiving, my love. May I never cease to be thankful for you.
Today is the day to be grateful for all those things we feel blessed with. Among all the great people in my life, you are the one who is at the top of the list. Happy Thanksgiving, love.
Happy Thanksgiving, my man. Thank you for being such an inseparable part of me and a never-ending source of happiness.
You were there for me when I was lost, devastated, and sad. You brought the light into my life. I'm greatly thankful to you, dear.