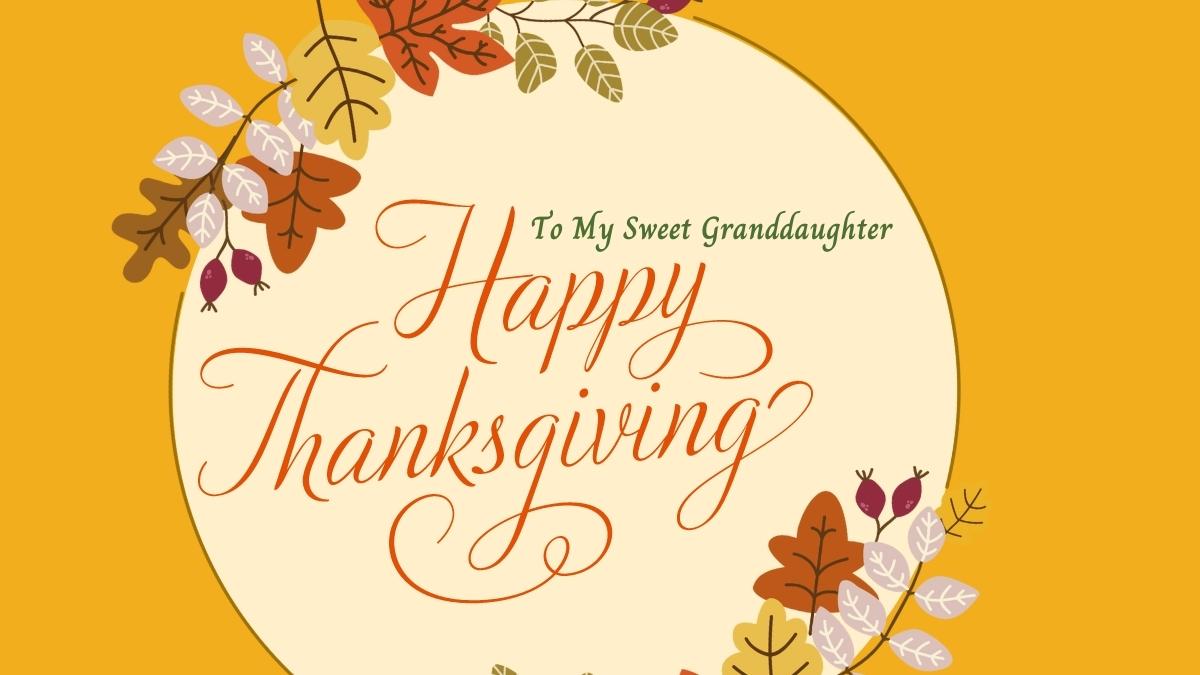 Thanksgiving Quotes for Granddaughter: It gives overwhelming pleasure to grandparents when they become kids like in nature while playing with grandkids. Through them, they get to live their childhood again and fulfill all their wishes with the little wonders of the house. Thanksgiving is an alluring opportunity for grandparents to shower all the love of the world on their beautiful and angelic granddaughter and make her day absolutely terrific. Make thanksgiving super special for your granddaughter by sending her thanksgiving wishes for granddaughter and keep the spirit high!
Happy Thanksgiving Wishes for Granddaughter
To have a special granddaughter like you in our life to pamper and spoil is such a rare blessing for all of us. Cheers To Our Special Blessing and happy Thanksgiving to the best granddaughter ever!
Any other moment might be considered inappropriate for burping but my granddaughter, it's thanksgiving and you are free to eat and burp as much as you can. Happy thanksgiving to the most beautiful granddaughter!
Dear granddaughter, I genuinely hope you have a swash-buckling and sumptuous Thanksgiving celebration. Eat turkey like a monster and sleep like a baby, and don't forget to canoodle with us!
I hope this year's Thanksgiving turns out to be exceptionally fantastic and massively successful for my tweety bird like granddaughter. You better stay away from wine and sweets. Happy thanksgiving!
I am more than fortunate enough to count you as my blessing this thanksgiving season and I hope you do tremendous in life and never forget your value and ethics. Accept my heartfelt Thanksgiving greetings!
Hey granddaughter, you have eaten so much turkeys during previous thanksgiving  that even turkeys recognize your presence and get shivers! Jokes apart, have a blessed Thanksgiving , granddaughter!
God has given us a divine granddaughter like you as a priceless gift and we cherish it more than anything else. On Thanksgiving and every other day of the year, we express outrageous gratitude to lord for sending you in our not so happening life! Granddaughter, happy Thanksgiving!
Happy first Thanksgiving to my barbie doll like granddaughter! May you have a day full of hugs, kisses, selfies, gifts and favorite chocolate!
Wishing peppy thanksgiving to the biggest turkey gobbler in our house. May you have a delightful thanksgiving celebration with us!
To The Most kind-hearted and high-spirited Little Girl I Know, Happy Thanksgiving! Enjoy your Thanksgiving holiday to the fullest because these moments will never come again. And never forget your grandparents while celebrating!
Granddaughter, happy Thanksgiving and may you forever be god's favorite child! You enjoy turkey, wine, and blessings of the loved ones to the fullest ! Have a fantastic time with us!
Greetings on Thanksgiving to my extremely talented and incredible Granddaughter! Let's prepare like pros to make this thanksgiving really fantastic and  memorable !
You have my heartiest thanksgiving greeting, my mushy and stubborn Granddaughter! If you want to eat all my cooked Turkey, you better throw me some sweet kisses and embrace my tight hugs.
My beloved Granddaughter, I hope you have heaps of fun and make oodles of scintillating memories this Thanksgiving with us and loved ones! God bless you my little angel!
I hope you have a startling Thanksgiving celebration of lifetime! When I see you, I'll give you a big tight hug and your favorite gifts. Granddaughter, happy Thanksgiving and live a cheerful life!
I could go on and on about how much you mean and matter to me  but then we would both miss this golden opportunity to gobble down juicy turkey and coveted wine! Sending thanksgiving greetings to the little wonder of my life, my granddaughter!
I have the biggest blessing of my life in the form of you for which I am incredibly grateful to lord. Let's take this thanksgiving celebration a notch higher and carve some extraordinary memories that include only my granddaughter and grand parents. Happy thanksgiving to my sweetie pie!