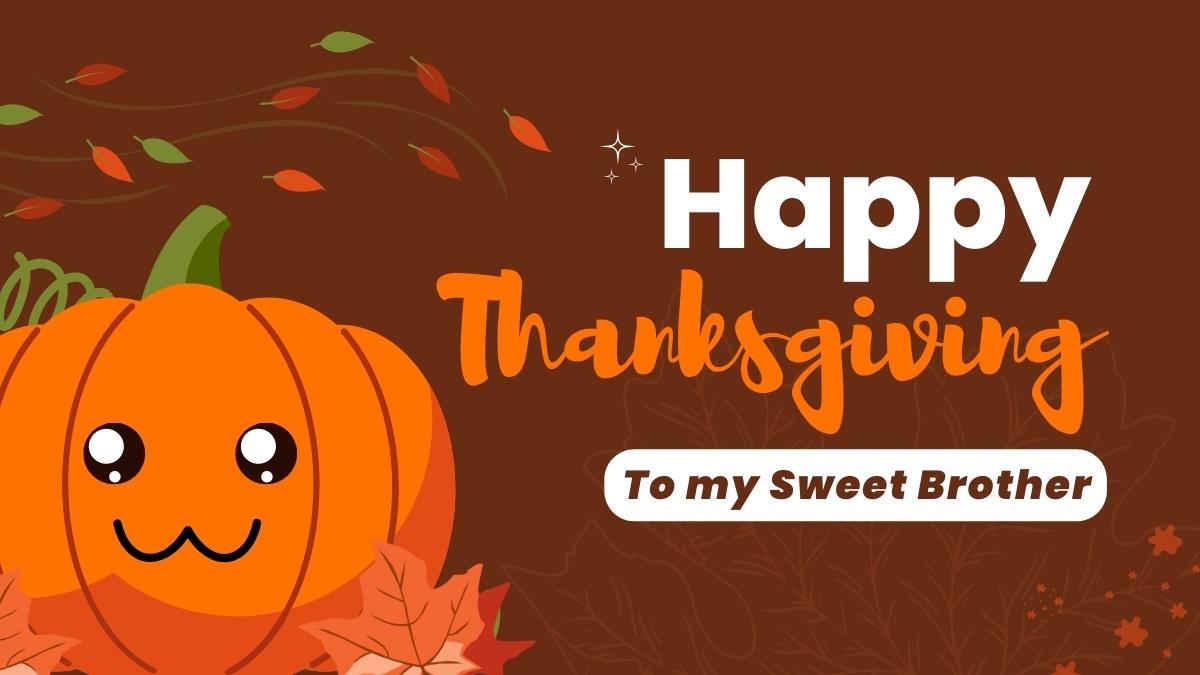 Thanksgiving Quotes for Brother: Coming up with more than perfect thanksgiving wishes for your brother is such a tedious task, because, if your thanksgiving wishes are not to the T, your brother will make fun out of you. You must be wondering how to carve exemplary thanksgiving wishes for brother that strike the right chord in his heart. Leave this cumbersome task to us. We have perhaps the freshest and the biggest compilation of thanksgiving messages for brother that you can use to wish your sibling on thanksgiving and make his celebration astonishing. These thanksgiving wishes will surely be cherished by your brother for a long time.
Happy Thanksgiving Wishes for Brother
Thanksgiving is more about spending time with you than burying my face in a juicy turkey or a pumpkin pie. Happy thanksgiving to my sweet brother!
Even though I could indulge in gluttony on thanksgiving, I prefer to spend the most auspicious time of the year with you instead of gobbling the most delectable thanksgiving dishes. I wish a joyous thanksgiving to my brother!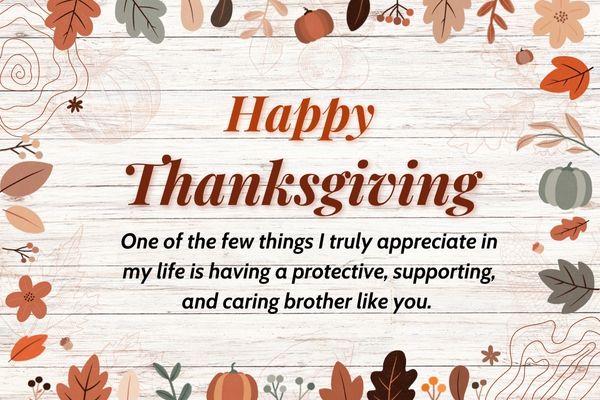 Dear brother, you and the turkey our mother prepare on thanksgiving are the one I am most looking forward to seeing. Though turkey will always top the list. Jokes apart, happy thanksgiving brother!
One of the few things I truly appreciate in my life is having a protective, supporting, and caring brother like you. I wish you have a rocking thanksgiving celebration, my brother!
Related Post: Religious Thanksgiving Messages
Even if we don't get to spend time together this Thanksgiving, I'm confident your presence will be felt at my dinner table and vice versa. Gonna miss you brother on thanksgiving and sending warmest thanksgiving wishes to you!
The Pilgrims may have observed this occasion as a sign of appreciation for completing their voyage over the ocean, but I do it as a way of expressing thanks for having a beautiful brother like you. Sending heartiest thanksgiving wishes to my handsome brother!
Related Post: Thanksgiving Gif
My cute brother, your absence will make this Thanksgiving celebration just as useless as a turkey without stuffing. I wish you could come and hug me tight. Happy thanksgiving brother and may you have a mirthful one!
Dearest brother, you understand well that if I don't make the mockery out of you, it wouldn't be Thanksgiving for me! Fun apart, may lord shower the most divine blessings on you and have a blasting thanksgiving celebration.
Related Post: Thanksgiving Turkey Jokes
Jolliest thanksgiving greetings to my brother and may you have as much food as you want and lots of kisses from your girlfriend! Just kidding, you are not going to get anything.
My dashing brother, I wish you have a Thanksgiving celebration so grand and entrancing that would make even our ancestors residing in heaven proud. Sending my love, affection, and hearty thanksgiving wishes to my brother.
Related Post: Hilarious Funny Thanksgiving Memes
As family is the most imperative thing to me, therefore, you can be sure that I would never let Thanksgiving pass without wishing my brother a happy thanksgiving. Have fun chap!
I hope your Thanksgiving celebration is filled with swoon-worthy memories of me and our family. May our crispy and endearing brother-sister bond remain intact till the end. Happy thanksgiving to the best brother ever!
Related Post: Dank Thanksgiving Memes
Dear brother, I wish you begin to appreciate the sweet little things in life and understand that they also matter equally. Have a thumping and joyous thanksgiving celebration, my brother.
May my love, affection, and sisterly warmth remain live inside of you, even if we may not be together, like a turkey that has been filled with delectable stuff. Happy thanksgiving brother and god bless you!
Related Post: Thanksgiving Wishes for Friends
Hey brother, do you know that you are the official thanksgiving holiday's mascot in our house, much like Easter has the bunny and Christmas has the Santa Claus. Sending full of love Greetings and gifts on Thanksgiving!
I thank lord for making you one of the biggest blessings as well as strengths of my life. Dear brother, may this Thanksgiving be the finest one of all time for you.
Related Post: Feliz Dia De Accion De Gracias Gif
I'm very grateful to my lucky stars and angel guardians for bringing you into my life. Greetings on Thanksgiving to my dear brother. May you be forever happy, healthy, and fine
I'd want to wish my great brother, whose affection is one of the reasons I'm always happy in my life, a happy Thanksgiving. May there be no sadness in your life and success always be at your side
Related Post: Thanksgiving Break Memes
The fact that I get to share Thanksgiving vibes with such a wonderful and responsible brother as you are is the finest part of the thanksgiving holiday. Accept my heartfelt thanksgiving Day greetings!

This Thanksgiving, I am sending you blessings, peace, love, good luck and happiness in heaps. I appreciate your presence and your efforts for being a great brother and a real friend to me. Happy thanksgiving brother!
Related Post: Thanksgiving Dad Jokes
I am more than fortunate to have such a brilliant and thoughtful brother like you who is also ready to share my lows and highs. You are the sweetest blessing of god to me. Have a jovial thanksgiving celebration, my brother.
May this day bring you serenity, peace of mind and immense pleasure in your life, my brother. Happy and wonderful Thanksgiving to you.
Related Post: Funny Thanksgiving Dinner Memes
May your life always be filled with all the valuable and coveted things in the world that make you smile and you acknowledge and respect all the blessings you have received. Happy Thanksgiving brother.
I am more than enraptured to wishing you the very best this Thanksgiving has to offer. You have a lovely soul, and I am one lucky sister to have you as a sibling. Happy thanksgiving to the loveliest brother!
Related Post: Thanksgiving Gifs For Texting
Happy Thanksgiving to an outstanding man and a responsible brother who never ceases to amaze the whole family with this towering achievements. I wish you many blessings and love this Thanksgiving and for the rest of your life.
My beloved and notorious brother, Did you realize that one of the most valuable gifts god has given to you is your extremely beautiful sister? You surely don't! Anyways, accept my sincere Thanksgiving greetings!
Related Post: Charlie Brown Thanksgiving Gif
Every time I remember that I have a brother like you who always have my back, my heart always expands with delight. On this Thanksgiving, may joy, peace, and happiness be with you at all times.