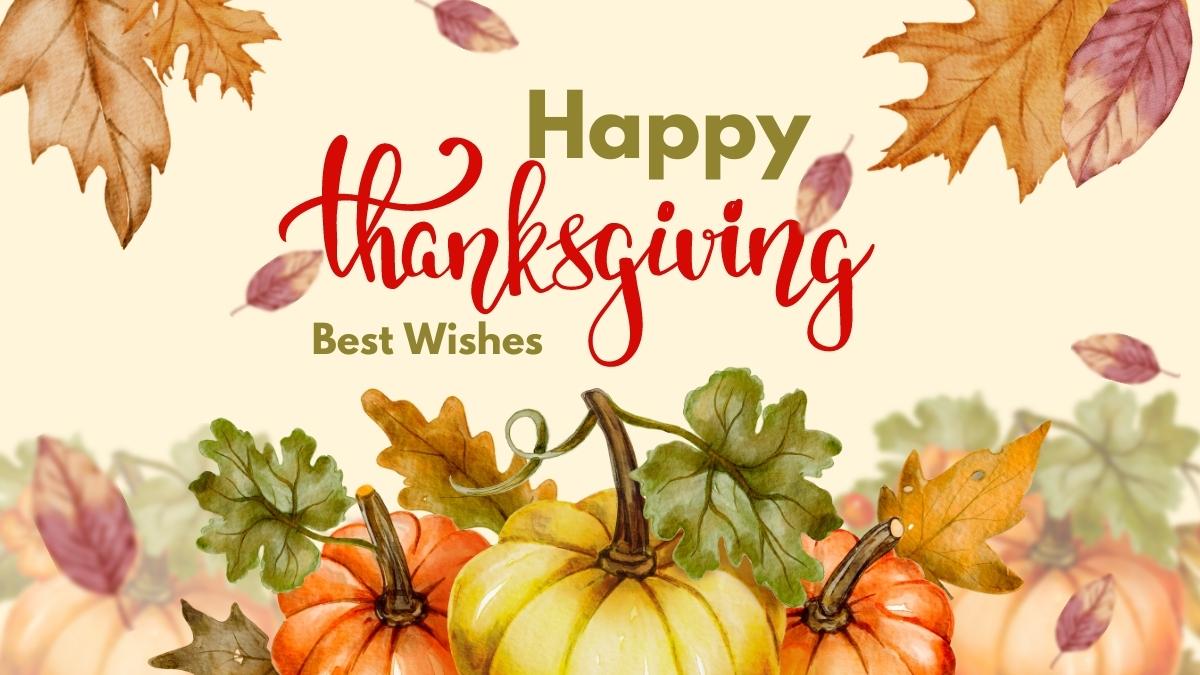 Happy Thanksgiving Messages:  The gist of the thanksgiving festival is gratitude. You can express gratitude towards god, people you love, valuable things you have in life, opportunities, and the list is endless. Thanksgiving festival is the best opportunity for anyone to take a moment and reflect on all the amazing things they have in life and they should be thankful about them to god. This Thanksgiving holiday, make a comprehensive list of all people who have amplified the quality of your life and send them personalized and full of gratitude thanksgiving messages and happy thanksgiving wishes 2022 which tell how deeply you appreciate their presence and support. 
So, don't waste another second and pick the best happy thanksgiving messages and greetings for all your loved ones and also share these wishes on social media profiles who couldn't join you at the thanksgiving party. They will appreciate your gesture wholeheartedly and set your mood right for the thanksgiving celebration.
Happy Thanksgiving Wishes and Messages 2022
Thanksgiving day is the high time to forget all your regretful past deeds and focus on the shining future. I wish all my loved ones a very happy thanksgiving day!
There have been times when I haven't thanked you for being there for me. I take this day to tell you how special you are and how great my life has become with you in it. Have a memorable Thanksgiving!
We all have so much to be thankful for! Sending you and your family a harvest of blessings this Thanksgiving.
May you enjoy the feast and the company of your family on Thanksgiving day.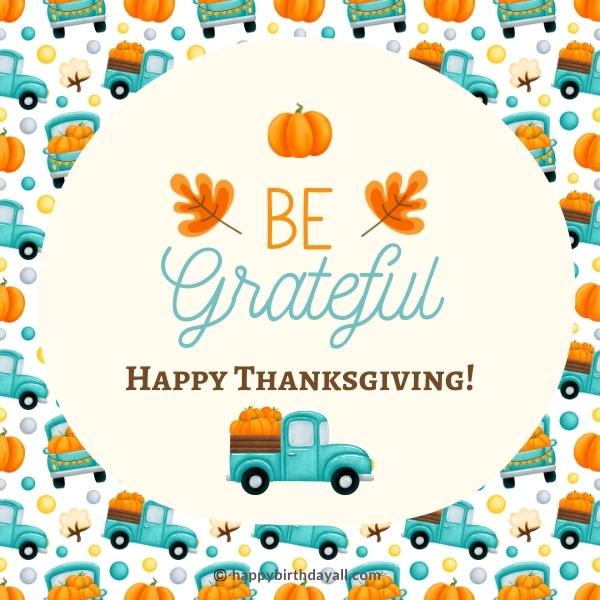 This Thanksgiving, I wish that God showers you and your loved ones with peace, love, warmth, and joy. Have a joyous Thanksgiving!
Happy Thanksgiving! We may be apart today, but you're always in our heart. Take care and stay safe. We miss you!
Hope that you're surrounded with the love of your dear ones on this festive season. Happy Thanksgiving to you and yours.
Thanksgiving is the perfect time to be thankful for all the amazing gifts we have been blessed with. I hope your holiday is full of love and joy.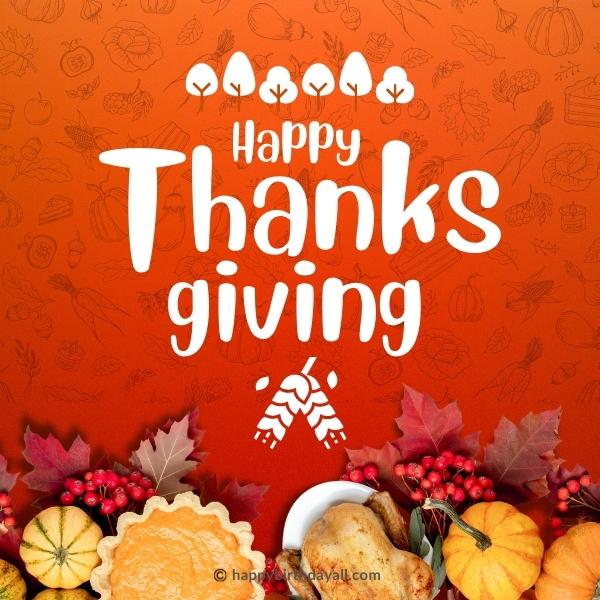 Wishing all my special ones a full of peace, hope, opulence, abundance, and vivacious happy thanksgiving day. Cheers wine, and let's eat juicilicious turkey together!
May you enjoy the warmth of family this season and the harvest of the feast! Happy Thanksgiving!
On this festival of gratitude, I thank you for all the love, kindness and support you have ushered me throughout the years. Happy Thanksgiving!
This card is packed full of hugs and kisses just for you! May you have a blessed and Happy Thanksgiving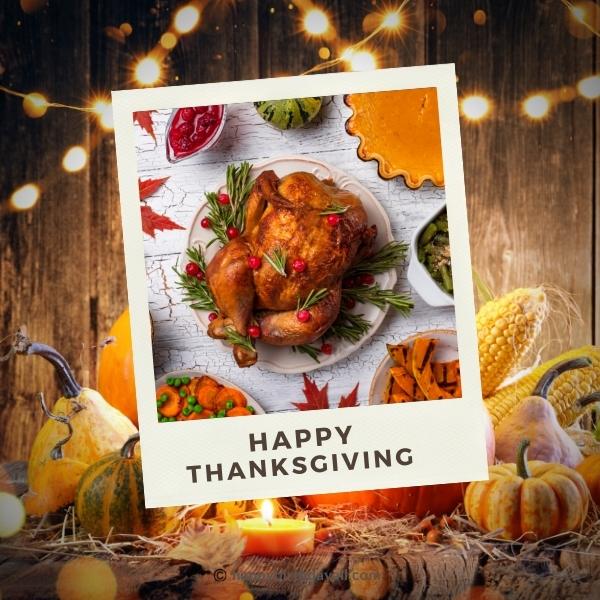 Thanksgiving wishes from across the miles from our house to yours. May your home be filled with laughter and happiness!
Happy turkey day! I wish you the best time with your family and friends, as the holiday fills your home with warmth and laughter. Enjoy the feasting!
I thank Lord for rendering such a caring and loving family members and friends. I wish all of you a hopeful thanksgiving day!
We hope you and your family have been able to get together this year and are enjoying a Thanksgiving feast together!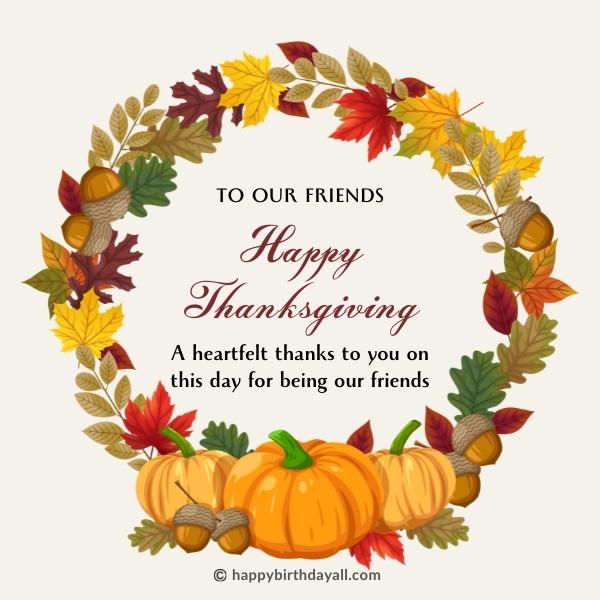 This Thanksgiving, let's be grateful for the food and the company that we share. May God always protect our loved ones. Happy Thanksgiving!
Gratitude offers us a direct connection with the powers above. Today, let us remember that no matter how difficult our lives may feel, we can always find something to be thankful for.
Sending you my warm wishes from home to home and from heart to heart to wish you a very Happy Thanksgiving! May this day be a beautiful reminders of the wonderful things in life.
Sending along warm wishes for a holiday spent surrounded by the people who make life worth living!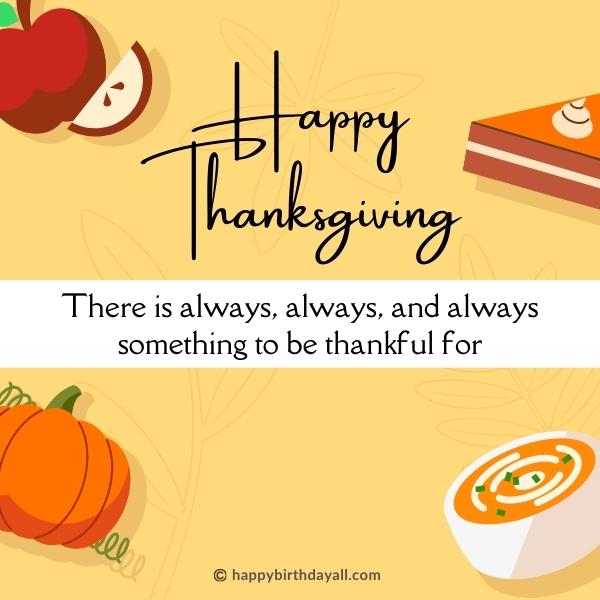 Thanksgiving day gives everyone a fantastic opportunity to count their blessings and thank your loved ones with your heart. Happy thanksgiving day!
We know this year has been rough, but we see your strength and wish you all the best this Thanksgiving. Happy Thanksgiving!
Roses are red, violets are blue, Happy Thanksgiving from the bottom of my heart to you!
Even though we're miles and miles apart, know that we'll be missing you all like crazy. Until next time, we're sending lots of love and gobble gobbles.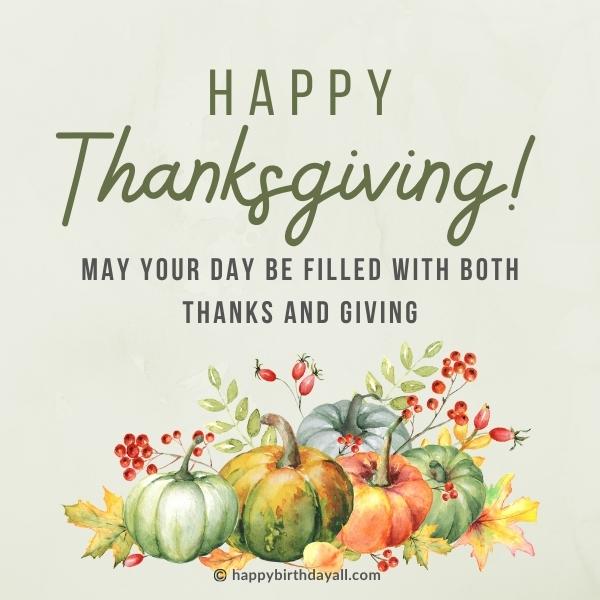 November is the time to be thankful, a time to remember and to embrace those who enrich our lives. I'm thankful for a lot of things, but I'm most thankful for You!
Just a little gratitude can unlock the great fullness of love. Wishing you a wonderful holiday full of love and plenty.
A peaceful and thankful heart is the long-lasting source of all coveted virtues. May this thanksgiving day God instills all the great virtues in your being!
What a crazy ride this year has been! We are so thankful for you and your family. Happy Thanksgiving!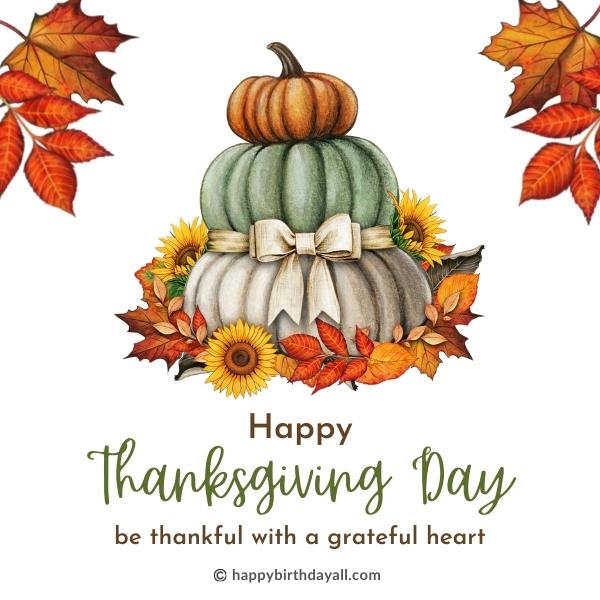 Sending good wishes to you this Thanksgiving! Good food that fills your table, Good health as you work hard, and Good times with family and friends. May you have all the best delights in life. Happy Thanksgiving!
Happy Thanksgiving to my favorite people ever! I wish I was able to be there, especially this year. I am missing you all more than ever and can't wait until we can spend a holiday together again. All my love!
Wishing you the gift of faith and the blessing of hope this thanksgiving day!
Hoping you have a Thanksgiving holiday full of laughter, cheer, and satisfied tummies!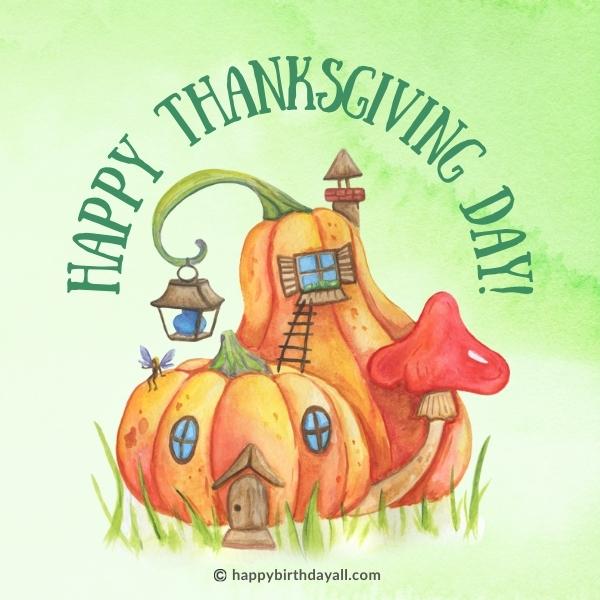 From the core of my heart, I thank my every family member and friends for showering unconditional and unflinching love on me. Thank you for being you, and happy thanksgiving day!
We are so grateful for you and your family! Sending you peace and warmth during what we hope is a calm and peaceful time.
Happy Thanksgiving! As I take time to give thanks for many blessings in my life, I want to let you know how grateful I am that you are one of them.
Thanksgiving always brings back childhood memories of mouth-watering food, family games, and delicious pie. Although I can't make it this year, I'll still be there in spirit. Happy Thanksgiving, I miss you.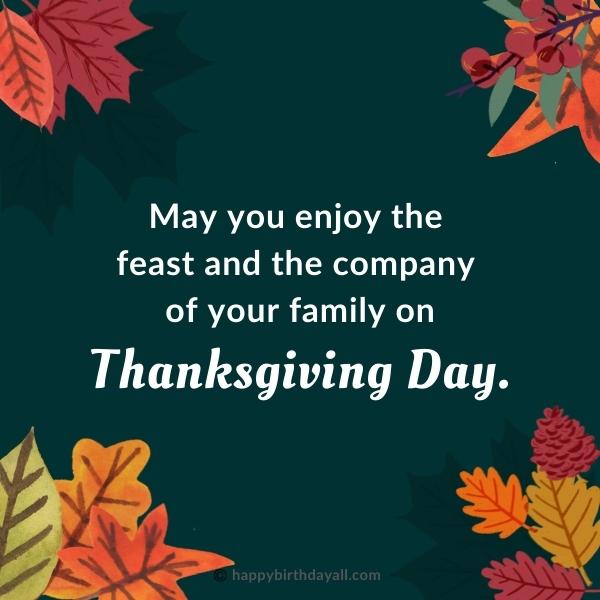 We gather on this day to be thankful for what we have, for the family we love, the friends we cherish, and for the blessings that will come. Happy Thanksgiving!
Cheers to a bountiful harvest of blessings, good health, and happy memories.
My notion of a great thanksgiving day is damn fine champagne and turkey on the dinner table, and good friends around expressing gratitude towards life!
Wishing you a day of feasting, laughing and loving one another. Happy Thanksgiving! Grateful for each and every one of you!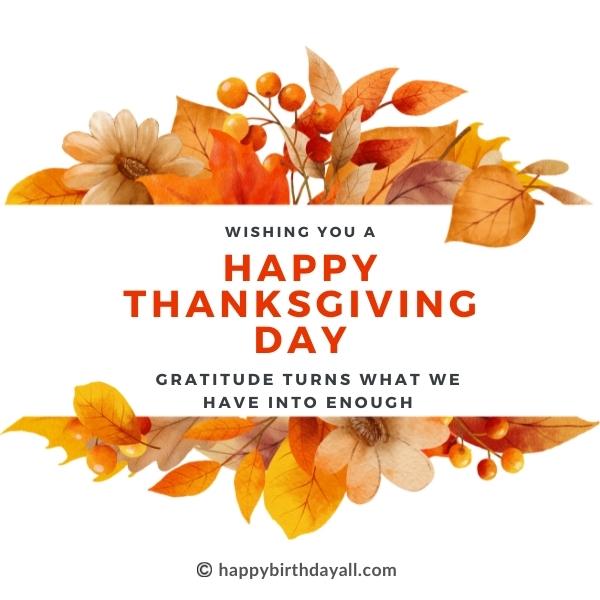 May your apple and pumpkin pie be scrumptious and your Thanksgiving turkey tongue-tickling. Happy Thanksgiving!
May your blessings be multiplied this year and throughout all your life. Happy Thanksgiving wishes to you!
May you enjoy a grand feast and the loving company of your family. Happy Thanksgiving!
On this thanksgiving day 2022, I thank all my near and dear ones for being with me and standing tall during my thick and thin. Happy thanksgiving day!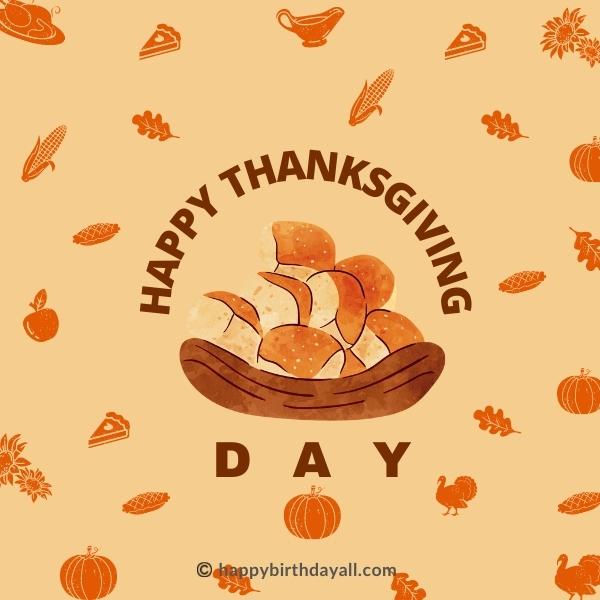 Thankful to call you family — this and every year! Happy Thanksgiving.
Thank you for the joy, love and kindness that you have expressed to me over the past year. I would like to wish you all the very best in your life. Happy Thanksgiving!
May you enjoy this celebration with your family full of laughter and peace. Happy Thanksgiving greetings!
Happy Thanksgiving! May the autumn glow and delicious harvest of the season bring you happiness and prosperity!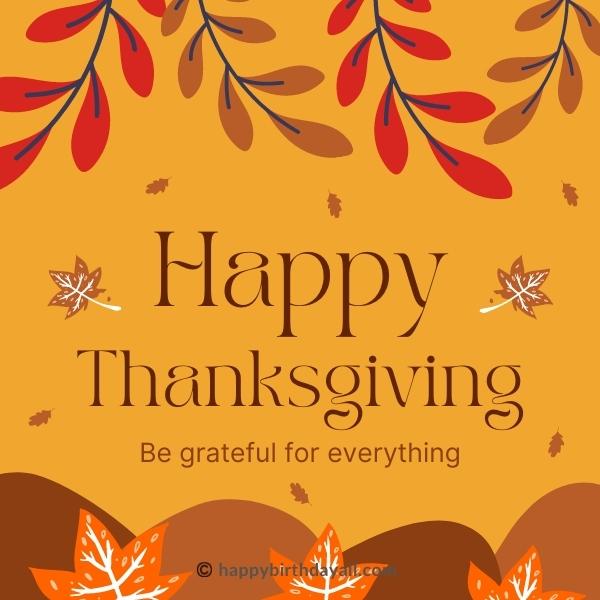 May you celebrate the thanksgiving day with love in your heart, prosperous vision in your mind, and gratitude in your being. Thanksgiving wishes to everyone!
It's been one hell of a year and I cannot be more grateful for you all as you stuck by me each and every step of the way. Happy Thanksgiving!