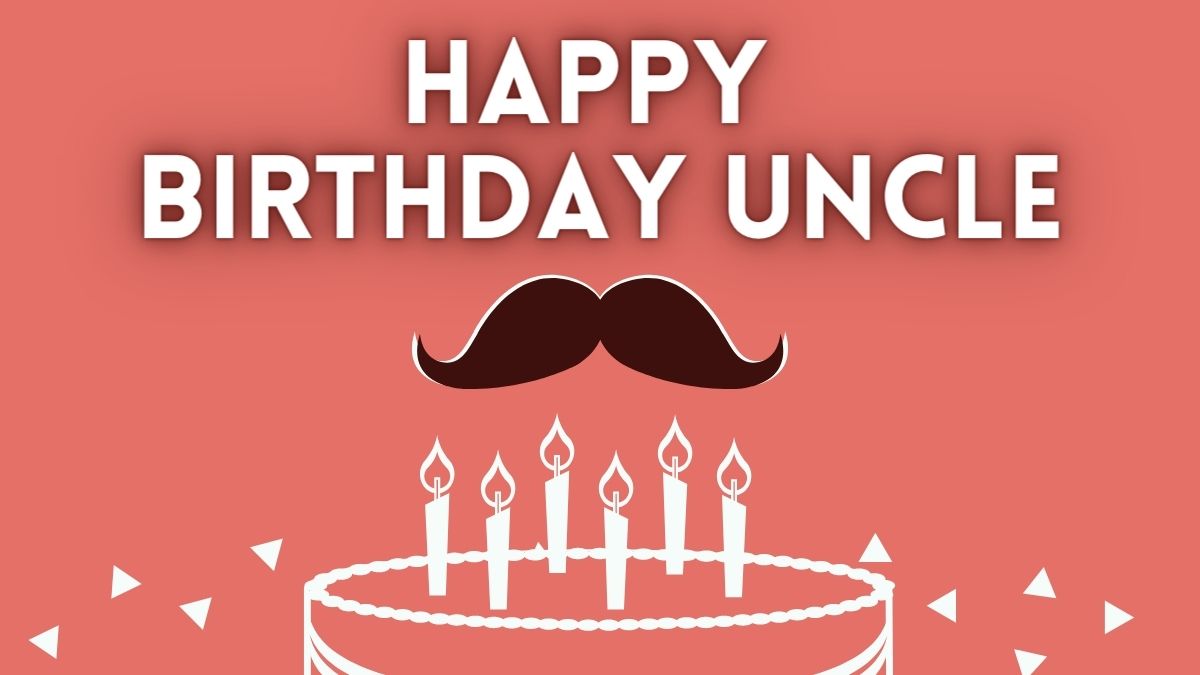 Best Happy Birthday Messages for Uncle
As we don't get to celebrate your awesome birthday most of the time, let's raise the toast for the most amazing person I know. Your presence means a lot to me. I always pray for your good health, wealth, and success. Happy birthday uncle!
More than you, others wait eagerly for your birthday because you throw the most freaking awesome birthday party among all the relatives. Happy birthday to my ever-young uncle. I already buck up to raise the heat in your party.
A very happy birthday to my party-freak and ladies' man uncle. Just tell me one thing, how do you manage to land up with new hot chic all the time?
Though people consider you as an old fat man, for me, you are the only one I know who is young by heart and has the most open mindset. Happy birthday my cool uncle!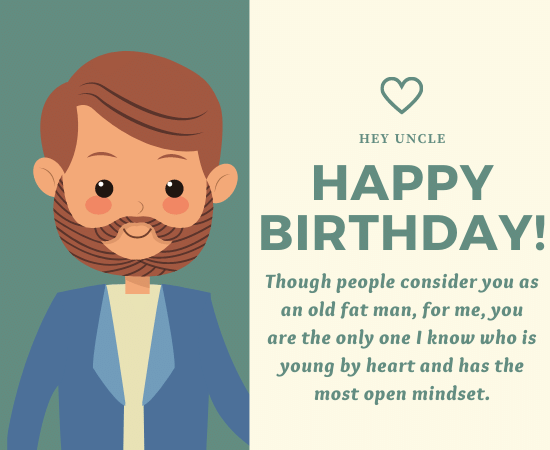 Hey uncle, on the occasion of your most significant day, I sincerely wish you live for 100 more than years and keep smiling like that. Happy birthday uncle and have a glorious day ahead!
The sacrifices and contributions you have made for my family are something that no one usually does for others in this mean world. I can't express in words how thankful I am to you. Happy birthday to the most generous uncle in the world!
Hey Uncle, when I was quite young, my father told me one thing; son, if you really want to look up to someone for your role model make sure it's your uncle. Happy birthday to the man whose wisdom is unmatched!
I have yet to find an individual who is as swash-buckling and maverick as you are. From where do you get such incredible energy to do all the crazy stuff? Happy birthday uncle, my role model!
I have no hesitation in saying that you are my only best friend even though we have such a massive age gap. I don't find any of friend as entertaining and knowledgeable as you are. Sending jovial birthday wishes to my lovely uncle!
I know uncle you don't like to celebrate your birthday. But that's the only way to get an awesome party from you where I can gobble till wobble. For the love of almighty, please throw a birthday party at least this year. Happy birthday!
When I was a little runt, you treated me like your own child. When I became a hot-blooded teenager, you treated me like a best friend. When I have become an adult, you treat me like you treat yourself. Happy birthday uncle!
Years have passed, numerous birthdays have gone, but my love and respect for you are still intact and growing with each passing day. Happy birthday to the best uncle in the world!
In my friend circle, I am the only one who has such a cool, funny, and jovial uncle. Otherwise, all my friends' uncles are super grumpy. Happy birthday to my lovey-dovey uncle!
Also see: Birthday Wishes for Father in Law
Happy 75th Birthday Wishes for Uncle with Images
You have turned 75th this birthday but still I can't see a sign of fatigue and hopelessness on your face. Very happy birthday to my 75-year young uncle!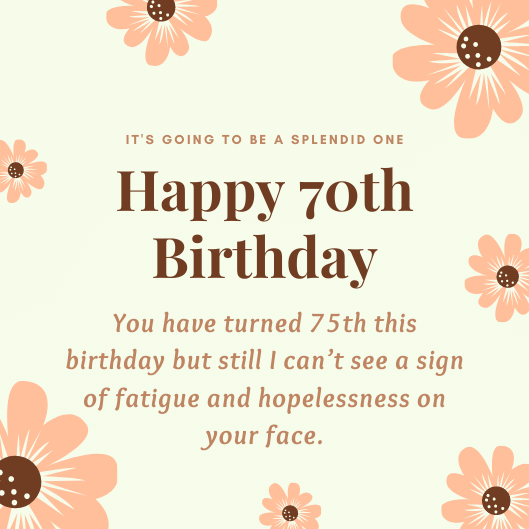 Hey uncle, you have reached an age where any cake of the world will be too small to hold the number of candles equal to your age. Wishing a spectacular birthday to my quirky old uncle!
You taught me that there is nothing wrong with growing old. Every age comes with advantages and drawbacks. We should learn to embrace everything life throws at us. I am more than happy to wish you a happy birthday!
I am one of those few individuals who have the pleasure to wish you a happy 75th birthday. May your spirit never grows old and your enthusiasm to live life to the fullest never dwindles!
It wouldn't be fair to call you the best uncle in the world. Because all the superlatives we humans have created will fall short to describe your amazing personality. Happy birthday uncle! God bless you!
I don't know what people think about you. I can firmly say that you are one of the rare individuals who dared to live life in his own terms and conditions. I wish I could have the courage like you. Happy 75th birthday to my brave old uncle!
Throughout life, you have lived only for the needy and poor ones. Your life is one classic example of how a person should spend his life in serving humanity. Happy birthday to the most inspiring uncle!
Your are the most authentic proof of why age is not more than a number and a person's will to live is everything. You are super active by the mind and forever young by heart. Happy birthday to my lovely uncle!
I hope your utterly special 75th birthday brings the coveted serenity, enlightenment, and everlasting joy in your life. May you have a remarkable birthday celebration uncle!
Hey uncle, you are at that stage of life where money, success, and fame matter the least to you and the prosperity of your family the most. I wish you get whatever you want before you close the eyes. Happy birthday uncle!
Dear Uncle, you are a phenomenon in yourself. I guess there is nothing left on the planet that you have not done and not accomplished. Happy birthday to the best role model.
Your 75th birthday is the ultimate opportunity for me to thank you for everything you have done for a stranger like me. You are dearer to me more than my real uncle. Happy birthday and God bless you.
Happy birthday to the most accountable and the most humble person I know. If I have even half of the virtues you hold, I can touch the sky uncle.
Also see: Happy 75th Birthday Wishes
Funny Birthday Wishes for Uncle
Whenever I see you, I think and consolidate the fact that we were definitely evolved from Chimpanzees. I mean you just hop on from one point to another so rapidly. Happy birthday my frenzy uncle!
Happy birthday to the most freaking awesome uncle who is also the God of wine and chic. May you have a birthday celebration of your lifetime!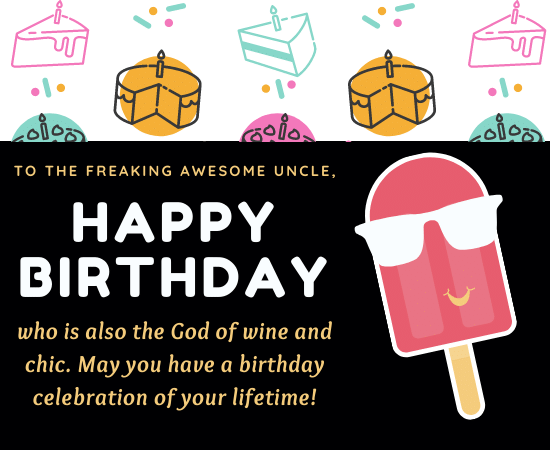 I swear to God Uncle, if you make me eat that shitty cake of yours one more time, I will stop coming to your birthday. For the love of God, induce some wine, pizza, and burgers. Anyways, happy birthday.
The way you live life makes me thank God for not making your son but only your nephew. I am thankful to God for this act. Happy birthday to the coolest yet quirkiest uncle!
Hey Uncle, even at this age you are way too dashing and charming. And the lies I just told you are your best birthday gifts. Happy birthday my fat old uncle!
Dear Uncle, I am still waiting for the day when you will give me a return gift on your birthday. I don't want much except half of your property. Have a mesmerizing birthday celebration uncle!
Wishing a very happy and astonishing birthday to my one and the only uncle. You are a great husband for my aunt but a terrible uncle for me.
As you are well aware of the fact that every nephew has a favorite uncle. I want to say you are absolutely not my favorite uncle by anyway. Happy birthday my parsimonious uncle. God bless you with no money!
On your happy birthday, I sincerely pray to God for giving you some more wrinkles, a big tummy, and tons of Grey hairs as the birthday gifts. Happy birthday!
Super-awesome, funny, astonishing, knowledgeable, these are some of the qualities that all of my uncles have except you. Happy birthday to the most useless uncle in the world!
Today is an exceptional day for both you and me. For you, because it's your birthday and for me, as you are finally going to throw a birthday party after years of insistence. Happy birthday to the most amazing uncle ever!
You are perhaps the only uncle in my knowledge whose mental level doesn't match with his age. When on the earth you will grow up? Happy birthday my childish uncle!
In the future, when I will have nephews and nieces, I will show them your photograph and tell them; you are looking at the most terrible uncle in the world. Jokes apart, many happy returns of the day uncle!