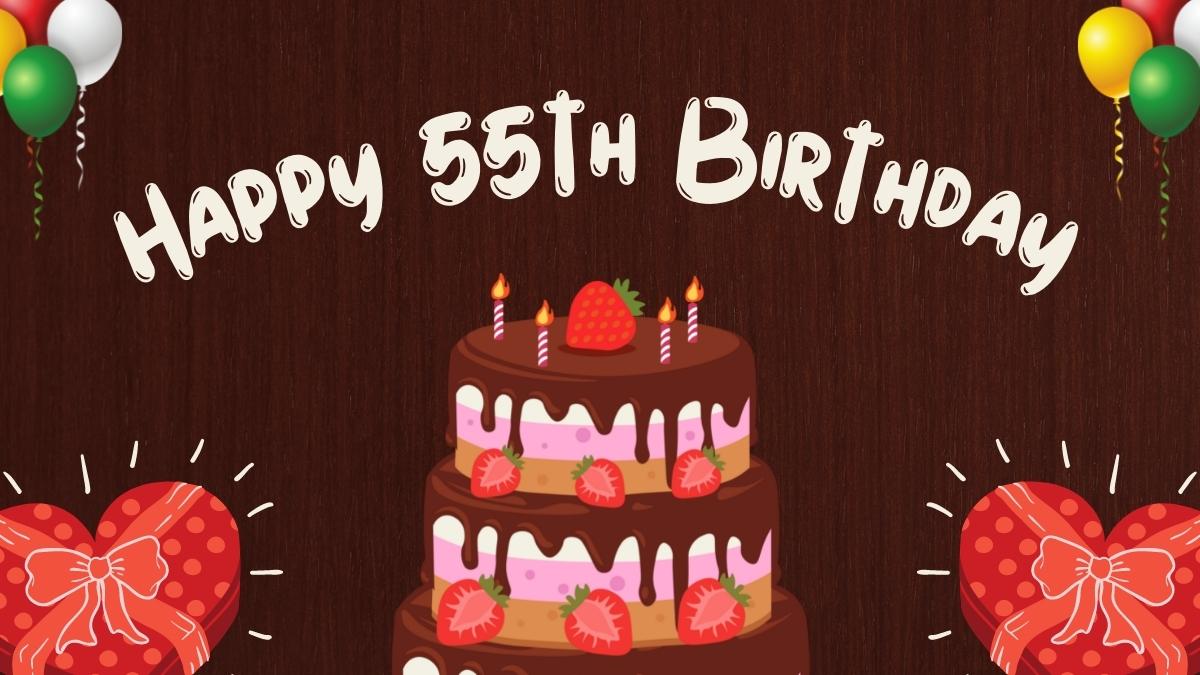 Happy 55th Birthday Wishes: Every age has its pros and cons. During the youthful years, you have the energy of the world but no time and money to savor the finest things in life. When you are old, you don't have energy but ample time and money to pursue or buy whatever you want. The point is, a person must learn to enjoy life with whatever he has and where he is, regardless of age or any other factor. Turning 55 is a blessing in itself. By this age, you are free from all responsibilities and have ample resources to enjoy life. Below is the most intriguing compilation of happy 55th birthday wishes and best 55th birthday quotes that are way too ideal to wish anyone turning 55, be it your dad, mom, uncle, or sister.
Happy 55th Birthday Wishes for 55 Year Old Man
Celebrating the 55th year of life with all the near and dear ones surely feels special and delightful. Dear father, I must say you are a rock star even at this age. God bless you dad with fine health and unreal longevity. Happy 55th birthday father!
Hey uncle, you are the funkiest, crankiest, and quirkiest 55-year-old I have ever seen. You are the soul of this family and without your presence, no family function is worth attending. Wishing a happy 55th birthday to my super cool uncle!
Also see: Birthday Wishes for Grandfather
May your 55th birthday fulfills all your life-long dreams and give you all the happiness and excitement you haven't experienced. Thank you dad for being with us at all walks of life. I wish you a joyous 55th birthday!
Hey father, may the lord adds umpteen years to your life so that we can create uncountable moments of joy and laughter with you, and elicit wisdom as well. You are the coolest 55-year-old dad ever. Happy 55th birthday, dad!
Also see: Birthday Wishes for Father
Hey dad, I gotta tell you something. Mommy is quite jealous of your charming and sharp looks at this age. After all, she has a bad back and terrible wrinkles at 55. Jokes apart, thank you for adding sheer joy and bliss to our lives. Happy 55 birthday to you, dad!
With each passing year, you are getting wiser, stronger, richer, and merrier. I must say you have found some source of everlasting happiness. No matter what, you will always be my dearest and nearest to heart. Have a magnificent and memorable 55th birthday celebration!
Also see: Birthday Wishes for Uncle
Dad, you are turning 25 today and I request you to hang out with the people your age, not teenage kids and raunchy girls. You give me an inferiority complex all the time. Happy 55th birthday to the best dad ever!
May your remaining life be filled with hopeful and serene days, gaining more knowledge and wisdom, and helping the young ones to achieve their full potential. You are an unstoppable force at this age. Happy 55th birthday to my super dad!
Also see: Happy Birthday Prayer
Happy 55th Birthday Quotes for 55-Year-Old Woman
Dear mom, hearty congratulations to you on hitting the 55th birthday milestone. You maybe seems old physically but you are still so young and jubilant by heart. Happy 55th birthday mother!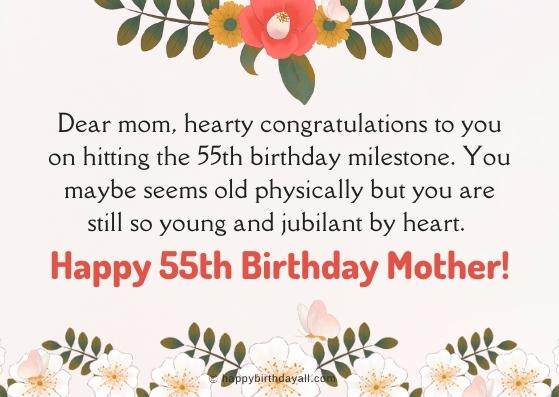 Also see: Birthday Wishes for Grandmother
It really saddens my heart when I see you growing old and dealing with all the complications that come with old age. But don't worry mother, I am always standing with you to share all your pain and lows. Wishing a happy 55th birthday to my beautiful mother!
Hey mother, whether your turn 55 or 75, nothing can stop you from pursuing your goals and living life to the fullest. You are so full of positive energy and passion even at this age that I envy you sometimes. Happy 55th birthday and god bless you with impeccable health and success.
Also see: Birthday Wishes for Mother
My sweet mom, may the 55th birthday of your life brings so much vivaciousness, serenity, and good luck in your life that you fulfill and live all your dormant dreams. Have a joyous 55th birthday celebration, mom!
You are turning 55 today yet there is intensity in your movements, razor-sharp logic in your thoughts, and a heart brimming with love. You are a perfect example of how a person lives life at your age. Happy 55th birthday mother and god bless you!
Also see: Birthday Wishes for Aunt
Happy 55th Birthday Sister Wishes
Hey sister, you better start reversing your age, or else I will stop bringing birthday cake for you because your birthday cake with candles eats up half of my monthly salary. Happy 55th to my oldie sister!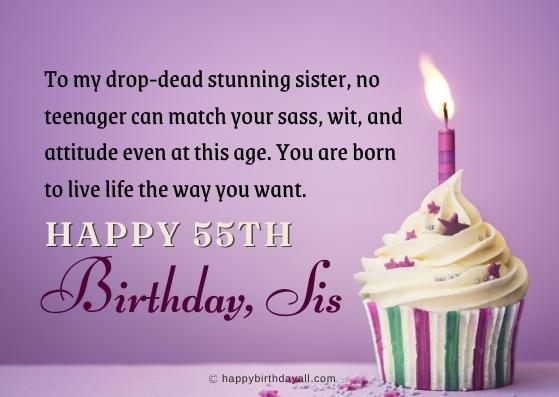 There is a different joy for a brother in seeing her sister walking like an old lady with a tilted back. Hey sister, I hope you are enjoying your fifties utterly and thoroughly. Happy 55th birthday wishes and have a startling one.
Dear sister, I must say you have acquired heaps of wisdom, money, and a name that people of your age only dream about. I am more than proud to have a charismatic and caring sister like you. May you have a captivating 55th birthday party!
Sister, you are turning 55 today but I barely see a wrinkle on your face and no sign of stopping down. From where do you get all the energy in the world to pursue everything! Wishing my forever gorgeous sister a happy 55th birthday!
To my drop-dead stunning sister, no teenager can match your sass, wit, and attitude even at this age. You are born to live life the way you want. Happy 55th birthday to the coolest sister ever!
Also see: Heart Touching Birthday Wishes for Sister
Funny 55th Birthday Wishes
Hey dad, it took you almost 55 years to give us return birthday gifts on your birthday. Not bad at all as I was expecting at least 10 more years. Wishing a happy 55th birthday to my super dashing dad!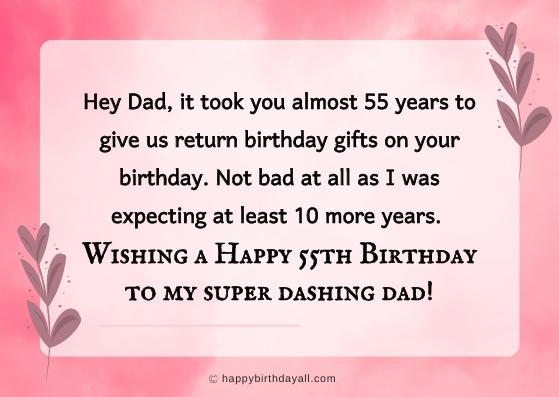 Dear mother, you barely look 55 by heart. By body, you can give tough competition to an 80-year-old. By the way, if you remember 55 is the new 35. Happy 55th birthday mom and I love you!
Holy cow! My little brother is turning 55 today but still no achievements, good lucks, and fortune under his kitty. May you die peacefully with some achievement to boast about. Wish you a magnificent happy 55th birthday, brother.
My sweet sister. At the age of 55, you look exactly like our mother by 100 times less beautiful than her. Why do you look like a steamed potato? Jokes apart, happy 55th birthday sister and love you to the moon and back.
Dear uncle, who on the earth would commit the mistake of calling you a 55-year-old man? However, it doesn't change the fact that you are parsimonious by nature and hide yourself when it comes to throwing a party. Happy 55th birthday to the coolest uncle in the world!
Also see: Funny Happy Birthday Images
Happy 55th Birthday to Me Wishes
I don't want to but I have to wish myself a mirthful happy birthday for entering the 55 years of my life in a rocking manner. May I bless myself and always be looking dashing!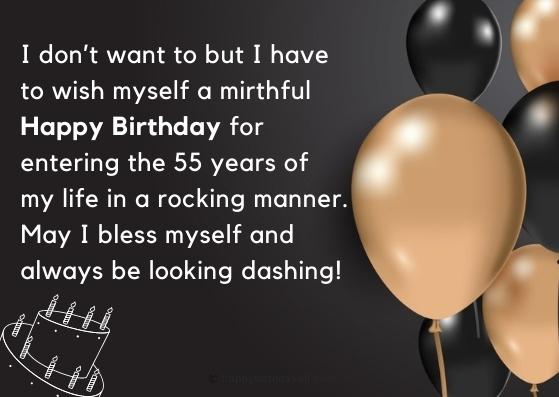 I am the type of person who doesn't need anyone's validation or greetings to feel good and belonged. Happy 55th birthday to the successful and handsome me. May I continue to woo others with my charm!
Though I am turning 35 today, I barely feel like more than 25. I must be blessed with great genetics, good looks, and natural charm. Wishing happy 55th birthday to 55-year-old me.
Also see: Birthday Wishes for Myself
By this age, most people either give up on life or suffer from umpteen physical and mental problems. Here I am living an adventurous, mirthful, and daredevil life. I wish myself a happy 55th birthday!
Turning 55 can be a blissful affair if you have the fire in your belly to live life in a curious and passionate manner. I feel more than awesome after turning 55. God bless me and I wish joyous 55th birthday to myself!