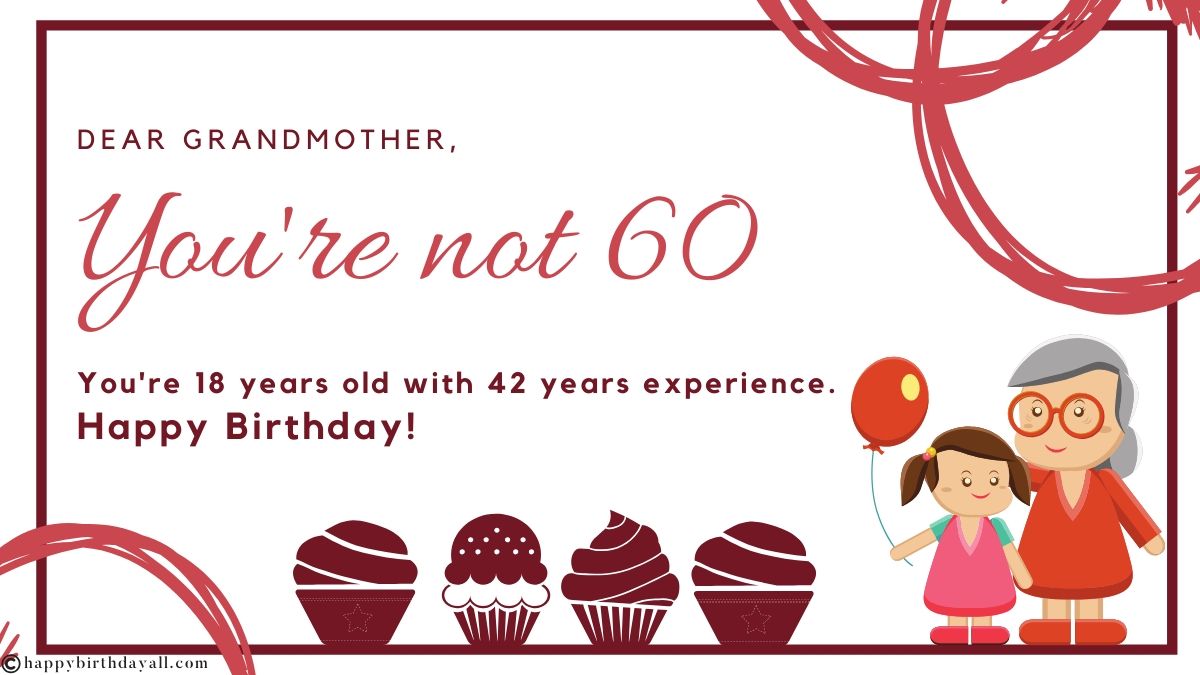 This post covers the sweetest happy birthday wishes for grandmother from daughter and lovely birthday messages & quotes for grandma from grandson. Grandmothers are perhaps the sweetest and the most loving beings on this planet. They are the ones who raised our mothers who are responsible and also the reason behind the classic upbringing of the next generations. Often we get so indulged in our daily chores that we forget some of the most significant things of the life like wishing grandmother happy birthday.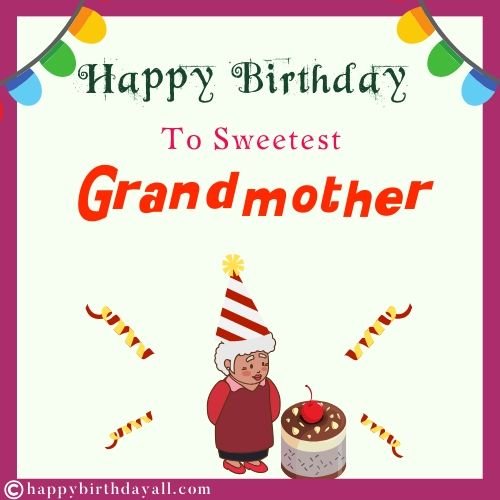 One of the most daunting tasks is how to write full of warmth, love, and heart-tugging happy birthday wishes for grandmother on a birthday card. Jotting down the right words takes time and there is nothing more valuable than time. To bring you out from this perplexing situation, we have created utterly original and ingenious birthday messages for grandma along with happy birthday grandma quotes that will make your relationship more beautiful with your grandmother. You can also download birthday wishes for grandmother in the form of images and share them with her on all social media channels right from here.
Sweet Happy Birthday Wishes for Grandmother with Images
Happiest birthday to the cornerstone of our family. Grandma, I must say that you are aging in reverse.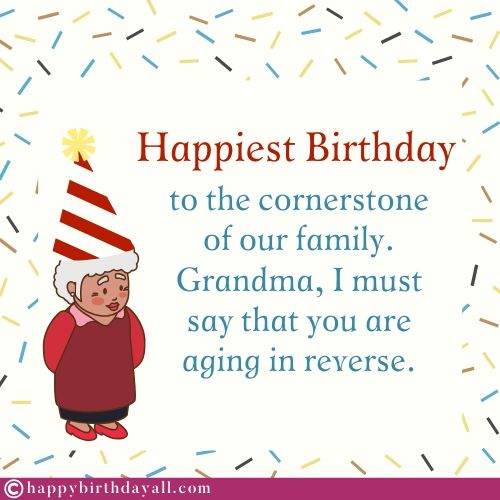 Like an adult embraces youth to the fullest, you are embracing old-age elegantly. Happiest birthday to the coolest grandma in the world.
It doesn't matter how long we live, what matters is how many moments we were able to steal for ourselves. I wish you a happy birthday grandmother!
Who says angels don't exist on earth? I have seen one in my grandmother. Happiest birthday grandma, and I love you to the moon and back!
In this technological era, I am glad that I am raised listening to the mesmerizing fairy tail stories of grandmother. Thank you for making my childhood super awesome grandma and bundles of happy birthday wishes to you!
If I get a chance to ask a boon to god, I would ask for your immortality. I can't imagine a world with you. Anyways, many many happy returns of the day, grandma!
From sleeping in your lap to helping you stepping stairs, a lot has been changed but not my relationship with you. Happy birthday to the prettiest grandmother of all time.
It feels so amazing to wish a happy birthday to the beautiful mother of my father. May you live 1000 more years grandmother!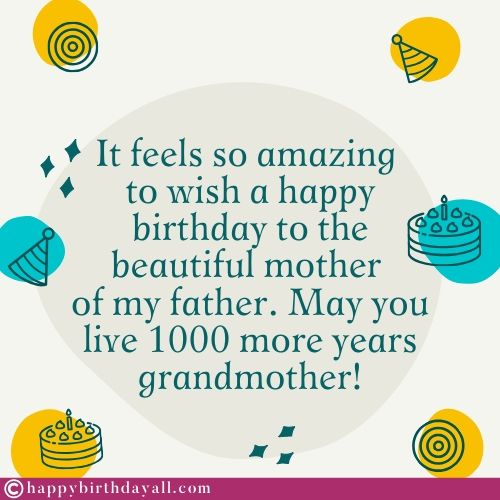 Also see: Birthday Wishes for Mother
Best Happy Birthday Messages for Grandmother
Your motherly affection has never let me feel the absence of my mother. I wish you a luminous and cheerful happy birthday granny!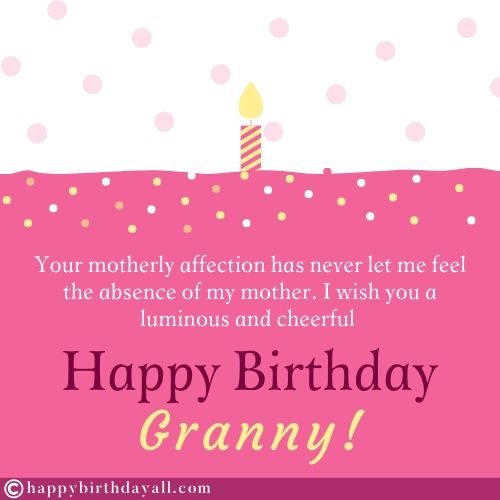 By leaps and bounds, you are the wisest, kindest, and the most affection showering woman I have ever met. Let's make your birthday celebration unforgettable!
If you were not here, our family would have fallen like leaves from trees. Thank you, grandma, for holding the entire family. Happiest birthday charming lady!
The serenity on your face, the happy vibes in your being, and your selfless nature are second to none. Sending you remarkable happy birthday wishes, grandmother!
Your sacrifices, devotion, and selfless nurturing are the reasons we all are raised with so many profound values instilled. Best birthday wishes on your special day!
I know there is nothing in this world that lasts forever except our mutual love for each other in our hearts. Happy birthday to my beautiful grandma!
Hey grandma, I can clearly see your reflection in my mother. No wonder from where he got beauty and good manners. Happiest birthday to the cutest grandmother!
I have never ever seen an old lady like you who loves to party hard like a teenager. Let's celebrate your birthday like crazies. Grandma, happy birthday!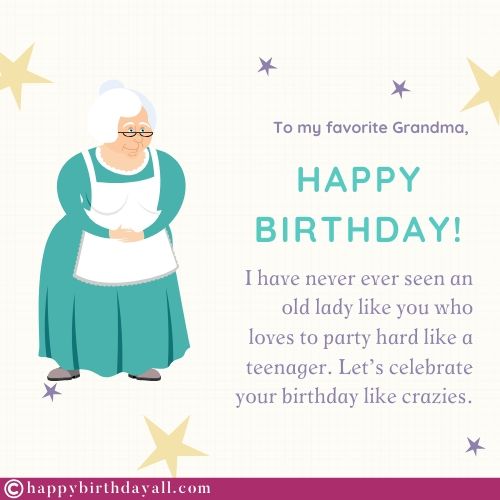 Also see: Birthday Wishes for Mother in law
Funny Happy Birthday Wishes for Grandmother | Hilarious Birthday Messages for Grandma
In your age, people read religious scriptures and you are opening beer bottles like a pro with your teeth. Happy birthday crazy grandma!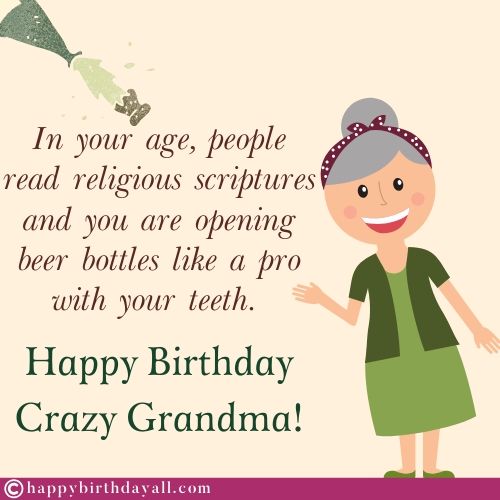 Hey grandma, I have heard that you are giving all your fortune to me on your upcoming birthday, is that true? Jokes apart, sending you advance birthday wishes!
If a beauty contest is organized today, you will win easily by beating all the teenage girls in no time. Happiest birthday to the most beautiful grandmother!
Wishing you a happy birthday is all fine but I don't think you should think about learning Kung-Fu just by watching a movie.
You have reached the stage where you don't give a damn about what others say to you. You are an awesome granny and happy birthday to you!
Grandma, even if you are gone, I will take good care of your acquired wealth. Would you mind giving me the power of attorney as a return gift on your birthday? Happy birthday, grandmother!
You are one fine example of what it's like to age gracefully and make the women of your age jealous.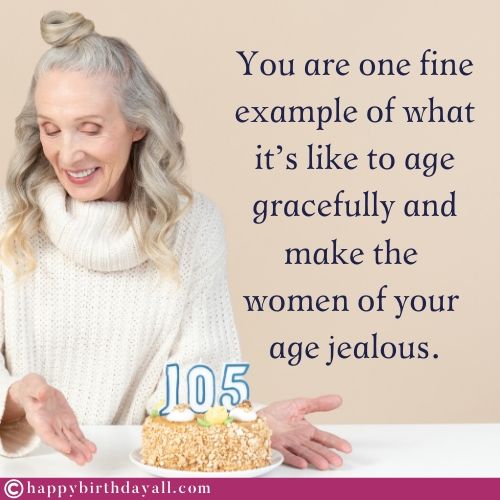 Also see: Birthday Wishes for godmother
Happy Birthday Wishes for Grandmother from Granddaughter | Best B'day Messages for Grandmother from Grandson
Don't you think we are the coolest grandmother-grandson duo in the world? Let's rock your birthday party together granny!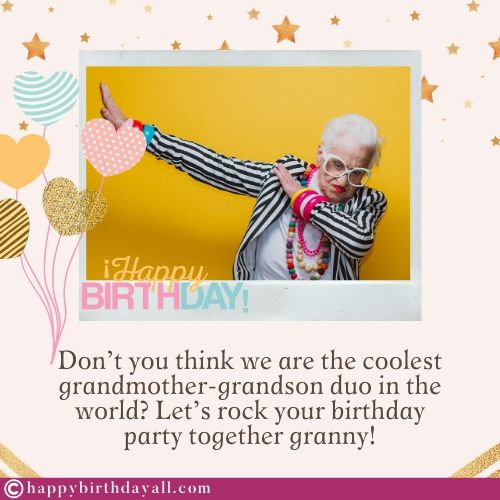 You have never let me felt the absence of my mother. Thank you so much, grandma, for giving me an awesome and comfortable childhood. Happy birthday to my super grandmother!
A selfless and caring grandmother like you is rare to find in this world. You are the epitome of love and affection. Have the grandest birthday party every grandmother!
My fine upbringing was possible all because of you. You deserve all the happiness, love, and luxury of this world grandmother! Happiest birthday to you.
Your sage-like wisdom, childlike innocence, and motherly affection have made all of us fantastic human beings. I promise to make your this birthday as remarkable as possible. Before that, accept my lovely birthday wishes!
The world will become a lot better place to live peacefully if everyone becomes like you, nature-wise. Happy birthday my beautiful grandma!
I can't imagine my world without you. What would I do when you will be gone? On your birthday, I will pray to God to never separate you from me.
Women like you should be hailed as much as possible so that more and more young girls can have the right set of values instilled in them. Have an awesome birthday grandma!
Also see: Advance Birthday Wishes
Happy Birthday Wishes for Grandma 60th Birthday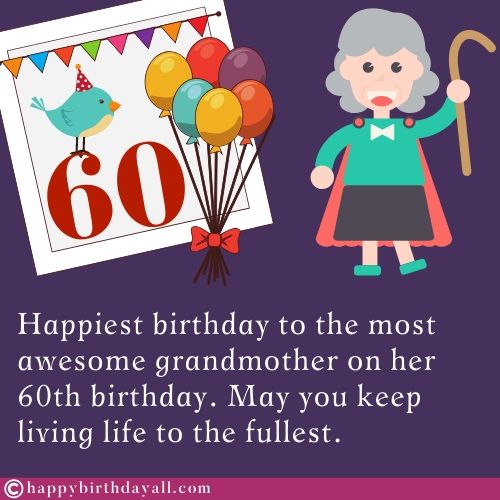 Happiest birthday to the most awesome grandmother on her 60th birthday. May you keep living life to the fullest.
Instead of saying 60 years old, you are a 60 years young and graceful woman. Hitting the 60th birthday is itself a big achievement. Happy 60th birthday grandma!
Life seems no less than a fairy tale affair when there is grandmother like you to pamper us. Happy birthday to the cutie pie grandmother.
Cheers for the big day of the dearest person of my life. You are one fine example of how a lady should her life in a classic way. Happiest birthday lovely grandma!
I will do whatever it takes to make your 60th birthday celebration the grandest birthday celebration of your life. Thank you grandma for all the love, care, and affection. Happy birthday!
I have yet to find a woman who can match your stature which is as mighty as a queen of a kingdom. Happy birthday to my royal grandmother!
You are the soothing sunlight in my stormy days. You are the source of bliss in my dull life. Happy birthday, grandmother!
Also see: Belated Birthday Wishes
Happy Birthday Wishes for Grandma 70th Birthday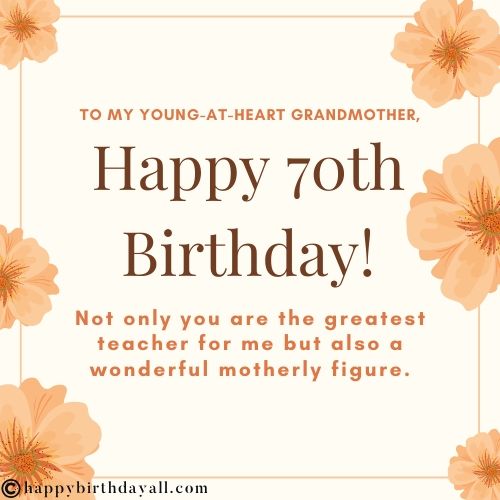 For years, you have added glitters to our lives. It's our turn to make your 70th birthday remarkable and unforgettable. Happy birthday!
From sweet sixteen to sagacious 70, you have seen every season numerous times. We are more than grateful to get knowledge from you. Happiest 70th birthday grandma!
The profound traits like forgiveness, love, charity, and benevolence, all I have learned from you. Thank you grandmother for an amazing upbringing, and have a great birthday!
On your 70th birthday, I want to tell you that 'I' and 'you' will always reside in each other hearts, no matter how far we live. Happiest birthday my lovely grandmother!
Your 70th birthday is a fine opportunity for me to express my gratitude and love I have for you. I can do anything to put a smile on your face. Happy birthday!
Celebrating the 70th birthday is quite a massive feat. Moreover, you have the agility of a 30-year-old woman which is even more surprising. Happy birthday, super grandma!
Not only you are the greatest teacher for me but also a wonderful motherly figure. Thank you grandma for unconditional love and support! Happy birthday, grandma!
Also see: 75th Birthday Wishes
Happy Birthday Wishes for Grandma 80th Birthday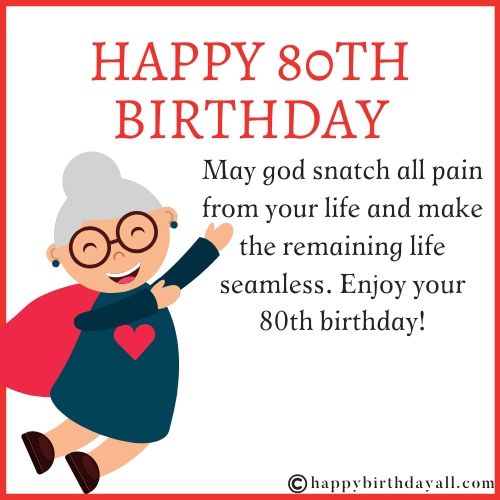 I don't think I will have the pleasure of celebrating the 80th birthday but I will take great pleasure in celebrating yours. Happy 80th birthday grandma!
May god snatch all pain from your life and make the remaining life seamless. Enjoy your 80th birthday!
May the lord of the universe make your life as gracious and scintillating as possible. Happy 80th birthday grandmother!
With your insurmountable grit and determination, you have saved the family from all the hurdles and protected us like a savior. Thank you for everything and happy birthday grandmother!
May god gives you the strength to live the rest of your life as vibrantly as possible. Happy birthday to the most wonderful grandmother ever!
Grandmothers are moms with double love and affection. I wish you a very happy birthday, prettiest grandma!
Hey granny, you are a treasure that I would love to cherish till eternity. Happiest birthday to the most beautiful grandmother!
Also see: 80th Birthday Wishes