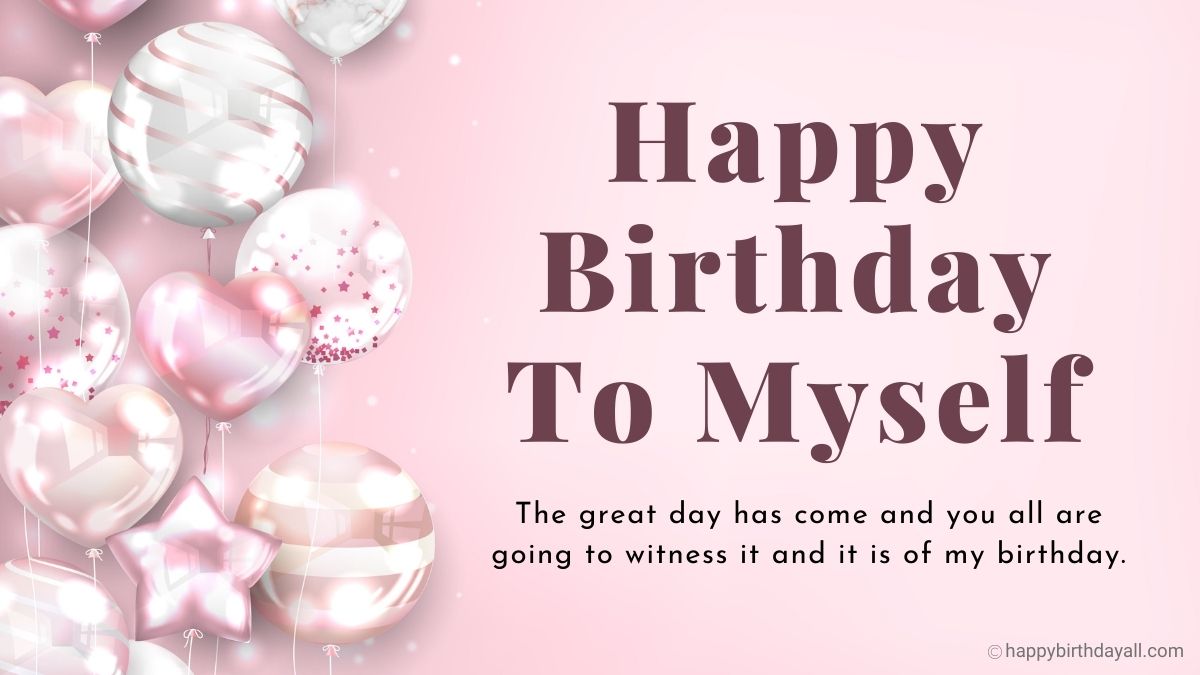 There is a very fine between loving yourself and being a self-obsessed person. A person who is narcissistic in nature sees nothing but himself everywhere. While a person who is in love with himself can see the beauty in everything and always maintain an amiable relationship with everyone. One of the best ways to thank yourself is wishing happy birthday to yourself. But that has to be done in style if your are going to express your feelings on social media otherwise people will make the mockery out of you. To help you express the self love on your birthday, here is a sumptuous compilation of happy birthday wishes for my self and inspirational happy birthday to me quotes that will blossom every fiber in your body.
Heartfelt Birthday Wishes To Myself
It gives me outrageous pleasure to wish happy birthday to the most bewitching and polymath individual ever walked on the earth. Oh! I am talking about myself. May I get every goddamn thing I deserve in life.
If I can't make myself happy and excited, how can I keep mothers cheerful? That's why I am going to gift myself a brand new car on my happy birthday. Wishing jovial birthday to splendid me.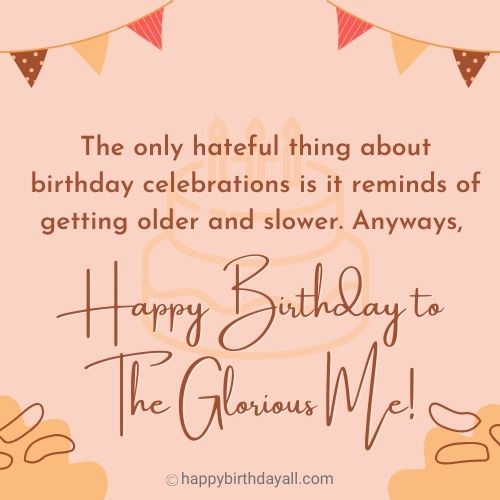 Birthdays will come and go but my smartness and charm will keep increasing with each passing birthday. I thank God for sending the harbinger of humanity on earth in my form. Happy birthday to me!
It's my 25th birthday and I want to celebrate the passing of a quarter-century like a frenzy. You all are invited to be an integral part of the cranky birthday celebration. Before that, let me wish myself a happy birthday!
Congratulations to me on getting one more year wiser, sexier, and healthier. Happy birthday to the most significant person in the world – me!
Before death gobbles my existence completely, I would like to left an indelible mark in this world by doing great deeds. Thank you god for giving me this stunning life. Wishing a memorable birthday to me!
Here comes the day when I love to think and pamper only about myself. Yes, there is no viciousness in being selfish and centered on your birthday. Happy birthday to lovely me!
You get only what you give in life. On my super special day, I am showering all my love, kindness, and compassion on every living being. I wish this world becomes happier and healthier!
The only hateful thing about birthday celebrations is it reminds of getting older and slower. Anyways, happy birthday to the glorious me!
My birthday date has become automatically special and memorable because a legendary personality like me was born on this day. Everyone should bow down and wish happy birthday to me!
Also see: Birthday Wishes for Brother
Happy Birthday To Me Quotes
Like my glittering face, my future and life are also bright because I have hopes in my heart and a zeal to work extremely hard. Wishing a fabulous birthday to hopeful me!
Somebody said, "home is where your heart finds solace." And my heart finds solace in the lap of nature and my mother. I wish the blessings of elders always hover on me. Wishing myself the most enchanting happy birthday!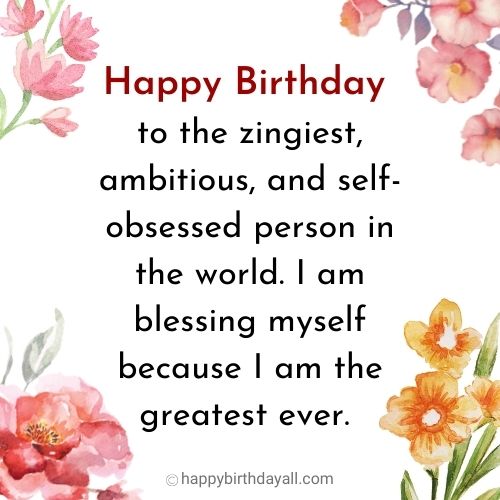 My cheer and excitement know no boundaries because today is my happy birthday. I wish the almighty renders me enough strength and wisdom so that I can live my life in a conscious manner. Happy birthday to me!
As long as I have childlike hastiness and curiosity in my heart, I will keep celebrating my birthday with loved ones. I am blessed that I have so many individuals ready to share happiness with me. Wishing best birthday to myself!
I am a force of nature. I am the god's ultimate creation. I am the epitome of elegance, beauty, and intelligence. Here's to the amazing birthday of an amazing personality.
May my upcoming birthday injects strong rays of positivity, hope, and good luck in life. May I keep becoming the better version of myself with each passing day? Wishing a stellar birthday to myself!
Happy birthday to the zingiest, ambitious, and self-obsessed person in the world. I am blessing myself because I am the greatest ever.
Finally, after a long wait of year, my birthday has arrived and the angels will come down on earth to meet an enigmatic and magical person like me. Wishing happy birthday to the loveliest and the purest me!
What an astonishing and super-successful year I had. I desperately wish I see myself as a fulfilled being in the future. Cheers to another year of survival and happening memories!
May this lively day adds oodles of cheerfulness, great success, massive love & affection, and boundless adventures in my life. Happy birthday to the most sagacious person – Myself!
Also see: Birthday wishes for best friend
Funny Birthday Wishes for Myself
Oh! I don't know we are still celebrating happy birthday and it is of me. Happy birthday to myself! I always say thank you to me!
The great day has come and you all are going to witness it and it is of my birthday. I happy birthday to me! That's a great thing!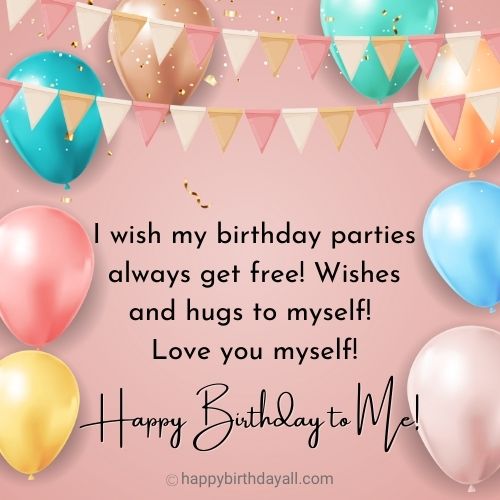 This day once comes in a year and I can't ignore it. I can definitely ignore my marriage's anniversary but my birthday I can't. Happy birthday to my self! Live long and live great!
Forget everything; even your girlfriend, on the day of your birthday. Just celebrate and invite only those people who give you gifts. That's awesome thing I say to myself. Happy birthday to me with best wishes and kisses!
This life is never going to come back and even I don't want it back! The only good things are my birthday I have always celebrated with others' people money and never giving them back. This is so much satisfaction! Happy birthday to myself dear!
My friend asks me what birthday gift you want? I say on my every birthday I want to go with your girlfriend on outing! And since he has never returned. Happy birthday to myself with wishes and kisses and dearness!
I wish on my every birthday I get my all friends' money. This wish I said on my first birthday and it is still working! Love, hugs and wishes to me on my birthday! I love myself.
On my birthday I invite only my close friends and it is me. Happy birthday to myself!
The funniest thing is that everything is funny while we all take it serious. Enjoy, have fun and live full and long. Happy birthday to myself! Always go ahead!
I wish my birthday parties always get free! Wishes and hugs to myself! Love you myself!
Also see: Best Birthday wishes for sister
Inspirational Birthday Messages For Myself
I have a strange feeling that my this year's birthday will bring a lot of unexpected yet surreal things into my life. Fingers crossed and happy birthday to quirky me!
You have no idea when your heart will pump its last beat, your lungs will take the last breath and your mind will have the last thought. Be grateful to life. I wish myself a joyous happy birthday too!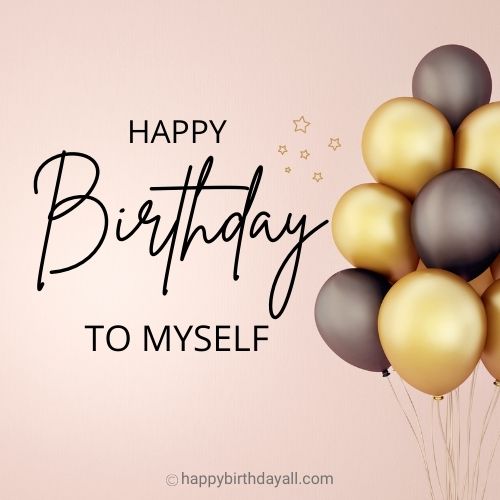 You are your best friend and the greatest enemy as well. The best way to know the world is to know yourself. Happy birthday to me. Let me buy a drink for myself.
In just a matter of few minutes, the birthday of the most superior beings humanity has ever seen is going to arrive. Be prepared puny people to celebrate the birthday of a lifetime. Happy birthday to mighty me!
The difference between my birthday celebration and the other people's birthday celebration is that mine last for at least a year. I am bubbling with utter excitement for my birthday. Wishing a mirthful birthday to myself!
I thank myself in advance for all the dazzling things I have done for myself over the years. I want to wish happy birthday to extremely talented, kind-hearted, and stunning me.
The earlier you accept the fact that no one gives you a birthday gift after a certain age, the better the gift you will start roping in for your birthday. It's my birthday fellas, show some goddamn excitement!
I can feel something bizarre and enigmatic in the air. It's the frisky vibes of my birthday. Happy birthday handsome!
Who says I am getting old and fat? I am becoming experienced and heavyweight. Wishing happy birthday to the most talented me.
Also see: Touching Birthday Wishes for Mother
Inspirational Birthday Poems for Myself
Birthday forever to me;
with and without always to me;
love yourself most than getting from those who aren't of us;
it is love to me;
happy birthday forever to me.
Aspire, higher, never get tired;
every birthday comes with a new beginning;
believe in yourself but never be a liar.
Grow, grow always you grow;
this life is for growing not for getting back;
this is what every birthday tells;
happy birthday to me.
Be in you; be of you;
by you, beside you;
if others not with you;
always celebrate your birthday with yourself;
happy birthday to me.
It is me, it is me, it is always me;
first think of yourself and then the others come;
this is life, this is how everything works;
happy birthday to me always.
Dream big, dream beyond;
this is what life tells us;
celebrate your victory with your birthday winning more;
happy birthday to me and myself.
Aim higher, never get back;
what you aim for, always get that;
then you feel fulfilled;
let's celebrate with my birthday cake;
wishing happy birthday to me.
Never get broken; if somehow, always rise;
as fire rises, you rise too;
after every water down, you live new;
celebrating your birthday with yourself and your beau;
happy birthday to me and myself.
Love yourself first, this is the mantra;
celebrate your birthday every year;
this is life mantra;
happy birthday to myself.
I wish myself happy birthday;
this is the most amazing thing
I always do first to me when my birthday comes.
Also see: Birthday wishes for son
Happy Birthday Prayers for Myself
Live long, always believe, be in relief;
God grace be on me;
I live in happy company celebrating life;
happy birthday to me.
Nothing matters as matters of yours;
it is faith in you and belief in God
that moves everything and every thought
happy birthday to me.
Be like water;
be the character like it;
be your own self;
that is what I say on my every birthday.
Forever be young, may the old bad vanish;
may everything good return;
as my birthday every year;
happy birthday to me.
Nothing remains forever;
everything goes;
what you have now, celebrate this you know;
that is what counts;
wishing happy birthday to myself.
You be wise;
you be light;
whatever you be, you always be you wise;
wishing happy birthday to myself.
Never say never for what you want;
it is always there if you think right a lot;
may you get what you think and thought;
wishing happy birthday to myself.
Don't weep and don't cry for others;
those who are for you never leave;
so what you have; be good;
and celebrate your birthday with no regrets;
happy birthday to myself.
May you love truly; may you get true;
with time you get everything;
what gone, don't be sad for few;
what come, always have patience;
God always give best to me,
everything other rest;
happy birthday to me and my higher self.
Thank you to all and everyone;
to my parents and God and friends;
may on my every birthday we get together like this;
laughing and hugging and merrying;
happy birthday to me always and forever.
Short Birthday Captions For Yourself
A year older, a year sexier, yet there is no sign of slowing down in living life one moment at a time. Happy birthday to me!
You call it happy birthday, I call it the day a legend was born to protect the earth and rule everyone. Wishing birthday wishes to crazy me!
No matter how old I become, I just don't want to be toothless till my last birthday. Happy birthday to my brilliant self!
Hey mother, you should be utterly proud of yourself for giving a birthday to a mighty and legendary person like me. Now wish happy birthday to me!
I am so amiable and lovable by all that others splurge money on my birthday celebration. So lucky of me. Wishing a happy birthday to myself!
Celebrating birthdays is nothing more than a coax created by corporations to make a huge dent in the pocket of poor souls like me. Happy birthday to sexy me!
On this frigging day, the most gifted and alluring individual was born. However, somehow that charm has been lost in the midway. It's my birthday and going to wish myself in the best way.
My birthday is so special, when I was born even doctors said, " here comes the miracle of science." Happy birthday to the most bewitching person in the world!
If you are having a bad day today, don't worry. Pick up your phone and wish me a happy birthday. You will feel good for sure!
Today is the happy birthday of the world's most brilliant mind and the most generous human being. Oh, I just praised myself. Happy birthday to me!
It's My 18th Birthday!
Finally, I have become an official adult and am ready to take the world by storm. However, I don't want to end up in the lock-up because of my stupidity. Happy 18th birthday to me!
This is the age of raging hormones, dreaming big, chasing money and girls, and living life to the fullest. I promise myself I will use my youth years for the better of myself and society. A very happy 18th birthday to me!
On this day, a legendary being was born with unlimited power and capabilities. I don't know where I went wrong after that in life. Wishing a stupendous 18th birthday to my years-old self.
On such a fabulously day, I wishing nothing but an unforgettable name etched in the books of history, a huge chunk of fortune, and uncountable hot girlfriends for myself in life. Jokes apart, wishing happy birthday to me!
I can bet that I am the smartest, coolest, and most sagacious 18 years old the world has ever seen. Happy birthday to crazy me!
It's My 21st Birthday Quotes!
For me, turning 21 is a pretty big deal because I am matured enough to take all the responsibilities off the shoulders of my parents and handle them on my own. Wishing myself a hopeful happy 21st birthday!.
Now I know how it feels to take a leap from being a teenager to a 21 years old working adult. Life turns upside down in just a matter of few years. But I am enjoying my adulthood like there is no tomorrow. Happy 21st birthday to me!
The sweet and dynamic age of 21 comes only once in life, therefore, don't waste your precious energy in chasing frivolous things. Focus and make a paradise for yourself. Happy 21st birthday to wonderful me!
My heart is pumping with utter excitement, my mind is packed with a lot of enchanting dreams, and my soul wants to fly high and long. Wishing a boisterous 21st birthday to myself!
My conscience and consciousness are the true wealth, the rest of everything is an illusion. I want myself to be a man of high spirit and a serene attitude. Happy birthday to the 21 years old me!
Happy 30th Birthday to Myself
I wish myself the best 30th birthday. Wishing happy birthday to me! May I always laugh and get love!
All the love of this world and everyone I get. May feel nothing lack and get what others could not have. Wishing happy birthday to me on my 30th birthday!
As the number of age is increasing, I am getting younger every year. Wishing myself happy 30th birthday!
You never know what comes and what goes. Hence always be in fun celebrating birthday with merry making guns. Wishing love and happy 30th birthday to me!
With all the love of myself and of my friends who could not be with me now, I wish myself love, hugs and kisses on my 30th birthday.
40th Birthday Wishes for Myself
Beginning always depends on you and it always starts with you from any point of time in your life. Wishing happy birthday to myself! Live graceful.
In life everything comes on the right time and everything goes too. God always has a perfect timing. Wishing happy 40th birthday to myself!
Always enjoy your life as much as you can. It never matters where you are in your life. Wishing happiest 40th birthday to me!
Be authentic with yourself and others. If you can't be you then you have lived other's life. Wishing amazing 40th birthday to myself!
Everything is bliss, everything was and forever be. May this be! Wishing awesome 40th happy birthday to myself!
50th Birthday Wishes for Myself
You always have the re-do button. It only matters how much strength you have to get back everything. Wishing strong happy 50th birthday to myself!
Never count your days, just only count the moments you have spent happily. Wishing fulfilled 40th birthday to myself!
Live as you live. This is the only mantra you follow. Lovely 50th happy birthday to myself!
May you still get everything what you desire! Wishing lots of laughter, hugs and kisses to myself on my 50th birthday!
It doesn't matter where you start. It matter how you start. Hence always start as you want. Wishing 50th lovely happy birthday to myself !
60th Birthday Wishes for Myself
Life is still beautiful. Happy 60th birthday to myself!
I know I always have fire and it is still burning! Wishing 60th amazing birthday to myself!
Live free, live boundless, live much and live long. Wishing 60th awesome birthday to myself!
Happy 60th birthday to me! I am celebrating with my soul!
Never doubt yourself. Fly higher always and forever. Wishing fire blazing 60th birthday to myself!