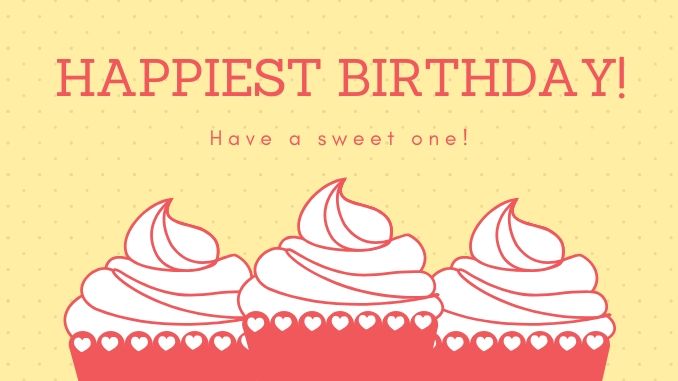 Without any doubt, a happy birthday is one of the most significant as well as special days in the life of any person. It is one of those rare occasions when an individual, especially a girl, gets heaps of attention, affection, blessings, hugs, and gifts. Wishing someone happy birthday, even he/she is not associated with you closely is also a great gesture and a fine way to amplify your bond with that person. Your dearest or the nearest friend's daughter is also no less than your own daughter for you. Sending happy birthday wishes to that sweet little princess on her birthday is a beautiful way to appreciate her and let her know how special she is. However, happy birthday wishes for a friend's daughter should have to be extra special because it's all about making her birthday stand apart from the rest. If you are searching here and there for exquisite and soulful birthday wishes for a friend's daughter, stop right away and go no further than this post. We are delighted to present a sumptuous collection of happy birthday messages for someone else's daughter that will sure-shot heart move the little angel and make her love and respect you even more.
Happy Birthday Wishes for Friend's Daughter | Cute Birthday Wishes for Someone Else Daughter
Your cute little daughter has grown up to a beautiful and smart woman. I want you to wish her a happy birthday on my behalf!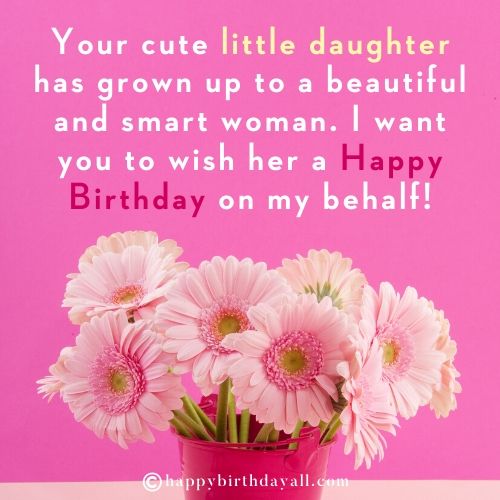 Even all the hugs, kisses, and gifts will not be sufficient enough to give to your pretty daughter on her birthday. Wish her happy birthday on my behalf.
Your pretty little daughter is no less than an angel. On her birthday, I wish her a lifetime of happiness, success, and immense joy.
Heartfelt thank you for inviting me to your little princess's birthday. Mark my words, one day she is going to make you super proud. Happy birthday little princess!
Your daughter's smile is pure magic and her innocence is simply heart-tugging. I pray to God to bestow incredible blessings and happiness on her. Happy birthday!
She may be little in appearance but this dinky little thing is a real powerhouse. Her energy and enthusiasm and commendable. Happy birthday to your daughter. My blessings are always with her!
Your daughter is quite special to me in so many ways. She is the first person who befriended in this new town. I wish her a cheerful and unforgettable birthday!
Even words will fall short to describe how lovely and helpful your little daughter is. Not only she is thoroughly gentlewoman but also a great intellectual. Happy birthday to her!
Also see: Best Happy Birthday Wishes for Facebook Friend
In my opinion, your lovely daughter is the epitome of kindness, mercy, and innocence. May God keep showering blessings on her all the time. Wish your daughter a very happy birthday on my behalf!
Your daughter is nothing less than a walking packet of happiness. Wherever she goes, she spreads happy vibes. Wishing your daughter an enticing happy birthday!
Without a shadow of a doubt, your daughter is the most adorable and sensible girl in the world. Many happy returns of the day to her!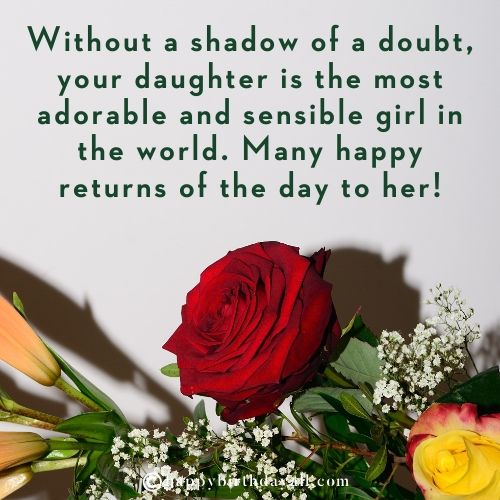 Also see: Mesmeric Birthday Messages for Old Friend
Happy Birthday Messages for Friend's Little Daughter
May your little angel never witness despair situations and sadness in life. May happiness and success surround her all the time. Happy birthday to her!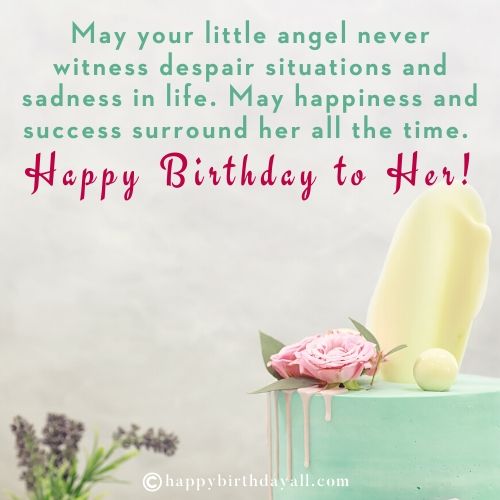 I don't have any daughter by I consider your daughter as my own. I want to wish my little princess a very happening and frisky happy birthday. May she gets whatever she covets for in life.
I want to praise you for raising your pretty daughter in such a beautiful way. Her fine upbringing will definitely inspire other parents including me to raise children well. Do wish her a happy birthday from my end.
Since the moment I saw your daughter, I said, one day she will make you super proud. See, isn't she is making you proud? Happiest birthday to the sweetest girl I know.
In my eyes, your girl is quite lucky for everyone. Wherever she lays her hands or goes, prosperity and good vibes flourish. May her happy birthday celebration turns out to be unforgettable!
It gives me immense pleasure to see you growing and achieving success in life. I wish you may never have to face defeat and anxiousness in life. Happy birthday dear!
The real happiness is having a caring and loving daughter like you. I am glad that my friend is blessed with such a lovely daughter but also sad that I don't have you as my daughter. Happy birthday little princess!
You are a ray of hope, you are the sunshine in the darkness, you are happiness in grief, you are vivacious. Happiest birthday to my best friend's daughter.
Though you are my dearest friend's daughter, you also treat me like your own parents. Thank you so much for such affection and caring. Happy birthday to the prettiest little angel in the world.
Every day I pray to God, when I marry, I want a daughter like you. I firmly believe that someday, he will listen to me. Happy birthday to the cutest little princess I know.
Hey little girl, not only you are my dearest friend's daughter but also a good friend of mine. I wish you a lifetime of happiness, success, and peace.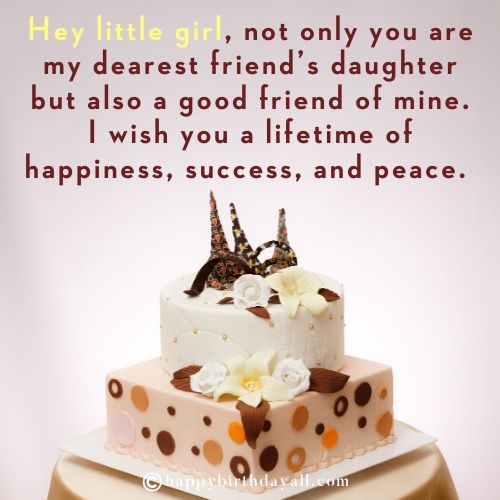 Also see: Birthday Wishes for Daughter
Happy Birthday Quotes for Friend's Daughter With Images
I pray for your good health, happiness, and success every day. Wishing a very happy birthday to a girl who is no less than a daughter.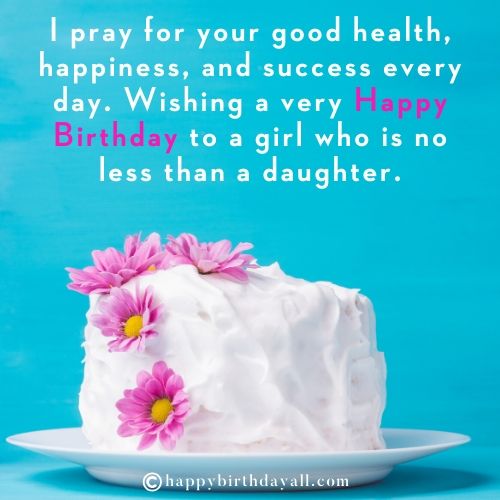 If there is anything more beautiful in the world than roses and sunflowers, it's you; my friend's dinky little daughter. You are a beautiful soul with the purest heart. Happy birthday, little runt!
On your birthday, I want to give one valuable lesson as a gift. Never ever do anything that your instincts don't allow to do. Consciousness is the only truth in this world. Happy birthday to my lovely friend's daughter.
Like your parents, I hope you will also transform millions of lives and spread more happiness and positivity in the world. You are one heck of a strong girl. Happy birthday, sunshine!
With each passing birthday, you are becoming stronger and growing wiser. You could be the ray of hope for suppressed women who are still struggling for their rights. Happy birthday to the strongest girl I know.
No matter how much you grow or how successful you become, for me, you will always be my friend's daughter and a cute little princess. I wish you a frisky birthday with blessings!
Daughters like you are out of the blue blessings for parents and perhaps their biggest support system. My friend is so lucky to have you. Happy birthday, dear angel!
When God loves you, he either enlightens you or blesses you with a daughter. I guess God is quite happy with my friend as he has a daughter like you. On your birthday, all I can give you is heaps of blessings.
Today is an extremely special day for me. Not because it's your happy birthday but I got the chance to buy your favorite chocolate and gifts. Happy birthday sweet princess.
If there is someone's birthday for whom I am super-excited, it's yours. I am eagerly waiting to celebrate your birthday in the grandest possible way. Happy birthday in advance to my friend's daughter.
You May Also See: