Cutting cake, popping party bombs, and a team dinner have become quote cliche in the corporate world. To make your coworker feel like he/she is on the top of the world, here is the most original and ingenious compilation of happy birthday wishes for coworkers, funny birthday messages for colleagues, and the best birthday quotes for coworkers!
Great Happy Birthday Wishes for Coworkers | Best Birthday Messages for Colleagues
Happy birthday wishes to one of the most devoted, hardest-working, and loyal coworkers I know. Your diligence is contagious and your helping attitude is the most appreciated thing in the office!
What a sheer joy it is to work with such an enormously enthusiastic colleague like you. I am glad to have you on my team. Happy birthday to the most cheerful coworker!
On your most significant day of the year, I wish you nothing but a long-lasting profound career, a happening persona life, and gargantuan wealth. Happy birthday to my dearest colleague!
Only a jovial coworker likes you have the sheer power to turn a boring Monday into a worth working day. Thanks a ton for being such a supporting coworker. Happy birthday dear!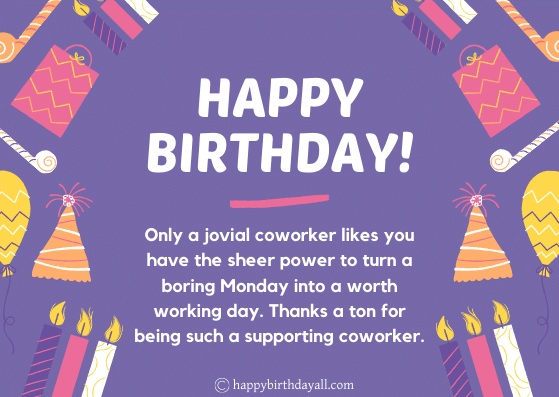 May life always keeps you on the track of the righteousness, ethics, and compassion so that you can fulfill the roles in your personal and professional lives perfectly. Happy birthday to the most awesome colleague I know!
In a cut-throat competitive and ugly corporate world, you are the white swan and a beautiful ray of hope for everyone. Thanks for being such an awesome friend and a cool coworker. Happy birthday!
It's been 7 years since I have started working with you and I must say, it's an absolute delight to work with a colleague who is an inexhaustible source of knowledge and energy. Happy birthday and may you achieve the lifetime of joy!
Not a single day passes when I don't eagerly wait for your arrival. I mean you are the only one whom I talk to in this sucky office. Happy birthday my best friend cum coworker!
I am more than thrilled to celebrate the most special day of the year one of my favorite colleagues. Brace up for the cake smashing on the face and bone-crunching birthday bumps. Happy birth dear!
You are one of those rare persons who is aging so gracefully and also increasing his knowledge set and skill base by leaps and bounds. Have a blissful birthday celebration, my dearest colleague!
Hey buddy, I just want to ask one thing to you for a long time. How does it feel like to work with the most intelligent employee of this company? Jokes apart, happy birthday my dearest colleague!
With each passing birthday of yours, only one thing is growing in your life and that is your big fat stomach. For the love of almighty, do something about it. Happy birthday my cute fatso coworker!
Time and time again, you have proved that age is nothing more than a mere number when your dreams are high and vision is beneficial for others. Happiest birthday to the most erudite colleague!
No matter how old you will get, the childlike quirkiness and hastiness you have will never fade away. I wish an unforgettable birthday to the most haste colleague of mine.
I have yet to meet an individual like you who gives everything he got to the people and organization and yet don't expect anything in return. From where does all this selflessness comes to you? Happy birthday to the most fantastic human being ever walked on the earth!
Do you remember the day when you stepped first time in the office? I was the one who told you that one day you will rock this organization with your work? The fascinating thing is that day has arrived on your birthday. Very happy birthday to the most prudent coworker!
Hey colleague cum brother, you just keep working on your goals regardless of the appreciation or criticism you will get during the journey. Receive my best happy birthday wishes to you!
You are perhaps the only person I know whom I have never seen competing with anyone or for any trophy. You work to express not impress anyone. I am blessed to have a splendid colleague like you. Happy birthday!
The day I met you for the first time in office I knew that we are going to be the best buddy in and out of the office for life. On your special birthday, I wish nothing but a lifetime of happiness and good luck!
Wishing my handsome and way too intelligent colleague a very alluring happy birthday. May you reach the career heights that no one has ever reached before!
Also see: Advance Birthday Wishes
Funny Birthday Wishes for Coworkers | Hilarious Birthday Messages for Colleagues
There is no denying that you make this horrendous office environment worth tolerating but the farts you release in between are intolerable. Happy birthday to my best office buddy!
Hey dear coworker, on your coveted day I wish you the lifetime of opulence and comfort but not the annual employee of the year award. Happy birthday!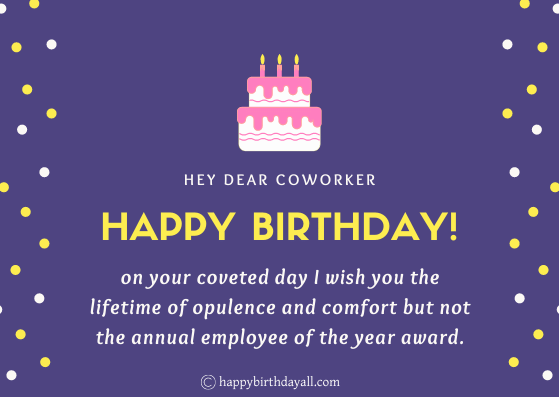 Heartiest congratulations to the oldest coworker of this organization. Also, congratulations for the birthday bonus and for getting one more step closer to retirement. Happy birthday!
Deep down you also know that working with such an extraordinary coworker like me is a sheer honor for you. What more you want in life? Happy birthday, office buddy!
A mirthful birthday to one of the closest and the most honest coworkers in the office. May you achieve immense corporate fame but not my bonus and the award!
One more birthday celebration in this office insinuates that you have nowhere to go and you suck at what you do. Jokes apart have a glorious birthday party.
Dedication, devotion, determination, and diligence are some of the profound qualities which an ideal colleague must have but you don't have any. Happy birthday and be happy throughout life!
I literally feel lucky to work with a compassionate coworker like you from whom I learn so much but couldn't achieve even a little with that knowledge. What a waste of time you are! Happy birthday!
Your ability to learn anything quickly, your relentless working attitude and your punctuality are the biggest causes of distress for the whole office. Happy birthday to my sucky coworker!
I still can't believe how I managed to work with an obnoxious yet caring colleague like you. I must have done some great deeds in the previous life. Fun apart, happy birthday my cool office buddy!
Perfect or not, you are one heck of a hilarious guy to work with. May you get only the best things on your birthday!
Hey buddy, it's your birthday, and now is your time to throw away all the work and relax like a king. Anyways, even on the normal working days, you don't do anything. Happy birthday to my magnificent office buddy!
The only best thing about having a helping and jolly employee like you is that the office seems less shit. Happy birthday my wonderful office buddy!
As I don't have many things to give you as the birthday gifts, accept my heartfelt birthday wishes and the years of collated hard-feelings I have for you. Happy birthday and always be cheerful!
I am glad that I am a colleague of one of the brightest employees of this prestigious organization. But I am not happy about you taking the performer of the year award every single time. Happy birthday dude!
Indeed, you are the most brilliant and technical guy in the entire office but your poky salary makes me laugh again and again. Happy birthday and may you get the job you deserve!
For me, you are not just some other co-worker. You are the perfect bootlicker that a boss always wants to feed his ego. Happy birthday and have a fun-filled day!
Sometimes, I wonder, you give all your blood and sweat to this organization, and what they give you in return is a stinky and not palatable cake to cut? Your poor fluke. I wish you have a commendable birthday celebration!
I know what you need the most as birthday gifts on your special day are courage and the unflinching strength to survive one more year in this shit hole organization. Happy birthday to you buddy!
Also see: Belated Birthday Wishes
Inspirational Birthday Wishes for Colleagues
How you make your life mundane and bright, it only depends on you. If you are feeling like you are wasting your life the work you don't wish to do then change it. Listen to calling of your heart. Happy birthday my dear colleague!
Keep your dreams alive and think about them before you die you will fulfill them. Happy birthday dear friend and my best colleague!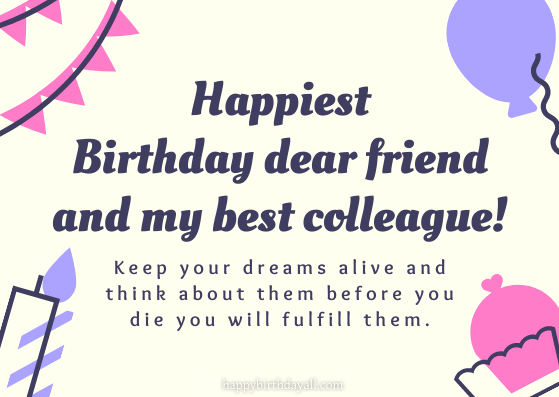 After certain age of life, people understand themselves like dirt, which they must not. Life is always vas and full of possibilities. Wishing you happy birthday dear my lovely colleague and friend!
The days you are spending would never come back. Don't worry and live happily. Happy birthday everyone's favorite! You are a best colleague!
Things go and come. Rains come and go too. As we could not control rain. We could not control who come in our life and who go. So be the king of your life and don't weep for anyone. Happy birthday dear adviser my best colleague! You are the best man!
Just skill up yourself as much as you can. Because if you are skilled, no company could fire you. First build yourself and then care about others. Wishing you happy birthday a good friend and kind colleague!
The only strength you need to have is your Will. If you have it strong, you would achieve everything. Wishing happy birthday my bestie and my best colleague in the office!
Don't care about the results. Only involve yourself in the process of doing and you will realize everything has happened for you. Happy birthday dear. I feel proud to have a colleague like you!
Raise early in the morning, clean your whole room daily. If you can do these, you can do everything. Wishing you happy birthday my loveliest colleague!
You value yourself. Then others value you. Wishing you awesome happy birthday. You are senior colleague and I really respect you.
Weak you understand weak you become. Strong you understand, strong you become. At the end what you think what you become. Wishing happy birthday to my dearest colleague!
It could be others might understand you wrong but you never underestimate yourself. Wishing you happy birthday dear!
The only one thing that would never betray you is your knowledge. The more you gain, the more intelligent you become. It would shine you. Happy birthday my friend and most helping colleague in the office!
You can never be successful if you have never achieved in your mind. Happy birthday dear friend and one of the most delight colleague to work with!
Anyone could tolerate physical pain. That is not strength. If you could tolerate mental pain, it is only what you need. Happy birthday dear! You are an amazing colleague!
Be like wind my friend. You have to flow like no could see you. You reach your goal and then bang! Wishing happy birthday dear. You are the only colleague I love.
Be the one who you want to be and dream of. And you would see everyone follows you. Happy birthday my best colleague!
You love your work. Everyone falls in love with you. Wishing you happy birthday my partner, brother in arms and one of truest colleague!
You want something from core of your heart. You get it anyhow. The universe works with you. Wishing you immense success and joyful life! Because you are the joyful colleague in the office!
Belief and faith are the pillar of human life. If you don't have these, no one could make you successful. Happy birthday dearest friend! You are an awesome colleague!
Also see: Birthday Wishes for Best Friend
Happy Birthday Quotes for Coworker
Anyone can go alone. Going together is tough. Wishing happy birthday you my loveliest colleague!
A company can get built in some matters of months. But it can only go years with people in it. Happy birthday dear! You are my most trusted co worker!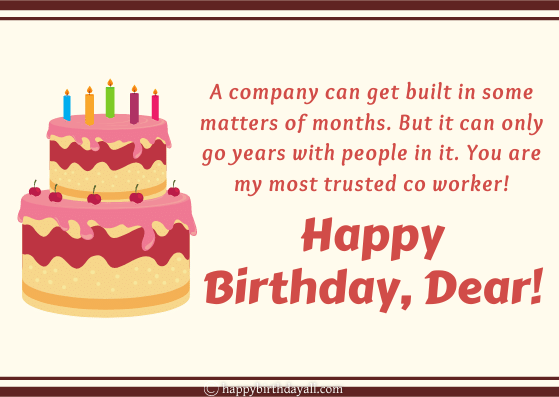 An employee works in a company not for money while for his dreams. Happy birthday my dearest folk. You are my one of the favorite colleagues!
Every employee is the force, not slave. Lots of wishes on your birthday dear! Colleague like you is a treasure.
Trusting in employees means securing company's future. Respect and greetings on your birthday friend! You are the only colleague with whom I share my lunch.
A coworker is not your slave. Whilst He/she is your assistant without whom the work is impossible. Happy birthday dear! You mean a lot to the company and to us.
In the game Chess; most of the games pawns play. They help King win the match. Without them, king is nothing. Happy birthday dear! You are the small leaders of our company and best colleagues!
A little hole in a ship slowly makes it drown. Wishing you awesome birthday dear! You are the captain of our company and a dearest colleague.
Little birds often sing the sweet songs. Small positioned employees mostly do the hard work. Happy birthday little sweet bird of our company! You are a best colleague.
Appreciating co-workers means winning their heart. Winning their hearts mean you have earned your company's revenue. Happy birthday to most admiring colleague!
There is always an invisible force behind the success of every impossible and magnificent work. That invisible force is your co workers. Wishing happy birthday! You are the colleague all companies want.
Soldiers make army, not a king. Co-workers make companies, not a boss. Happy birthday dear! You are the colleague number one.
A small cog in a big machine makes it work all round. Wishing you happy birthday! You are not only a colleague while irreplaceable asset.
Blood is responsible for making whole human body work. The same role a coworker plays. Happy birthday dear!
A co-worker is bamboo. A bamboo is useful in every way. Happy birthday my dear friend and very honest colleague!
Honesty is the ornament every employee must wear. Happy birthday dear! You are an indispensable colleague of the company!
An elephant doesn't run fast but it weighs much and crushes anything. Everyone has their own skill. Happy birthday dearest colleague! You are the best friend indeed.
A determined heart is more powerful than thousands of bombs. Happy birthday dear! You are the best colleague indeed.
You only need to master one skill that no one can master like you. Wishing you happy birthday dear! You're a colleague all want to work with.
Claim yourself always valuable. If you not, others would take your place. Happy birthday friend! You are really a trustable colleague.
Also see: Birthday Wishes for Old Friend