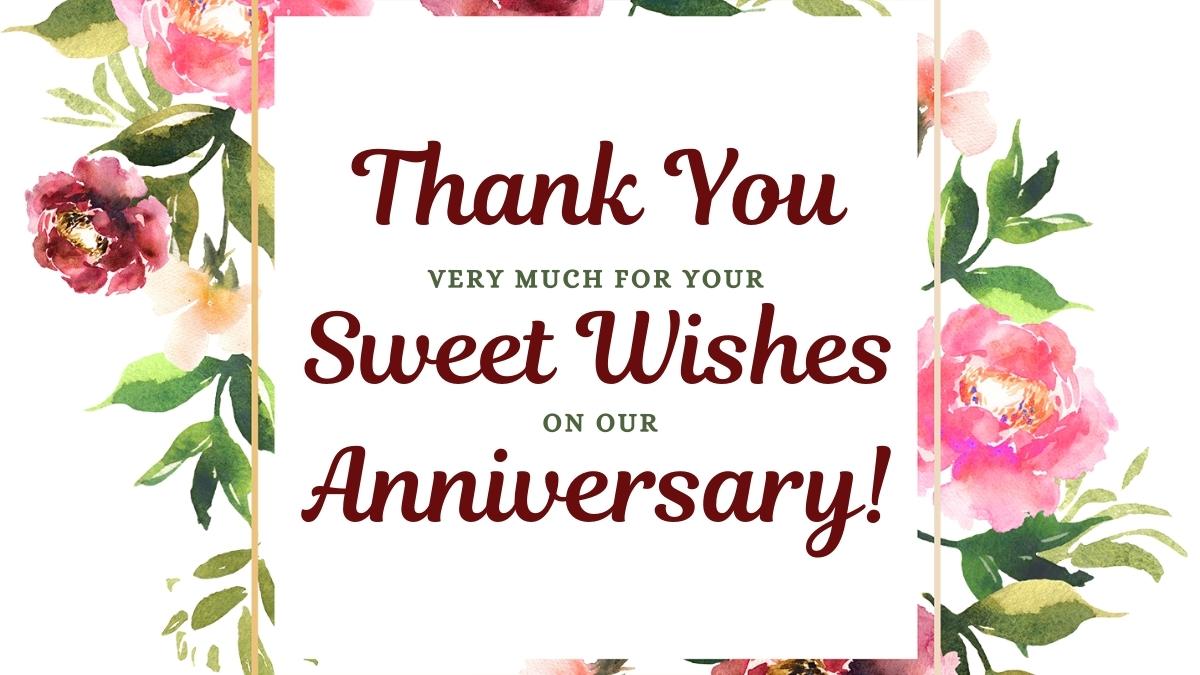 Thank You Messages for Anniversary Wishes: It is considered fine mannerisms and nice gestures when you express gratitude to all your guests gracing your event and doing wonderful things for you. Without the charming presence and hearty anniversary wishes of your guests, your wedding anniversary celebration will lose its charm and liveliness. You must take some time out of your hectic schedule and say thank you to all your guests for attending the celebration, bringing lovely gifts, and showering blessings on you and your better half. If you don't know how to say thank you to your guests, we have come up with the most exemplary thank you messages for anniversary wishes that would charm your guests like nothing else.
Thank You Messages for Anniversary Wishes
Thank you to the moon and back to all my near and dear ones for making my wedding anniversary celebration extraordinary. It wouldn't be possible without your love, support, and affection.
I am literally feeling overwhelmed after receiving so many heartwarming anniversary wishes from my loved ones. Your touching wishes and gracious presence made our anniversary celebration magical. Thank you for all the love and wishes!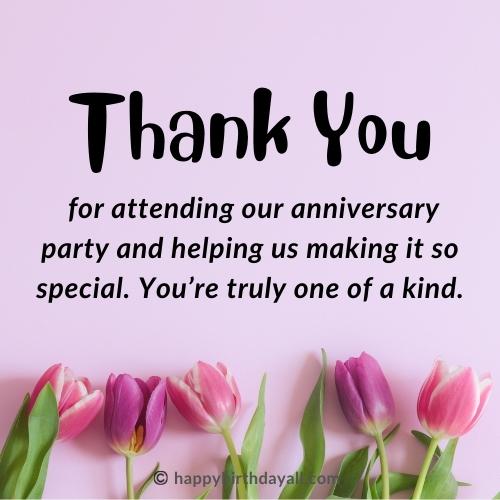 From the core of my heart, I thank all my amazing friends for adding oodles of fun and showering sweeter than sugar wedding anniversary wishes on us. I'll definitely cherish all the wonderful memories!
I thank you to all my lovely family members, friends, and associates for alluring anniversary wishes and meaningful gifts. I must say you guys have made it the best wedding anniversary celebration of my life.
Big thank you to all the sweet people who remembered us on our utterly special day i.e. wedding anniversary. We are blessed to have such frisky and astonishing people in our lives. We hope you had a great time with us!
Even uttering 'thank you' a million times won't be enough for what you guys have done to make my wedding anniversary celebration splendid. Thank you for all the lovely anniversary wishes and for gracing our little event!
Our wedding anniversary celebration became a grand and stunning affair all because of your heartwarming presence and lovely anniversary wishes.. Thank you so much for gracing our function and showering love on us!
I want to thank all my guests for their heart-tugging wishes, and jaw-dropping gifts, and for creating exhilarating moments during our wedding anniversary celebration. Thank you for making it the most awesome and fabulous celebration of all time for us!
Thank you all for being there with us when we wanted to share our happiness and the most special day with loved ones. You guys are the reason our marriage stood unshakable and brimmed with love till yet. Thank you for touching anniversary wishes!
Not only I am thrilled by all the touching anniversary wishes I received but also by how much you guys love me and my better half. I am more than blessed to have such supporting and lovely people in my life. Once again, thank you so much for sending sweet anniversary wishes!
Thank you very much for attending our wedding anniversary party and supporting us to make it special for us. You are true of your kind. I am blessed to have you in my life.
We are thankful to you for sending us warm wishes; your presence has made the day special for us. Our anniversary celebration would not be the same without the people I care about the most. Thank you so much for anniversary wishes!
Your presence at our anniversary party was really a pleasant surprise for us! Thank you for taking some time out of your busy schedule to celebrate this special occasion with us.
Remembering my special day has filled me with extreme joy and happiness. It is a great feeling to know how much you care for us. I truly appreciate your efforts; thank you for anniversary wishes!
You truly made my special day more special with your cheerfulness, love, and sweet humor. I'm struggling to find words for describing my gratitude to you for such participation. Thanks a lot.
An anniversary is all about adding more love into your life; thanks for adding even more memories and love to this list; thank you so much for wishing us happy anniversary!
Thank you very much for your sweet wishes on our anniversary! Your kind words and loving thoughts just made our day amazing.
Do you know what the best part of celebrating an anniversary is, spending quality time with the people you love and adore in your life. Thank you so much for fulfilling the love quotient in our life.
Smile, happiness, and boundless joy. Right now, our times are filled with them. Thanks for wishing us from the heart because it all came true.
Knowing that your wishes and prayers are with us on our anniversary brings a goofy smile to our faces all day long. I appreciate your good feeling for us.
Thank you for remembering my most special day and making my day more memorable with your beautiful wish.
Also see: Thank You Messages for Birthday Wishes
Thank You Note for an Anniversary Gift
The creativity in your gift is so mesmerizing and pleasing to witness. We are really obliged to have you in our life. You have made our day so special by giving such a beautiful wedding anniversary gift!
Thank you for your wonderful anniversary gifts. We appreciate your presence and gift for us.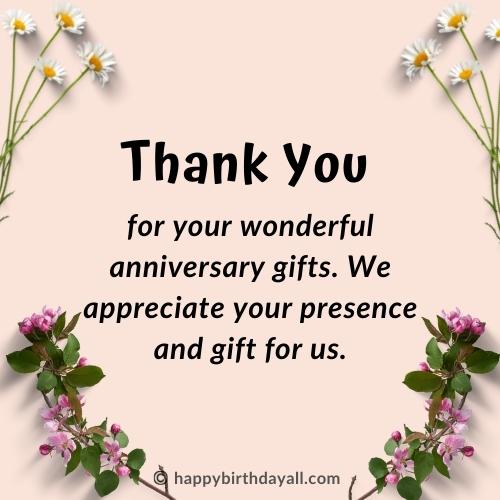 We will remember you for the gift you have sent us on our anniversary. It shows how much you love and care for us. Thanks for your efforts and gracing our anniversary event.
Thanks for the lovely card, the beautiful message, and most importantly, the gift! It made our day more memorable.
You never fail in finding the best gifts for us; we are thankful for this. We pray for your great health and wellness. May your life will be filled with the love and peace that you deserve.
Thanks for knowing us so well and being there by our side on our special day. Your thoughtful gift will keep us reminding your love and care for the rest of our lives.
The gift you gave us on our anniversary is something that is beyond expectation. We both loved the gift you got us! Thanks a ton!
Thanks for organizing such an extravagant party and gift for us. We are eternally delighted to have you in our life. Your love and care filled our hearts.
Lovely husband. I'm so happy after I received your lovely present for this anniversary. Thank you.
The celebration of our marriage anniversary will be incomplete without you. Your appearance made up so loved and happy. Thanks for the astonishing wedding anniversary gift; it will remain close to our soul and heart for the rest of our lives.
Thank You Message for Anniversary Wishes to Wife
I am so pleased to have you in my life as a life partner. Thanks for being the most amazing and caring wife in the world. Your wishes mean a lot to me; keep showering your love for the rest of your life.
Thank you for making this anniversary celebration wonderful. Thanks for your lovely wish, dear wife. I love you.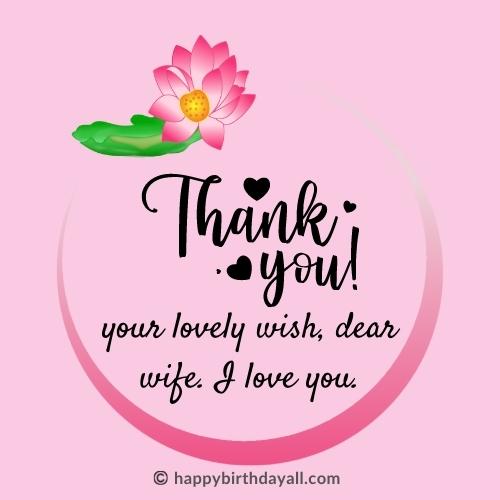 My dear wife, thanks for being the support system of my life. On the auspicious event of our marriage anniversary, you arranged everything on my behalf and even allowed me to focus on my business meeting. I am grateful for your wonderful anniversary wishes; thanks for being on my side.
You are the best wife and the best mother. Thanks for your gifts and wishes on our anniversary.
When you come into my life, I feel I am the luckiest man on the earth, and you prove me right. Thanks for wonderful anniversary wishes and make me feel loved every day.
Thank you for always giving your best to make me happy. Thank you for being my best friend and the most caring partner! Happy Anniversary!
Thanks for taking care of my family and me, making us feel loved and smile, no matter how bad the day was. I am blessed to have you in my life.
You and this marriage are the best things that have happened to me in this life. Your unconditional love has changed my world and turned me into the best person. Thanks for your wishes and everything else.
There are countless things my heart wants to say to you. But right now, all I have summed up are just three words – thanks for everything.
I have been blessed to have a perfect life with you. Thank you for your care, love, every little effort and support you are doing for me in the simplest possible way. I really love you.
Thank You Message for Anniversary Wishes to Husband
I am the luckiest wife to have such a caring, wonderful, and appreciating husband. Thanks for all the little and big efforts you take to make our life beautiful. Thanks for your marriage anniversary wishes and celebration.
Thank you, dear, for the romantic wish. I eagerly wait for your lovey wish every anniversary.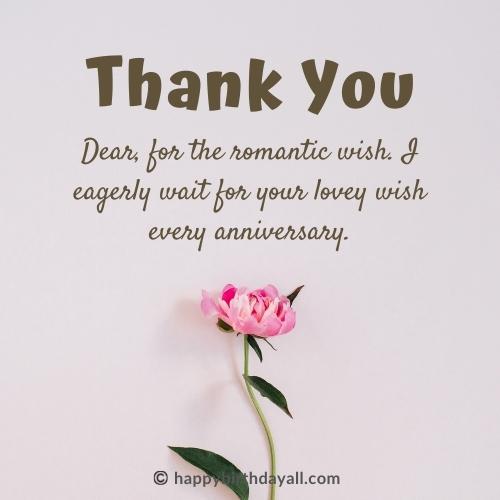 You have turned out my life into an amazing affair. I can't stop thanking God to make you my life partner. Life with you is wonderful. Thanks for being so loving and kind and sending lovely anniversary wishes. I really love you so much.
I'm touched by your words, sweetheart. It just made me realized how lucky I'm to have you in my life.
My dear husband, thank you for being my life partner. You have filled my life with endless joy and laughter. Thanks for your lovely anniversary wishes; I love you a lot and I wish to be your life partner till the end.
Thanks for making our anniversary celebration special. With you, life is blessed and every day is a special one. Thank you a million times and more!
Having you as husband is the biggest blessing of my life, and even what I could ask from God. I am truly grateful for all the efforts you put into making our anniversary a memorable day.
You never fail to surprise me, love. But this year, it was mind-blowing. Thank you for the gift and wishes.
You have brought the best of me in my life. Without you, this beautiful life would not be possible. I am thankful for your care, love, and support. Thank you also for beautiful wedding anniversary wishes and making me feel special.
No earthquake or tornado can shake the foundation of our marriage. Having you as my partner made me the luckiest. I love you, I loved you and I will love you always.
There are lots of things that I want to say, but you know me, I am always short of words. I want to sum up my feeling in just three words; thanks for everything including awesome anniversary wishes. I am grateful to share a life with you.
Accept my heartiest thanks for always making me feel special and loved. Thank you for treating me with care every day, not only on our anniversary. I love you!
Thank You Messages for Anniversary Wishes from Family
Your efforts of wishing and remembering us on our anniversary made our celebration filled with more joy and happiness. Thanks for being a part of our celebration on this day.
Just when we thought we would be the only ones who would remember our anniversary, here you come to prove us wrong. Thank you so much for your sentiment and for keeping us in mind.
Thanks for your lovely anniversary gifts and touching wishes. Thanks for making our special day more special for us. You people are the most amazing family on the earth.
We were so happy to get the card you sent for our wedding anniversary. It made us feel loved to be remembered by you. We are celebrating our anniversary with thankful hearts for all our friends and family.
We are touched deeply when we read all your kind and thoughtful messages for us. Thanks for sharing the joy with us. Being a family, you have supported us in every event of life. Thanks for being so perfect.
Since the two of us have read your Happy Anniversary card, we aren't only encouraged to live out your warm wishes, but are grateful to have such a caring family. Thank you for your warm wishes.