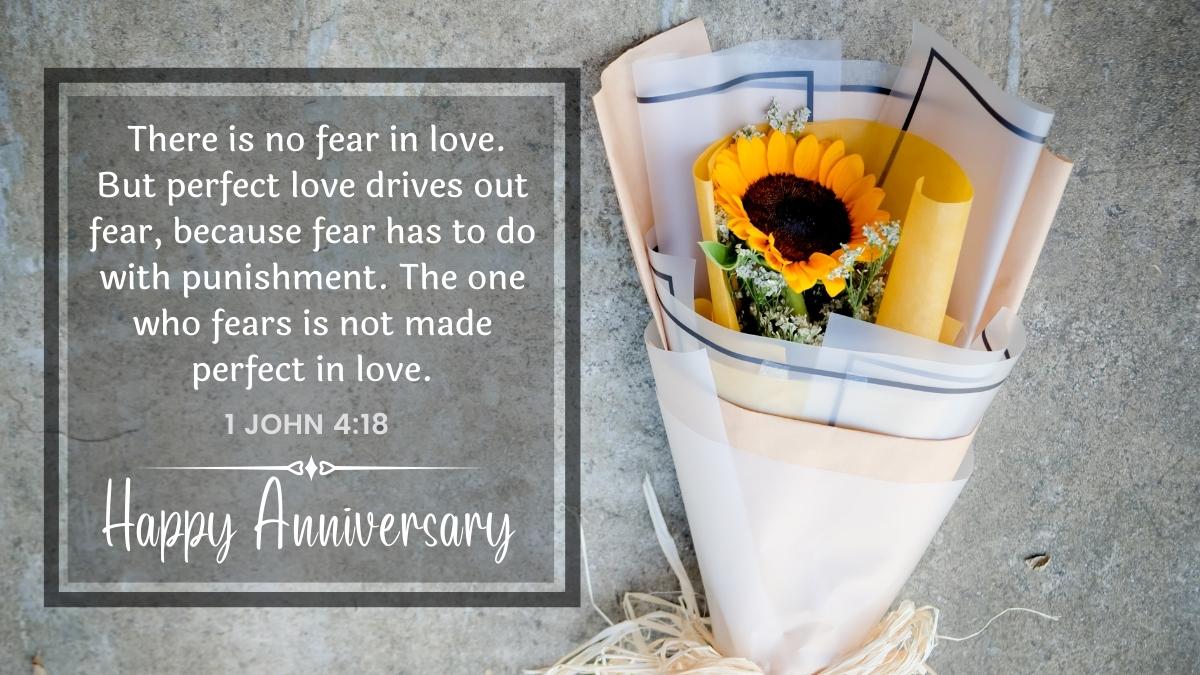 Bible Verses for Anniversary: The Bible is one of the few books that encloses solutions to all the possible problems we experience on day to day basis. If you are an ardent follower of Christianity and planning to celebrate your wedding anniversary, the bible is a goldmine for you as it encloses umpteen bible verses for anniversary. These wedding anniversary bible verses not only augment the quality of your relationship but also brimming with romance and love.
In this post, we have compiled the most meaningful and lovely wedding anniversary bible verses that you can share with your better-half when the occasion is exemplary. All the bible verses for the anniversary convey the message of love, loyalty, trust, and patience one needs to have to have a successful married life. Don't forget to share these bible verses with your loved ones.
Bible Verses for Wedding Anniversary With Images
Ephesians 4:2-3 – Be completely humble and gentle "Be completely humble and gentle; be patient, bearing with one another in love. Make every effort to keep the unity of the spirit through the bond of peace."
Proverbs 5:18-19 – May your fountain be blessed, and may you rejoice in the wife of your youth. A loving doe, a graceful deer— may her breasts satisfy you always, may you ever be intoxicated with her love.
1 Corinthians 13:4-5 – "Love is patient, love is kind. It does not envy, it does not boast, it is not proud. It does not dishonor others, it is not self-seeking, it is not easily angered, it keeps no record of wrongs."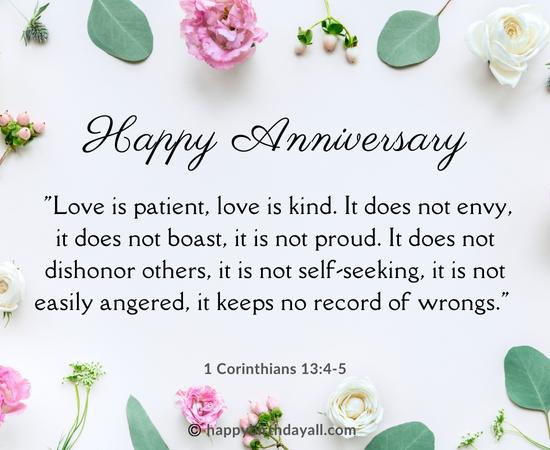 1 John 4:18 – There is no fear in love. But perfect love drives out fear, because fear has to do with punishment. The one who fears is not made perfect in love.
Also see: Best Happy 1st Anniversary Wishes
1 Corinthians 16:14 – "Do everything in love."
Colossians 3:14 – "And over all these virtues put on love, which binds them all together in perfect unity."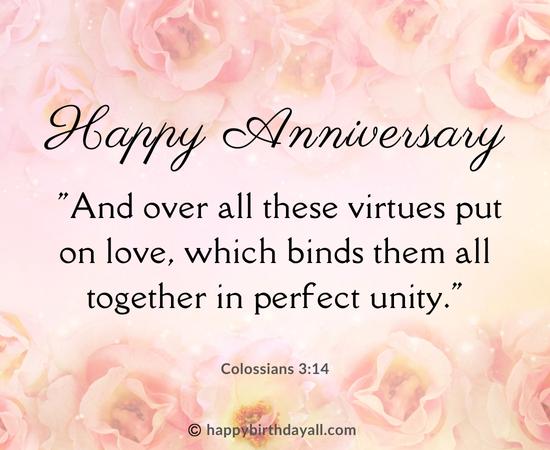 Song of Songs 8:7 – Many waters cannot quench love; rivers cannot sweep it away. If one were to give all the wealth of one's house for love, it would be utterly scorned.
Also see: Best Thank You Messages for Anniversary Wishes
Romans 5:5 – "And hope does not put us to shame, because God's love has been poured into our hearts through the Holy Spirit who has been given to us."
Proverbs 18:22 – He who finds a wife finds what is good and receives favour from the LORD.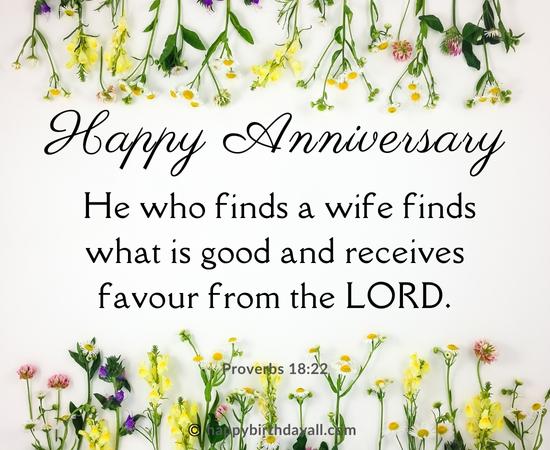 Ecclesiastes 4:9-10 – "Two are better than one, because they have a good return for their labor: If either of them falls down, one can help the other up."
Also see: 10th Anniversary Wishes
John 15:12-13 – My command is this: Love each other as I have loved you. Greater love has no one than this: to lay down one's life for one's friends.
Galatians 5:22 – "But the fruit of the Spirit is love, joy, peace, patience, kindness, goodness, faithfulness,"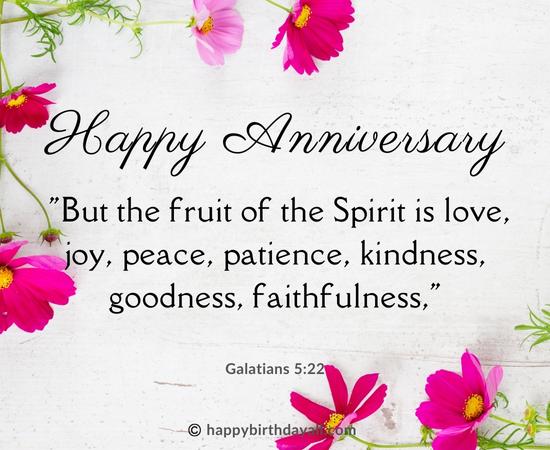 1 Corinthians 7:5 – "Do not deprive each other except perhaps by mutual consent and for a time, so that you may devote yourselves to prayer."
Also see: Engagement Anniversary Wishes
Genesis 45:8 – "So it was not you who sent me here, but God."
1 John 4:12 – "No one has ever seen God; but if we love one another, God lives in us and his love is made complete in us."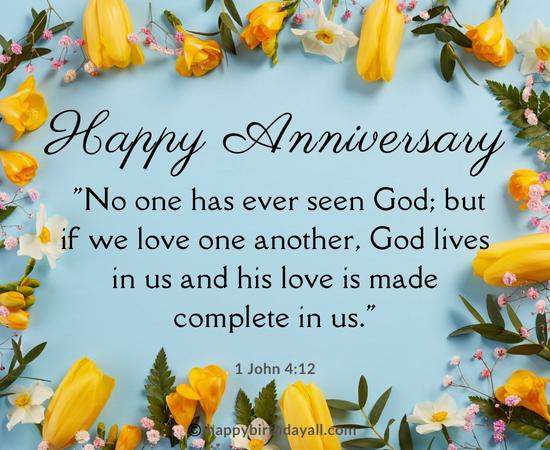 Proverbs 30:18-19 – "There are three things that amaze me—no, four things that I don't understand: how an eagle glides through the sky, how a snake slithers on a rock, how a ship navigates the ocean, how a man loves a woman."
Proverbs 3:3 – "Let love and faithfulness never leave you; bind them around your neck, write them on the tablet of your heart."
Romans 12:10 – "Be devoted to one another in love. Honor one another above yourselves."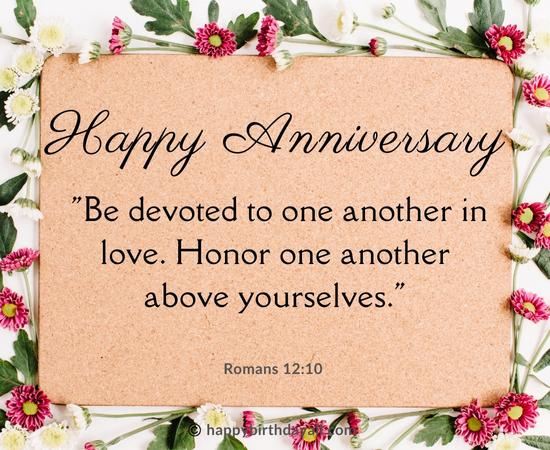 Ecclesiastes 4:12 – "A cord of three strands is not quickly broken."
1 Peter 3:7 – "Husbands, in the same way, be considerate as you live with your wives, and treat them with respect as the weaker partner and as heirs with you of the gracious gift of life, so that nothing will hinder your prayers."
Ruth 1:16 – "Where you go I will go, and where you stay I will stay."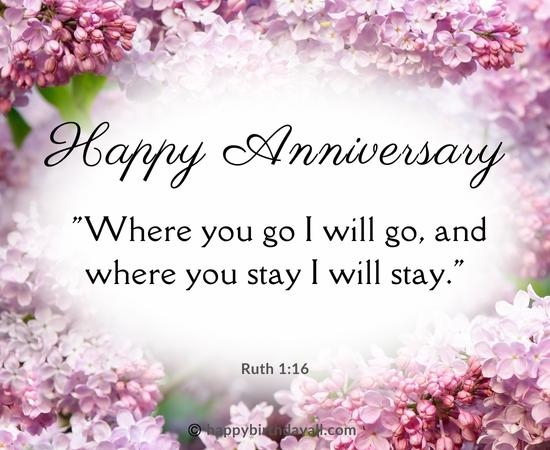 Song of Solomon 3:4 – "I have found the one whom my soul loves."
1 Corinthians 13:13 – "And now these three remain: faith, hope and love. But the greatest of these is love."
1 Peter 4:8 – "Above all, love each other deeply, because love covers over a multitude of sins."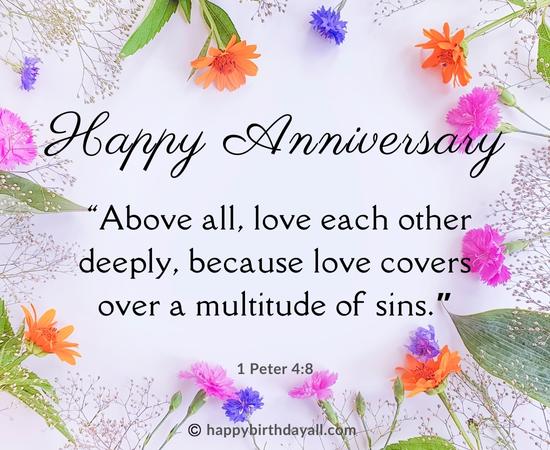 Philippians 1:9 – "And this is my prayer: that your love may abound more and more in knowledge and depth of insight."
1 Thessalonians 3:12 – "May the Lord make your love increase and overflow for each other and for everyone else, just as ours does for you."
Psalm 37:4 – "Take delight in the Lord, and he will give you the desires of your heart."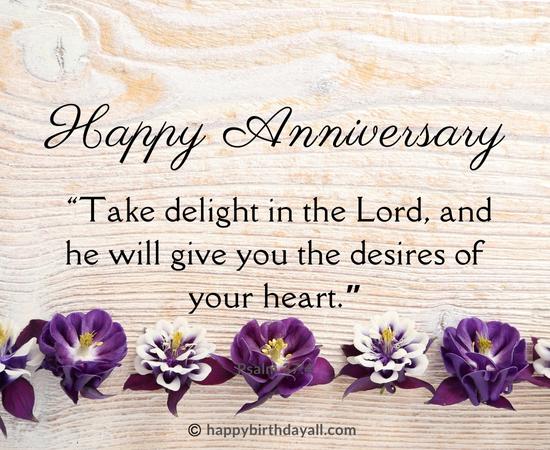 1 John 4:7-12 –
Dear friends, let us love one another, for love comes from God. Everyone who loves has been born of God and knows God. Whoever does not love does not know God, because God is love.
This is how God showed his love among us: He sent his one and only Son into the world that we might live through him.
This is love: not that we loved God, but that he loved us and sent his Son as an atoning sacrifice for our sins. Dear friends, since God so loved us, we also ought to love one another.
1 Corinthians 7:3 – "The husband should fulfill his marital duty to his wife, and likewise the wife to her husband."
Mark 10:9 –"What therefore God has joined together, let not man"
Proverbs 17:17 –"A friend loves at all times, and a brother is born for adversity."
Philippians 1:3 – "I thank my God every time I remember you."