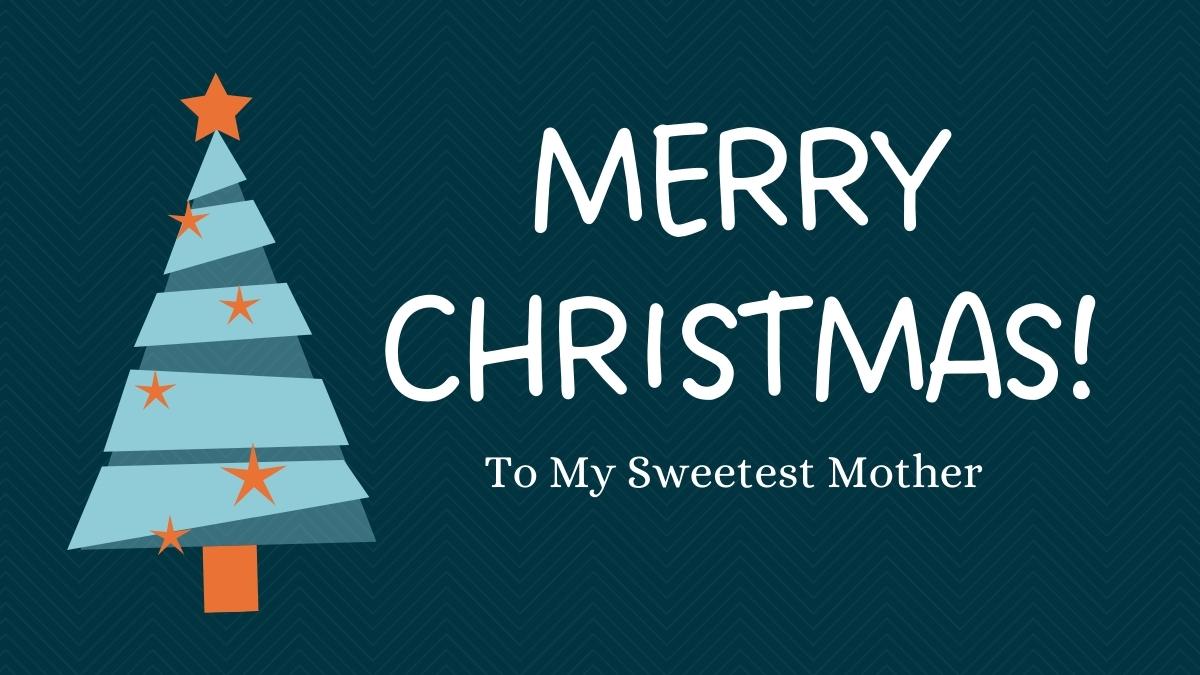 Christmas Messages for Mother: Christmas is an exemplary occasion to open your heart and let your loved ones know how much their lively presence in your life means to you. Mother, a word that comprises the entire universe. A mother is a person who only knows how to make sacrifices for the happiness and success of her family. She expects nothing but is the master of the art of giving everything. Your mother may not expects anything from you but deep down she wishes that her kids make her feel beloved and special on crucial occasions like Christmas. This post revolves around the most alluring and heart-wrenching Christmas wishes for mother and Christmas messages for mother-in-law that will add an oomph factor to your mother's Christmas celebration and Christmas won't be the same for her anymore.
Merry Christmas Wishes for Mother
My amazing mom, if there is one real life Santa I know, its definitely you. You genuinely enhance the beauty of my ordinary existence. I love to wish you a very happy and thrilling Christmas, mom!
As you are the finest soul I know, therefore, if I had to choose just one person to spend the whole Christmas season with, it would unquestionably be you. You have my best and the heartiest Christmas wishes, mama.
Dear mom, Your unwavering love, support, and your lovely gifts have made each and every Christmas of life merrier for me. I don't know how to express my thankfulness to you. Merry Christmas to you, mother.
If you have a mother who makes even the most difficult thing feasible for you, you really don't need a Santa Claus. Happy Holidays and Merry Christmas to my goddess like mother!
Dear mother, thank you to the moon and back for being there for me at all times and for adding oodles of joy and funk to my Christmas memories. May you never forget how much I appreciate you, Merry Christmas, Mom!
You're so much humble and amiable in nature that we all feel more tan lucky enough to be in your company all the times, especially on big occasion like Christmas. Happy Holidays and merry Christmas to my stunning Mom.
You're such a natural giver, mama. For you, your family has always come first no matter what happens. I want you to know how much your love means to me every single moment. Happy Christmas to my wonder woman like mother!
I am beyond lucky to have a mother like you who tries so hard to make the holidays special for all the members of the family. I appreciate everything you've done for me and I will surely make you proud one day. Merry Christmas, Mom!
Wishing frisky and thumping Merry Christmas to my forever glowing mother. I may no longer believe in Santa, but I still have firm faith in you, Mom! Every Christmas is exceptional with your mesmerizing presence.
When Christmas arrives, you always make sure to give perfect touch to our celebration and make everyone around you feel cosy, my mum! I am blessed to wishing you a happy and cheerful Christmas.
Happy Holidays and merry Christmas to the most sturdy and emotional mother. You represent the true spirit of Christmas and I appreciate how much you love me and how willingly you give everything to make me happy.
Hey mother, no one adds cheer and brightness to the season! I hope your holiday is more enjoyable than a sleigh ride and better than a figgy pudding!
Dear mother, You have an unending capacity to shower love and no one care about others ore than you. May the Christmas time brings serenity to your life and pleasure flood your heart the entire year.
Merry Christmas to you, my never tiring mum. I express my deepest gratitude to you and thank lord for making you my mother. No one always being there for me except you. I wish you life long lasting success and joy.
Because you are the most significant person in my life and my endearing mother as well, I pray for your good health, happiness, smiles, and long-lasting laughter. Merry Christmas to you, mother.
Dear most adorable mother, on this utterly joyous occasion of Christmas, I wish you a serene and elated Christmas holiday season. Let the Lord Jesus fill you with all the joy and love you could ever want.
Behind every successful Christmas festival celebration in our family, there is my sweet mother. I thank you mother for making our Christmas so scintillating and exciting. Merry Christmas to my loveliest mother!
You are the heart and soul of every Christmas celebration. Without you, even the most decorated Christmas tree will seem dull and dim. Thank you mother taking our Christmas celebration a notch higher every year. Merry Christmas to you, my sweet mommy!
The sweets you made on Christmas are beyond delicious and unique. The decoration you do on Christmas makes our house looks beautiful manifold times. Basically, you are the soul of our happening Christmas celebration. Thank you & Merry Christmas mother!
I never felt the need to celebrate the Christmas festival somewhere else because the kind of splendid arrangements you create on house to celebrate Christmas are unmatched. Thank you mother and happy Christmas!
You are my world mother. May you never see a single drop of tear in your life! Merriest Christmas to you my beautiful mother!
Your love is unconditional mom. I love you and miss you always. May you enjoy this Christmas with fervor and ecstasy! Merry Christmas mother!
Without you, everything I have, nothing is, mom. You are worth more than anything to me. I wish you Merriest Christmas!
Christmas festival is all about celebrating and eating together, giving to the needy ones, and praying for the success and well-being of each other. You are the only one who gives and pray for everyone, mother. I wish you a happy Christmas!
Mom, you are the one who stops me from doing quarrelsome things on Christmas yet you end up doing quirky things more than us. Thank you for all the sweet and savory memories. Merry Christmas, mother!
Who needs a long wish list on Christmas when I have a mother like you who already fulfills everything even before I speak. You are the real-life Santa Claus for me, my mother. I wish you a joyous and peaceful Christmas celebration!
Merry Christmas Wishes for Mother in Law
Happy Holidays and merry Christmas to the most caring and sensitive mother-in-law! I hope you enjoy wonderful company of dear ones, jaw-dropping Christmas surprises, the precious gifts you've been looking forward to, and plenty of love and happiness from me!
Merry Christmas to my drop-dead stunning and beautiful mother-in-law. I always look forward to seeing you, especially around the Christmas holidays because you know how to ace the celebration. I wish you a Merry Christmas and a Happy New Year!
To the Sweetest and the most supportive Mother-in-Law,  wishing you a Christmas full of prosperity, good luck, and the love and respect you deserve! God bless you with impeccable health and meaningful relationships.
Happy Holidays and merry Christmas to the most amazing and stupendous mother-in-law! Ever since I joined your family, Christmas celebration has become even more grand and magical. Enjoy Christmas to the fullest!
Dear mother-in-law, you hold a special place in my heart and I value your priceless advice. I want to express my appreciation to you for your selfless and tremendous support on at different phases of my life. Merry Christmas, mother-in-law!
Dearest mother-in-law, on this Christmas, I am sending you the most special heartfelt wishes, wrapped in my pure love and care. May you never be affected by sadness and nothing stops you from achieving your goals. Merry Christmas to my inspiring mother-in-law.
Christmas is a time for sharing blessings, gifts,  joy and love and I want to give all of them to you. You made my life so pleasant and religious with your refined thoughts. Merry Christmas to my loving mother-in-law!
Hey mother-in-law, I genuinely and truly appreciate all of your support, affection and kindness. I pray your life is filled with all the swanky things in the world and love of your dear ones on this Christmas day. Enjoy a happy Christmas, Mom-in-law!
I want to express my immense gratitude and thankfulness for all the love and support you have given to me over the years. I want the Lord to grant you health, wealth, and good fortune this Christmas. Merry Christmas to the most awesome mother-in-law!
You have always been no less than my own mom in terms of stature mother-in-law because of all the support and affection you have shown me. I'd want to wish you a Merry Christmas on such an auspicious occasion. May your life shine like a diamond and you achieve a majestic status!
Having a mother-in-law like you on my side is the biggest blessing of my life. You never let me felt the absence of my real mother by showering love, affection, and valuable guidance. Thank you, mother-in-law, and merry Christmas!
May the all-powerful Jesus eliminates all the pain and troubles from your life and fill it with all the success, love, and peace you deserve. I wish you a happy Christmas, my beautiful mother-in-law!
To the loveliest and dearest mother-in-law, please accept my heartfelt Christmas wishes marinated in utmost respect, love, and concern for you. May you have the most pleasant Christmas celebration ever. Merry Christmas!
I respect you a lot due to what you have achieved in your life. You have sheer strength mother in law. Wishing you Merry Christmas and healthy life!
You are much beautiful than your daughter! May you forever be at heart! I pray for your health and wishing Merry Christmas. May the night of Christmas change everything for you for better!
May your life without spikes and webs! May it shine and spread light in our life and others too! Merry Christmas mother in law!
May the sweeter than sugar festival of Christmas fill your life with the sweetest possible things in existence. Merry Christmas to my beautiful mother-in-law!
I clearly remember the moment you entered my life by giving the hands of your daughter in mine and changed it forever. You are the sweetest mother-in-law ever! Merry Christmas, mother-in-law.