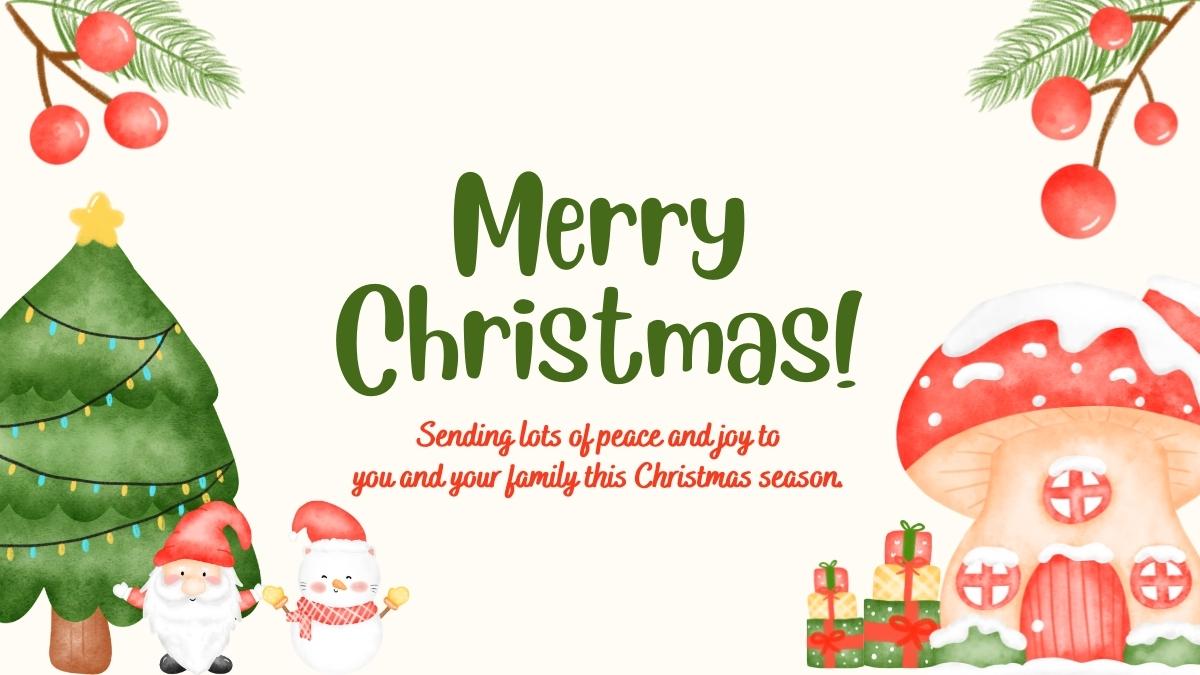 Christmas Wishes for Aunt: An aunt is like a second mother to nephews and nieces. An aunt love and take care of little ones and ensure to give them the immense love, care, and fun they deserve in life. Christmas is surely an exciting time for nephews and nieces to flabbergast their aunts with oodles of love, greetings, and definitely surprises that touch hearts in one strike. One of the best ways to melt your aunt's heart on Christmas is by sending her merry Christmas messages for aunt that enclose greetings, blessings, and concern for your lovely aunt. You can pick up the best Christmas quotes for aunt from our compilation stated below.
Merry Christmas Messages for Aunt
May this glorious Christmas season be filled with lovely hopes, blessings, love and delightful surprises from Santa uncle! Auntie, merry Christmas and god bless you forever!
On our family tree of togetherness, you stand out as as the brightest  and the most followed star. Everyone is in awe of your endearing personality and look for you, especially around Christmas. Merry Christmas to my gorgeous aunt!
Dear aunt, a special and extraordinary person like You glitter and swoon everyone you come into contact with. You have beautify my life like no one else! Merry Christmas aunt and celebrate Christmas like there is no tomorrow!
You've always been an exceptional aunt, a true mentor, and the most staunch lover of life! With every Christmas holiday I celebrate with you, I've learned to value it even more! Merry Christmas aunt and Happy Holidays!
By leaps and bounds, you are the greatest and the craziest auntie world has ever witnessed, hands down! May you have a scintillating Merry Christmas and  Happy New Year, aunt!
Merry Christmas to my forever stunning and wonderful aunt! I hope you have an unforgettable Christmas holiday season with your family. I also hope that the tranquilly, blessings, and gifts of this particular Christmas will stay with you throughout your life.
Merry Christmas and Happy holidays to my quirky by enrapturing aunt. I hope you enjoy every bit of Christmas festival and have a rocking with the whole family.
On this soulful and utterly joyous occasion of Christmas, may all of your desires come true and you get full reward of your hard work. Happy holidays  and merry Christmas to my best aunt.
Dear Aunt, I religiously pray God to give you impeccable health, wealth and happiness. More than a niece, you treat me like your own daughter. I love you aunt and merry Christmas!
My dear gorgeous aunt, you never fail to inspire me and never ceases to amaze me with your hidden talents. May you always be joyful, successful and continue to encourage everyone around. Merry Christmas auntie!
I can't do anything but think about your lively presence a lot throughout this Christmas holiday season, Auntie. You're exactly as cheerful and delicious as a sugar cane! Merry Christmas to the loveliest aunt ever!
May you always be that charming, kind, affectionate, and full of life, my darling aunt. You are the most  amazing  and inspiring woman in my life. Merry Christmas aunt!
May God provide you ridiculous amount of strength to overcome all challenges and adversities in your life, and shower all the blessings and love you deserve, my beloved aunt. Merry Christmas!
This Christmas, may your wishes become reality and your aspirations become inspiration for others, aunt. Merry Christmas to you and your family.
Dear Aunt, You have struggled outrageously in life. I pray may you live a  life filled of sunshine, opulence, meaningful relationships, and goals. Enjoy and have a jovial Christmas  season.
Christmas and New Year's are unquestionably the most awaited, exciting, feasty times of the year. I hope you have a wonderful Christmas with your loved ones. Don't forget to send my Christmas gifts, aunt!
You have never let felt me the absence of my mother and treated me more than your own kids. Thank you so much for all the heart gifts and unconditional affection. I wish happy Christmas to my gorgeous aunt!
To my dearest aunt & her lovely family, I am more than happy to send warm and adorable merry Christmas greetings to you and other family members. May our special bond remains intact forever and happiness stay forever in your house!
May the enchanting and divine festival of Christmas spill all its holiness, vivaciousness, and bliss on you. Happy Christmas to my stunning aunt!
I know you don't long for anything in life. But this Christmas festival, I pray Jesus to shower so much happiness, serenity, and opulence in your life that you never have to face the lack of anything your whole life. Happy Christmas, my lovely aunt!
Hey aunt, your charismatic and amiable personality is sufficient enough to make our simple Christmas festival extraordinary. I am sending you a truck full of hugs and kisses. Merry Christmas!
On the super-happening festival of Christmas, I wish my forever darling aunt a lifetime of happiness and blessings. May Jesus bless you with an impeccable health and gargantuan wealth!
My dear aunt, you are like my mother and you have always taken care of me like a son. May you live longer my aunt! Happy Merry Christmas!
Your love for me has never changed. Time has changed but you for me have never changed. You are pious at heart aunt. Happy Merry Christmas!
As the birth of Jesus brought new hope to the world, may in your life hope never vanish! Wishing you happy Christmas aunt!
You are my mother's sister. But you are best friend to me. You have always motivated me to go ahead. I wish aunt may in your life joy always remain. Merry Christmas aunt!
I wish aunt you live the life you want and you fly beyond these clouds and sail beyond these oceans. Wishing you happy Christmas!
I know how much you love and you know too how much more I love you. I wish the love between us never get fade away. You are my whole family. Happiest Christmas to you!
When Jesus came to this earth, everything became green, flowers rose, sun shined a lot and there was a wave of creation. I wish such wave of creation always be in your life. Happy Christmas aunty!
The real wealth is health and peace of mind. I wish you both have always and forever. Wishing you starry night of Happy Christmas aunt!
You are the kindest and humblest person I have never seen in my life who is really egoless and always think about others' benefit. I wish may your bucket of love never end and you always be fulfilled with everything. Happy Christmas!