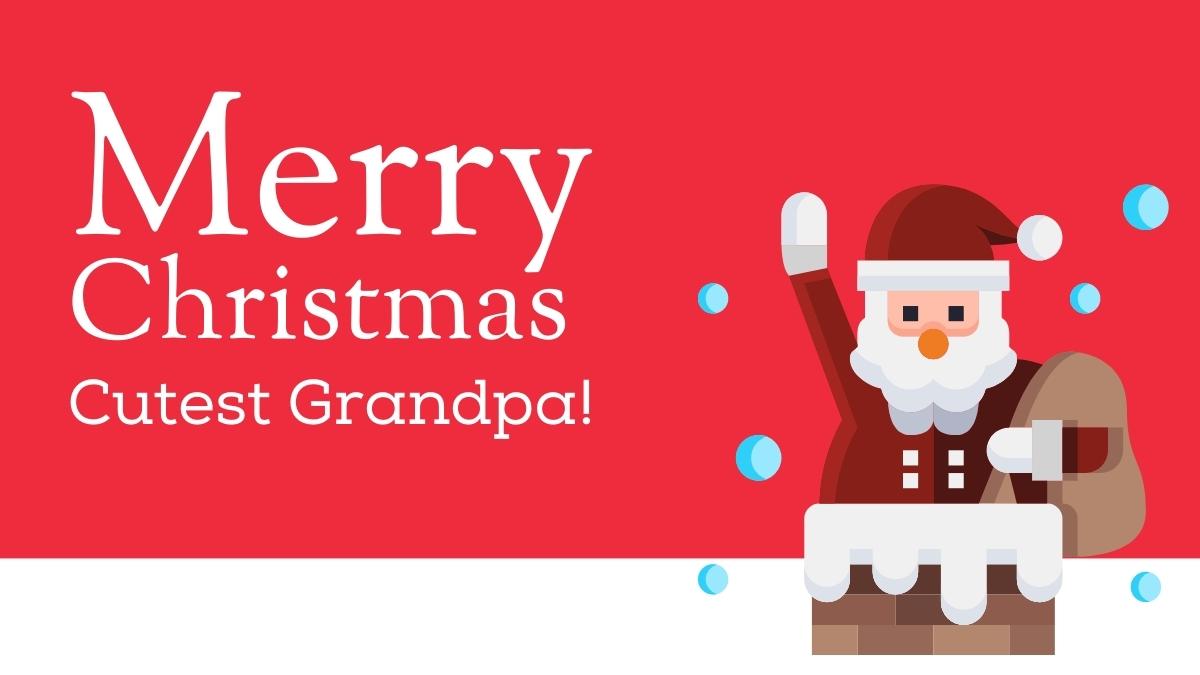 Christmas Messages for Grandpa: Do you want to fill your grandfather's heart with utmost delight and excitement on Christmas? Do you want to make your grandpa's Christmas celebration the best of all time? If yes, we have jotted down the most sumptuous and heart moving Christmas wishes for grandfather that will take him to a coveted roller coaster ride of past Christmas memories and make this one a stellar affair. Your grandfather will bless you countless times for doing something special for him on Christmas.
Merry Christmas Wishes for Grandfather
Happy Holidays and merry Christmas to the most dapper Grandpa! I am delighted to send umpteen heartfelt regards and blessings for a joyous and thrilling Christmas season! I hope you stay healthy, happy, and fine.
Merry Christmas to the most cheerful and  fantastic grandpa! I can't wait and control my excitement anymore to relish the entire Christmas holidays with you only! May lord bless you and always keeps you in good physical condition!
To the most caring and loving grandpa, merry Christmas with oodles of love, hugs, and kisses! Without you, our family wouldn't be the same and wouldn't be celebrating Christmas with that spirit. I'm thankful for you now and forever!
To the most endearing Grandfather in the world, merry Christmas. You shower so much light, cheer, and wisdom into all of our lives that all Christmas lights in the world are nothing compared to you glittering personality!
Happy Holidays and merry Christmas to my notorious Great Grandpa! I am more than thankful to lord for giving me another chance to celebrate  spectacular Christmas holiday season with you! Let's rock the Christmas party together!
Dear grandpa, everything you taught us when we were little is now seeming meaningful and becoming increasingly significant in my life. Your blessings are all i need in my life! Merry Christmas grandpa!
Despite miles of geographical distance between us, I will always have you on my mind and in my heart, and feels like you are always near me. Grandpa, I frequently contemplate about your given teachings and I try to implement them in my life .I adore and respect you so much. Happy Holidays and merry Christmas!
My forever sweet grandpa, You are as amazing and intriguing  in my opinion as the biggest and the brightest star on the Christmas tree or in the sky. I respect you for who you are and what you have done for all of us. From Your Little grandson, Merry Christmas grandfather!
Dear Grandpa, we are more than fortunate enough to have someone as sagacious and spiritually awakened in our life as you are. You are the most precious gift from God. Thank you for everything and merry Christmas grandpa!
When someone has a magnanimous and pure hearted grandfather like you, grandkids are bound to receive the most exciting Christmas gifts! Merry Christmas to the backbone of our family.
I consider myself as the luckiest granddaughter to have a granddad like you on whom I  can depend for anything I require or desire! Merry Christmas to my handsome grandfather!
Merry Christmas to the most adventurous and the staunch sweet lover grandfather. This Christmas, we won't be together so I am going to miss you like hell. During this holy season, I wish you nothing less than  genuine happiness and a content heart.
We can't express our gratitude to you enough for how your insight, kindness, and direction have helped us get over from all the difficulties. Dear Grandpa, sending you honey draped merry Christmas and best wishes for the upcoming new year.
My adorable Grandpa, you are the only person who comes to mind when we hear the name "Santa Claus" because your jovial attitude resembles him. May you always be smiling and stay protected from illness. That's what I wish for you only. Merry Christmas grandfather!
You are always there for me when I need someone to look up to for inspiration during my darkest moments. I hope the holy vibes of Christmas shower on you with every good you deserve. Happy Christmas, grandfather!
Grandpa has the  word "grand" in it because of your towering stature. I appreciate you being a ray of hope for me and for everyone in need. Have an incredibly joyous Christmas celebration grandpa. I love you and miss you!
My Grandpa, merry Christmas to you with heaps of your favorite chocolate and movies DVDs. God grant you all the happiness life has to offer.
Hey grandpa, no matter how many luxurious presents you've given to us, the best gift of all is having you around during every festival, especially Christmas. We all love you madly and merry Christmas!
Hey Grandpa, Not a single day passes by that I don't reflect on how much your life changing advice, touching smile and jolly nature have given us the happiness we all need and crave. I wish you the same happiness this Christmas season. Merry Christmas and god bless you!
Do you know grandfather that I wish i could celebrate the Christmas holidays all year round when I have your support and companionship. I hope this Christmas holiday season is joyful and exciting for you. Merry Christmas!
My excitement shatters all the boundaries when Christmas approaches near and your preparation for it kick-starts. I am dying to celebrate Christmas with you. Merry Christmas to the most enthusiastic grandfather ever!
May the blissful festival of Christmas add more years to your life so that our Christmas celebration keeps getting crazier and bigger. Merry Christmas grandfather!
Happy Christmas to the most handsome and young member of this family. Sending you my outrageous love, blessings, and the gifts that would make you ecstatic. Enjoy winter and savor Christmas!
You make sure we get loaded with all the gifts, sweets, and festive vibes of Christmas. However, your electrifying presence is the biggest gift for us. I love you my handsome grandfather and merry Christmas!
The more we spend time with you, the more we realize that your timeless wisdom and expertise on all walks of life which you are imparting to us are the biggest Christmas gifts. Merry Christmas, my crazy grandpa!
I can bet even Santa Claus will fall short in front of your jolliness and liveliness when it comes to preparing and celebrating Christmas. You are the real fireworks on Christmas for us. Merry Christmas, grandfather!
Hey grandpa, I genuinely wish this Christmas adds more joy, wisdom, and peace you seek as well as deserve. Always keep your festival celebrating the spirit and carry a smile on your face. Merry Christmas grandfather!
You always save our Christmas celebration from going bleak. Your sky-rocketing spirit to celebrate Christmas pumps us with gigantic energy and we do everything to make it the biggest success. Merry Christmas, grandfather!
You are calm and serene grandfather. Never have jealousy, and want for anything. You are an example of sobriety. May you always be at peace! Wishing happy Christmas!
I miss you grandfather on this Christmas. You are away for work. Loving you with all my heart. May you keep your health steady and always be in perfect shape! Happy Christmas!
You are the man of discipline but you are the man of heart too. You are cold yet warm too. Love you grandfather. May you have shining stars in your life forever! Happy Christmas!
You are the iron rod grandfather. I have never seen in this age a man physically so strong. You inspire me. May you gain more strength! Blessings always surround you. Happy Christmas!
Never go away from us grandfather. Your business trips are frustration for us. We always miss you dearly. Wishing you happy Christmas with our flying kisses! Come soon. 
May you enjoy all your days feeling young! May old age never hamper you! Wishing happy Christmas my dearest awesome cutest grandfather! Love you.
Christmas would always be a little less than perfect and exciting if you weren't there to add your charm and grace. I am so grateful that you celebrate the biggest festival of the year with us. Merry Christmas, my young grandma!