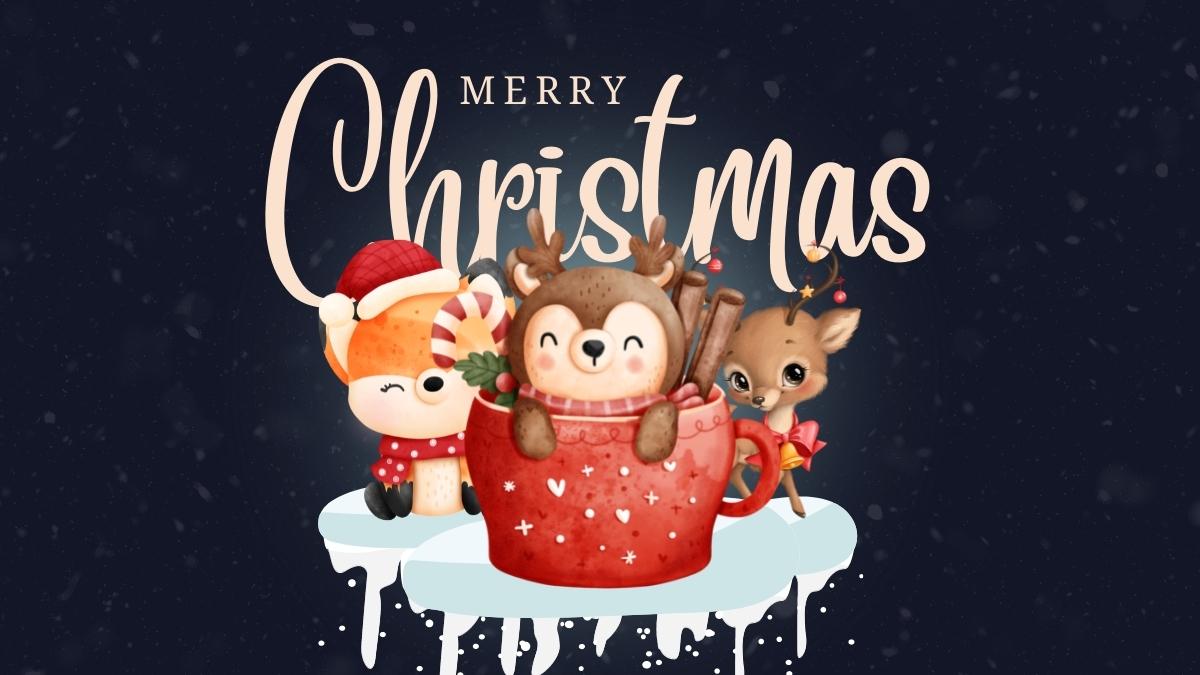 Christmas Messages for Son: This Christmas, make your son realize that you are the most wonderful and caring parents in the world by making Christmas a swoon-worthy and unforgettable affair for him. You can do a lot of exciting things for him like roping in the most swanky gifts, and sending him to exotic travel destinations, but the most touching of all is showering hand-written merry Christmas for son whether is away from you or with you. Check out our incredible and ingenious collection of Merry Christmas son quotes and wishes that will make the Christmas celebration sweeter and friskier for your son.
Merry Christmas Wishes for Son
Happy Holidays and merry Christmas to the most adorable son ever! I hope you'll always be in the festive mood and your life becomes a one big festival, no matter how old you get! God bless you forever!
Dear son, I genuinely wish you always find your way home for the Christmas holidays, no matter wherever your work or life may take you. Merry Christmas and have a blast!
My obedient Son, I hope you realize how much you mean to us more than any other swanky Christmas gift you will receive this year. You are my real investment and I am proud to have one. Merry Christmas to my little bundle of happiness!
When the fridge is too full with cuisines and chocolates, we can take chill the beer outside and sip to our heart's content because it's that chilling ad special time of year. Merry Christmas Son! May you always be happy and healthy!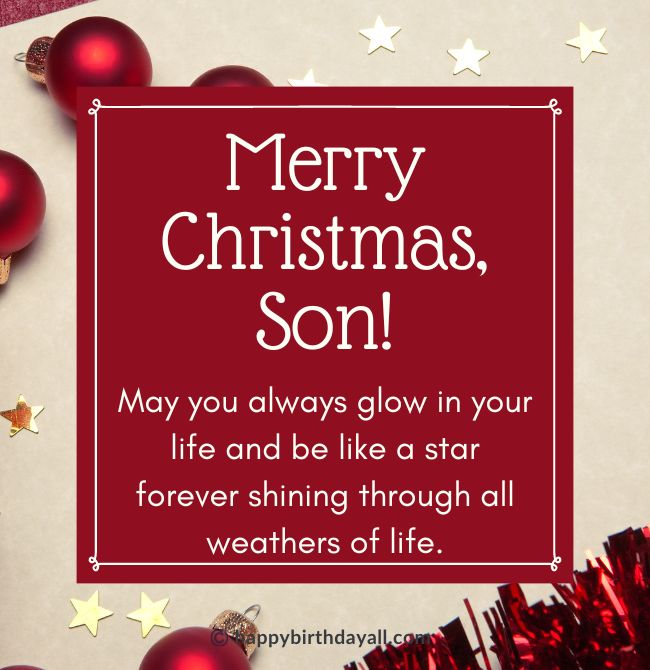 Happy Holidays and merry Christmas to one of the most amazing sons ever. Hey buddy, are you prepared for Rudolph tunes, artisan beer, and irritating winter sweaters? I am, for sure! I hope you have a wonderful holiday season filled with your favorite things!
I am more than titillated to send the heartiest Christmas to the piece of my heart, my son ! I hope this year brings you everything you jot down on your wish list, Son! May we spend a lot of time with you this Christmas!
Also see: Religious Christmas Wishes
Unquestionably, the Christmas holiday season is takes a lot of toll on us but your one smile recuperate that exhaustion in no time. Merry Christmas to the energy in my body, my Son! I just wanted to say that before I start acting like Santa Claus and make every one laugh, give me a tight hug.
Hey son, I can't wait anymore to see your charming and groovy Christmas attire this year because you always stand apart from the rest! Happy holidays and merry Christmas to the centre of attention of our every Christmas celebration!
Dear son, I think of you all the time, especially at this time of year because Christmas is always incomplete with you. Son, may my loving embraces and kisses find you wherever you are. Merry Christmas to the best son ever!
Hey son, do you know that were born for a couple of significant reasons especially to make our Christmas celebration memorable and magnificent. Have a wonderful holiday and marvelous Christmas celebration, son!
Also see: Funny Merry Christmas Memes
My endearing son, you are the best and priceless gift I have ever been given by god, and I wanted to use this Christmas season to let you know how much I love and care about you. God bless you my life and merry christmas son!
My son, You are now a grown gentleman buying Christmas presents for your own kids. I can't believe it that you have your own adorable family. That doesn't change the fact that you are still my little kid till I am alive. Merry Christmas to my dazzling son!
The best gift a parent could ever ask to god is a son they can be proud of. So, i thank almighty for providing me with one heck of a dashing son. I hope having a son like you makes you as happy as I do whenever Christmas arrives.
You will always be my little and notorious son, and I will always be your Santa Claus till last breath. No matter what you do, where you live, you will have my love affection forever and forever be residing in my heart. Merry Christmas son!
Also see: Beautiful Merry Christmas Gif
Merry Christmas to the one who completes our family. For many more years to come, we want to celebrate the holidays with you and make every one a scintillating affair!
My adorable son, I will never fail to express my gratitude to almighty for giving me you as a son. On Christmas, as long as I have air in my lungs, I will celebrate every moment of this festival with you. Merry Christmas to my cute son!
I'm incredibly grateful to have a son like you. Your positive outlook on life and swash-buckling behaviour make every day of my life and the Christmas holidays even more memorable. God bless you and merry Christmas son!
Happy Holidays and merry Christmas to the world's most desirable son. On this significant occasion of Christmas, I'm thinking of my super star kid and sending you my best wishes for an amazing Christmas holiday along with your favorite chocolates and kids.
Merry Christmas to my diligent and wonderful son. Throughout the magical Christmas season, may the little delights of the season fill your heart with happiness and sheer excitement! May you be Jesus ardent lover!
As we witness this unique occasion, I'm thinking of my extremely talented son and wishing him a memorable merry Christmas. Always remember that I adore you, always with you, and continue to send you my warmest wishes on every Christmas!
Your sweet hastiness, chirpiness, and utter excitement to celebrate the Christmas festival with zing make our Christmas celebration more special. May you be always this enthusiastic and admirable towards life. I wish a merry Christmas to the best son in the world.
There was a time when we used to buy Christmas presents for you. Now, you are buying the things for us on Christmas beyond our wildest dreams. God bless you son and merry Christmas!
As long as we are together for the Christmas celebration, I will make sure you never have to face the dearth of anything on Christmas, be it gifts, decorations, sweets, or my love. Merry Christmas to my lovely son!
Hey son, just prepare a wish list for Christmas because this time we are not going to leave any stone unturned to make our lovely son's Christmas celebration picture perfect. We love you son, merry Christmas!
May this Christmas festival brings immense peace and stability in your life and put you on the right track. May you carry forward the family's legacy in the most graceful way. Happy Christmas, son! May you have a pleasant life ahead!
May you always glow in your life and be like a star forever shining through all weathers of life. Wishing you Happiest Christmas son!
May you accomplish your all dreams with open eyes and hard work! May you never dishonest with yourself! Happy Christmas Son!
I wish even if you fail, you fail with happiness and a desire and determination to rise up again. Wishing you awesome Christmas my dearest son!
I love and I will love you through my whole life. You are my only child and I wish your life become an example for someone for inspiration. Happy Christmas son!
If you consider me your mother marry, you are surely my son Jesus. No matter how successful and fabled you become in life, you will always be my little quarrelsome kiddo. Merry Christmas to my lovely son!
Dear son, this life will show you a whole lot of facades. Instead of running from them, face them and embrace them with an open heart. I wish a happy Christmas to the most handsome son in the world!
This Christmas is not going to be happening because you will not be with us to celebrate it with zestfulness. Hey son, I wish you have a memorable Christmas celebration wherever you celebrate it. Merry Christmas to the most obedient son ever!
Hey son, Christmas is the best time to be completely free from malice in your heart, devilish ambitions from your mind, and cleanse your soul. May you never face the shortage of anything in life. Merry Christmas, son!