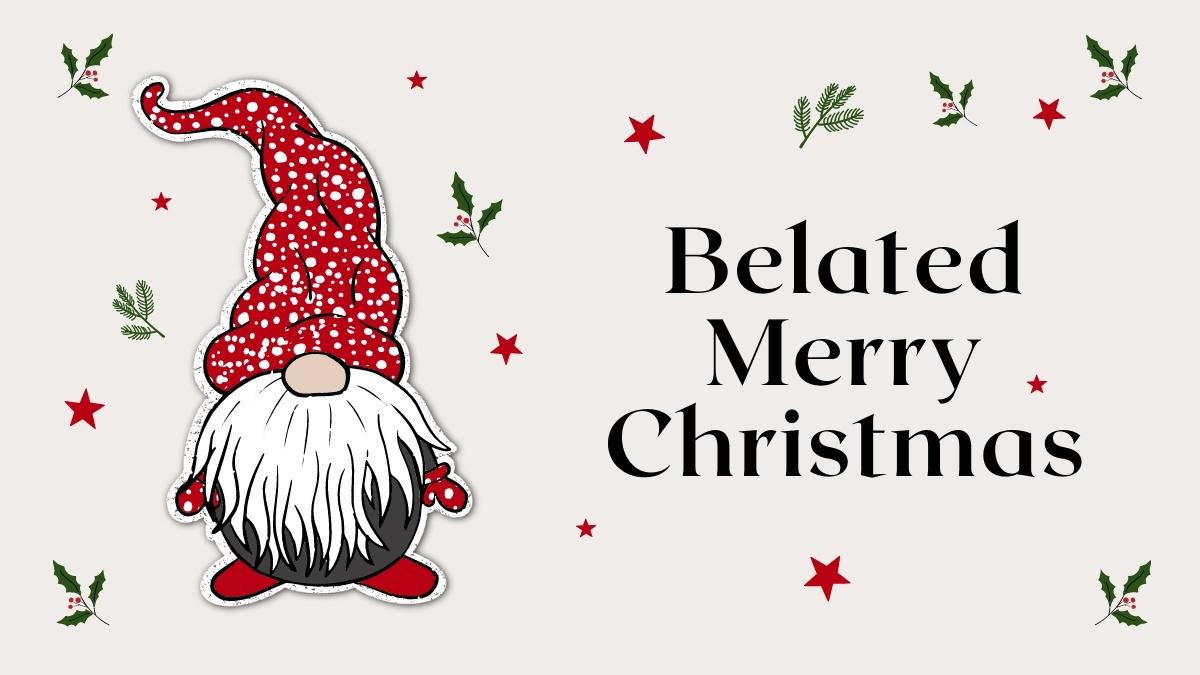 Belated Merry Christmas Wishes: We all have become busier than ever. We are so entangled in the work, trials, and tribulations of life that often we forget significant events like birthdays and anniversaries of our loved ones. Christmas is one such festival where we always make sure to send the most touching greetings to our friends, family members, and acquaintances. If you forget to send greetings accidentally, it leaves an unpleasant impression on your loved ones. To save you from this bothersome situation, we have rounded up the most soulful belated Merry Christmas wishes and messages that are not only exemplary as apologies but also way too perfect to wish your loved ones a happy christmas. Don't forget to download Belated Merry Christmas wishes with images.
Belated Merry Christmas Wishes
Please accept my apology for not sending you a timely greeting on Christmas. I was busy with important work. I hope that you had a great time with the holiday, and I send my belated Christmas wishes to you and your family with plenty of love.
Sorry for the delayed Christmas wishes, I will ask God to keep you healthy and in good spirits. God bless you and lots of love to you!
I was concerned that my wish about Christmas would be lost among all the other wishes. So my wishes came to you late and I am hoping that your Christmas day will be more than yesterday. Happy Belated Christmas dear.
You may be thinking I'm sending you late Christmas messages, but my thoughts remain with you. Merry Christmas to you and your family.
Belated Merry Christmas wishes to you and your loved ones, I hope that you had a wonderful Christmas and made some wonderful memories that you will cherish for the rest of your life.
The excitement of Christmas will never end It is a blessing to be a part of the Christmas season. May Santa bring you all the happiness and joy in your life. Happy belated Merry Christmas to my dear one!
I'm sorry I didn't get to be there for Christmas last year I do hope that you had a great time with your loved ones and family. I love you and sending awesome belated Christmas wishes to you.
A very Merry Christmas to the one who always stood by me no matter what. I am extremely sorry for sending Christmas wishes so late. I hope you had a blast at Christmas party!
A late Christmas present! My heart is wrapped in a special gift box specially designed for you. Belated merry Christmas wishes to my sweetheart!
You've given me the most amazing gift I have ever received on Christmas. It was to get to know one another and be in love forever with each other. Happy belated Christmas dear!
Merry Belated Christmas! Today I would like to express how much you mean to me, and that I am thankful that we were able to be together. May god shower oodles of blessings and prosperity in your life.
I wish that the coming days are full of laughter and warmth to be able to share with your family and friends! Belated Merry Christmas!
Belated Merry Christmas my friends! Let this year be a year that brings us closer one others and closer to God of the universe! God bless all of you!
I wish that our bond will last forever as you are an extremely unique friend in my heart. I wish you a very Merry Christmas and pray for your family!
Christmas season, of mingles and jingles. The essence of Christmas remain with you. Belated Happy Christmas Dear!
Let the joyous celebration of Christmas fill you with all the happiness and joy in the world. Happy Christmas and hope you will forgive me for wishing so late!
Let the love of God warm hearts and homes You will find plenty of reasons to be joyful! Happy Christmas dear and accept my heartfelt apologies for wishing Christmas so late!
If I was with you at Christmas I would be the perfect Christmas… however, I'll be here next year!
When I'm away from my family during Christmas, at the very least we can take photos of us.
I might not be able to spend this holiday with my family but there's nothing that could hinder me from sending love to my loved ones. Belated merry Christmas to all my family members!
Sending you all the happiness of the season, and best wishes for the New Year and Christmas! Don't be angry for my absence. I will definitely join you next year. Belated Merry Christmas everyone!
The Christmas season is upon us It's the season when we gather with our loved ones and create the memories of a lifetime. I am sorry for not being there. Belated Merry Christmas to all of you!
I would have loved to have been at home with my loved ones for Christmas Day but couldn't because of professional emergency; instead, here's a photo from the past of us that will remind I am always with you. Belated Merry Christmas!