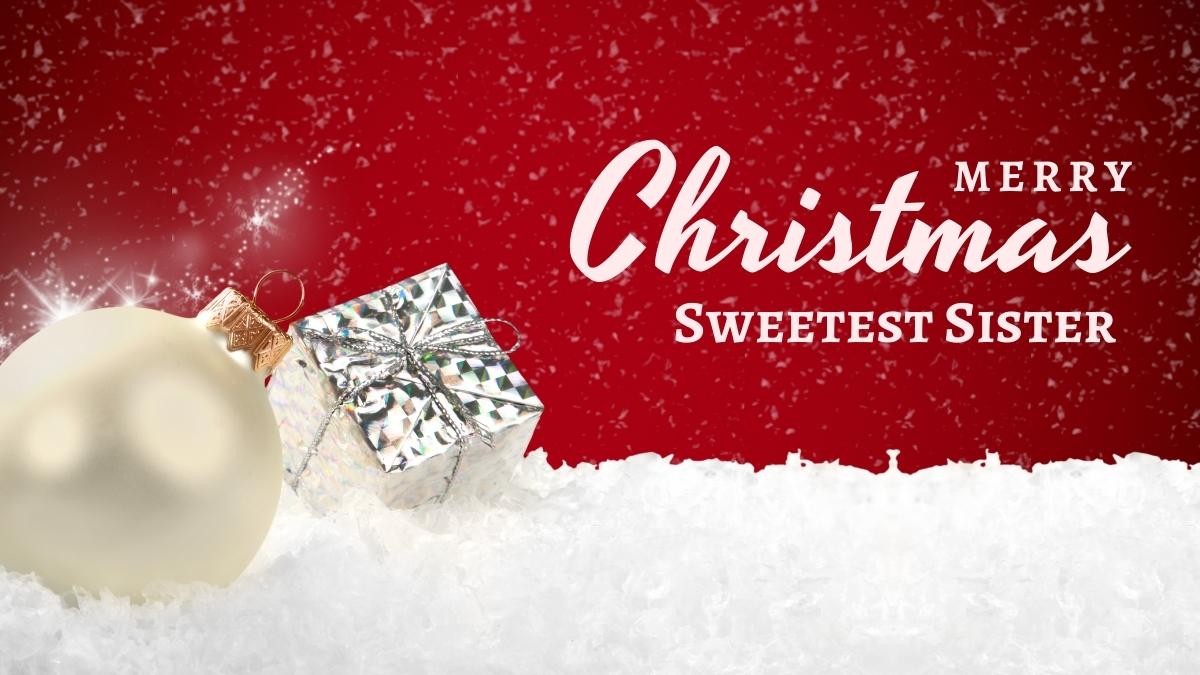 Merry Christmas Sister Wishes & Messages: The fun of any festival augments by leaps and bounds when you celebrate it with the person who matters the most. If you want to make your Christmas celebration out of the world, join hands with your siblings and see the magic of Christmas entering your life seamlessly. A sister is the second mother of younger siblings. She always remains an integral part of your childhood and every festival you celebrate with the family. She ensures you don't miss any aspect of the Christmas festival that can give you joy and a lifetime of memories. She also takes your excitement level to the next stage by roping in Christmas gifts, chocolates, new clothes, and delicacies. This Christmas, show your sister how deeply you love and care about her by sending the best Christmas wishes for sister and heart-touching Christmas messages for sister to give your sister appreciation, love, and respect she deserves.
Merry Christmas Wishes for Sister
Merry Christmas to the world's jolliest and the most supporting Sister. I hope the joy of the enthralling Christmas season lingers with you throughout the year and festive vibes always remain in your life.
To my lovely but crazy sister, I wish you a Merry Christmas and a Happy New Year with my precious love and your favorite gifts. I really enjoy spending the Christmas holidays only with you.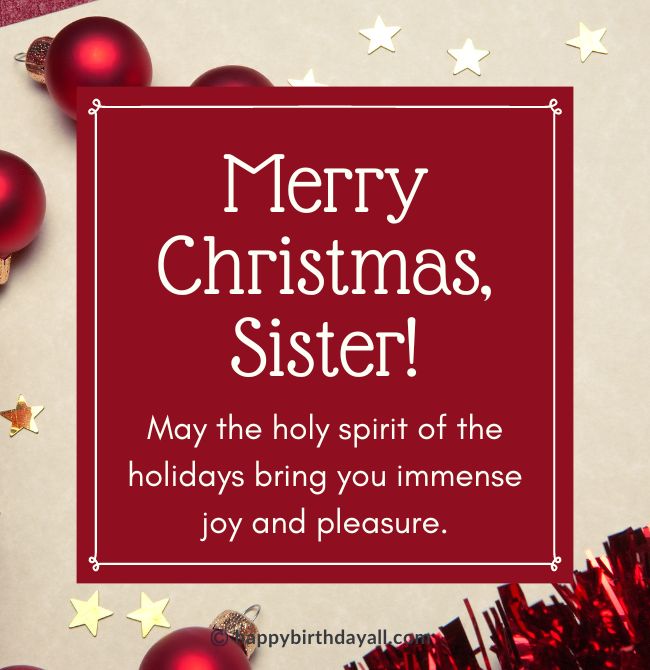 Merry Christmas to the world's most caring and understanding sister! All of the lovely Christmas holiday experiences we've enjoyed together still continue to bring joy to my heart. May you always be happy, fine, and safe wherever you are!
Dear sister, we may be separated by profound geographical distance distance, but my Christmas holidays are filled with magical memories of our lovely childhood together. Cheers to Christmases gone by and the upcoming ones! Merry Christmas sister!
Warmest and the heartiest Christmas greetings to my sweet sister. We've made dozens of seasonal decorations, ranging from cookie cutters to classroom colouring pages. However, none of them remain as long as the memories we created during Christmas holidays. Sister, Merry Christmas to you and god bless you!
Dear sister, you are the most genuine and trustworthy companion I know. You will always be in my heart and that's where it counts the most. and I will cherish you with all my strength. Wishing merry Christmas to my beautiful sister
My dear sister, I wish you all the good luck, love, success, and bliss during this Christmas holiday season. I wish your world always be full with laughter , good memories of our childhood, and sheer joy.
Hello, my lovely sister and cranky sister, You may never get it, but you have a special place reserve in my heart that no one can take. You make my life significant, meaningful, and alluring. Merry Christmas sister and may you have a thrilling celebration!
Sending Christmas greetings straight from my heart to you, sis. May the holy spirit of the holidays bring you immense joy and pleasure. And your relish Christmas festival to the fullest!
I'm writing this Christmas greeting to let you know that even though we're separated and carving our own paths, I still love you and miss you like hell especially on Christmas. You mean everything to me. Merry Christmas to the best sister ever!
Loveliest Christmas greetings to my sister and her awesome family! May the Christmas magical and tranquil vibes infuse your home with love, laughter, and memorable moments. God bless you all!
It's amusing and endearing as well that almost every single one of my best Christmas memories involves you. It's an honor to have a sister like you. Merry Christmas to my sister with oodles of love and hugs from his lovely brother!
Merry Christmas to my naughty, adorable, and damn smart Sister! You've always been so lovely to me and we've always give everyone some major Christmas celebration goals. May your Christmas be as wonderful as you have made mine!
Hey sister, let's allow this Christmas to usher new beginning for you and make it more grand and magnificent. Accept the marvelous things this Christmas delivers and spread the love in your heart for everyone! Happy Christmas to my gorgeous sister!
I hate to break it to you but you are indeed a street smart and beautiful girl. I can only praise you that much. Let's stop fighting and celebrate Christmas together in an exhilarating way. Merry Christmas, sister!
Dear Sister, you are way more mature and sensible than your age. You are that string that keeps the family bind under all circumstances. I just want to tell you that you are never alone and you are a lucky charm for us. Merry Christmas to the heart and soul of this family!
More than intolerable brother-sister, we are die-hard friends and the best partner in crimes one can have. I wish the Christmas festival drives all the cheer and happiness of the world in your life. Merry Christmas to the best sister in the world!
I still remember those days when we used to get Christmas vacations and how excitedly we prepare for the Christmas festival swiftly. Admit it or not, the real fun of the Christmas festival can be taken when you are a little child. Love you sis and merry Christmas!
May the season of holiness, snowflakes, and glittering celebration steer your life in the right direction shows all the types of happiness a person can experience in your life. May Jesus bless you with His grace and merry Christmas!
You are my cutest and dearest sister. May none and nothing harm you! Enjoy this Christmas and make your day unforgettable. Happy Christmas!
May you always remain healthy and sound! May you forever enjoy Christmas with family and friends! Wishing you happy Christmas and love dear sister!
You always have been a great support for me sister. I am always there for you if you ever need me. May stars always shine in your life! Wishing you happy Christmas cutest sister!
You are a very cheerful girl who always spread joy in everyone's life. May the sparkle of joy forever be there for you! Wishing you celebration of Christmas in your life dear sister!
Merry Christmas to the world's most irritating yet cutest sister in the world. I don't love to have you around but I can't live without you either. God bless you and enjoy crazily!
Also see: Religious Christmas Greetings
Christmas Messages for Sister
Happy Christmas to my sweeter than sugar sister. We may be too old to pull off gift bows and stuff them in our hair, but spending time with you around the holidays still makes me just as joyful as eating cookies together.
Merry Christmas to my drop dead gorgeous sister! Holly leaves may herald the arrival of the holiday season, but nothing says "Christmas" like sisters decorating a tree.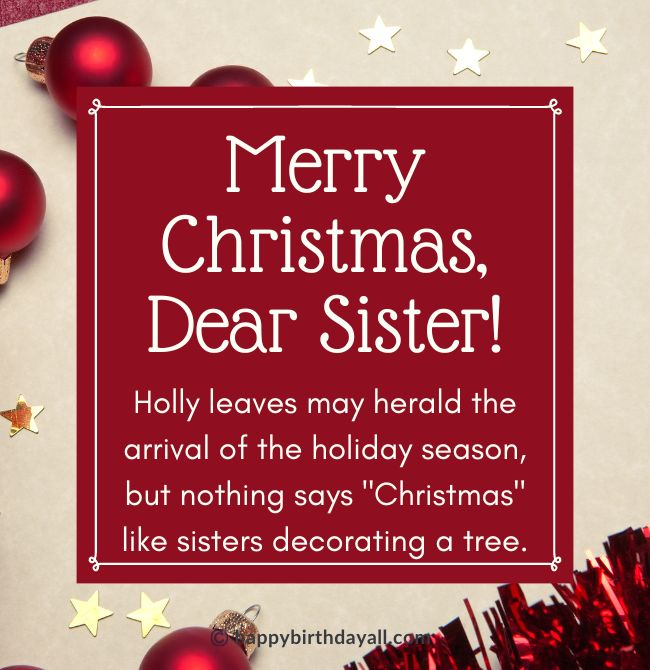 Merry Christmas to my amazing and supremely talented sister. May the magic and soulfulness of the season never leave you, and may you always be a happy soul!
To my dearest sister who never leaves my hands despite all odds, happy Christmas with all the love of the world. I wish you a happy holiday full of amusing and frisky moments.
My sweetheart Sister, Merry Christmas to you with the best wishes for your glittering future! There is no embellishment on the Christmas tree that shines as brightly as you do! I'm sending you plenty of love with your favorite chocolates and Christmas gifts.
Hey sister, on such a magnificent occasion, All I want to say is Merry Christmas with deep regards and respect for you! I hope your Christmas holiday season is filled with jaw-dropping surprises that make you happy and excited at the same time!
Merry Christmas to my incredible, supremely talented, and extraordinary Sister. When we were kids, our dirty socks were hung side by side to get gifts from Santa Claus. The amusing thing is we still have our socks hung up in the same way. Christmas cannot be perfect without you!
Dear sister, every Christmas holiday we are reminded of God's love for mankind, therefore embrace the love and give love and kindness as much as you can. Merry Christmas to you.
Having you as a sister and brother-in-law is like receiving one of the nicest Christmas gifts ever. You two are fantastic together and rock the environment wherever you go! Dear sister, accept my heartfelt Christmas greetings!
The sweetest and the most touching Christmas Greetings to my mushy and loving sister. I wish you all the best this year! I'm more than thrilled to know that that we'll be able to spend another Christmas holiday together. Let's weave some magic this Christmas!
My dear sister, I wish you a jovial Christmas and hope that this Christmas may your life be filled with warmth, love, joy, and the success you deserve. May Jesus bless you forever!
Let us raise a damn fine champagne this Christmas season for the long-lasting togetherness of our families and our friends. Give me your hands, sweet sister, it's time we dance the whole Christmas night till we drop together.
Dear sister, Tonight is your nigh as you are the reason we all get to celebrate Christmas on such a grand level every year! I adore you like a mother adore her kids, and I hope that all of your desires may come true this Christmas.
Hey sister, I'm hoping Santa stuffs our socks with cash instead of gifts and toys because we both are broke as hell. I know you want the same thing but won't nod. Jokes apart, Merry Christmas to you!
May your inspiring life glitter and rise with happiness and grandeur, and may you have everything you desire to live an astonishing life. Merry Christmas, my sweet sister!
I hate to give you compliments but your smile is way brighter than the entire Christmas decoration of our house. May you keep smiling and shining in life. Merry Christmas to my badass sister!
To my sister who is precious to me more than anything else, may the magical and riveting vibes of the Christmas festival stays with you forever. Merry Christmas to you with all the greetings of the world!
As you already have more than anyone else, I am sending you my blissful and warm wishes on the exhilarating festival of Christmas. You make the Christmas celebration interesting and remarkable!
Even if all the angels of heaven come down to earth, their collective beauty and brains will fall short in front of you. I am intrigued by the purity of your heart and the innocence of your nature. I wish you a Merry Christmas, my perfect sister!
I haven't much appreciated your sisterly love and all the help you have extended on a timely basis. But I will always be there to motivate, love, and inspire you whenever you need me. I wish a mirthful Christmas to the prettiest sister in the world!
Life is celebration, and May this Christmas bring you the same! You are good at heart and always be. May Jesus listen you forever! Happy Christmas dear sister!
Eat a lot of cake and cookies. Dance and party with friends and family. May you forever enjoy your life as you want! Wishing you happy Christmas my cutest sister!
Christmas is the preparation for New Year beginnings. That's why it comes first. May you prepare well for your future! May it hold you tight and true! Happy Christmas my lovely sister!
Cheerfulness and serenity always be in your life. May you always receive the blessings! Always walk the path of truth. May every day be the festivity in your life as Christmas! Happy Christmas dear sister!
I always love you and will be. Take care of yourself and go ahead in your life. Every Christmas be a full of joy and celebration in your life. Happy Christmas my beautiful sister!
To you, your husband and little children, I wish you happy Christmas with lots of love, wealth and health. May you and your family forever be safe and sound! Happy Christmas dearest sister!
Also see: Merry Christmas GIF 2023
Christmas Greetings for Sister
The best Christmas gift you could ever receive from the dear ones is one that never wears out or fades. The formidable love between us has always been the best Christmas gift for me. Merry Christmas sister and Cheers.
How do I love thee, my sister? I adore thee to the depths, breadth, and heights of my spirit. Merry Christmas sister and relish Christmas festivity to the fullest!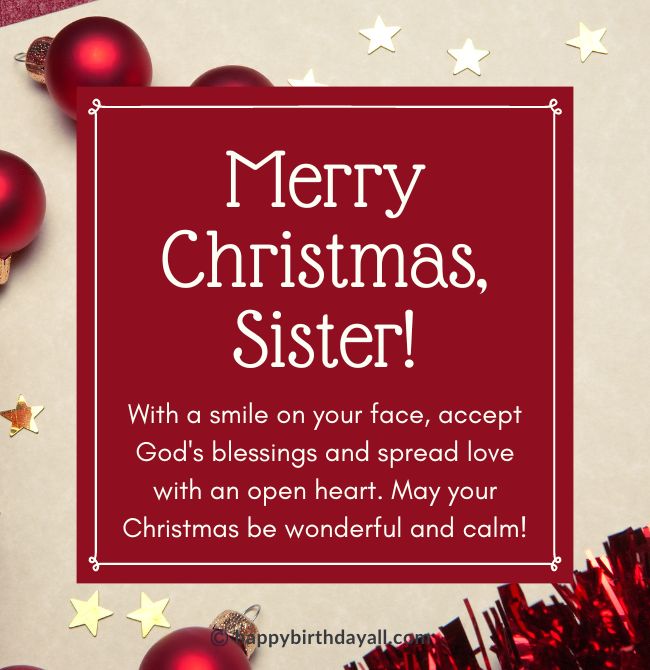 It's gift-giving, love-spreading, and feasting season, but I have nothing else to give except for my undivided affection. Dear sister, may you have a Christmas celebration so lit that you never get over from the festive vibes! Merry Christmas to my cute sister!
The snow is falling and the alluring lights are twinkling, these are the sign of Christmas arrival. On Christmas Eve, the Star of Bethlehem shines over your house. It's time to deliver the loveliest Christmas greetings to my sister. I love you!
Dear sister, my love for you is like the traffic signal lights; it continues to shower on you even when one is watching. I love you my mother like sister and merry Christmas!
Blissful and soulful Christmas greetings to my perfect Sister and Brother-in-Law! You two are such a perfect combination even I want to marry after seeing your chemistry. You deserve to have the best Christmas celebration ever!
There wouldn't be much left for me to celebrate over the Christmas holidays if I didn't have a sister like you who gives her love, pampering, and joy-filled Christmas presents throughout the year to me. Merry Christmas to the best
You're more than just a sibling. You are my pal. I wish you a great holiday season and can't wait to embrace you again! Merry Christmas greetings to the most awesome sister!
With a smile on your face, accept God's blessings and spread love with an open heart. May your Christmas be wonderful and calm!
My dear sister, On this great and auspicious day of Christmas, I wish you all the pleasure and opulence in the world. Please accept my hearty Christmas greetings!
Merry Christmas to the world's coolest Sister and Brother-in-law! You and your awesome husband deserve a wonderful Christmas celebration packed with exotic travel destinations and special festive delicacies.
My love for you is like the lovely delight of Christmas; it becomes stronger with each passing year. Have a wonderful Christmas holiday season, my adorable sister!
My lovely sister, Today, I'm going to hug you with the kindest words possible. This Christmas season, may no one shines brighter than you and may all your heartfelt desires come true. I will cherish every moment I spend with you.
Hello, my bossy Sis! I wish you and your newly formed family and loved ones a Merry Christmas. I'm very excited to see you this Christmas and celebrate like good old days!
Till yet, I have spent all the Christmas holidays with you but this year will be completely different. I won't be with my lovely sister to share all the fun and friskiness of the Christmas festival. However, I wish you Merry Christmas with all the luck!
Christmas is on the cusp of arrival and I can already sense the festive vibes, love, magic, and sisterly affection in the air. Let's brace up for a blasting Christmas celebration and a long week of celebration. God bless you and Merry Christmas!
As Christmas tree remains forever green and full of stars, gifts and candies, May your life be so! Wishing you happy Christmas sister!
The exorbitant Christmas gifts and swanky parties don't attract me as much as the precious company of my little sister on Christmas. I love celebrating and spending every moment of Christmas with you only. Merry Christmas to my little teddy bear!
You swim in the ocean of laugh and togetherness. May you always eat the food of your good karmas! Wishing you happy Christmas sister!
Christmas Wishes for Sister in Law
Merry Christmas to my amazing and multi talented sister-in-law. You are not only my sister, but also the Santa's sweetest and the most valuable blessing to us. I wish you a wonderful holiday season and a joyous Christmas filled with fun. Oodles of love and best wishes on this special day!
I am more than delighted to share the heart-moving Christmas greetings to my lovely sister in law! You've always been at my corner even when I was't succeeding in life and I've always appreciated that. May your Christmas be as magical and inspirational as you have been for me!
I consider myself more than fortunate and blessed to have you as a sister-in-law. On Christmas, may you always be the never ending smile of our family and continue to make us proud.
Mirthful and full of blessings Christmas greetings to my impeccable sister-in-law. A sister-in-law like you deserves a wonderful Christmas party loaded with special seasonal treats.
Respected sister-in-law, you make every day unique and happening for all of us and Christmas would be incomplete without you. On this special day, I wish you and your loved one many more moments of happiness and togetherness. Merry Christmas to you, sweet sister-in-law.
Hey sister-in-law, everything in life changes with time, but you have always been the sweetest and the only constant blessing in my life. You have thoroughly supported me in everything I accomplished. Happy Christmas and may lord's mercy always be with you!
It is bone-crunching cold outside but my heart and head can feel all the warmth of your love and affection. Sending special wishes draped in care and concern to my beautiful sister-in-law. Merry Christmas!
Dear sister-in-law, your arrival in this family has made every day of this house no less than a Christmas festival. You are truly lucky for us and you are super special for us in so many ways. Wishing Merry Christmas to the best sister-in-law in the world!
You fulfill the dearth of a chirpy and bubbly sister in my life. Thank you for adding colors and vivaciousness to every moment of my life. Merry Christmas to my adorable sister-in-law!
Wishing lovely Christmas and a happy new year to the coolest member of this family. You are the brightest as well as the most twinkling star of the family. Your absence in any celebration means the loss of a lot of happening memories!
Your presence always brings joy in our life. May darkness never come to your life! Wishing you happy Christmas dearest sister in law!