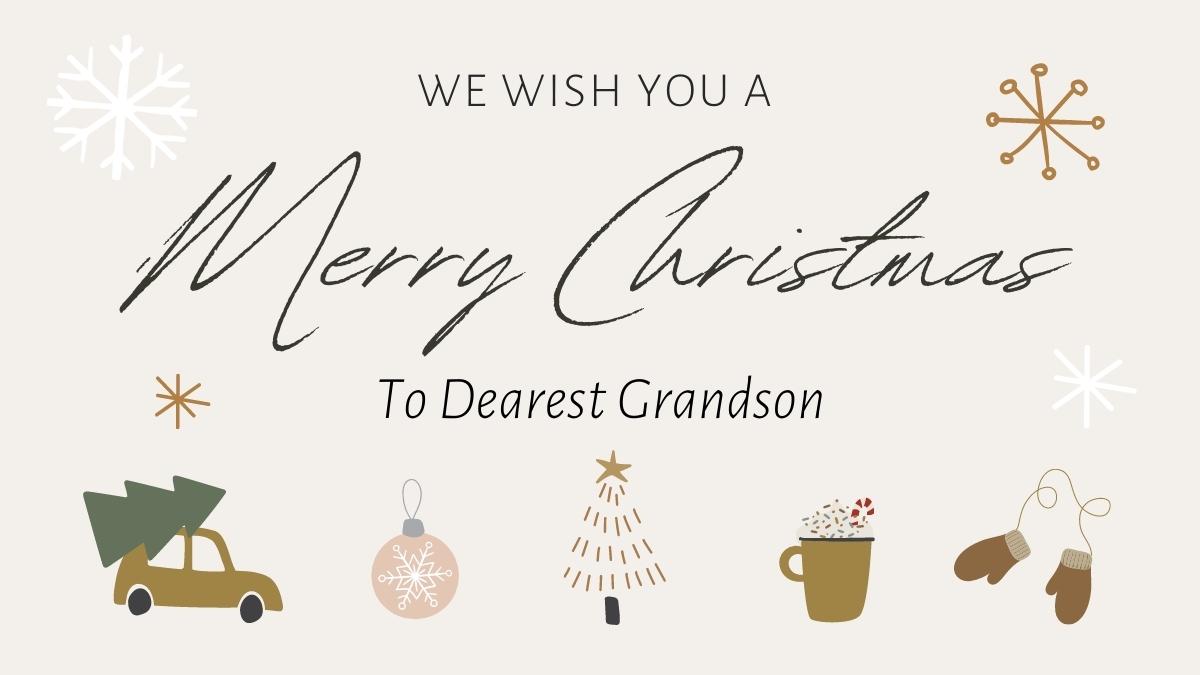 Christmas Messages for Grandson: Grandsons are literally the apple of the eyes of grandparents. Grandparents relieve their childhood once again through their grandsons and savor the most beautiful and coveted pleasures of life. Christmas is the festival of locking horns with your grandson and enjoy every aspect of this sumptuous festival, be it food, fireworks, feast, or celebration. After all, it's your grandson who adds glitter to your dull Christmas celebration. We have curated the most endearing Merry Christmas messages for grandson that grandparents can use to enrapture their grandson and escalate the Christmas vibes for him.
Merry Christmas Wishes for Grandson
From the innermost depth of my heart, I genuinely wish for you to achieve all your life-long goals and receive all you have wished for till yet. You are one heck of an amazing grandson! Happy Holidays and merry Christmas to my dashing grandson!
The most wonderful and awaited time of the year for me is Christmas holidays because you visit to make my Christmas more sumptuous and memorable. I hope you have a wonderful holiday season and create heaps of exhilarating festival memories with loved ones. Merry Christmas grandson!
Christmas is unquestionably a lovely occasion for your grandparents because we get to spend and celebrate the whole festival with you only. What more a grandparent could ask for.  I wish the apple of my eye a beautiful and vivacious merry Christmas.
I hope your Christmas celebration will go down in your memory lane as the best Christmas celebration of all time. My Christmas is happening and enjoyable all because of you, grandson. Happy Christmas to you and your family, grandson!
You are the one who brings outrageous joy and excitement to my life and old heart. I hope that this Christmas ushers in a year filled with jaw-dropping opportunities and immense success for you. Merry Christmas to the best grandson ever!
Dear grandson, You deserve whatever you desire and and work hard to achieve it. I thus hope that this Christmas turns out to be super successful for you, professionally and personally! Happy Holidays and merry Christmas, grandson!
Sending the loveliest Christmas greetings wrapped with my blessings to My super handsome Great-Grandson. I hope your stomach be packed with all the Christmas sweets and cuisines! Merry Christmas grandson!
Dreams often turn into realities. This Christmas, if you believe in your dreams, you'll definitely achieve them! I wish you a happy holiday season and happy Christmas, grandson!
You are so cute that even the reindeer recognize your cuteness and jolly nature. They advised Santa Claus to offer you the best Christmas gift of all time! I love you more than anyone else and I wish you a joyous Christmas, grandson!
Even the angels who watch over you from afar are quite aware of how special and unique you are. I am blessed to have a caring and obedient grandson like you and I wish you a merry Christmas, grandson!
Happy Holidays and merry Christmas  to the world's most adorable and intelligent grandson. May Christmas and Santa Claus endows you everything you want, and may you always be the the most jovial and successful  person on earth.
Dear grandson, I have done everything in my capacity to make sure your Christmas celebration  with us surpasses your expectations  I hope your grandparents' surprise was enjoyable and worth cherishing. Merry Christmas grandson!
Dear grandson, you are the only person who showers happiness in my life without any reason, and I genuinely hope that this Christmas brings magical things in your life that stays forever. Merry Christmas to my beloved grandson!
Wishing you a very thrilling First Christmas to my precious angel like grandson who is the sole reason behind all the success, prosperity, and  joy in the world. God bless you on Christmas and forever!
Christmas festival is always special and the first Christmas is definitely the most special and unforgettable one," I wish you good luck and pray for your successful and thumping life. Merry Christmas grandson!
Dearest grandson. I have the finest and the nicest person by my side who makes me feel so special and beloved throughout the coveted Christmas season of the year," Happy Holidays and merry Christmas to my little bundle of delight.
On the first Christmas festival of my grandson's life, I desire to shower all the blessings of the world and happiness on my lovely kiddo. May you have a fantastic Christmas celebration and have a glorious future!
Because of your valuable presence in my limited life, every Christmas celebration feels more extraordinary than previous one and must be celebrated with utmost zing. Merry Christmas to the peppiest grandson ever!
Not all grandparents are lucky enough to celebrate so many seasons of Christmas festivals together. But we are bloody lucky to have you in our lives. Merry Christmas to the sweetest grandson!
You have grown up holding my fingers. Now, you are big enough to lift me up easily. I am so proud and happy to see you turning into a fine gentleman. Happy Christmas, my beloved grandson!
May the utterly exciting, glittering, and holy festival of Christmas unload life-changing opportunities, new and loyal relations, and gargantuan love in your life. May you have the best Christmas celebration, grandson!
You are like the pole start to me – the brightest of all in our family. I am sending a magical bag full of unlimited love, care, gifts, and Christmas wishes to the apple of my eyes. Merry Christmas, Grandson!
No matter how sagacious and successful you become in life, you will always be my baby Santa Claus who brings a lot of unexpected happiness and gleam in my life. I wish you a mirthful Christmas and hope to see you soon back at home.
My love for you is like the love of Jesus for his Children – Infinite. May Christmas shower the rain of good luck, prosperity, and fulfill all your hearty wishes. Merry Christmas to the cutest grandson ever!
Christmas is the best season to go frenzy, get cozy, eat mighty, be tipsy, and celebrate heartily. May Christmas light up your life and clear all your sorrow and hopelessness. Merry Christmas to my lovely grandson!
Dear grandson, have all the great day and best wishes on Christmas. I pray May Santa listen to you and give you the gifts you want. Happy Christmas again! I love you.
You perhaps know that you were born on the same day of Christmas. You are a lucky kid. Wish you happy Christmas and all my love to you!
May you have all the love you want in your life! Happy Christmas my grandson! May next year be the best year for you!
May for fulfilling your dreams you never sleep! May you always try to win and never settle for less! May you this spirit always! Wishing you happiest Christmas my loveliest grandson!
May you have everything in your life! Besides all of this, May you have peace and rest in your life too! You are my beautiful grandson. Happy Christmas! Love you forever!
I always remember you my mischievous grandson! You are lovely and awesome. Wish you great year ahead and merry Christmas to you! I wish you find your life's path.
All the love to you my reason for living my cutest grandson. I hope you are good. Wishing you happy Christmas! May you always be healthy!
My Grandson is one of a kind individual. Therefore, Christmas wishes for him also have to be out of the world. I wish a marvelous Christmas to my dashing grandson. May all your hearty dreams come true!
You have grown up holding my fingers. Now, you are big enough to lift me up easily. I am so proud and happy to see you turning into a fine gentleman. Happy Christmas, my beloved grandson!
I haven't celebrated Christmas for years due to personal reasons. Then you came and the Christmas celebration got a new meaning. Thank you grandson for being my silver lining in the dark clouds. Merry Christmas to my super cute grandson.