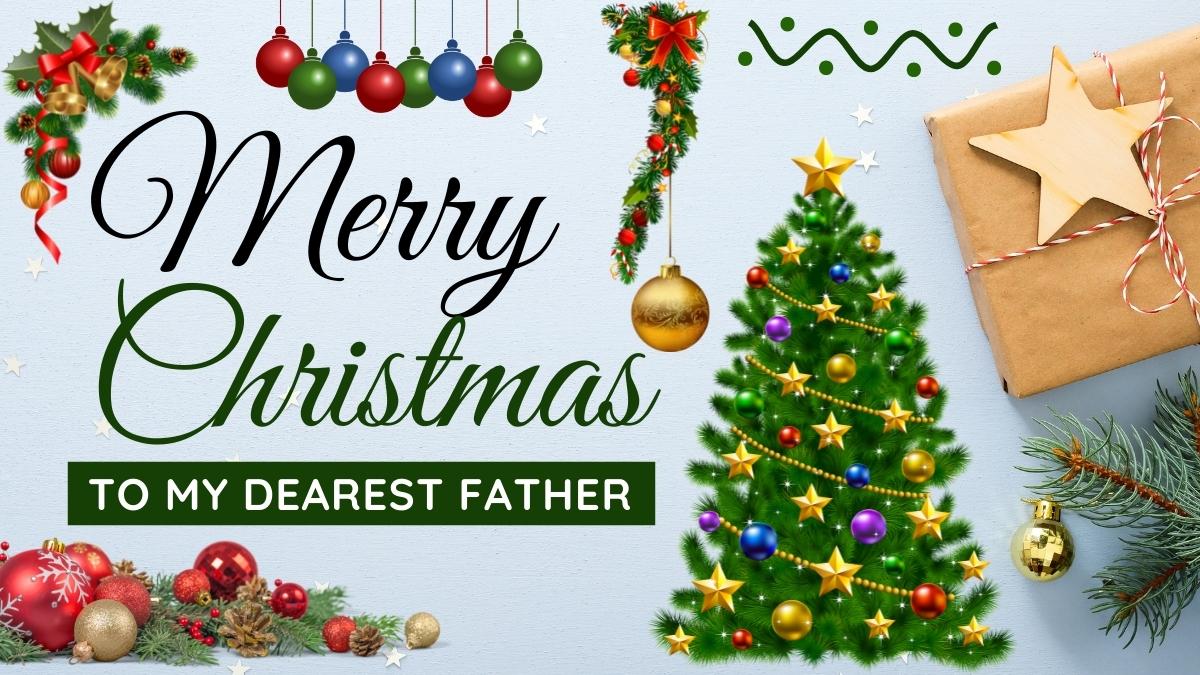 Christmas Wishes for Father: There are literally millions of ways to celebrate Christmas but none could beat the classic and old ways of celebrating Christmas with your kith and kin. The closeness, love, and unshakable bond you share with your loved ones are the key reasons behind the vivaciousness and exhilarating Christmas celebrations. A father is the backbone of any family and so does a father-in-law. A father or father-in-law is the sole reason behind the solidarity of a family and shower love, support, and affection on  everyone unconditionally and selflessly. This christmas, make your father or father-in-law proud and fill his heart with immense love by sending him merry Christmas wishes for father and best Christmas messages for father-in-law that will make his Christmas celebration incredible, memorable, and gobsmacking. You can also download merry christmas wishes for dad and father in law with images.
Merry Christmas Wishes for Father
To my loving and forever caring father, Winter has arrive, so does the Christmas festival and tranquility along with it. Tis the season of miracle and snowflakes.  I am more than delighted to wish you a joyful and memorable merry Christmas!.
To my superhero dad, You are the sole reason I still believe in miracles on Christmas and Santa Claus folklore.. Your love provided the guidance and direction I always need. May you have a genuinely wonderful Christmas and a prosperous new year. God bless you.
Merry Christmas to the most wonderful and diligent father in the world! May you bask in the warmth of tender memories and the delight of fresh starts. May you have an abundance of love and peace on this Christmas season!
Happy Holidays and merry Christmas To A Fantastic Dad and a staunch friend of mine. I wish you thoroughly enjoy your life journey and  I hope you have the most electrifying and remarkable merry Christmas celebration of all time. I adore you, father!
Hey father, You have always been my unshakable pillar of support and inspiration. I haven't given you enough moments to be proud of me too often, but I respect you immensely for never losing hope in me. Merry Christmas father and god bless you with longevity, recognition, and prosperity!
You exemplify everything a great father ought to be. You are smart, bold, and humorous. You add magic and soulfulness to every Christmas we spent as a family. Happy Holidays and merry Christmas to the world's best father ever.
Hey dad, you in a husky Santa outfit come to mind whenever I think about Christmas festival because you are my real life Santa Claus. You created a wonderful Santa for your children back then, and you continue to do so for your grandchildren today. Merry Christmas Dad.
Dear Dad, Every Christmas holiday season, I contemplate on all the love, encouragement, and support you've given to me selflessly over the years. It makes me realize how fortunate I am to have you in my life. Merry Christmas to the most rocking and loving dad!
Happy Holidays and merry Christmas to a Superb Father and par excellent mentor! Because of the love you bring into our home and the generosity with which you treat everyone you meet, the Christmas festival seems a fairy tale affair. You are perhaps the biggest blessing to me as my father.
Merry Christmas, My childlike Dear Father! I will always cherish the Christmas memories we have built and the unique bond we will always share, regardless of how old I get or how far away we are from one another. God blessings will always protect you and take you up in life.
Hey dad, you are the only reason I used to believe in the solace-providing but absurd and enchanting stories of Santa Claus. You make the Christmas festival mesmerizing and ensure that every moment get etched well in the memory. Merry Christmas to the best dad ever!
The fun of Christmas celebration amplifies manifold times when a father like you is there with kids to do quirky, senseless, but funny stuff. All my amazing Christmas memories are only with you. I love you father and merry Christmas!
Out of all the classic Christmas gifts, dead Dad, your presence at every Christmas celebration is the most precious and adored one for me. May we continue to celebrate Christmas with mighty zing and happiness!
Whatever you have in your life whether less and more, you have always brought happiness to me on the day of Christmas, dad. Wishing you Merry Christmas! You are my lovely dad.
You have always carried me on your shoulders and showed me the world. I promised you dad when you get old I will always be there for you. Merry Christmas!
Wishing you a great merry Christmas, dad. I wish may your all desires and wishes come fulfilled. You have sacrificed a lot for us dad. I am very much thankful to you. 
Everything is possible. This; dad, you have given me the greatest mantra and I am not afraid of anything. You are awesomely good dad. I love you deepest. Wishing you with dozens of love Merry Christmas!
To the best father in the world, may the auspicious occasion of Christmas brings a swift and swoon-worthy wave of good luck, success, and serenity in your life. Merry Christmas father!
Hey dad, you have done a lot to make every Christmas festival memorable for us. Now is our time to give you all the happiness of the world on your favorite occasion. I wish you a peaceful and lovely Merry Christmas!
Merry Christmas Wishes for Father in Law
I feel incredibly fortunate and blessed to have a sensible father-in-law like you who is so full of love and support for me. Merry Christmas father in law and sending best wishes to you.
Christmas with the touch of your humor and lively presence is no less than an occasion filled with laughter, smiles, and fun because you bring a positive energy to it. Thank you for making our Christmas a blessed affair and merry Christmas father-in-law!
On the soulful occasion of Christmas, I'm giving my dearest and the most endearing father-in-law my love and best wishes. I hope you have a wonderful and regal Christmas with your family.
I wish my devoted, dedicated, and sagacious father-in-law all the joy, opulence and richness in the world on this Christmas. May you always the reason of smile for your loved ones.
Happy Holidays and merry Christmas to my respected and beloved father-in-law. I appreciate everything you've done to help me get back up in life and thank you for making me feel like I'm a real part of the family.
Happy Holidays and merry Christmas to my super-stylish Father-In-Law! I'm sending you my oodles of love, heartfelt Christmas greetings, happiness and hoping you have a wonderful Christmas. The best part about Christmas celebration is you!
Merry Christmas to my super successful and idol of millions, father-in-law. May your Christmas season be filled with your favorite wine, dishes, and blessings of your near and dear ones.
Happy Holidays and merry Christmas to my jovial and zestful father-in-law. I' am more than excited to send you my best wishes for a wonderful and unforgettable Christmas day!
Even though I haven't had the chance to join you for many previous Christmas celebrations, but I have heard that they've all been fantastic because of your carefree and jolly. Happy Holidays.
As we prepare for Christmas, I genuinely wish for your good health, happiness, and prosperity. Merry Christmas and best wishes to my devoted father-in-law. May you always be perennial source of hope and inspiration for millions!
You are not only my father-in-law; you are also my real life Santa Claus who has fulfilled all my wishes and makes the holiday season so much more enjoyable for everyone. Sending heart touching Christmas greetings to the most rocking father-in-law.
Last year, you made my Christmas the most spectacular one by giving the hands of your daughter in mine. This year, you made the Christmas extraordinary by getting promoted to the highest rank in your stream. Congratulations father-in-law and merry Christmas!
Though we are in different corners of the world, it means we won't get to celebrate the Christmas together but my heart Christmas wishes will reach you way before time. Happy Christmas to the best father-in-law in the world!
Hey father-in-law, I thank you from the bottom of my heart for grooming my personality and molding my life in a positive way. May you be the first one to receive the almighty blessings on Christmas. Happy Christmas, father-in-law!
I love you father in law and respect you a lot. You are very supportive of me. May you be healthy always and keep smiling forever! Your presence brings joy to us. Merry Christmas dear father in law!
You are a strict man and determined, and for that I respect you highly. May you forever be filled with shine of glory! Merry Christmas my friendly father in law!
You are benevolent father in law and humble too and nice talking. May we all enjoy this Christmas as family and forever be! Merry Christmas!
My lovely father-in-law, your stature is my life is no less than my real father. Thank you for saving me from all the stumbling blocks and paving the way for happy life for me. I wish you a happy Christmas, father-in-law!
By leaps and bounds, you are the most dashing and supportive father-in-law a son-in-law like me can have. I wish you forever joy, impeccable health, and gargantuan wealth. Merry Christmas to the loveliest father-in-law!