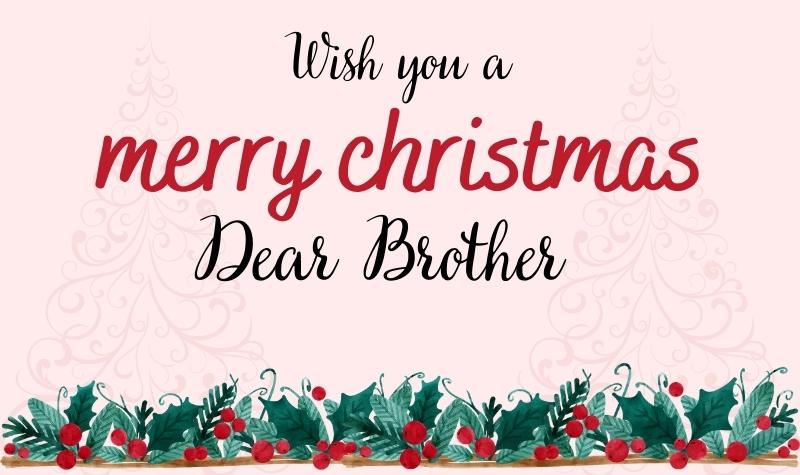 Christmas Wishes for Brother: Since the day you were born, your brother and the rest of the family members are the only ones with whom you have celebrated and lived every Christmas festival. Your elder or younger brother has always been by your side, be it celebrating Christmas, pulling pranks, getting scoldings from parents, fighting someone, or managing some money for movies or favorite video games. The older you get, the bonding between you and your brother changes and becomes more beautiful and mature. Christmas is one festival that brings you and your brother closer no matter how far apart you are. It gives you one more opportunity to recreate the magic of Christmas once again. This Christmas, sweep off your brother's feet by sending him the most touching merry Christmas wishes for brother and the best merry Christmas brother messages that will revamp your brotherhood and make the Christmas celebration more special.
Merry Christmas Wishes for Brother & His Family
Joyous Merry Christmas and a Prosperous New Year to my handsome brother. I hope my little Christmas card brightens your Christmas holiday season and fill it with your favorite stuff, my beloved brother! God bless you!
To my endearing brother whom I respect more than anything else, Merry Christmas and Happy Holidays. Wishing you a cheerful, hopeful, and magical Christmas holiday season just like the ones we had as youngsters.
From the core of my heart, merry Christmas to my dearest and the most awesome brother. We always celebrated Christmas together when we were kids. We are still connected in my heart even though we are grownups who live far apart.
Merry Christmas and Happy Holidays to my respected brother. Christmas or any other festival are particularly meaningful to me because of a caring brother like you. I'm grateful to have you in my life and I love you to the moon and back.
To My Superman Brother for whom nothing is too big to achieve, Merry Christmas and a scintillating Prosperous New Year. I sincerely hope that the upcoming Christmas holiday season and new year fulfil all of your long lasting wishes!
Merry Christmas to my gorgeous sister-in-law and equally dashing brother! You two are not just my siblings and best buddies; you are also the sweetest gift from Santa. I hope you both have a wonderful holiday season and a joyful, humorous Christmas. Sending heartfelt greetings on this special occasion!
Every day of my life is alluring and exciting because of you, and Christmas would not be the same without you love and support. I pray that this Christmas festival may bring you and your loved ones everything needed to make life more wonderful. I wish you have a wonderful Christmas celebration, brother.
Dear brother,Here I am hoping that you're clutching a mug of steaming hot chocolate in addition to savoring Christmas vibes because it's spine chilling cold outside, brother. Have an amazing Christmas celebration and stay safe!
Happy Holidays and Merry Christmas to my father like brother. I make the wish to Santa Claus to make you spend every Christmas with me, my brother, every time Christmas season arrives. Cheers to all the fun moments together and our loving family.
Hello Brother, I have hold onto all the past magical memories of our family Christmas holidays as we create year after year. Even though we are separated by a great distance, I hope this Christmas festival gives you joy, opportunities, and bring us closer than ever. Merry Christmas, brother!
I consider you to be the most precious gift of Jesus to our family—my brother. No one can take care of siblings like you do. You are my true role model. I hope you have a fantastic and memorable holiday season. Merry Christmas, brother!
Tis the season of holiness, magnificence, feast, and festivity. And the Christmas celebration is far from complete without your presence. Hop on to the home hastily and let's swiftly prepare for the Christmas festival. Wishing Merry Christmas to my handsome brother!
Since childhood, we have celebrated every Christmas celebration together and all the memories are etched well in both of us. May we continue to welcome and celebrate every Christmas festival together till the end. Merry Christmas to the sweetest brother ever!
Happy Christmas brother! You are my younger brother but always act like elder. May you always be successful!
Merry Christmas to the dearest, nearest, and loveliest brother of mine. May you dazzle our Christmas celebration like you always do. God bless you and enjoy Christmas!
Dear brother, you add a certain kind of charm and merriness to the environment that charges up everyone in the house for the festival celebration. You are a true lover of life and the real-life Santa Claus to me. May Christmas shower success and serendipity in your life. Merry Christmas, brother!
Christmas Messages for Brother
Hey brother, I'm hoping you've been tackling those smelly feet in your favorite blanket and longing to come home to celebrate Christmas. I really don't want you to miss this year house Christmas party! Grab your bag and hop on here soon. Merry Christmas to my awesome brother!
Dear brother, I don't express my love for you enough but that doesn't mean I don't care about you. You will always be my big brother and the only savior when I am in deep trouble. I adore you, bro! Merry Christmas to the best brother ever!
I often have a smile on my face when I think of the two of you. My brother and sister-in-law are the most exhilarating couple I have ever seen ! I'm wishing you two a very mirthful Christmas holiday season and a prosperous new year to my perfect brother!
Hey brother, As we unite in spirit and love throughout the Christmas holidays, let's make this a time to celebrate with our family even more. I wish my brother and the whole family a Merry Christmas!
Dear Brother Nobody could take your place and no one can be as caring and supporting as you are. I promise I could never give up teasing you, especially during Christmas festival. Never! I swear. Merry Christmas to the most desirable brother in the world!
This Christmas holiday season, we are going to miss you like hell, curse to your work. The genuine meaning of Christmas, which is for everyone to express love, care, and cheer, is perfectly lived by you and our family, brother. God bless you with massive success and merry Christmas brother!
Hey brother, We have some of the most craziest and the most mesmerizing Christmas memories together. Because you are such an integral part of our family, we can't imagine celebrating Christmas without you. Come back home soon! To my prudent brother, happy Christmas!
I often feel good and blessed as well when I think of the two of you. My lovely brother and sister-in-law, you guys are made for each other and couple goals for everyone! I'm more than delighted to wish you two a very thrilling Christmas!
May the holy spirit of Christmas stay alive and pure in our hearts forever, let's make Christmas festival the most spectacular Christmas celebration of all time for everyone. I wish my brother and family a Merry Christmas!
May the joy and spirit of Christmas flood your heart and fill your life with God's divine blessings. Happy Holidays and merry Christmas to my exemplary Brother!
Merry Christmas and a jovial new year to my brother who never give up on his family no matter what happens! It's because of your tireless efforts and sacrifices, we are still a one big family!
Christmas is pretty close to my heart because you were born on this day and all the happiness of the world poured into our family. You are the little Santa Claus for us and celebrating Christmas with you is a sheer joy. Merry Christmas to the most significant part of my life!
To the most caring and dazzling brother in the world, I wish you a delightful Christmas and a zingy happy new year. This holiday season becomes the best of holiday seasons for all of us. May Christmas strengthen our brotherly bond and shower sweet surprises!
May none stop you from flying wherever you want to! May you always be a free bird! Happy Christmas dearest brother!
It is sheer luck of me to have such an obedient and virtuous brother like you who is ready to do anything for family. Let's celebrate Christmas with everyone with all might and frisk. Merry Christmas brother and have all the fun of the world!
Don't you dare to low your enthusiasm and high spirit? I know it is very spine-chilling cold out there but we will make it for sure. Let's buck up and rock the Christmas party. Merry Christmas, my dashing brother!
Christmas Greetings for Brother
Hey brother, You must be aware that Santa has always loved you but he loves me even more. Brother, May Santa brings you a wonderful Christmas gift but a less wonderful than me! Merry Christmas, lovely brother!
I hope Santa doesn't forget to fill your stockings with your coveted stuff this year, despite how bad and impudent you were all year! Merry Christmas to my cranky brother cum best friend.
Without you, Christmas just doesn't feel the same and gives the vibes of an ordinary festival. I hope to see you again soon for another fun-filled and unforgettable Christmas holiday!
I hope you have a Christmas celebration flooded with immense love, outrageous opportunities, and a purpose bigger than everyone, my beloved brother! During this Christmas season, let's raise a toast to our brotherhood. Merry Christmas, brother!
What astounding and wonderful memories of Christmas we had, but I'm so glad we don't have to take another Christmas picture in our matching Christmas costume anymore! Merry Christmas brother and I wish to spend all my Christmas holidays only with you!
My warmest Christmas Greetings and best wishes for a wonderful Christmas holiday season to the jolliest and the most sagacious brother ever. May you grow in life by leaps and bounds and never taste defeat a bit!
Dear brother, We have spent many Christmas holidays together and had the best time of our lives together as we grown up as brothers. However I wouldn't have wanted to take this dazzling journey with any other brother but you.Merry Christmas brother and stay blessed!
I sincerely hope and wholeheartedly pray that this Christmas festival brings you cheer, happiness, and the perfect life partner you deserve as you spend Christmas with loved ones. Merry Christmas to the brother who is also a classic gentleman!
The Christmas holidays we spent together as a family unquestionably tops among my most treasured childhood memories, dear brother. I hope this year's Christmas festival turns out to be as wonderful as all the past year celebrations! Merry Christmas to my perfect brother!
Our enthusiasm to celebrate Christmas is way bigger and stronger than the spine-chilling cold of the holiday season. Consolidate your willpower, put a cheerful smile on your face, and welcome the Christmas holiday season with a high spirit. Merry Christmas, brother!
Happy and memorable Christmas to the most handsome and warm-hearted brother in the world. I always pray for your success, well-being, and prosperity in life. Let's have an astounding Christmas celebrating together!
I love you forever. You are my cute brother. May you always achieve what you want! Happy Christmas brother!
The love and companionship of our close ones add meaning to our lives as well as the festival we celebrate with them. I want to say thank you to all my brothers and sisters for keeping our alluring sibling bond intact. Merry Christmas brother and always be jolly and hopeful!
From waiting for Santa Claus to singing Christmas songs, ringing jingle bells, and eating Christmas pie, we always make sure we don't leave any aspect of Christmas untouched. No one celebrates Christmas like we do when we are together. Merry Christmas to the most awesome brother!
Christmas Wishes for Brother in Law
To my amiable and caring brother-in-law and his family, Merry Christmas! May the love, fun, life-changing opportunities, and magical moments that Christmas brings fill every corner of your home. Merry Christmas brother-in-law!
Happy Holidays and merry Christmas to the world's most adorable brother-in-law and sister! You two make such a perfect pair that even I feel inferiority complex sometimes. You guys deserve to have the finest and the most splendid Christmas ever!
To my crazy sister and sensible brother-in-law, Merry Christmas with all the love and gifts of the world. A special Christmas filled with exquisite vacation, delicacies, and leisurely time are what a hard-working and inspiring sister and brother-in-law like you deserve.
Your home encloses permanent festive vibes that I have never experienced anywhere! I'm eagerly looking forward to see what fun activities you all plan for this Christmas for your guests. Merry Christmas to the funkiest and admirable brother-in-law!
 A very happy merry Christmas and happy new year to my super successful and outrageously smart and cool brother-in-law. Celebrating Christmas with you is a different level of fun and excitement. Let's have a rocking celebration!
Having an intellectual and supporting brother-in-law like you is a cherry on the cake. You know well how to make a plain Christmas celebration stellar and attention-grabbing. You are a fun personality to have around and I am lucky to have you as a brother-in-law. Merry Christmas!
You are like my brother too or perhaps more than that. May you always float rhythmically in your life! Happy Christmas brother in law!
May nothing hamper your progress in your life for whatever you want to get! Happy Christmas to brother in law! You are really a cool man.
I don't have a real brother but you never let me the dearth of a brother on any festival, be it Christmas, thanksgiving, or new year. May our brotherly-sisterly bond keep touching new heights of love and respect. Merry Christmas, brother-in-law!
Not only you deserve all the respect and lauds of the world but also you deserve all the little to big happiness of life that you sprinkle in the lives of your loved ones without expecting anything in return. Thank you for all the brotherly care and love. Merry Christmas, brother-in-law!