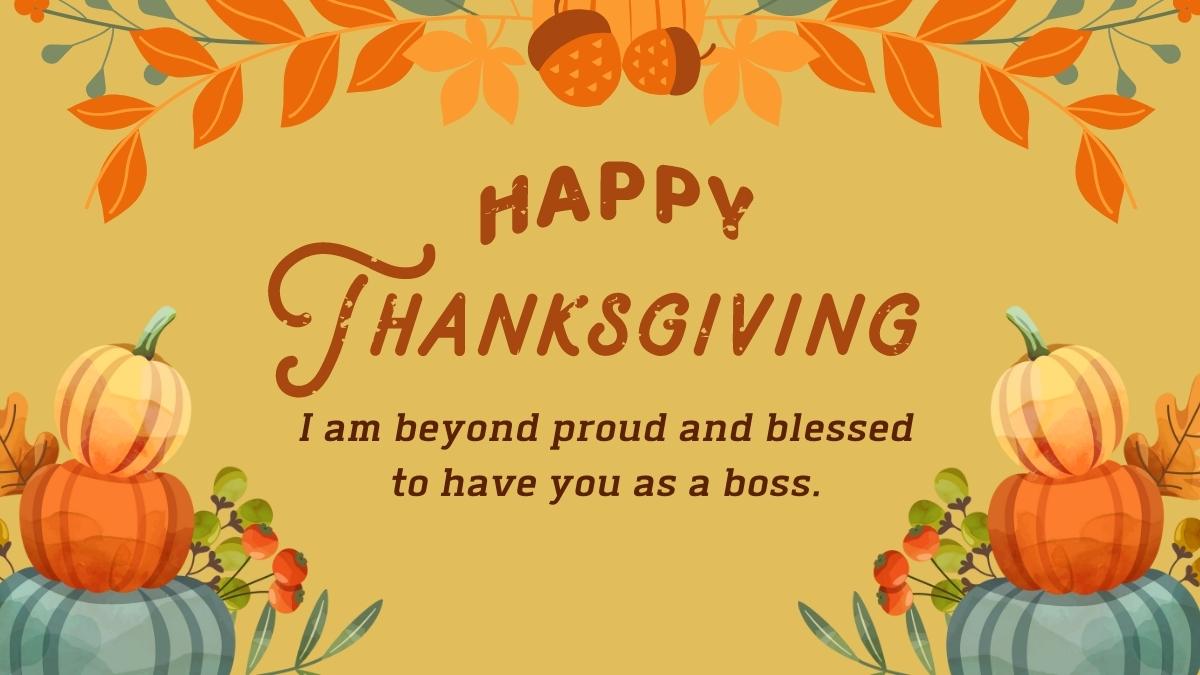 Happy Thanksgiving Boss Wishes: How can you call your thanksgiving celebration to the T without wishing one of the most significant persons in your life -Boss? Your boss is probably the only person in the corporate world who cares about the exponential trajectory of your career. Thanksgiving festival is one fine opportunity to express immense gratitude to your boss and make his thanksgiving celebration more stellar. Check out the most inspiring thanksgiving wishes for boss that are curated with utmost dedication so that your thanksgiving greetings can strike the right chord in your boss's heart.
Happy Thanksgiving Messages for Boss
I am more than delighted to wish a happy thanksgiving to one of the most visionary, charismatic, and supportive bosses in the world. May you have an exceptional thanksgiving celebration with your friends and family!
On the beautiful and holy occasion of thanksgiving, I pray to god to pour down immense success, prosperity, and good health in your life. I wish a joyous thanksgiving to the best boss ever!
Thanksgiving is more than a gobbling feast, expressing gratefulness, and sending warm wishes. It's about uplifting others selflessly and no one does that better than you, boss. Sending warmest thanksgiving wishes to my boss and his family!
I am literally out of words to express my gratefulness towards my mentor on thanksgiving for being such a supportive and inspiring personality. Happy thanksgiving boss, and may you have a life full of umpteen accolades and honorable moments.
Respected boss, out of all the mentors I have worked for, you are the most compassionate and understanding one. You know damn well how to nurture the talents of novices and uplift the experienced ones. Happy thanksgiving boss and god bless you!
Wishing the happiest of happy Thanksgivings to the most wonderful of wonderful bosses. May your home be filled with peace, prosperity and blessings of joy.
I am thankful to God for my job, and I am also thankful to God for blessing me with a wonderful employer like you. Happy Thanksgiving Day, boss.
Happy Thanksgiving to a truly remarkable boss. I appreciate every single thing you've done for me since I began working here. May God reward you abundantly for being so nice to me.
As we celebrate the last Thursday in November, I just want you to know that I will forever be grateful for all the support and inspiration you give me. Thank you a million times, boss. Happy Thanksgiving.
This is a time of year that would be absolutely miserable if I weren't blessed with a good job and an even better boss. God bless you, Sir. Happy Thanksgiving.